Any desktop can be called a workbench, which is used for processing and manufacturing products from various materials. Additionally, the table can be equipped with various accessories., that facilitate manual labor, the most common of these are the vise, as well as stops. In addition, shelves are very often located under the table top., which store tools and all kinds of consumables.
The normal workbench height is 80-90 centimeters, and the width of the countertop rarely exceeds 1 meter. The length must be selected individually., guided by the capabilities and dimensions of a person and the tasks set.
For sale are professional workbenches which is resistant to loads and impacts. For example, consider Warehouse.ru - a manufacturer of metal furniture for various purposes.
Workbenches are divided by purpose into only three groups, among which:
• carpentry;
• metalwork;
• carpentry.
They are fundamentally different, starting from the general and size of composite devices and ending with the features, related to the design. Each of the groups is really replete with a variety of models., which may surprise. Often the design is done in this way, to be able to set everything up., in particular, it's about the height of the tabletop, which allows you to adjust it to the height of a person.
To simplify, then the workbench is a desktop, for work with high load and for specific work .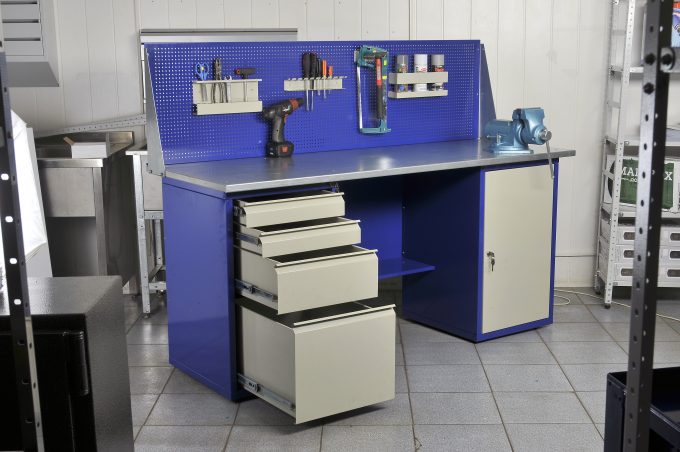 The workbench must meet the requirements:
durable and reliable, to withstand loads, that your activity involves;
functional and ergonomic. The workplace must correspond to the height of the master and, if necessary, be equipped with storage places;
sustainable. Serious work is being done on the workbench, often high workloads, requiring a high degree of accuracy.
That is why the workplace must be reliable and durable..
locksmith workbench
This workbench is very heavy., it's all about, that most of it is made of metal, but the countertop is made of a durable and dense plate, made of wood (for example from 30 to 50 millimeters). It is protected by a sheet of metal., whose thickness does not exceed 2 millimeters. This helps prevent substances such as paint from attacking the hob., gasoline and so on.
Workbenches from this group are intended not only for, to carry out the manufacture and processing of products, but also to store various devices.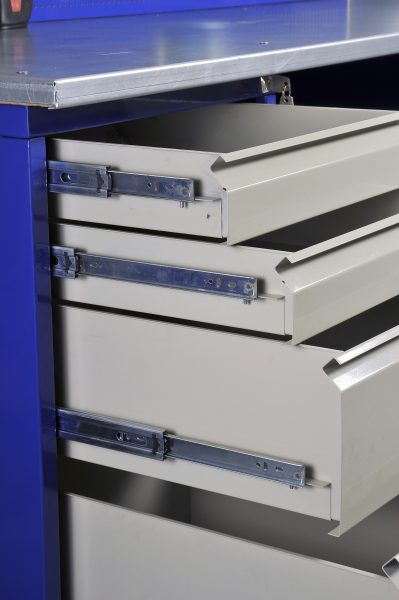 On one of the corners there are always the same vise, without which really nowhere. There are compartments under the table top., meant for one thing or another. The structure has good stability, as it is made of durable material.
The locksmith's workbench is most often used for, to work with small or medium-sized parts, so the best location for it would be in the corner or under the wall.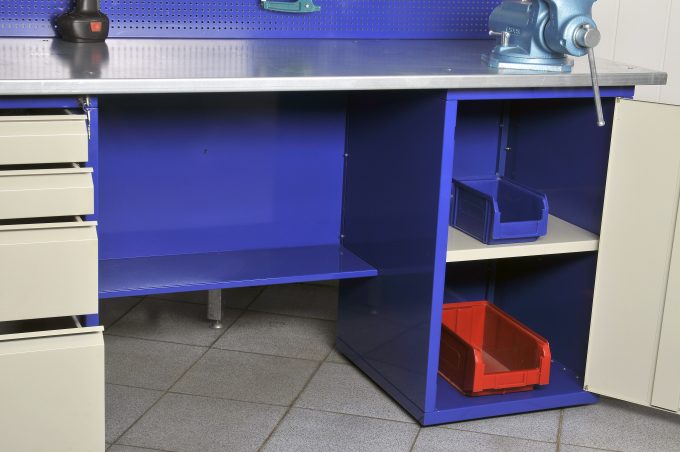 Very often a high shield is fixed, which is necessary for fixing important tools and other devices on it. Such a shield is optional, since any vertical surface can perform its functions. It is recommended to put it, when several workbenches are located next to each other, in this case, it will act as a real shield to protect the master.
Locksmith work includes the following processes:
• felling;
• drilling;
• polishing;
• filing;
• straightening.
Workbenches are widely used for the equipment of small industries., and at the largest factories. Workbenches vary in configuration, So, there are single-pedestal workbenches, two-pedestal, with and without shelves. Also, some manufacturers produce compact workbenches., small size, which are used in both carpentry and plumbing. Based on the tasks of a particular enterprise, optimal workbenches are selected.
In addition to production, locksmith workbench used in educational institutions, as well as at home. Metal workbenches are practical and durable.
Consider several series with different power and size characteristics: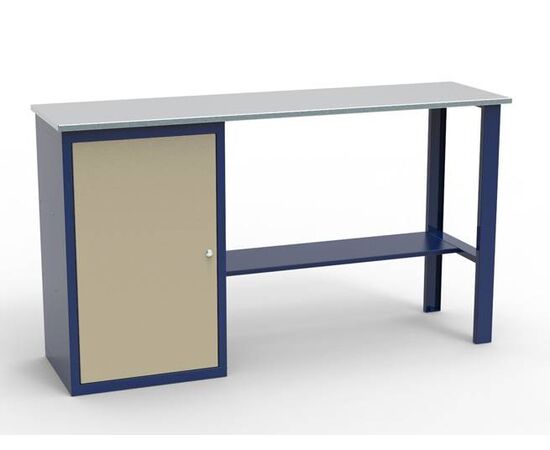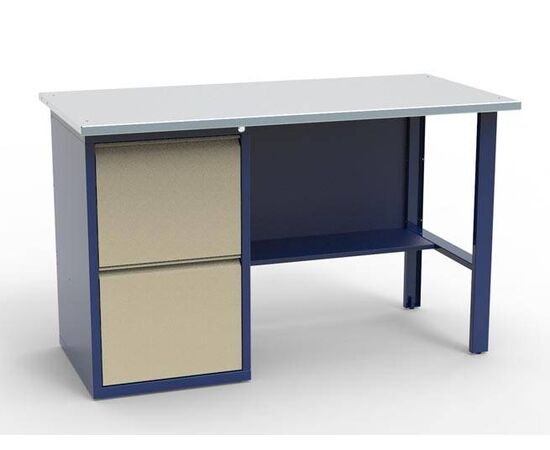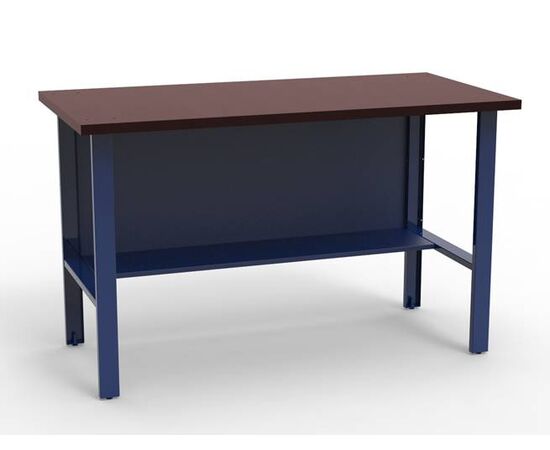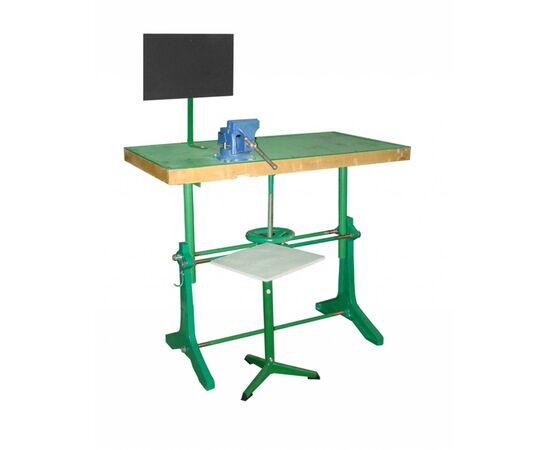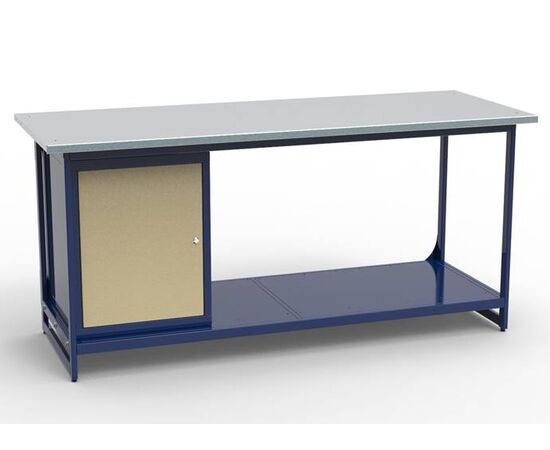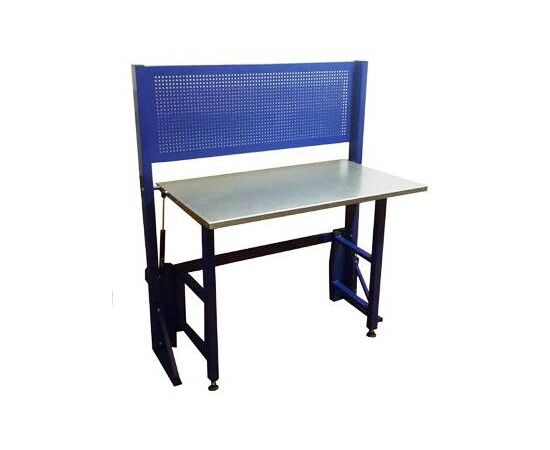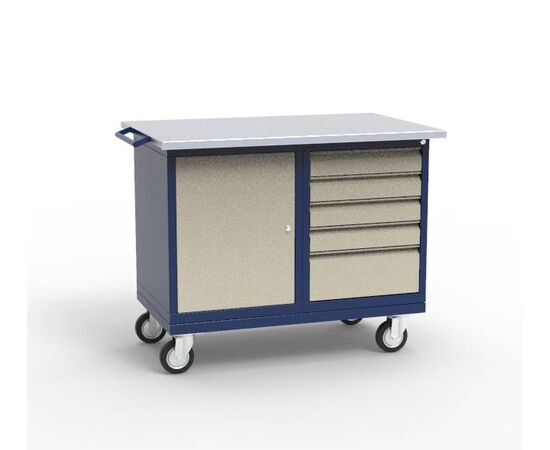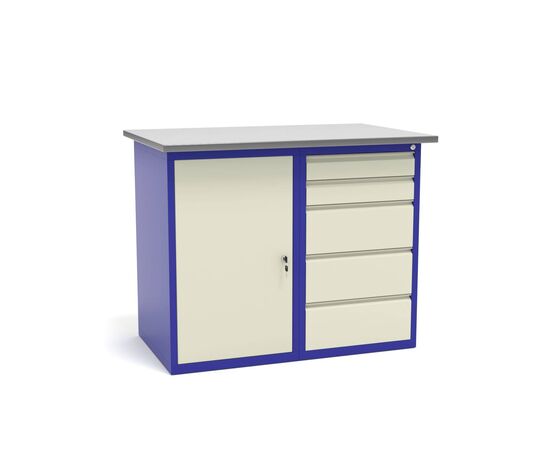 It is possible to produce workbenches to order - to make non-standard workbenches according to individual sizes and wishes.
Carpentry workbench
These tables are made from inexpensive wood., eg, Pine. The main feature of the model is that, that massive bars are used for its manufacture, which are fastened together with wedges or screws. To create a countertop, stronger and more durable wood species are used., eg, oak. 70 millimeters - the optimal thickness of each bar.
Paint is usually not used for carpentry workbenches, instead they are treated with impregnation. main fixture, located on each such table, are vise, and the tabletop has several holes, necessary for fixing various workpieces. Table top dimensions may vary., because it depends on the work, which will be held on it by the master. The design and dimensions allow you to install various tools for processing products on the surface of the workbench, eg, miter saw, gage and so on.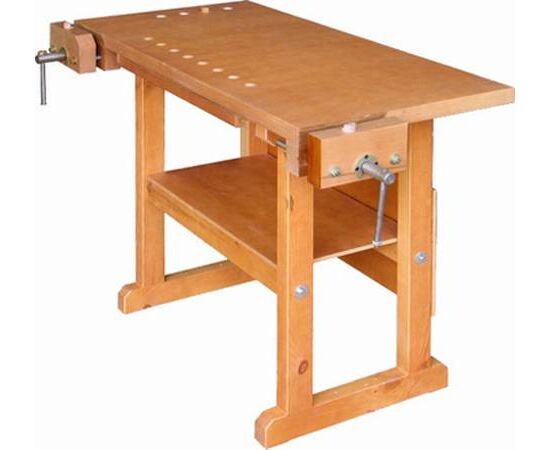 A carpenter's workbench is worse than a locksmith's in some respects, because it is made of wood, the one made of metal, so it's much easier to deform. In addition, wood is afraid of moisture., and the carpentry is made just for her. It is not recommended to use it for painting and processing products., as it can easily get dirty with paint and other similar products.
To those works, which are performed only on a carpentry workbench, can be attributed:
• markup;
• gluing;
• assembly;
• veneering;
• processing.
This type of workbench is an ideal industrial furniture for the school workshop., garages, in the country.
carpentry workbench
The same workbenches are the largest of all, but at the same time, their design is painfully simple. They are an elongated table, the tabletop of which has dimensions of 6 × 1 meters. This workbench is required for, for planing long workpieces. It is worth noting, that the workbenches of this particular group are much more difficult to purchase in specialized stores, as they have become rare. The thing is, that all kinds of work, which were performed on a carpenter's workbench, at the moment it can be done without any problems using a thickness gauge or jointer.
For the manufacture of the frame, cheap woods are always used., not strong enough, eg, ale. The countertop, on the other hand, is made from solid wood species.. To impregnate the surface, oil or various impregnations can be used.. Most of these models do not have shelves, compartments and cabinets for storing tools and consumables.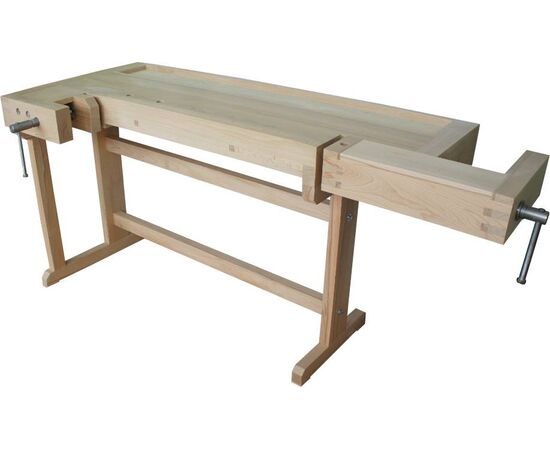 On such workbenches you cannot see the very ubiquitous vise, instead, a fence is used to fix the workpieces, whose cutout is triangular. Due to the large size of the workbench, it is very difficult to transport, and also having it in the workshop will not bring much good. Today, such tables are popular only with those masters, who apply artistic carving on elongated blanks, necessary for the construction of baths, private houses and other similar structures.
As part of the carpentry work, perform the following tasks:
• hewing;
• slotting;
• sawing;
• scraping;
• cutting.
The proposed model is perfectly adapted for professional processing of wooden blanks in carpentry and training workshops..
The workbench does not take up much space and has excellent functionality.