An important stage of repair of any premises is glazing, and for this purpose can be used window, different sizes, design, thick glass, design and other features. DOUBLE window - this type of product, which are used for glazing houses and apartments most often combine optimal size, ease of use and reasonable cost.
What is a double-leaf plastic window?
This design consists of a pair of flaps, one of whom is deaf, and the other can be opened. This type of window is the most popular for the majority of buildings: glazing use them well suited for residential, technical and office space equally. By type of window opening with two wings are divided into the following varieties:
rotary type. bivalve plastic windows have a flap, which is opened by inwards or outwards plowing, they are distinguished by moderate cost, simplicity of design and ease of. The disadvantage of this type of product is considered of limited space: due to the swing mechanism on the window sill it becomes difficult to keep things or plant flowers, because when ventilation flap is opened fully.

Casement window DOUBLE

Swing-out model. These windows are not only able to swing open: flap can be folded out to ventilate the premises. This design is more compact and convenient, windows themselves safer previous view, because it reduces the risk of falling out of the window of pets or children. In plowing mode glazing can be washed, and in position tilting DOUBLE plastic window allows natural ventilation of premises. Such structures mounted in bedrooms, living rooms, private rooms, kitchens, etc..

Swing-out double-wing window

sliding windows. The model assumes sash opening by displacement parallel to the fixed part. Such glazing is typical for small spaces, loggias and balconies, where it is important to save as much as possible personal space.

Pan razdizhnye window (Patio)
Bivalve plastic windows: Main advantages
The advantages of the double-leaf designs include the following properties:
findings, allowing open flap, It is inside, so the window with sufficient reliability.
Wash opening design is much easier, than dull glazing.
If the window has a micro-ventilation function, summer is no problem to provide fresh air in the room.
Plastic products are among the most popular on the market, they are interesting due to the mass of the positive qualities:
Long service life: French windows remain stable for 15-25 years old, which is much longer, than the wooden counterparts.
A high degree of reliability and resistance to mechanical loads, climatic events (wind, precipitation, temperature changes).
The ability to install in any room.
Good performance sound- and thermal insulation, whereby after mounting in the room to create the most comfortable.
What size should have a double-wing window?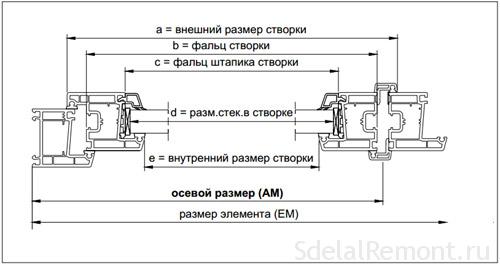 design dimensions depend on the type of building, that requires glazing, width and height of the opening. So, the size of the window with two doors in a house built before the Revolution is 1150h1900 mm, in Stalin - 1150h1950 mm, Khrushchev - 1280h1340 mm or 1490h1530 mm (house series 1-528). In new houses there are more than 40 kinds of sizes, and order should be guided by the aperture size.
Conclusion: DOUBLE PVC window glazing is suitable for any room, characterized by maximum convenience, modern appearance and reasonable price.