The glass doors are widely used in office buildings, apartments, bathhouses, shops. They are highly durable, have an attractive appearance, but also a considerable weight design. In order to secure an element, special hinges are required for glass doors, the correct choice of which depends not only on the external view of the interior, but also the reliability of the design.
Tips for Choosing
Most often hinges on glass doors are made of metal. This is due to the mass of the glass cloth: other material is easily deformed. Alloys of different manufacturers offer different, may vary, and most loop design, attached it is also in many ways. We need to pay attention when choosing a product to the following points:
What was used steel. Good fittings must be of stainless steel cold-forming. This will make it not only durable, but also protects against corrosion.
Some hinges are made of brass, but it is too soft in pure form, therefore, the alloy must include other, harder materials.
A reliable embodiment is a bronze alloy: it is durable, not used up during operation.
Often there are loops of aluminum alloys.
Council hinges on glass doors can vary in color, that allows you to select a specific interior appearance. Change the design of products, you can use the trim strips.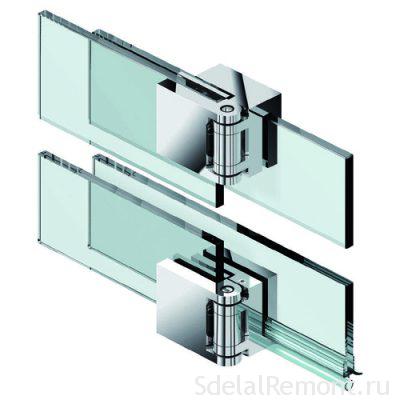 The different fittings for glass doors from the usual?
Fasteners for glass doors has a specific structure and significantly different from, which is designed for conventional blades. The difference lies in the design, since the glass sheet can not simply drill and fasten with screws, and in the, the hinges must be able to withstand severe stress. It is not only the frequent use, but sharp temperature drop, eg, if the door is used in the sauna.
In order to structure is not out of order, loop is not deteriorated, metal must have special properties, it must be resistant to the temperature expansion, strains, rust.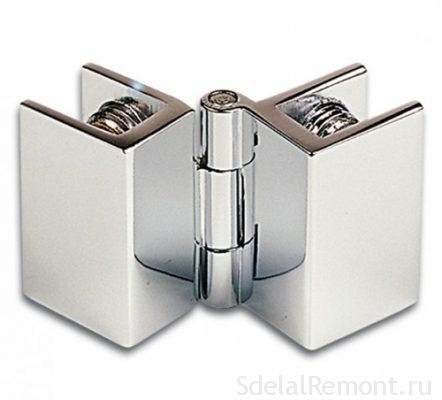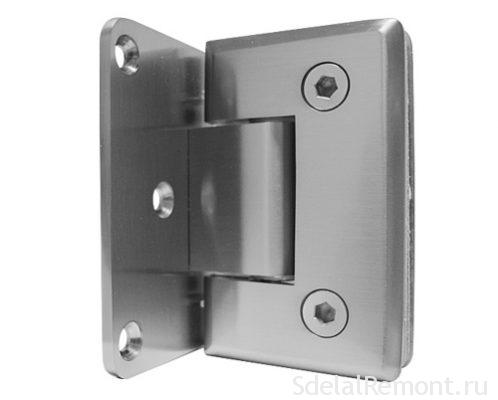 Ways to fix hinges to glass sheets
There are several ways to fix the door. One of them involves its drilling in certain areas: it must be through holes. The loop has two plates, they are not in contact with the web directly, between them have to be elastic. The web and the loop tightened bolts.
Hinges for glass doors are not the most perfect, but have certain advantages, which include the following:
The fixing position clearly rehearsed.
The connection becomes quite strong.
structural weight is evenly distributed.
The displacement of such a loop is possible.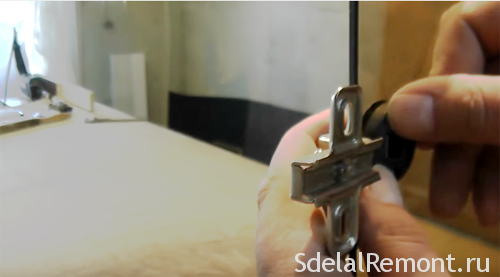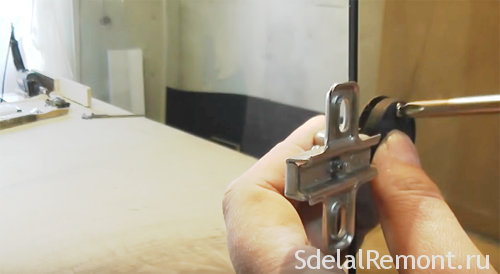 Deficiencies in these loops, but, also quite. These include the following properties::
Make a hole without any special tool can not be.
Work must be carried out with high precision.
Large holes can be done only with the help of the machine.
If damaged canvas should be changed completely.
Gradually, this type of hinge is displaced from the market more modern loops glass doors without drilling. Such designs are many, they are fixed to the end leaf. This happens as follows::
The hinge is mounted opposite one another. This can be done on any furniture, which has a glass door, including conventional doors.
Attach the hinges can be not only on the wall, but also to the ceiling.
Between loops inserted glass fabric and is firmly clamped.
Regulated structure during opening doors.
In order to fix the position of the web, You need a little pressure on him or hit with a rubber mallet, it should be done carefully enough.
Once the correct final position is selected, Glass clamped no moving.
Hinges for glass doors without drilling equipped with special gaskets, which not only can secure the fabric and contact loops, but also to make them more durable fixation. Downforce thus evenly distributed throughout the structure.
There is a third variant hinge for glass door: this design with partial drilling. It allows you to combine both methods, making them more efficient, but such technology is not used for construction, which is less than the mass of 20 kg.
To a loop fastened securely, in the surface of the door leaf makes small holes. Clamping elements included in them, the rest of the loop is pressed to the glass plane. Thus there is a tight connection.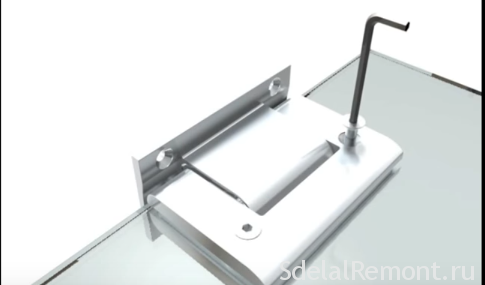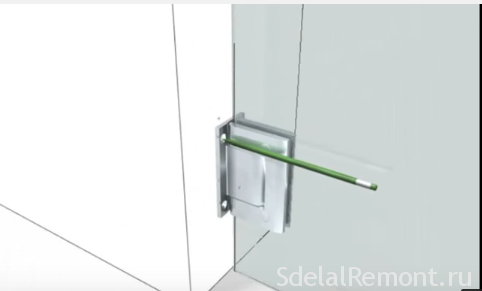 Fixing for glass doors It has the following features:
The clamping force is distributed evenly.
Use special equipment to create recesses necessarily, however, the use of the machine is encouraged, as it allows for greater accuracy.
Fixing glass more reliable, practically impossible web offset, since the fasteners securely enter the grooves.
When drilling is not disturbed partial web integrity, so it does not lose its strength, can not destroy.
Less likely to damage parts of the door, as the applied force has a large area.
The last one is a gluing attachment. This mount is suitable for both room doors, and for saunas, where frequent sudden changes in temperature, possible for moisture ingress loop, and humid in principle.
Council: You can use this method of attachment for heavy sashes. However, it should be remembered, Such structures can not be repaired.
For reliable connection using a dedicated adhesive. mounting area should be thoroughly polished, obezzhirena.
Conclusion: Choose The Right Mount is quite difficult for glass doors. Each type has its own advantages and disadvantages, but it is quite effective. The choice may affect the cost of construction. Many manufacturers set certain loops at once.