types of axes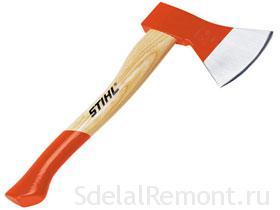 Axes are rounded and straight blades:
Ax, having a straight blade, suitable for cutting wood.
Ax with a rounded blade is needed to finish.
An important part of the ax, namely ax, made of hardwood, eg:
maple;
ash;
Rapture;
birch.
The wood must be free of knots, cracks, mold and rot. Ax carefully fine tuning mainly coarse, and then fine sandpaper. Then covered with a layer mixed with a 11-12% strength ocher varnish.
To increase the length of service ax, it is necessary to cover with varnish.
In order to cut down the hole, cut the wire and separate the metal strip, use of different types of chisels:
plumbing chisel oval cross section made of special tool steel cut steel, having a thickness of about 1 mm.
Kogan chisel with wide enough cutting is often used, to cut through the steel sheet thickness to 1 mm.
Small items previously clamped in a vise and cut along the planned lines, and details, having a large size, cut also on the planned lines, but only covered 13-15 mm sheet steel table.
When felling in the grip you need to ensure that, to chisel cutting edge is flush with the jaws. For this purpose, the item is clamped thereby, to risk aligned with the edge of the grip of the liner. Details of steel, having a thickness of up to 1,5 mm, chop in 1 reception, and having a thickness of 1,6 mm - 2 reception.
Rules for working with chisel
Here are the basic rules for working with this tool:
In the process of cutting is important to ensure the movement of the cutting edge of the tool is strictly for the intended line.
the left hand tool held at a slight angle to chop off part.
Hit the hammer on the chisel.
After performing cut through the details of her overturned on one side to the other side and do the same thing, and then break a piece hands.
When cutting parts necessary to monitor, to flying off toward the small pieces do not hurt bystanders.
Sharpen chisels exactly the same, as well as a pair of scissors.
Also see the interesting and useful video on this topic: