Alignment of the walls - it is not a difficult, but very responsible, because only high-quality processing of the walls can ensure a smooth, smooth and aesthetically pleasing surface. It is important to properly handle construction materials and comply with the order of certain actions. To learn how to perform technology spackling the walls with his own hands and go story.
What tools are required
For work you need the following list of tools:
Drill with a special nozzle-mixer for an ideal mixing putty mixtures, without lumps and other defects;
set of spatulas to access hard to reach areas of concern;
rollers and brushes for priming the walls, This procedure will help to increase the strength of putty, provide adhesion walls with various facing materials;
long metal rule for smoothing the thick layers of putty;
starting level for leveling layer of putty;
nazhdachka, needed to grouting of the finished surface after spackling;
container for stirring the mixture putty.
When all the tools ready, it is important to determine the type of filler for further work.
classification putty
To prepare the mixture for plastering of the walls it is important to consider the advantages and disadvantages of each composition.
gypsum - an inexpensive material, effectively used to align walls, does not shrink, but it does not react on contact with moisture.
Cement putty - moistureproof, but have a greater degree of shrinkage.
Polymer - ensure high quality treated walls, due to high specifications differ expensive material.
By purpose filler may be starting to pre planarizing, decorative, universal. Today the market offers both dry, and ready-to-use putty. The first can be stored for a long time, and significant savings on the purchase of. quickly learn, how many packs of mixture needed, will help flow calculator dry mixes.
At the same time ready to use putty is much easier, You do not need to prepare a mixture, thus you are able to spend less time in the whole process works. But it is important to remember, Such mixtures are more expensive than dry, give greater shrinkage, long term storage do not have.
Plus finished putty mixture is its very fine fraction and thus creates a smooth surface. Technologically first shpaklyuyut coarse filler Viton, filling all the bumps, and then the final layer are prepared putty type Shitrok.
When you're done, turn to Technology plastered walls for painting and surface preparation.
Preparatory work
Before the start of spackling the walls must be perfectly clean and smooth. must remove stains from fat, sleuth, remove old putty, carry a primer for adhesion to the walls of the solution.
If there are irregularities, mounds, or other defects, you need to fix them, to knock lumps, to cover the crack starting mixture, primed wall. Will only one primer layer, the main thing, do it qualitatively, not to leave gaps, apply the mixture using a special roller.
Preparing a filler for
If the plaster is dry, then we take a broad capacity, pour water into it, We fall asleep composition and stir mixer. To avoid lumps and clots do this procedure it is important to for a long time, after leaving the finished material 15 minutes to swell and stir for another 3 minutes.
This cycle is repeated several times it is important to, in order to be sure of obtaining soft and elastic mass for puttying walls. It is important not to plant again the resulting composition, then putty will take lumps and will "draw" stains on the wall.
starting putty
Performed a rough starting material, this coat is necessary to eliminate all shortcomings on the wall, Layer thickness can reach 1,5 cm. Apply several layers need. Perfect series mixes Vetonit.
the main thing, each layer must be carefully dry, before applying the next, this basic rule to be repaired!
To get the highest quality results, you can use masking grid, on which you'll distribute the filler. In this way, surface is more durable and smooth.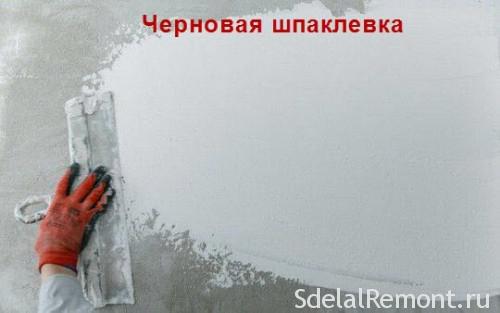 Plaster or stucco, alignment wall curvature
materials, which are necessary for this kind of alignment, They differ in composition. The main difference - is the use of gypsum compositions for alignment surfaces that allow the putty applied (eg, Фугенфюллер) technology observing the manufacturers instructions on the thickness of coating layer.
Basically plastered big swings Rodbandom or similar formulations, but if the coating layer comes to naught or menie 5 mm. then it is necessary to use materials which type of plaster putty, they are excellent and do not violate the technology of plaster walls.
Greatly facilitates the alignment of the walls of the installation of beacons. Lighthouses are set strictly vertical, attached gypsum mixture. Similarly, there is an alignment and horizontally. Here you need to also rule. By performing this procedure, you can achieve the perfect surface leveling, performance level is checked. More information on plaster beacons. Most often it is carried out in the premises, wherein the primary alignment is performed wall surfaces that have shortcomings weight.
Finish Surface Finish
Technology puttying walls for painting It involves performing finishing. Well suited for this ready-made putty. Such mixtures give a perfect smoothness and the walls. It is performed under special lighting, so as not to miss the smallest defects.
Caulking cracks and deep potholes
To eliminate the need to use deep cracks plastered, to increase the roughness of the holes you need to increase it from all sides, scratched with a knife along the entire length. Once primed and put putty in recess or sink. More information on how, how to prevent the appearance of cracks and get rid of them.
Especially when the sealing of the walls
The readiness of the material is important to check the consistency of the composition, the mixture should not drain from the spatula or pitch komkami.
Apply putty to the total surface We need a large spatula. That there is no transition and mounds - better do it overlapped.
Kneading the putty must be in small portions, to prevent it from drying out.
Not aesthetic strip trowel able to close acrylic finishing putty, the main thing, that they were not deep.
For forming smooth corners you need to use a special tool for plastered walls - corner trowel.
The thickness of the topcoat can vary from 1 to 2 mm. depending on the initial state of the walls.
To dry each layer of putty takes about 12 hours, in a damp room as possible increases.
After drying the layers of putty preliminary grinding is performed terminating special sandpaper or sander.
To achieve perfect results it is necessary after each layer of putty perform the priming wall.
Technology plastered walls for painting is carried out in several stages, plaster is applied two or three times, after drying surface overwritten sandpaper.
It is important to be attentive, because the paint does not hide even the smallest bumps and after it dries all the "schools" will be on your mind. Be sure to observe strict ceiling painting technology.
Conclusions and suggestions
The procedure for performing different surfaces putty completed, Now you know, what tools and materials you will become assistants in this difficult case. Take care of your health, Observe all safety regulations during construction work.
Let the repair work will be to you on the shoulder and a pocket. Site to make repairs It helps in this.