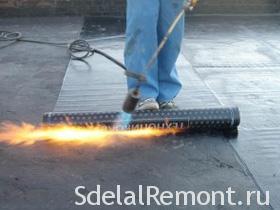 Armobitep - roll roofing and waterproofing material, that wool-based. It is made on the basis of fiberglass, glass canvas or fiberglass because of bilateral application polimerbitumnogo binder composition (rubber, bitumen, industrial oil). The protective layer may be mineral bilateral or unilateral coarse. Armobitep is commercially available in the form of two brands, such as ABSK and ABSM (Roll area - Hume2, its width - 960 and 1000 mm). Purpose of the first grade of material - top layer of the roof apparatus, the second - the lower layers.
Modern durable patterns constantly replenished assortment of roofing materials. It is now widely used Ekar-bit, monobitep, folgobitep and the like,.
Armobitep - is reinforced with fiberglass and covered with mineral granulates elastic strip shingles. This material is perfectly suited for covering roofs with complex configuration. Its service life is at least 20 years old.
It represents a soft tile having a rectangular or hexagonal shape thin tiles. At their manufacturing mineral wool-based applied first bitumen, and then a mineral powder.
The color scheme of soft shingles extremely diverse. This rolled material equal in length 1 m, its width - 300-350 mm, and thickness - 3-4 mm. The technique with him is: first it is placed on a solid floor, and then secured by pressure-sensitive adhesive layer and nails. From the total area of ​​this layer is 50-60%. Self-adhesive surface of the rectangular plates, compared with hexagonal, a little more.
at roof installation soft tile must necessarily lay waterproofing layer of web material.