certainly, many faced with the necessity of repair of upholstered furniture or its replacement by a new. A wide range of shops to select all, heart desires. But, wherein, prices on quality furniture products make you think, how difficult it is furniture with his own hands, and some time will be spent on this process.It turns out, nothing is impossible, and make the sofa or chair, although it is difficult to, but it is possible. Especially, in that there are clear benefits. First of all, this furniture to all 100 % original. It will be a matter of pride. Secondly, it will be much cheaper, than buying in the store, and not always where you can find exactly what, he wants to see in his apartment.
Common Action Plan
1. The choice of furniture, which need
So it turns out, that the production of upholstered furniture with his own hands is much more practical and cheaper. Having made the decision to do it yourself is not afraid of difficulties, and they are sure to encounter, Make a plan. Firstly, determine exactly, What would you like, What functionality must have your furniture. It is necessary, since it is from this it depends on the mother's choice, which will be used. The next step is also crucial: development of drawings. Own skills - do it yourself, do not own - look on the Internet. Quality furniture with his own hands the drawings that must be, succeed only if the size.
2. Working with individual parts
Naturally, work should begin by creating a framework. Then prepare individual elements, of compounds which will be discussed later. Here and useful dimensional drawings. Layout of individual parts is applied to the material, carefully and thoroughly checked everything and then you can begin to cut the workpiece. If done correctly, in accordance with the drawings, the first fitting shall show, how clearly the details stykovyvayutsya with each other. when inconsistencies, Errors must be corrected immediately, adjusting the elements of upholstered furniture to full compliance.
3. Determine the type of connection parts
Choosing the type of connection will depend on the purpose and functionality of furniture. If you make upholstered furniture with his own hands for permanent use in the same state, it is necessary to connect the parts with nails, screws, screws or glue. If the furniture is planned to dismantle or lay, should be used, the so-called method of fixing lapkovy. Anyway, work should be done carefully, excluding the possibility of bulging nails, spots of glue. At this stage it is necessary to handle all the rough edges so, so they do not protrude through the upholstery and not brought to the discomfort of the future.
Council: The variant of attracting additional labor when connecting parts. Alone, it is difficult to make. When using glue to calculate the time it is completely dry and then continue to work.
4. Selection and creation of upholstery
At the final stage of upholstered furniture, created with their own hands, It needs to sheathe, make the appropriate title, ie soft. Most commonly used foam, medium thickness. Furniture can be upholstered in any fabric, to your liking. The material should be cut by a pre-made blanks and fastened to an article by means of brackets. And this should be so, that they are not visible to others.
Well, perhaps, with the general recommendations we understand, And now let's try to make upholstered furniture with their hands.
Pull-out sofa bed: the gradual establishment
so, consider the question, how to create their own hands a popular and versatile sofa bed. In this article we will use a little unusual transformation method: seat on the guide rails pushed forward until it stops, and the back of the sofa is placed in a horizontal position by turning on 90 degrees.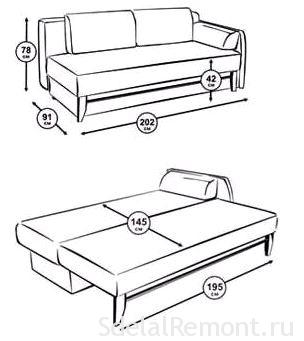 Start with a base. To create it take board, size 15h5sm. Using screws and screwdriver collect one base, the size of which will be 190h65sm. The bottom of the sheet do fiberboard, mount it on both sides by means of battens. K back, what we have fastened leg. By the same token we make the back and seat, filling on both sides of hardboard. Inside seat zapilivaem bars, creating additional strengthening.
Council: when creating the couch, consider, it is in the upright position, its soft part facing outwards. Give greater softness and aesthetics help cushion of polyurethane foam, wrapped in holofayder.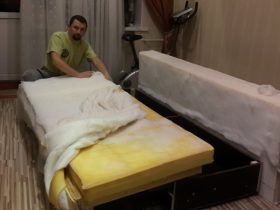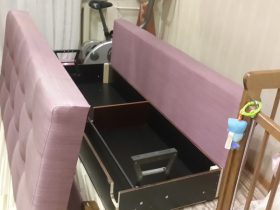 The most important, stage in the, how to make your own soft furnishings, is to create a mechanism of transformation. The back is connected to the base by means of the most common loops, bolted screws. In places where curling, can be attached additional bars, only improve the quality and reliability. Create sidewalls of fiberboard or not, it is the decision of each individual owner.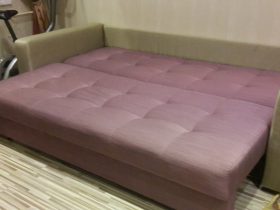 Well, that's so, quite a simple way you can get upholstered furniture photo that you see in front of you.
And fully understand, how to make furniture with their hands video help, see that you can lower.