Kitchen countertops artificial stone is the most popular one, If you prefer an expensive option. Among the affordable models especially in demand by today countertops made of particleboard, which are decorated with plastic. Such embodiments have the following advantages - affordable cost and excellent performance characteristics.
The models differ from particleboard strength, even if they fall from a height, it will remain intact. Only damaged her finish. certainly, DSP - is not water-resistant material, but thanks to modern production used special impregnation, by which they are much more durable and moisture resistant model. A operation duration depends on the quality of the coating. Production of coating used laminate, or HPL-plastic Postforming. Heat-resistant coating is obtained, resistant to the emergence of various scratches.
Be sure to trim any runs end areas and edges, besides, this decoration is done very safely. Otherwise, moisture gets into the interior of, and the material starts to swell. Installing the countertops in the kitchen and the hob is performed using sealants, that protect chipboard against water.
What material to choose for the kitchen countertop - chipboard or MDF?
Kitchen countertops are made from MDF is much less, than chipboard.
Particleboard and MDF - the differences between these two materials? MDF is a wood-fiber plate, and particleboard - particle. In the manufacture of chipboard, to bond the wood particles are, applied formaldehyde resin. Products of chipboard can allocate a certain amount of air formaldehyde, which can negatively affect your health. Therefore, the DSP is not the most eco-friendly material.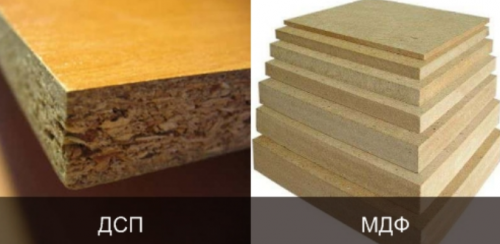 distinction, certainly, There are also in the cost of MDF -furniture more expensive products such as chipboard. But in the use of materials you do not feel the difference, for this reason, to take into account costs when choosing a particular model and its cost.
Important aspects when selecting the laminated countertop chipboard and MDF
If you are still wondering - what is best for the kitchen countertop, then we offer a model of laminated materials drevesnopodobnyh. They come in all colors.
In the design of such models are usually quite realistic simulated wood, a rock, metal elements, leather, and also exotic elements. Besides, They are decorated with a variety of prints and. But laminate countertop is not very similar to natural stone, than acrylic options.
Laminated coatings allow play to our imagination, but must take into account the fact, that light countertop with the passage of time covered in indelible stains. more precisely, spots over time will appear on all tops, but in the light, they will be very noticeable, in particular if it is monophonic.
For this reason, if you do not know, what kind is best to choose countertop for kitchen furniture for many years, then the best solution - a model of dark color, better not plain.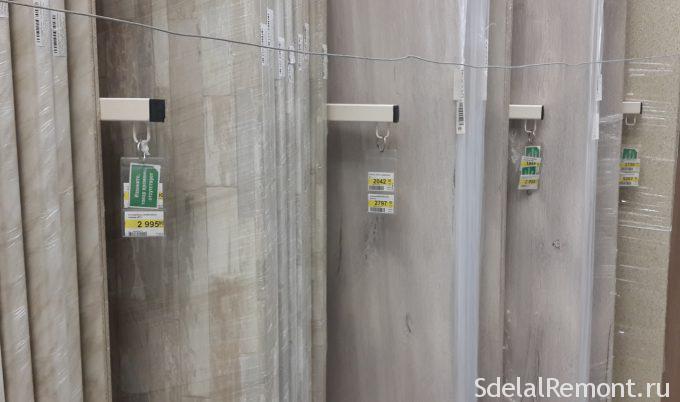 On laminate countertops with spots appear over time from older subjects. Moving the update of dishes on the cover is not terrible to him. Hot items also have no impact on its design. But surely there will be scratches, If the kitchen is always ready.
You need to add, that the scratches less visible on the matte models, and on various glossy visible damage.
When choosing a laminate countertops made of chipboard or MDF, You need to pay attention to the thickness. Today, manufacturers offer the following standard kitchen countertops with a thickness 28 -38 mm. It was under these standards are well suited for imported countertops fitted kitchen.
For long-term use of laminated worktops of common materials, how CPD and MDF, Important points to consider - accurately process ends and edges. Get countertop those companies, which provide a waterproof material.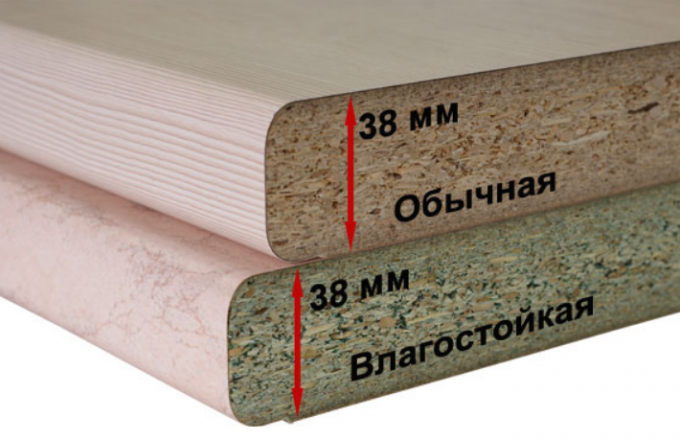 Most manufacturers offer to change the countertop in the kitchen with wall panel. The apron may be different, not necessarily that it was the same and it should conform to it in shade and decoration: practically, apron can be combined with the floor covering, for example, or kitchen facades. But if you do not know, that it be combined, then buy the countertop and apron together. This is a win-win, and at the same time quite a convenient solution.
important factor: model of laminated chipboard and MDF do not need to constantly expose wet cleaning, They do not like to cleanse and abrasives may thicken from the influence of various chemical components. Spots even vinegar remain for a long time.
therefore, exercising the purchase or repair of kitchen furniture, you need to choose the right products and materials.
As a self-install kitchen countertops?
If you want to change the kitchen countertop, the method of fixing it is easy to find, since the dimensions of countertops for the kitchen always standard and all, what you need - it screwed screws; in the latter case, who holds the cabinet side, already have the necessary holes. This is the easiest, where there is some extra manipulation, to strengthen and protect the table top from the side areas, Fitting decorative moldings or elementary silicone depositions, to seal cracks and to improve the design.
Absolutely other work is carried out, when the right thing, when needed withReplacement of kitchen worktops, who served his or broken, for example, because of the fall of heavy objects. There will require painstaking work.
Old countertop dismantled pretty neat, if it is planted in a silicone, trying not to break the rest of the equipment, which will be useful in general and safe condition. If you need need, you can use a hammer with a chisel. Once removed it carefully choose her successor. The following discussion focuses on how, how to correctly and accurately as possible to integrate a new countertop in our kitchen.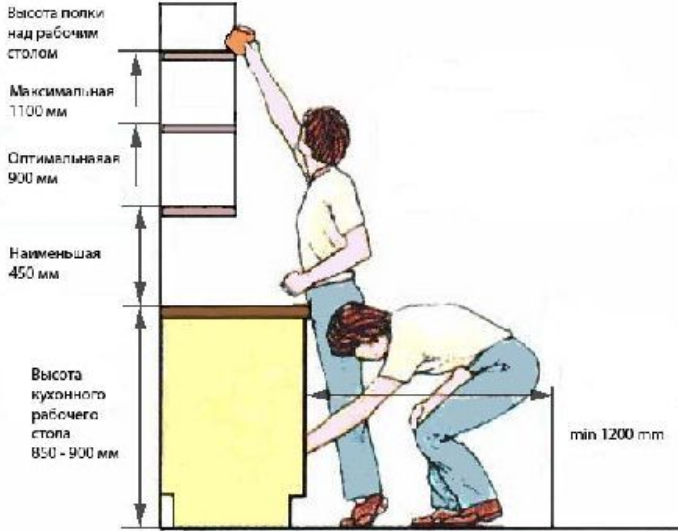 Steps for installing kitchen countertops
first determine, Do you need to make a hole under the sink or hob. If yes, these works are carried out at the initial stage. Take a cardboard stencil of the box or on the hob, which is put on the table and draw out with a pencil. Then take in hand drill and a jigsaw. Drilled the necessary holes, and jigsaw for pryhodytsya, to cut it out of the perimeter. Also note that the edges need careful handling special silicone.
Once processed holes need to try oven. If at this stage of their good fit, taking into account all the necessary parameters, then after installation they are very simple and without complications will be on your own site.
The next phase of replacing countertops in the kitchen - customize countertop thanks to cutting off the excess areas and process fresh slices. If the product dimensions do not need to be adjusted, this step, you can skip it and start the installation edge.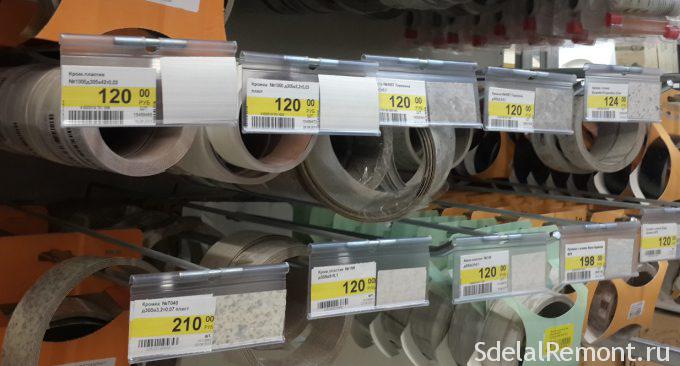 Applied metal corner, threshold, and more. In some cases, protection may be supplied with the worktop. And it's a great choice, otherwise variant it will have to look separately.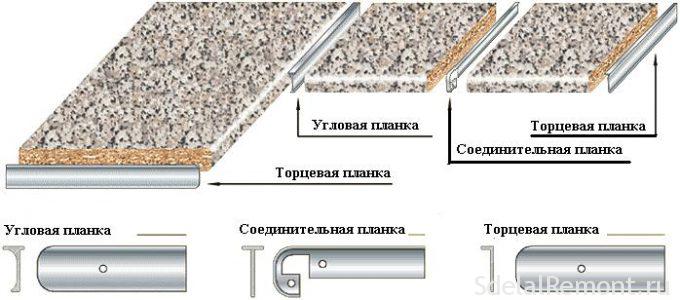 Its method of fixing a light and consists of bolting with self-tapping screws to the sidewalls construction. Cover protects from MDF, that the material does not swell under the influence of moisture and charring, which is quite often seen, If the cooking area a long period of time working on high power.
And now proceed to the fitting countertop to place her subsequent stay and proceed to consolidate. First, however, let the plinth of wall area. Ways to execute here a huge amount, as baseboards. They are made of plastic, stone, or of the same material, itself worktop. The plinth must be planted on the glue or fasten to the surface. To be effective, it can also be treated with silicone sealant.
Last stage - the installation of kitchen equipment, and then carried out the installation of the necessary communications. Ate you doubt their abilities, seek professional help https://stoleshnica-fasad.ru