To perform direct and cutouts in the blank and finished products of wood, plastic and similar materials properties, and even metal sheets are widely used jigsaws. The choice of the jigsaw is greatly simplified if there is sufficient information about the product.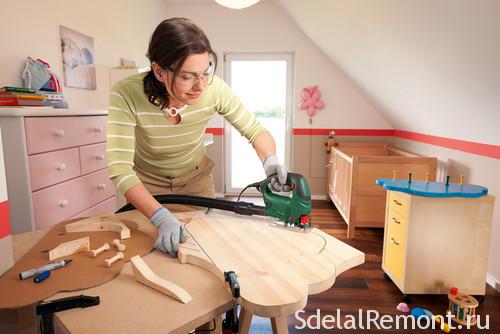 The design and main parameters
This electric machine consists of the following components:
housing;
electric motor;
pendulum motion;
with quick-lock clamp;
adjusting device;
softstarter.
Housing jigsaw is made of durable plastic, resistant to a variety of damage and allows you to perform the work for a long period with the least load for the operator.
Engine power is selected according to the conditions of future operation (uptime, quality and thickness of material being processed) and often serves as a basis for selecting the most reliable jigsaw.
The drive mechanism must reliably perform cutting of materials with sufficient precision. The high speed motion of the working mechanism(3000-4000 rev / min) It achieves a smooth cut line without chips and burrs.
The clamp is used to correct the orientation of the cutting tool, and also to ensure operational replacement saws.
The system parameters change section allows a high flexibility jigsaws. With the ability to adjust the inclination and the depth of the cut it is possible to carry out any kind of cut-outs and different complexity.
The softstarter is designed to enable non-impact mechanism to work, as well as for smooth cutting of brittle materials, the type of plastic panels.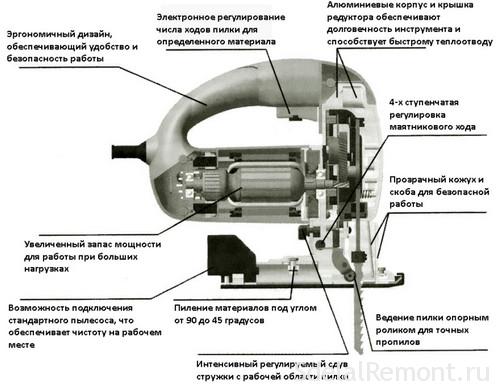 Also, some models are reliable Jigsaw different companies may include additional equipment, this, as:
Laser pointer directions;
dust extraction system;
rotatable saw blade in the clamp;
working area illumination system.
Basis when selecting a good hand with the electric jigsaw considered the maximum thickness of the material, subjected to sawing. The most common of these are the following types of:
Wood - up 100 mm.
Plastic surface - to 70 mm.
Ceramic or glass - up 10 mm.
Non-ferrous metals - up 15 mm.
A good saw blade cuts quickly and accurately
An important accessory for quality work are Jigsaw saws. Their proper selection of the service life of the entire product will depend. According to its characteristics nail files can be made of different materials and to implement cuts straight and curved shape. To work with the saw blade can be used with different brittle materials coated abrasives. Form sawing tail portion may be different and correspond only to a specific brand and to the manufacturer tool, that can help in the selection jigsaw.
Find the best option
The issue should be solved jigsaw purchase after reading multiple-choice, on the market, after performing the applicability evaluation tool. It is not necessary to look for a top model, or tormented with doubts about a better jigsaw Bosch or Makita - if to be episodic and simple operation. It is also necessary to consider what supplies are cheaper and more available in a particular region.
Most jigsaws, according to sales rankings, included in the top 10 the best - it's the following models: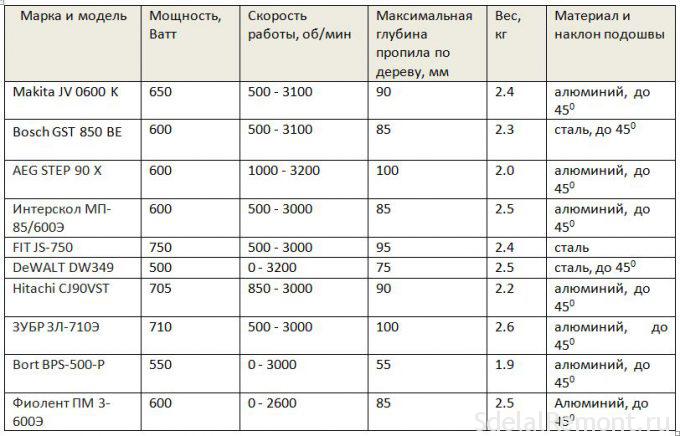 Which is better to buy a jigsaw - a rather difficult question. Models of different companies have unique characteristics, it is possible to determine by comparing characteristics.
see JV 0600 K
Model from the famous Japanese manufacturer with an excellent reputation. Through the use of a convenient handle, supplemented with flexible anti-slip inserts able to achieve high ease of operation. The housing has openings for ventilation, which allows the engine to operate for a long time without overheating. Due to reliable drive mechanism, This jigsaw is able not only to cut wood, but metal, thickness up 10 mm. Low noise level, together with the productive system allow the use of sawdust removing jigsaw in dwellings. Electronic controls provide operation with minimal noise and vibrations while providing a smooth speed adjustment, which ensures accurate cutting options. Besides technical solutions define precisely enough a parameter, as the reliability of. Jigsaw comes in handy for storing and carrying a robust case.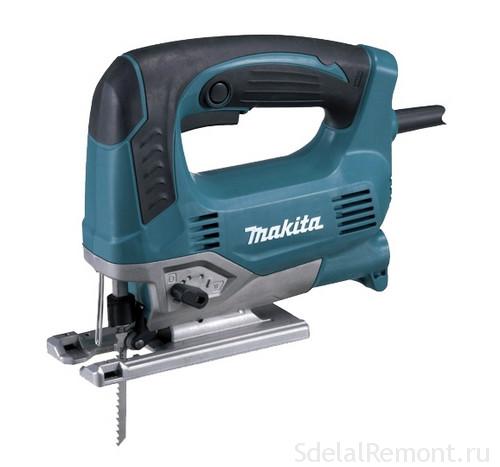 Bosch GST 850 BE
One of the best jigsaws for home, that lets you work with wood surfaces, and cut metal, thickness up 10 mm. Due to the system pendulum stroke with four degrees of freedom comes with high cutting accuracy and high speed. The powerful motor is protected against overheating and is capable of operating for a long time. The work of the operator using the system is greatly facilitated blowing chips and can be connected domestic or industrial vacuum cleaner. transparent screen, set before sawing, perfectly protects your eyes and allows you to see the cutting line. Adjusting the drive allows you to select one of the six high-speed modes, for better cutting of various materials. Handle, with special pads to reduce vibration during operation. Button-switch adapted to operate the right or left hand. The use of this tool allows you to clearly answer the question: "What is better to buy a jigsaw in the category of price and quality?»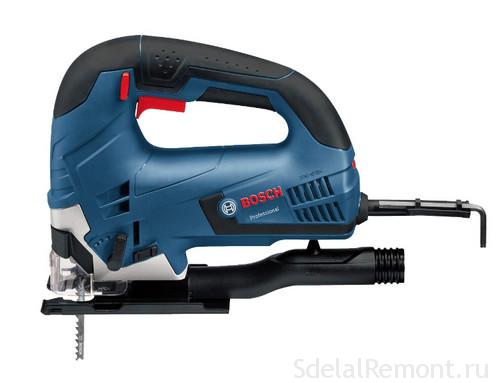 AEG STEP 90 X
Model by German designers of small electrical appliances. This machine copes with its main tasks to implement the cuts in tree, plastic and metal, as well as the production of objects of different shapes of these materials. pendulum motion, actuated sufficiently powerful electric motor, It allows you to work for a long time. Engine operation modes are matched optimally electronically. Internal systems to ensure accuracy of the cut material, and a small deviation from a given line. Due to the low weight could provide a compact tool. Using direct and guide the circular type ensures that work on templates, which is important in the manufacture of decorative items. Jigsaw equipped with a system of blowing sawdust and dust, that together with a protective glass improves working comfort. Shock-resistant enclosure is equipped with a very comfortable grip, characterized by high ergonomics, designed for a wide grip. The rear portion of the housing has a connection for vacuum cleaner nozzle. Replacing the cutting tool is very fast, thanks to the special design of the holder.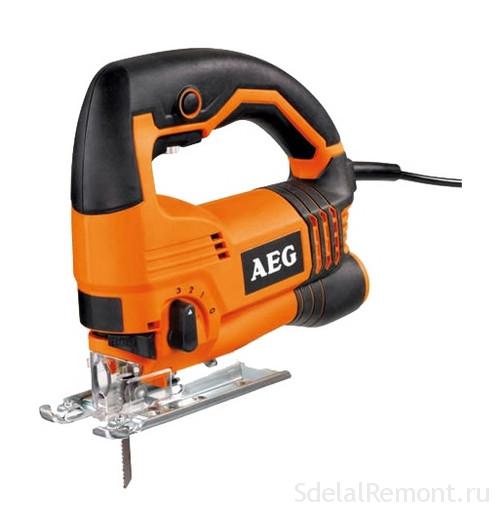 Interskol MP-85 / 600E
Inexpensive and reliable tool to perform various works in figure cutting wood materials, plastic and metal. A powerful electric motor drives the pendulum mechanism and allows for precise cuts even in hard wood and materials such, like particle board and laminate. Handle with pads to absorb vibration and power button made of plastic. Oscillation drive mechanism and the gear are in a metal housing, which increases the reliability of tool. For convenience provided blowing the sawdust from the work area and the ability to connect the jigsaw to a vacuum cleaner. The attachment system allows you to quickly replace a nail file, which can be purchased in a fairly large range in DIY stores. Enough long cable allows you to extend your workspace. The kit includes a guide bar, as well as the circular center for performing radial cuts.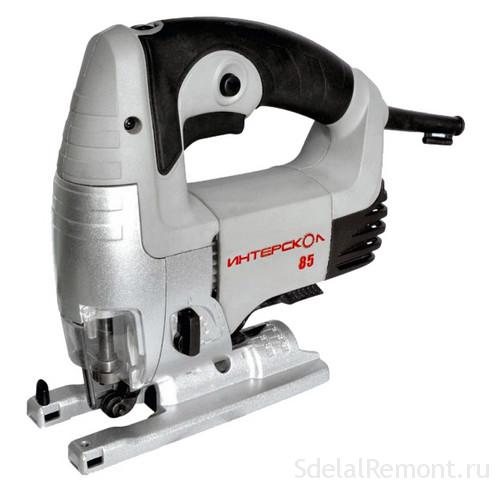 FIT JS-750
High power jigsaw, allows to work with great hardness materials. Equipped with a pendulum device, this tool guides you through the various operations of carpentry wood processing, metal and plastic cutting. The presence of high-strength rotary soles, made of steel it makes it difficult to process even surface portions and. High degree of safety is maintained using a translucent screen in cutting zone. speed control system allows to change them in a wide range, depending on the material characteristics. The handle is covered by a layer of special control composition, anti-slip in the hands of a jigsaw. The system of blowing sawdust, also as a tool for connection to a vacuum cleaner to help create the best conditions for work.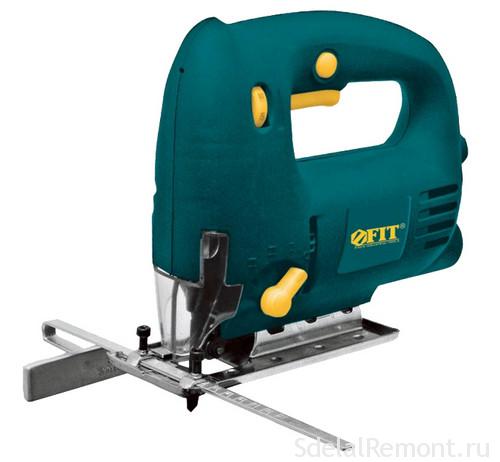 DeWALT DW349
Electric jigsaw, equipped with a powerful enough engine, which provides a high performance tool. sawing movement takes place through an increased productivity drive gear. To ensure a straight cut line is a special clamp construction and additional LED lights working zone. Speed ​​control allows you to perform the processing of materials with sufficient accuracy, and the ability to quickly turn the platform at various angles provides the use of the tool in confined spaces, and helping to carry out the cuts complex shapes. A steel sole plate is equipped with a special plastic, that prevents damage to the treatment surface. Power cord length 4 m easy operation and creates additional convenience in the work. Removal of sawdust is performed using a vacuum cleaner, connected via a special adapter.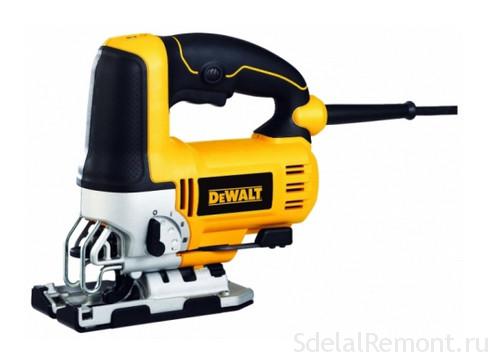 Hitachi CJ90VST
powerful jigsaw, able to saw large tracts of tree, as well as metal products. Oscillating mechanism provides a smooth, stable sawing, even with heavy loads. On top of the sole aluminum alloy protective coating based on nickel, that allows you to achieve excellent sliding jigsaw on the workpiece. For work for a long time the handle are provided with special inserts for anti-vibration protection. Changing the motor rotation speed control performed, which is characterized by its color and shape of the entire handle. Constant speed supported by the control system, which does not allow the engine to overheat. Selecting the email. jigsaw of this brand is also due to the possibility of removal of debris and sawdust blower system or connection to a vacuum cleaner.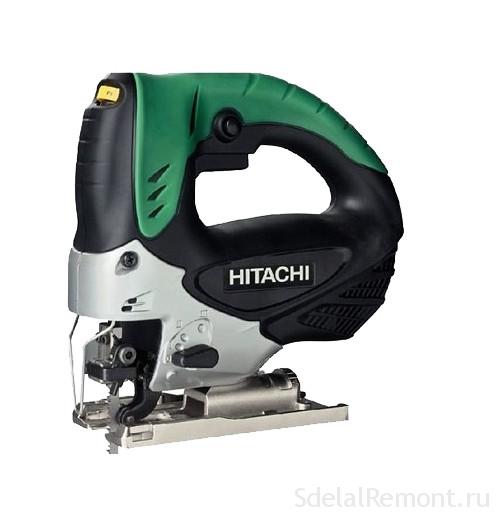 ZUBR ZL-710E
Also belongs to the category of heavyweights, capable of operating for a long time, even in the presence of complex materials for cutting. The increased power of the engine, together with a drive to cut reinforced bearings allow various articles made of wood and other hard materials. Pendulum mechanism provides steady sawing not only along, but also across the wood fibers, if properly chosen nail files. Articles made of plastic may be cut, avoiding damage to the starting material. Transparent screen made of durable plastic prevents scatter sawdust when cutting. Also helping in the work will have an additional device in the form of laser-cut direction indicator. Nail files of various types may be used in fastening a retainer with the possibility of rapid replacement. For operation in low temperature environment is performed via power cable frost.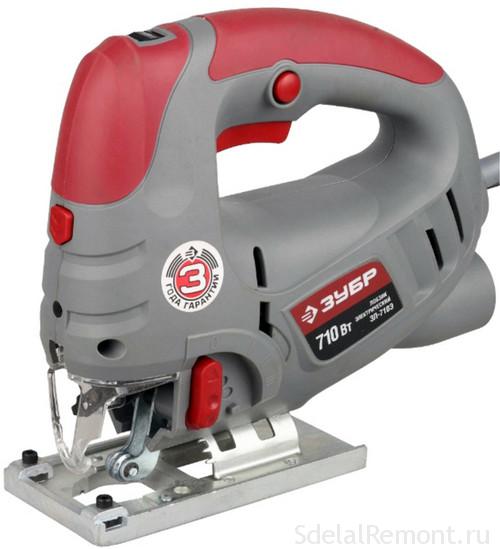 Away BPS-500-P
This jigsaw is better to buy to run short of work at home. electric motor, together with the pendulum mechanism enables not only direct, but slanted slits in hard materials. The low weight design jigsaw carried possibility of its use in the repair work indoors. Despite its modest dimensions of this jigsaw is best suited for occasional work in a city apartment, leaving plenty of room for creative research, for example in the manufacture of decorative elements.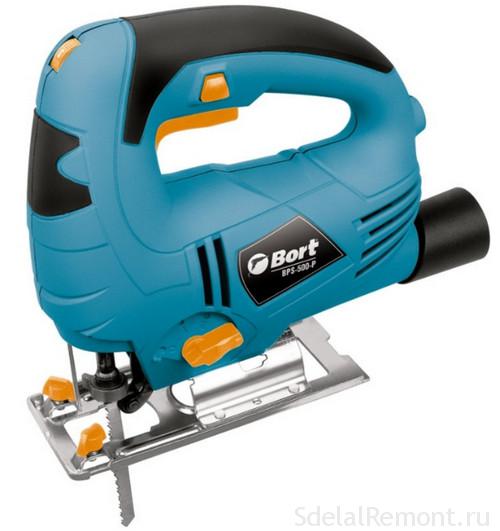 Fiolent PM 3-600
Tools for working with wood and combined blanks. Oscillating drive allows you to perform cuts not only direct style, but also inclined sample. The side inserts keep sawing and allow to maintain squareness in cutting materials. Removal of debris and shavings produced by supplying air flow into the cutting work area. Engine enough to withstand long periods of work, without overheating the body and reduce health. Dimensions are kept reliable system of fixing the cutting mechanism.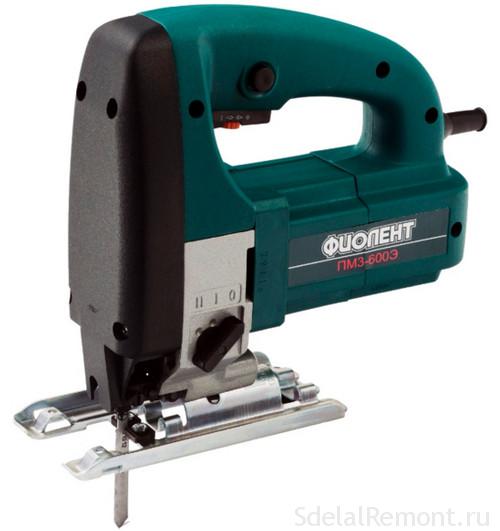 Aspects of the application and other parameters
In order to find out, a jigsaw better buy for, will have to determine the volume of future work, material type, and of course, financial opportunities. It often happens that the situation at issue: "Which company to choose jigsaw?"Placed at the forefront. However, the use of professional tools for the home is not always justified, even when high functionality. In addition, any jigsaws, even the most robust may break down, and repair tool known manufacturers often entails high costs. In addition a large engine output is not always useful when working with small amounts of material being processed.
Only after consideration of all options in terms of reliability, prices and applicability, may go to choice specific model jigsaw.