At all stages of the screed floor can cause problems, related to its subsidence or cracking. Besides such floor during operation may be deformed due to significant changes in temperature, from winter to summer and back. So in most cases all this could have been avoided, fibrovolokno used for floor screed made of polypropylene. It has a sufficient number of positive features, and which distinguish it from other possible additives in a ready to use mixture.
notion
As mentioned above, a polypropylene-based fiber has, referring to the artificial materials. Each fiber may have different lengths, marginally 3 mm and amounting to 18 mm. However, their diameter is about 20 m. To use the material can easily penetrate in the construction mixture, become one, applied to the surface of the fibers an oily substance state.

It completely replaces the other elements of the reinforcement ties. Cement becomes more tenacious, plastic and able to last significantly longer. Of course, Alternatively take a steel reinforcement. But for a large area of ​​space it is made very difficult and quite expensive, the price rise in times. Distribution fibrovolokno performed completely throughout the mixture.
Properties and quality
If it is performed polusuhaya screed sex with fiberglass, such a solution will receive a large number of positive points, among which are the most basic:
Long life. The very "rough" version of the floor becomes a very robust and reliable, protected from external factors, including temperature conditions.
High and low temperatures have no effect on the grouted. You can also highlight the ability to resist de-icer salts,.
Solidification process takes a short time. after only 12-16 hours you can walk on the base floor, perform any kind of decorating the room. Through 3-4 days after that, You can proceed to the deck floor covering.
Maximum resists moisture. Water permeability is reduced to limit.
This screed is not afraid of mechanical influences, It is not erased with the passage of time of use.
After the work is no rainfall, "rough" sex, no cracks, chipped, bundles of material.
Work is carried out very quickly and easily due to the fact, fibrovolokno that gives the finished solution flexibility and plasticity.
Sufficiently low amount of this additive mixture.
After doing all kinds of work, You do not need to worry, the fibers begin to have corrosion. They remain intact for a long time of operation. Fiber can also be used for special equipment, which is mortar. The result is a perfectly smooth surface, does not require any additional actions.
Polypropylene used independently distributed throughout the thickness of the finished mixture, that does not expend additional manpower and resources for the process. This significantly distinguishes it from the steel mesh, which is used as a reinforcing element.
Fiber for floor screed has virtually no drawbacks. They minimized. And can only occur due to the fact, that is not a certified raw materials purchased for. Over time, it loses its properties, and also can release into the environment of various chemicals, which can be harmful to human health. Qualitative fiber eliminates these moments. Here we should pay attention to what, that is purchased to perform floor installation.
As a result, you can not even think of the, whether to add to the fiber of semi-dry screed. The answer received only one - certainly.
Features
Additional features of such a universal material that can be isolated, that fiber screed floor heating can easily "get on" with other possible additions, are added to the concrete.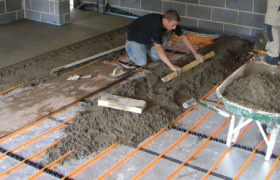 But here it is important to pay attention, administering to the fibers in solution was carried out portionwise, rather than all at once. This will get the desired result. Do not be amiss to initially mix it with Ready-mix for sex, and only then add the required amount of water.
The used amount of binder will depend on the quality of the "rough" sex. The more add, the result will be the maximum.
Underfloor heating with fiberglass
No problem with that, to arrange warm floor in the House. And there will not be a hindrance fiberglass, added to the dry mixture screed. The main thing to do everything according to technology, that subsequently was not shown the negative aspects. If it is not possible to independently perform, or have doubts about the final result, then it is better to seek professional help. They will perform works, and for them in the future it will be possible to make claims on the quality of.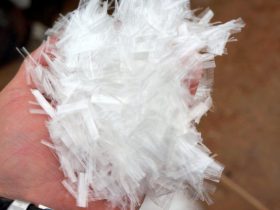 When the device underfloor, it is necessary to focus on a particular version of it. This can be a cable, water, electric, Infrared Heated floor. Benefit there is sufficient technology to its arrangement. In this case, the insulation is very important, which does not allow heat to go to the basement or to the neighbors. This layer is laid under the screed. Carried out further heating system, Install all necessary communications, and only then can begin to carry out the installation of the screed, using dry screed fibrovolokno.
consumption of fiber
With regards kneading the composition made of cement with fiber-, here there are enough options. Every one of them breaks a specific person. Yet it must be assumed, that is chosen is the optimal for. Is there one very good rule: the more fiber is used in solution, the higher the quality of all the declared final product. It is important to know, how much fiber added to the screed floor heating.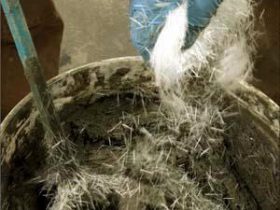 There are minimum limits, which runs in any case be. much as possible, but not less than.
For each cubic meter of solution it is necessary to spend fiberglass:
300 gram imparts plasticity mortar. Besides, in this way he is able to be distributed evenly over the entire surface of the subfloor effortlessly.
500 gram. concrete properties is even higher, strength increases.
More 800 grams - get the best possible result in terms of quality. The material itself of the cement becomes almost as useful, as the very fiber, serving as an additive.
But even this is not necessary to stop, and assume, What is required to get the result. In some cases, Depending on the operating properties, solution can be made with fewer fibers. But as soon as is necessary to understand, that there may be problems with the negative manifestations prepared grout.
cost of
The hottest question - the cost of using fiberglass in ready mix. Here it must be assumed, Why will target the fibers themselves.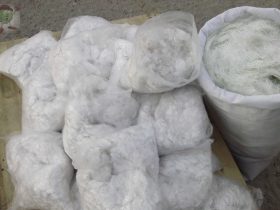 Indeed, this will depend on length of the fiber and, which can be 6, 12 or 18 mm. Packaging usually made from propylene bags, total weight 18 kg. It includes 20 packages of fiberglass 900 grams in each of them.
Since the cost of 1 kg of material is in the order retail 200-250 rubles, the one bag can be purchased for about 3600-4000 rubles. The price will drop, if the party goods increased. It becomes very beneficial for construction companies and firms, engaged in carrying out repairs. Anyway, Doing the work yourself will save almost half of the cost of repairs carried out.