For many masters, who are seriously engaged in construction, quite often there is a situation, when traditional, standard tools and devices require a very serious development and improvement. Such rationalization work is most often associated with the use of additional functions for the conditions, where a common tool is not something that is difficult to simply inconvenient to work, but little tricks allow, for example, do not go down the ladder during installation of drywall or floor to probe arms in search of a fallen bits give much more benefits and convenience. And here is one of the few universal elements, which serves as the basis for all of these inventions acts neodymium magnet, the use of which is found in many building devices. Lately a lot of popularity gained strong neodymium magnets which stops the counter, they are distinguished by a large magnetic field, but at home they are rarely used but there are very useful tools that are very helpful in. Consider the most popular accessories for DIY.
Magnetic holders for welding
Such pronounced magnetic properties of this material could not be used as a holder for initial fixation welded parts. Neodymium magnets in the construction and repair really is most often used for welding. And there is nothing surprising, simplicity and ease of, with which they can securely lock into place all of the parts to be welded, making magnetic holders virtually full-time welding tool, leaving far behind the clamp, clamps and various methods for "quick tack" metal for further weld formation.
The most simple form of a neodymium magnet use is associated with the fixation of the welded parts is a conventional round or rectangular magnet. A significant traction from 11 and to almost 50 kg, It allows you to use it to fix the workpiece in position and easily start to their welding.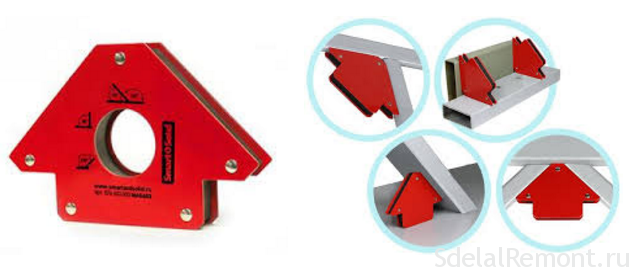 Angular magnetic holders, used to set certain angles parts, successfully used, for welding sheet metal, and fittings, eg, pipe, corners, a metal rod or wire. Most of these magnetic holders have the form of geometric shapes - triangle, quadrangle or pentagon. Adjacent faces have a certain inclination angle that allows you to easily select the desired setting angle. The design of such holders is quite simple - two metal plates between which the fixed magnet.
Magnetic clips are divided into two kinds of fixed and switchable. Different shape and bond strength.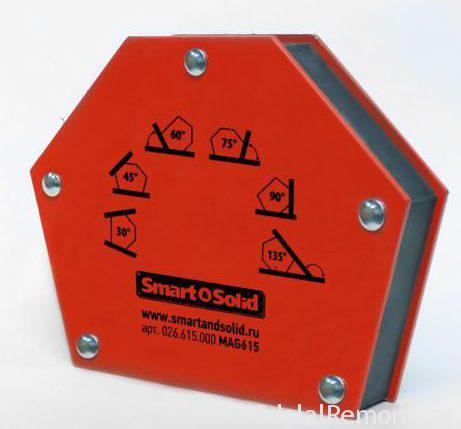 Composite magnetic holders are now the most versatile type of additional welding tool. Such a composite allows the holder:
Install welded parts at any desired angle;
Operate as sheet metal, and Packaged with elements;
Handling installation according to the operating conditions;
Have traction 11-45 kg.
Neodymium magnets are used to hold the contact mass, allowing you to quickly fix the contact wire.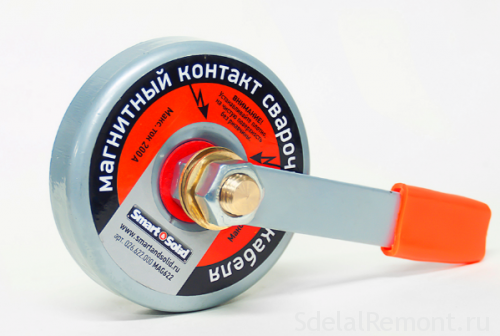 Mobile holders and devices
Working at height or in confined spaces, when there is no possibility to change every time the position of the body, and the technology requires a large number of small fasteners elements, eg, nuts, screws, screws or nails it possible to find a neodymium magnet used in everyday life - as a mounting bracket.
Opportunity to attract and retain long-time small details helped to adopt a neodymium magnet as a holder for fixing. Really, Working at height is constantly changing body position and to get out of his pocket screw or screw is not something that is inconvenient, sometimes it's just impossible, especially, when you want to quickly fix a lot of self-tapping sheet of drywall. It is much easier to use as a bracelet with magnet holder, which are secured fastening elements. In this case, without changing the position of the body and hands, you can simply get the screw and fix it. Operation, who was previously 1-2 minutes, with such a bracelet will be only a few seconds.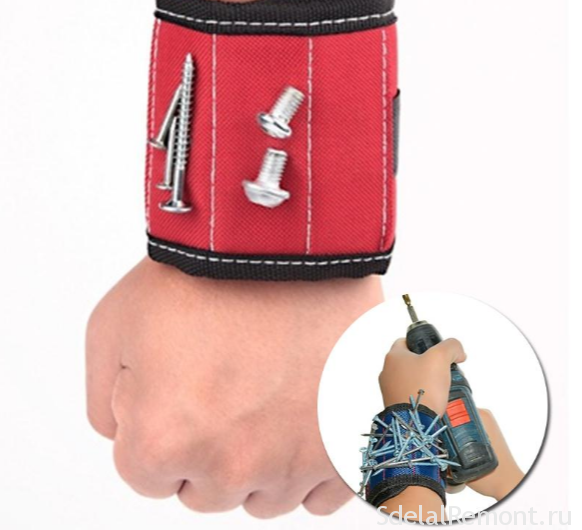 Ease of such bracelet has been successfully used for the collection and transport of small parts and hardware, because often when a large amount of work when a large number of uses, for example, nails always runs the risk of simply sprinkle a box with hardware. The bracelet also allows you to connect and make rational use of the necessary amount of consumable material.
Scope neodymium magnets napulsnyh bracelets-holders of hardware can be successfully applied both during finishing, eg, to install drywall, and for repair operations, for example at car repairs, when there is a need to temporarily dismantle the trim or remove ceiling lights. Besides, such holders and are used by women, because during cutting and initial assembly of clothing seamstress often uses stealth needles, which must be constantly on hand and in the right quantity.
Measuring tools using magnets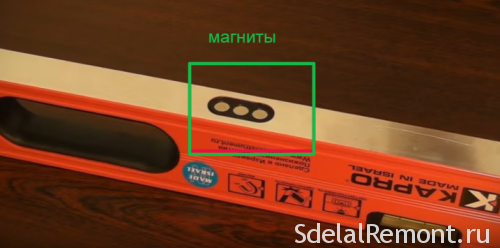 Using neodymium magnet construction possible to carry out another very interesting its use - as a level latch. Really, during assembly and installation of critical structural elements of the building is very important to maintain the angles provided by the project, horizontal and vertical position before fixing. It may be the door, window, beams and slabs, eventually building reinforcement cage requires that all major rebar columns were installed vertically. BUT, Besides, setting a fence or hedge, racks for grapes or welded frame greenhouses of metal elements, In all these operations is indispensable level with a magnet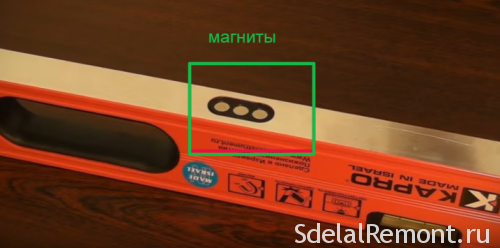 Most often, this level is used by professional builders, because the level of a neodymium magnet used in everyday life will be relatively small. But even for domestic use a level to make many construction operations much easier and more convenient. After fixed on the magnesium level with no extra effort retention arm, It allows you to adjust the position of the mounted element, while the hand remains free. Usability level coupled with a precise measurement of the angle of deviation makes this instrument extremely popular and necessary.
The holder for the nails
Traditional applications for neodymium magnets protrudes and is a new type auxiliary tool. Really, the usability of the percussion instrument, lightness apparatus fixation wooden parts and elements, Mount other materials to the tree makes nails and today one of the most popular types of fasteners. On the other hand, hammering nails often happens, that the impact has not quite nail head, and on the fingers of the hand. Especially when this happens while the small size of the nails used, do not allow to keep them comfortably. Avoid injury and significantly improve the quality of work allows the use of such a tool, as a magnetic nail holder. plastic handle, at the end of which is integrated neodymium magnet to easily fix the nail and allow to set it up in the place of installation.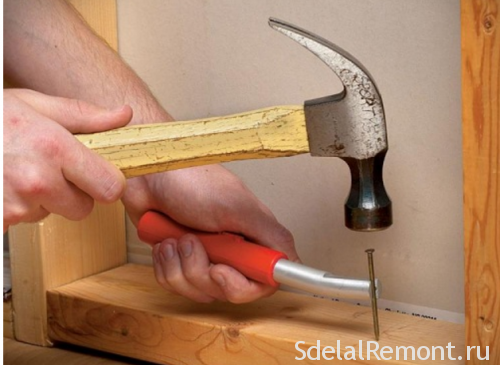 Namagnichevatel tool
For installation work, especially for the installation of electrical wiring and its members for convenience use a special magnetized tool. Screwdrivers, tweezers and other hand tools, having magnetic properties easily and effortlessly detect the installation location of screws and nuts, fix and clamp the wire in the joints. but, as often happens, continuous use of such an instrument, and even the improper storage of the tool, without individual casings, without contact with the metal and another magnetized tool leads to the loss of magnetic properties. And it turns out, that even a very high quality and reliable tool, to guarantee the demagnetization 1% at 10 years in a few months so loses the right property.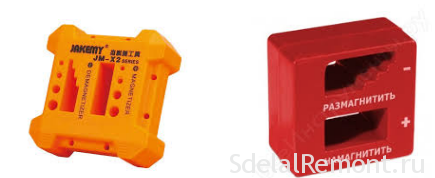 Neodymium magnets are used to restore all properties such tool, who simply carried restoring magnetic field of metal parts tool, allowing for a short time significantly improve the properties of the tool, and to restore the ability to attract metal.
Telescopic magnetic collector
The use of a neodymium magnet in the home and construction makes many operations are not just easier, but also comfortable, eg, to understand how convenient to have a magnetic assembler is enough to recall how many times had to bend down in order, that during the last repair picked up the fallen screw or reach forgotten at the height of a screwdriver.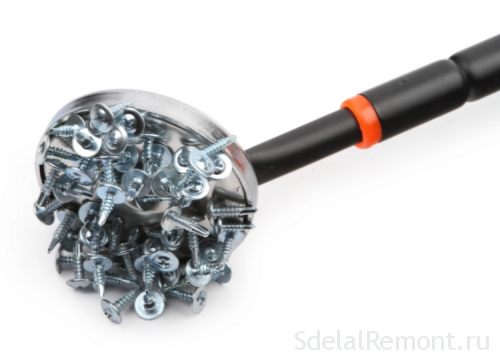 All these problems can be solved by using telescopic magnetic collector. Convenient sliding handle length 60 cm can be transformed to 1 m, and the magnet firmly hold on 10 to 22 kg to capture the desired object with 100% guarantee. But this is only one side of the tool, such holder is a must for the collection of the spilled small parts and hardware. Especially such a tool will appeal to those masters, whose workshop is in the garage, because the screws to assemble such holder is much nicer than the automobile tires.
A set of magnetic tools
The use of a neodymium magnet in construction, home, welding and repair work actually made these tools and instruments so popular and convenient, that for many tasks have invented a whole series of toolkits, with different qualities and performance, but it is always easy to handle.
tool sets, that use Neodymium magnets and holders are formed depending on the use:
Sets for welding;
Kits for fine detail work;
mounting kits;
Kits for domestic use and minor repairs;
Painting sets.
Such kits having in its composition tools and accessories allow you to optimize the organization of work, facilitate the use of basic tools, significant savings on the purchase of, because the set ultimately is cheaper than buying a piece.
Video as a neodymium magnet is used in the repair of apartments