Responding to the question - how to clean the dried assembly foam, We need to find out the chemical composition, determine, What solutions can completely remove such contamination. There are many special liquids, to help remove the hardened foam efficiently with wooden, metal, plastic surfaces. And what to do, when polyurethane foam fell on hands, body or person? This building material consists of polyurethane foam, It has a high degree of adhesion and durable adhesive properties. That's why it's so hard to clean a variety of surfaces. But it should be done! The foam core can be washed with wooden products?
How to clean the foam
In this case, perfectly useful acetone, liquid foam it dissolves right in front. But it will serve as an assistant until, until the composition does not wither. And after only require mechanical or chemical means.
Until recently, dried-up foam was impossible to wash off.. Until the foam is dry, it could be wiped off with special liquids, which are sold in the same stores, that the foam itself. Among them are foam cleaners: «Golden Cleaner», "Awesome", «Mastertex», Hikon and others. Hardened foam was removed only by purely mechanical means., gently scraping off a contaminated surface, causing damage to the surfaces being cleaned.
But progress is moving forward, and hardened foam cleaners appeared, such as:
hardened foam cleaner "PENO-OFF";
foam cleaner "Platina Cleaner";
cleaner "Russian Professional";
hardened Purex foam;
hardened foam cleaner "HOBBY".
Hardened foam cleaner "PENO-OFF" 340 ml
Use a wire brush, scraper or knife. Solid pieces of building material, first carefully cut off, and after rubbing sandpaper.
Special cleaners hardened foam: «Platina Cleaner», "Russian professional", "Pureks", «PENO-OFF», «HOBBY».
Ways to use such tools.
Shaken bottle and sprayed onto soiled portions, Ten minutes after the foam residues are removed mechanically, and the surface is wiped with a cotton cloth.
Attention: We need to monitor the area of ​​contact of the cleaning solution, and then you can remove the foam with paint, varnish, other protective materials. Spray bottle near the fire is strictly prohibited!
You can completely abandon chemistry, try to wash the dried assembly foam folk remedies.
The drug "Dimexidum" removes traces of construction foam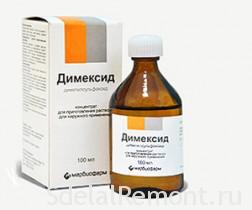 Dimethyl sulfoxide can be purchased at any drug store for a symbolic price without the permission of the doctor. Work with him must be carefully, agent is absorbed into the skin and has an effect on human health.
course of action, following:
Dress rubber gloves;
concentrated solution in pure form is applied to soiled areas on 40 minutes;
foam is removed, spots are stripped brush (if the means employed on clothes, after cleaning it is necessary to properly extend).
Laminate, linoleum perfectly cleaned all the folk and chemical methods.
Vegetable oil
Refined sunflower oil - who would have thought, that it can be of help in the fight against frozen mounting foam. However, oil "works", but not always. Polyurethane is not a fat soluble substance.. Therefore sunflower oil, like most types of solvents, effective until that moment, until the polymerization process is completed.
Simply put, they can be washed off only with fresh or not completely "dried up" consequences of penetration of mounting foam. applied to 30 minutes on the remains of the dried foam and easily removed conventional cloth. Such a tool will be justified when building foam gets on your face., arms. This method is the safest for delicate surfaces..
Direct sunlight
It is not joke, really the sun foam tends to change its structure and gradually deteriorate. This method will perfectly clean old jeans or carpet surfaces., which can be posted on the street from time to time "to knead" contaminated sites.
To scrub the foam core with clothes you can try the special cleaner, then soak in the powder thing for a few days, and a good rinse. The spots may not disappear without a trace, but discolor and remove dirt from fabric materials get certainly.
Attention: can not be washed off with water foam mounting. So, it penetrates even deeper and stronger the material dries.
How to tidy the mounting gun after completion of work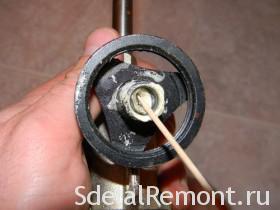 Clear gun by foam is not easy, and sometimes impossible. It should not be disconnected from the cylinder, while construction works are. Every day you need to wash the tube with a special solution, mineral alcohol or acetone.
If the gun is not cleaned, it is necessary to disassemble. It is necessary to promote a crown landing nest and pour into a solvent. After gathering mechanism. You can still use a thin wire to clean the tube and shake out the frozen foam.
Since the functionality of the device will be maintained properly during the entire duration of erection works.
Removal of foam plastic and glass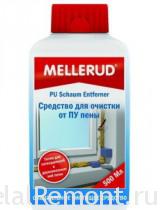 The clear frozen assembly foam with plastic windows? This can use a conventional oil solution of. Apply liberally to sunflower oil contaminated area, withstands 30-40 minutes and then rapidly erase the rough pad sponge for washing dishes. When the stain has almost disappeared, allowed to wash the window with a solution of household 75% soap or detergent powder.
If the window frame is wood, the foam remains can be erased with sandpaper and painted over the surface.
How to remove dried foam from hair
If the strands of hair are clogged with foam, then remove it requires a fundamental method. Cut a strand of hair. Or try to apply a folk remedy "Dimexidum". It is important to be cautious, because the medicine is potent and rapidly absorbing. Use chemical weapons are strictly prohibited!
But clean stains from upholstery or other dense fabric cover foam can be a simple way. You just need to scrape off a thin blade or a sharp knife foam. Faded powder with a special stain remover. When pollution delicate fabrics is better to turn to the dry cleaners, so as not to leave a burnt spot on the velvet, silk and acetate.
Attention: foam "afraid of the cold", soiled item can be put in a bag and stick in the freezer. This is not three-dimensional fabric, various types of clothing. After freezing the foam is easy to clean hands, it becomes pliable and fragile. Next thing thoroughly erased.
That's how you need to clean the fabric of the foam!
Such simple and safe ways to remove stains, to help keep the fabric articles, wood, glass, metal and plastic materials safely. And when using chemical means should be careful to observe strict rules and operating flammable solutions. The following video how to clean the foam core will tell users about the nuances and variations to eliminate traces of the building material on various surfaces.
Caution! Consequences of skin contact means for removing foam Penosil video watch.