Most carpenters and wood craftsmen, They want to have a versatile machine on the farm, but make such a device yourself, many do not know. In this guide, you will learn, how to make universal milling table with his hands.
universal machine plus tree in, that does not need to have multiple units and walk with the workpiece from one to another during operation. Unique and versatile, will be at the same table, and perform actions of a few units. of course, Limitations of this device are present, and make absolutely universal lathe for wood is not possible. But to make router table with their hands, which will be present and circulating saw elektrorubanok, is quite real.
For embodiments in reality undertaking, you need to take care of supplies, as well as tools, which will be needed to create an accurate and smooth table, on which they are mounted device. Since the device on the table will not be one, you want to make a broader and more long table. In order not to spoil the material in vain, First you need a piece of paper to draw the circuit and the location of the future devices. This is an extremely important argument, since the efficiency of the machine depends on the location of all elements of competent. Pobespokoytes advance of each node position. If the task seems much difficult, possible to use ready blueprints. In this way, craftsmen produce table circular saw with his own hands, without the help of experts.
The main criteria of the table saw circulation
Design, which will be installed woodworking machinery, It should have such characteristics:
Capital rigidity and stability.
Perfectly flat surface.
ground.
Free space for sawdust.
Easily accessible to the waste to eliminate them.
protection shields, which are installed on the rotating elements.
Adherence to the above rules, make really high-quality and safe router table with their hands.
There are several requirements of the circulating saws, that should be considered for high-quality, productive and safe operation of the unit.
1. Good fixing the saw blade.
2. The fencing of the working part of the saw blade, what many consider an impossible task.
3. button start-stop availability of the unit.
Additional requirements to the table, depending on the preferences of the carpenter and his professionalism in this field. Auxiliary elements help to precisely process the workpiece, longer perform sawing boards, which ultimately affect the capabilities of the machine to perform a completely accurate, qualitative and complex products.
Most of the craftsmen, perform drawings milling table with his hands, and if there is no confidence, better to work with a mechanic, or a person who made a similar device.
The construction Circulation saws, Machine of Baikal sawblade
ordinary table, which can be purchased complete with a stove circulation, It operates in most cases made of stainless iron. Artisans use a simple steel, and the supporting structure is welded from metal parts. Disk, cutting wood, mounted in the interior of the table, on a shaft with bearings, and feeding the mechanical energy produced by the belt transmission. The plate is cut to a disc, which is surrounded by wooden formwork, and on the inside of the table is adjusted by screws. The gap between the table and the cutting blade, It should be a few millimeters, otherwise sawdust, work will be hammered into the slot, and lead to a malfunction of the unit. The gap is adjusted depending on used diskov.Kazhdy tries to execute drawings of the circular table with his hands, to make a versatile and a good table for woodworking, but lack of knowledge can play a bad joke.
calculation parameters
In order to avoid the costs and absurdities, strictly follow the basic parameters contained materials, and you make a quality carpenter's table with his hands. When we collect the table for hand-held circular saw with his own hands, you must take into account the electric power, that will be applied. If you build a table for the router manually with your hands also need to take into account the performance of the motor.
To better understand the structure and circuitry products, check out the story about the carpenter's table with his hands video is posted on the website.
When taking into account the fact, that the table will be universal, to do as much as possible the construction of a stable and durable. Perform craftsmen drawings under the table router with their own hands, but if the structure is to weld the other person, you need to explain in detail, to end up with all of the elements in the right place. You can not make separate milling table with his hands the hand router, as most masters, making universal table, work on it and hand tools. It is very convenient, as a place for grabs, everything is at your fingertips and productivity increases.
power calculation
To make a good table for the circular saw with his own hands, you need to make a correct calculation of power, at a ratio of power of the electric motor and the proposed work. I.e, for comfortable cutting different types of wood, enough to put a motor 1000-1200 W. Experts advise not to use more powerful engines, because it is a big risk. If necessary, significant capacity and productivity of the plant, to do the table structure more solid and perfect. With the proper approach,, many craftsmen create a table for the router manually with your hands, much better and more productive, rather than models from branded manufacturers.
For a more accurate understanding of, view story, how to make a milling table with his hands video which is public and available for view.
industrial machinery, as indicated above, made entirely of metal, and the lower part, supplemented by a concrete slab, for greater reliability of the unit mount. Table conveyers with their hands, craftsmen are made entirely of metal or a duet with wooden elements.
It is important to take into account the, if more units will be integrated in timber table, and the more powerful the required nominal capacity, the stronger and heavier than necessary to make the table carpenter with his own hands.
A small table for manual woodworking machines
For the manufacture of small wood installation, you can not use metal. Suffice it to such materials:
- textolite plate.
- plywood fin diameter 20 or 50 mm.
- plexiglas.
Many do drawings sawing table with his hands or even do without them, but as practice shows, better to use preformed circuit, because it simplifies and facilitates the manufacturing process.
For greater convenience and procurement processing capabilities, carpenters produce rotary table for milling machine with their own hands, which makes the work much more convenient, pleasant, and wood products of higher quality and perfect. In this way, master or adventurers, table saws are made with their own hands.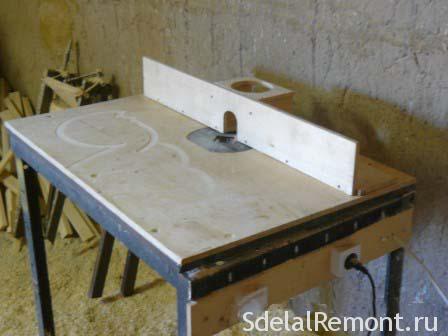 Many wonder, how to make the milling table? First of all, manufacturing material depends on the size and power of the device applied thereon. From this we can understand, what, if the machine is large, the need metal, and if manual, the plastic and wooden elements. In this way, saw a table with his hands can be done in a garage or a private studio
.
Wood processing, very delicate and important process, so it is very important to make a table for hand circular saw with his own hands. Very beneficial tool to make your own, because the finished product is much more expensive, than making materials. Qualitatively made table for manual conveyers with their hands, you can use with other portable woodworking tools. To craft the carpenter gave not only pleasure, but also the convenience, It can be made to the planer table with his hands. This table can be made completely from wood, calculate important parameters.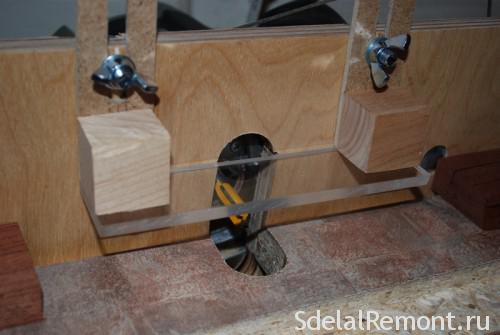 Sometimes you need to make a separate table with his hands elektrorubanka, that does not bring trouble to the master, as the basis of design and materials used are the same, as for manual conveyers table. When woodworking tools nowhere to put, a signal, you need to make a table for tools with their own hands. Here, for each master are no barriers of creativity, as do their metal, plastic, wood, with different pockets and shelves. Table under Tools - is a basic element to maintain order and cleanliness in the workshop.
Watch the video circular table with his hands, which sets out all the details of the manufacturing process.