Aluminum glazed facades is widespread and is used not only for office space, but and housing. This type of facade protection from external factors sufficiently effective, It has many positive qualities. There are several ways glazing organization.
What are glazed facades?
This type of decoration is most often inherent in administrative and office buildings, because it gives them a solidity, It does not require complex care, quite expensive. However, some developers use this type of glazing, decorating facade partially or completely. Its main functions are as follows:
Protecting buildings from precipitation, of wind, the sun.
Glazing miss sunshine, so indoors is always comfortable enough.
The wall may be completely glass, it is possible to set the opening elements for ventilation. By using appropriate double glazing external environment will effectively isolated, will create a buffer of hot air.
Attractive appearance and no need for care materials, on the strength of high-quality glazing is not inferior brick walls.
The disadvantages are the high cost of such glazing: one square meter costs about 4 thousand.
Council: when using such a glazing in car parks and the first floor is recommended to make a high base of stone or other durable material. Quite often, when the machine failed turns beating windows.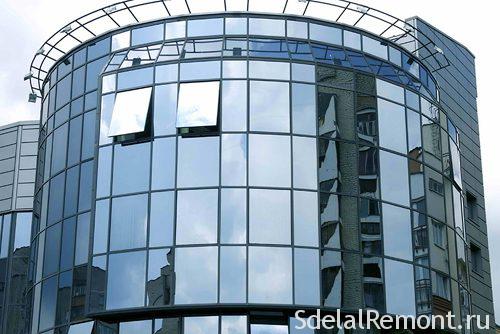 Methods window mounting
facade glazing, the profile of which is made of aluminum, It has a number of advantages, but the important aspect is properly installed. If the design is not professional to be mounted, it will lose its technical properties. Yourself to do the work for installing the profile is difficult. It is best to hire for this experienced installers, have the appropriate skills and equipment; particularly difficult to work with the design of high-altitude.
Glazing facades can occur on different circuit. Often used mullion and transom method: it is based on the application of the system of crossbars, racks, which constitute a supporting structure for the glass elements. Elements often aluminum, This makes the design easier and cheaper. The outer part of the frame is closed glazing. In order that the glass does not fall, it fixes the clamping mechanism. Decorative appearance give special lining, masking it.
The standard width does not exceed a laths 6 cm. With these elements it manages to create a sense of, that the wall of the building is completely glass. Glasses may be of any shape, if desired, you can use a standard flat or convex, if you want to bypass any design or make decorative projections on the facade.
Council: this type of installation is quite simple, in case of damage of glass it is easy to replace. If your walls are experiencing strong external impact, It is this method of attachment is the most convenient and profitable.
Mullion and transom semi-closed method of attachment: This method is similar to the previously discussed option, however straps arranged in another way, lining can be lengthy, and fixing takes place by means of the sealant and sealing. A disadvantage of the method is the difficulty of replacement in case of damage to the insulating glass. The strips between the panes is less noticeable.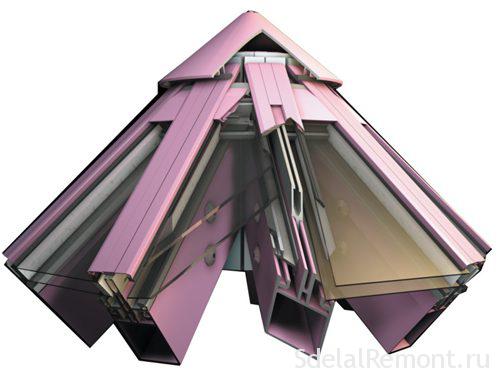 Structural facade glazing aluminum profile - another way of placing glass. Gibs in this case does not apply. There is a gap between the glass panes, not exceeding 30 mm. The seams are bonded with sealant, resulting in a seamless large size design. Appearance of such glazing is most interesting, but there are some problems during installation. Aluminum can be used for low-rise buildings, since it can not withstand heavy weight constructions, when a large number of floors.
Council: If you want to create structural glazing for high-rise buildings, It applies frame of steel members. He tighter, than aluminum.
Structural Glazing not use the usual windows: It requires non-standard. Feature is, the glass on the outside exceeds the size of the glass, located on the inner side.
In order to make the structure stronger, use tempered glazing. They tolerate high loads, can withstand a direct hit by stones, therefore, they are not afraid of high winds, aggressive detergents, sand, small stones, brought by the wind, and hooliganism. To make the construction airtight, use special sealing joints and high strength silicone sealant.
Council: to make the monolithic façade visually, Sealant must choose the same color, and that the glass.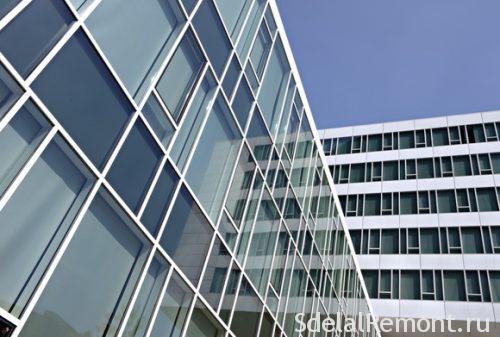 semi-structural glazing
It differs from the structural use of special glazing beads instead of sutures, closed sealant. They pressed glass unit to the frame, do not allow him to leave. The frame of the glazing is formed from a hard metal. Aluminum acts as additional elements. Semi-structural glazing as compared with the structure which is more structurally. It allows you to mount the opening elements, put windows on the inside of the building. If the damage is a double-glazed window it is easy to replace with a new.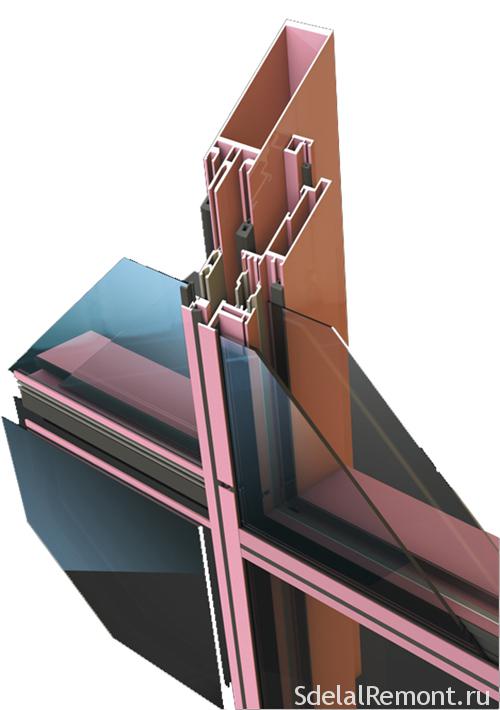 Spider glazing method
Spider - a special type of attachment, serving to hold the glazing. Externally, it is vaguely reminiscent of a spider's feet. The spider clamped glazing, on the edges of which there are special holes. The fixing member has elasticity. For this type of glazing requires the use of tempered glass units, since they share the load on the corners. Such a method of glazing allows you to close the crossbars, ends of the floor and wall, decorate columns. The facade may be suspended by means of a rope system, In this case, the use of additional support is not required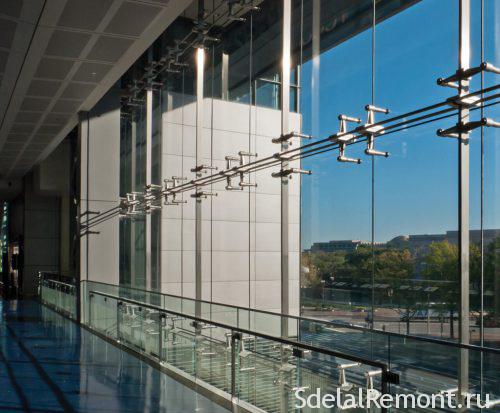 Selection of double-glazed window
Aluminum facade glazing has a great in comparison with plastic windows load, therefore its installation requires the use of special types of glass units. First of all, it should be used tempered glass: usually can not withstand high loads and burst. Number glass chambers may be different. Double glass pane cheapest, but they keep the heat worse two-chamber, which is the most optimum one for facade. For the northern regions is possible to use thicker glass units.
note, thick windows that insulate better heat and noise, but their mass increases significantly. The weight of the two-chamber glass is tempered 11 kg / m2. The aluminum frame is not sufficiently rigid, to withstand very heavy design.
Conclusion: aluminum facade glazing – quite modern solution for the decoration of buildings. It allows to solve several tasks, It has high strength, durability and an attractive appearance.