Glass House is one of the most unusual design solutions. They look aesthetically pleasing, attractively, create a feeling of infinite space, openness to nature. This home is able to emphasize the individuality and originality of its owner, a decoration for any terrain.
Features glass house
This structure passes a lot of light, It insulates well enough thanks to modern technology. However, quite specific design makes this home is not only the original, but is easily visible to outsiders.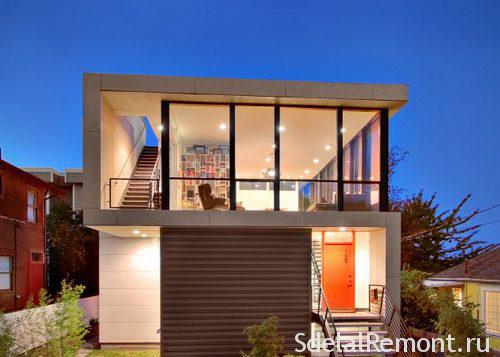 Thanks to the glass walls you get magnificent views, if the house is surrounded by nature, You will be able to enjoy the feeling of freedom, proximity to the surrounding world. You will be able to show off to guests unusual panoramas, enjoy the contemplation of sunsets, stars, various natural phenomena.
However, it is worth paying attention to the fact, the transparent wall will show the passers, what is going on inside the room. Not every owner it does not cause discomfort.
The technical side of the issue
House of glass collected on frame technology. This technology comes from the German half-timbered structures. It is a rigid frame, usually made of wood, different beams, It includes braces, so you can create as many sectors, which will be large enough area. The technology allows you to make the structure safe, boost its strength.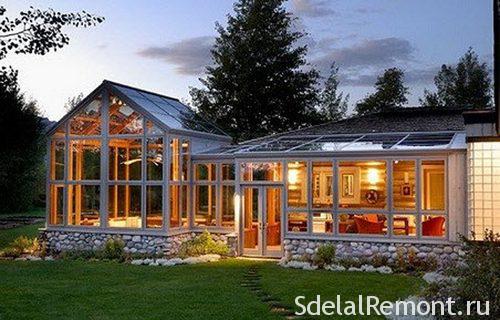 Whether glass structure safe?
Do not think, that ordinary glass is used to create glass houses, as for window. Glass walls are much thicker than a normal window, Besides, they are made of materials, undergone special treatment and made by other technologies, making glass house the most durable and safe.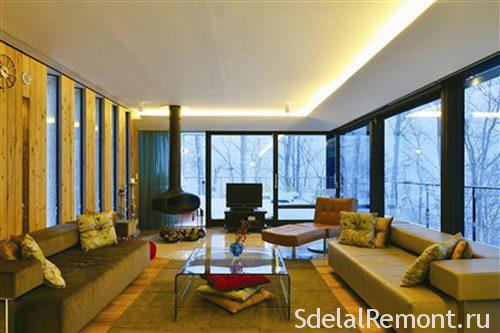 The glass walls of the house, except glass, assembled from the following components:
A complex system of profiles: they can be made of wood, aluminum, plastic or steel.
Used a variety of types of glass: reinforced, steel having a coating, laminated, seasoned, Besides, It can be used plexiglas.
Glass wall of the house is made of a material, past complex technological procedure. Glass is not only produced by certain modern technologies, but also reinforce by using specific formulations and processing. Besides, Composite materials can be used, such an unusual decision, as a transparent slate.
What are the advantages of a transparent house?
As with any design, this model can have both positive, and negative sides, which are relevant to talk in more detail. The positive qualities include the following:
glass house, Projects which are very diverse, may differ original appearance, the structure will not be typical, similar to each other, and can afford any flight of fancy. If you like unusual attractive appearance of the building or want the original interior, transparent walls will be the best solution.
Can embody the boldest ideas of any designer. Glass construction does not limit the shape or size. You can make fantasy, Equipping the interior.
Modern materials make the building a warm, comfortable accommodation; the walls of the house warm, do not miss the room noise and cold, like standard glazed windows.
Assembling the house does not take a lot of time, since the frame is manufactured in the factory, like glass, which set is already in place.
You do not need to spend a lot of electricity in the home lighting, as the glass passes maximum light. During the summer, can fetch a special blackout, retaining infrared radiation: this solution is especially true for the southern regions. As with ordinary glass, this can be toned, make a mirror.
House with glass walls is well thought out in terms of the need for maintenance. communication removed, they are invisible to the eyes. They are easy to maintain.
Modern glass structures are characterized by high strength, long battery life. manufacturers expect, the glass will last over a hundred years. It is worth noting, that break up such a wall will not work even specially.
If the house is located in a beautiful location, you get a great view, You feel part of nature, thus you will be protected from unpleasant natural phenomena.
Layout commonly used large, to create the maximum sense of space, remove tightness.
What has disadvantages glass structure?
Despite its positive features, glass house can have some drawbacks, which can pose a serious obstacle for the future owner:
The high cost of the project and bringing it to life makes this housing inaccessible. High price not only have the materials, but also work, so how to deal with it can not every builder.

The simplest designs of glass houses

The outer surface of the glass gets dirty quickly. She sits down on the dust, stick trash, there are cases falling bird droppings. Clean design requires quite often; make it difficult, labor intensive, you can not get every item, so you need to bring in specialists.
Council: to technically maintain the house was easy, frames should be equipped with special profiles, with which to carry out work outside the building.
If you are uncomfortable prying eyes, and you need a clear demarcation of personal space, you this option structure does not fit, since it is not everyone can feel comfortable. However, glass can be darkened, make a mirror, use curtain.
Conclusion: The Glass House is sure to become the center of attention, it looks unusual and attractive, and such a structure can not leave anyone indifferent.