Usually, garden plots have sufficient space for, to place in the courtyard Outbuildings. A good option would be glazed arbor to give: Unlike open construction, it can be used in any weather and at any time of the year. You will not attack the insects, and the rest will be much more pleasant.
What to choose windows for gazebo?
Glazed gazebo - a pleasant way to relax in the lap of nature, in this case you do not have to adapt to the weather conditions. Window, as well as for balconies, They can be used in many designs. for example, a popular option are sliding windows for gazebo. They will create a comfortable space, does not occupy much space, because they do not require it to open.
The sliding structure may be opened widely enough, using an aperture formed as a non-vitrified wall. It's comfortable, if you need to hold a banquet, and people are constantly moving out of the arbor to the street and back. Also open flap can be useful in the summer heat. In fact, this gazebo is easily transformed into a terrace. May open several walls, providing sufficient air movement.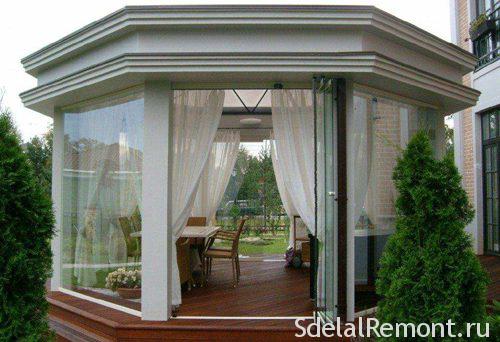 A popular one is of insulating glass pergola. It's not the cheapest, but quite comfortable and modern version. New windows are well isolate noise and heat. this gazebo, if its size allows, It can be used as a winter garden or a separate room. After spending her heating, you can enjoy your vacation in the winter.
Sliding doors to the gazebo can also be equipped with double-glazed windows, Many designs are closed tightly, therefore, the heat loss due to leaky adjoining door will not. It is possible to use conventional hinged doors, garmošku, Swing-out design, similar to those, which are used for the glazing of balconies and exit clearance at them.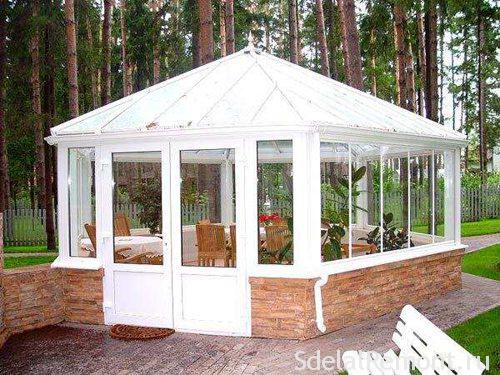 Selection of warm or cold structure
thinking, than glaze gazebo, worth considering, how you plan to exploit it. If you use the cottage in summer only, the pay and put insulated glazing makes no sense. It will be enough to buy aluminum sliding windows for gazebo. This type of glazing refers to the cold, because the aluminum frame is not able to retain heat. The temperature inside the arbor is substantially equal to the street. This design does not need to warm, It is suitable for use only in the summer. Aluminum is inexpensive and has a small mass, that is its undeniable advantage.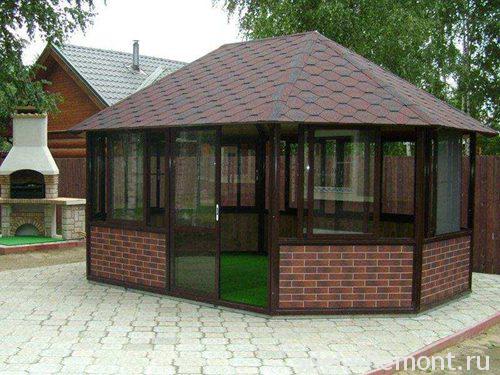 If you plan to use the glazed structure winter, it makes sense to glaze gazebo plastic windows. The plastic frame is a good noise and heat insulator. The design will be treated to the warm options: it means, that you will achieve the tightness of the room with closed windows. You will be able to hold the arbor heating, use it at any time of the year, that is, it is possible to transform the glazed structure in the likeness of the living room. This type of glazing is worth several times more expensive. worth considering, PVC-profile that has a sufficiently large mass, as are the windows.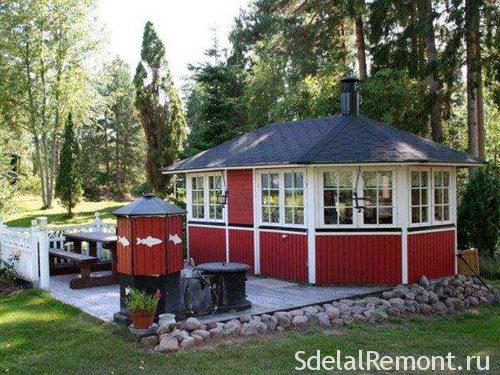 The use of panoramic windows
Glaze the gazebo in the country can use the panoramic glazing. It will look spectacular, because thanks to its special technology of glass are mounted frameless way. This design will Cold, it can be protected from wind and rain, but not add zero temperature in winter. Externally, the panoramic windows is quite attractive, because it creates the illusion of integrity and lack of glass fixtures.
Gazebo of plastic windows can also have large windows from floor to ceiling, but it will be warm. The only difference: when using insulating glass does not get rid of the frame. Although she makes the design warm, but deprives it of feeling of airiness. Thick plastic crossbar seriously aggravate design, change its visual perception.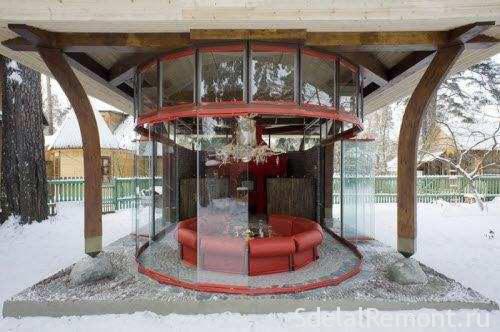 Is it possible to glaze their own gazebo?
If for you it does not matter, Warm or cold is a gazebo, you can use this option to create a window for the arbor with their hands. You can buy the bars and make them into wooden frames, which may attach a regular glass.
This design will not be sealed, but its cost is minimal, It is well protected from the wind, the sun, if you use the tinted windows or curtains, protects the structure from precipitation. Many cottages are well combined in style with wooden elements.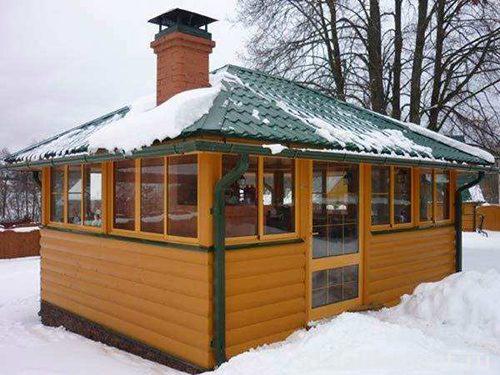 Wooden frames prefabricated
If you do not want to try themselves in carpentry, important for you design tightness, its aesthetic appearance, a plastic box you for some reason do not like, It can be purchased Wooden Euro. This material differs high ecological. It combines all the advantages of a wooden frame, while it is equipped with modern windows.
Glazed gazebo in this way will cost quite expensive, as it takes to create high-quality wood eurowindows, Not all manufacturers produce such products, and competition in the market is quite small. The disadvantages of such products include the need to care for the frame, as for any wooden structure, and its high cost. On the positive side are the following factors:
Attractive appearance.
The ability to retain heat better than plastic counterparts.
Durability.
natural origin.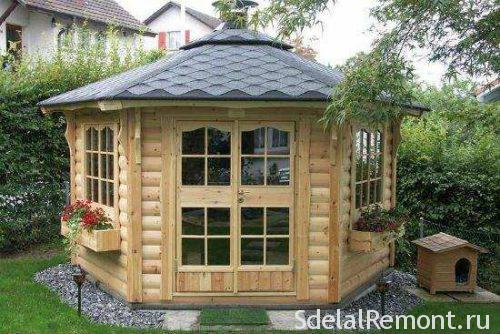 Wooden window glazing in a log arbor
Alternative methods of glazing
little thought, you close a window in the gazebo, we can conclude, that ordinary glass or glazing is not the latest version. In the construction market there is no such material, as polycarbonate. He does not always color: You can find if you want to clear, It is ideal for creating a cold glass gazebo. material benefits:
Polycarbonate sheets are easily cut, fold.
The material is not afraid of exposure to ultraviolet radiation, mechanical damage.
Such a sheet is not broken, It has high strength and is well suited to build the gazebo for garden with glazing.
If desired, the arbor can be used as plant pavilion, since polycarbonate miss sunshine. This is an inexpensive and practical option to suburban area. Gazebo glaze them and you will be able to independently: sheets perfectly screwed with screws to any surface.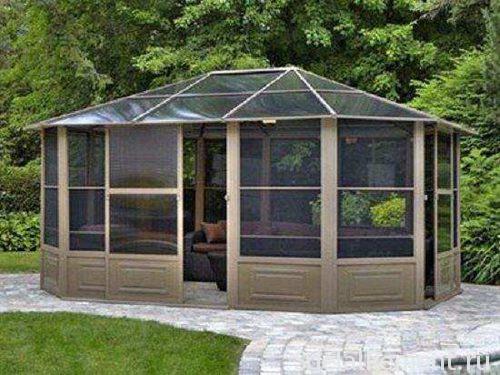 Advantages and disadvantages of individual materials
Select the window for gazebos - not the most important task. Besides, it is important to determine, which will consist of a frame and gazebo itself. The most common material is wood, but it has several drawbacks:
interested pests, it can form the mold, capable rot.
It requires special handling, painting.
can burn.
Poor isolates heat.
The positive side is the availability of, attractive appearance, the opportunity to frame their own.
Gazebos to give glazed may be attached to the frame of aluminum. This material is durable, does not burn, requires no maintenance, If desired, it can be painted in any color, but such a warm frame will not.
Glazed gazebo can with plastic constructions. They are a cost-effective solution, since durable, well keep heat, They require no maintenance. The only thing, it takes - sometimes adjust the loop, if you swing design. The disadvantages are the only relatively high price.
Conclusion: gazebo with windows - always a convenient solution, since you can use it, regardless of the weather.