Following the growing needs of the population manufacturers are developing more and more new solutions to create a comfortable atmosphere in the house. One of the interesting developments steel interior doors "ekoshpon" modern material, combining high aesthetic properties, as well as the practical benefits.
Ekoshpon came after the popular natural veneer doors, as a more affordable alternative. Externally, the material as much as possible similar to the pattern of natural wood, and often, the difference can be determined only by touch.
Types of doors and properties ekoshpona
Interior doors of ekoshpona maximum mimic the texture, pattern and color of natural wood, and are presented in various shades. Specialty shops for the sale of interior doors, usually, offer models of all basic colors. for example, the online store factory Prima Porta are a lot of different models of interior doors of different colors ekoshpona: maple, Champagne, doublet antique or cappuccino. The site can be visually compare them with natural veneered products.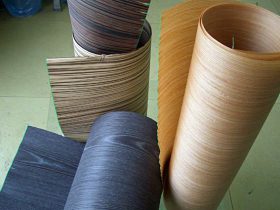 From a technical point of view according to the material is quite practical. From ekoshpona can manufacture any standard design: deaf, glazed or paneled. They are produced from whole cloth, or is combined of several parts, creating interesting patterns, monogram. Interior doors may be decorated ekoshpona inserts frosted or transparent glass.
Structurally doors ekoshpona consist of timber-base, honeycomb, laminirovannogo MDF, which subsequently glued to the material itself. Door risers and side-bar made of "sandwich" technology, which allows for a uniform tree structure, and the maximum resistance to deformation of the webs.
Leader in the production of high-quality door is the company Port first which for many years produces a wide range of doors in classic and modern style of natural veneer and ekoshpona.
manufacturing features
What does "ekoshpon" and the noticeable such doors? Ekoshponom called laminate, consisting of wood fibers bonded with synthetic resins ecologically clean. Such a material does not contain harmful substances, hazardous for humans or animals. Manufacturers produce and deliver it to the factory in rolls. Later, his cut and paste over their door leaves.
In the production process of the material, finest wood fibers dyed separately, that gives it a significant resemblance to the natural array. The fibers are then bonded, compressed at high pressure, and a vacuum. The raw material for production is usually a softwood. Special technology eliminates the possibility of delamination of the material, separating it from the door frame. In this way, Operating from products quite a long time.
Despite, that this material is made from natural wood fibers, it has a more stable form. Due to the progressive manufacturing technology, it is less susceptible to deformation, as compared with natural woody array. Besides, ekoshpon has high moisture-proof properties, and strength far exceeds natural wood.

to understand, What is better to choose a door: veneer or ekoshpon, should evaluate the advantages and disadvantages of a new generation of material.
What are the advantages ekoshpon:
The material does not lose brightness of color and texture, even when exposed to sunlight.
He does not crack, resistant to mechanical stress.

Doors can be installed in rooms with high humidity.

Eco material does not cause allergic reactions in humans, unlike some paints and varnishes, used with natural materials.
It does not emit harmful substances, even under direct sunlight.
The material is resistant to moisture, easy to clean by any means, It leaves no greasy stains on the surface after cleaning.
Good imitates the color and texture of any natural wood. Besides, modern production technology completely eliminates the possibility of a difference in shades of different batches.
More reasonable price, in comparison to natural wood.
As with any material, ekoshpon has its drawbacks:
Interior doors on the order of ekoshpona easier, than made from natural array. When exposed to considerable physical force may damage the web.
Damaged parts of the door leaf is almost impossible to restore.
Ekoshpon has low sound-insulating properties.
Rooms with interior doors ekoshpona need more frequent airing. Synthetic adhesive compound does not promote sufficient air exchange, resulting in a negative impact on the climate.
aesthetic properties
One of the key advantages of aesthetic ekoshpona is possible to produce a highly accurate simulation of any, even the most expensive wood. This allows for a small cost to purchase products, It looks as close to fine wood, such as oak or ash.
a new generation of material virtually indistinguishable from the natural texture and color of the array. Such properties are achieved due to the optical effect of volume 2d and 3d. Compared to PVC film, wood texture ekoshpona seen more clearly and naturally.
Due to the practical nature of the material, it presentable appearance, low cost, such doors are widely used. They are installed in apartments and private homes, after fine material suffers a temperature difference or elevated humidity levels. Besides, they are often installed in offices and similar commercial premises.
Interior doors of ekoshpona fit perfectly into any interior. Rich color palette allows you to choose the right shade for any design and style: from classical to non-standard.