One of the most popular finishing materials for interior decoration kitchen facilities, bathrooms and toilets is ceramic tile. She is due to the large assortment of choice not only allows us to implement any design ideas, but it is also strongly associated with such qualities, as the practicality and durability.
To work with ceramic tiles requires not only specific skills, but also to choose an electric machine for cutting tiles. Therefore, a prerequisite for high-quality cladding surfaces is the presence of various tools for cutting tiles.
But how to do better to buy Tile: cheap and professional? - we will try to understand this article. To do this, let's review the popular Electric tile.
Types and main parameters Electric tile
To answer the question how to select an electric tile cutter is necessary, first of all, identify existing types of equipment and their main technical parameters.
On a design there are two types - a:
manual Electric tile,
machines for cutting tiles, electric.
This review Tile cutting machine will be compared to their main technical parameters such, as:
power consumption,
speed blade,
dimensions,
operating weight equipment.
And also consider a better electric tile cutter on the basis of a common configuration and features in relation to their market price.
To do this separately for Category Rating Tile electric hand and overview of popular Electric tile machine type. The main results of the survey, not to repeat, we tabulated, and especially, We analyze the pros and cons for each model individually.
Choose manual electric tile cutter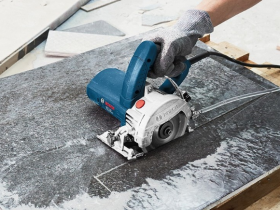 Since this segment of the original can be called more than a tool, the hallmarks of the word, and all the equipment due to the fact, that the hand-held electric tile cutters, though designed to its specifications for cutting ceramic tile and natural stone, but very high-quality cut from them should not be expected. Hence we construct a description, to choose the best cheap electric tile cutter of the models available on the market today.
At its core,, electric manual tile cutter is a circular saw mobile, Only a few specialized and diamond disc, so often in the price there is the name of the portable circular saw on concrete.
Designed hand Electric tile for wet and dry cutting method of ceramic tiles. They fit well into a set of household tools so, how despite the colorful advertising slogans in the sale are not suitable for large volumes of work. From a long and continuous work they quickly grow blunt small size diamond saw and may overheat the motor with its consequences.
It comprising such a type of mechanical gear Tile, formed in a metal casing together with the protective casing and the motor, packaged in a durable plastic resistant to mechanical damage, from which it is also made and comfortable handle with a built-in switch.
To stabilize the cutting of ceramic tile to the casing of the electric manual tile cutters mounted stamped steel plate, which enables to change the angle of inclination of 45 to 90 degrees and allows you to adjust the depth of cut.
The summary table below shows the basic specifications to compare the most budget models Tile.
Table comparison models and features Tile

P.I.T.

PDM110-C

STAVR

PE-115/1400

Interskol

OM-115/1300

Diold

REP-1,3-110

Bosch

GDC 125

Power, kW
1,2
1,4
1,3
1,2
1,3
The frequency of rotation of the disk, rev / min
12000
13000
13000
10000
12000
machine weight, kg
3,1
3,2
3,0
3,0
2,7
Dimensions, mm
250x210x205
245x220x210
255x230x228
230x205x190
220x210x195
Outer / Inner diameter of the disc, mm
110 / 20
115/ 20
115 / 20
115 / 22
125 / 22,23
Maximum cutting depth at 90 °, mm
30
34
37
34
40
The estimated market value, rubles
3000
3500
4500
5000
12000
Circular diamond saw P.I.T. PDM110-C
Circular diamond saw P.I.T. PDM110-C clearly is the cheapest of all the truly workable models. As it is written in the advertisement - a tool designed to work with stone and similar materials, but still a reservation immediately, what to use it for cutting ceramic tile thickness 8 mm is not recommended.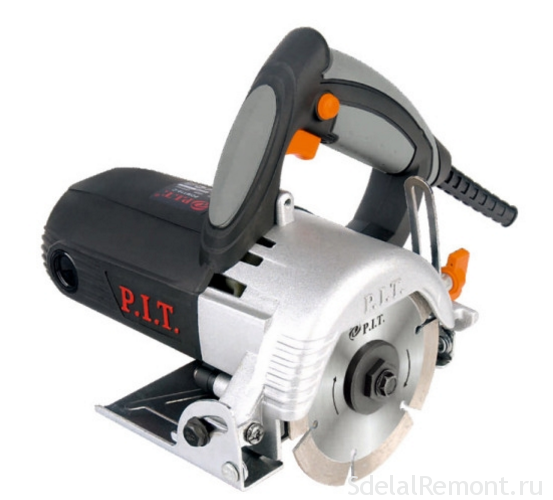 When the promised power 1,2 kW 12000 revs, which in itself is a lot for such an attractive price, Handmade Tile P.I.T. PDM110 is pretty standard in the form of dignity:
durable metal casing, designed to protect,
quick access to carbon brushes,
adjust the angle of the cut 0 to to 45 degrees,
buttons enable lockable,
possibility of adjusting the cutting depth to 30 mm.
The complete package together with the saw you will get a diamond disc and keys, What to get started is enough.
Of the minuses absence of factory accessories for wet-cutting ceramic tiles. Sotvetstvenno dust and rapid wear of the circle.
PE-115/1400 Circular saw STAVR
Do not be deluded old Russian consonance Stavr in the manufacturer's name, like most low-cost power, model PE-115/1400 made in China.
The scope of delivery for the price, Besides, of the power you give: socket and wrench, spare set of carbon brushes, diamond blade, length of hose with adapters and tap. For the fiscal value of the instrument - it's just a smart equipment.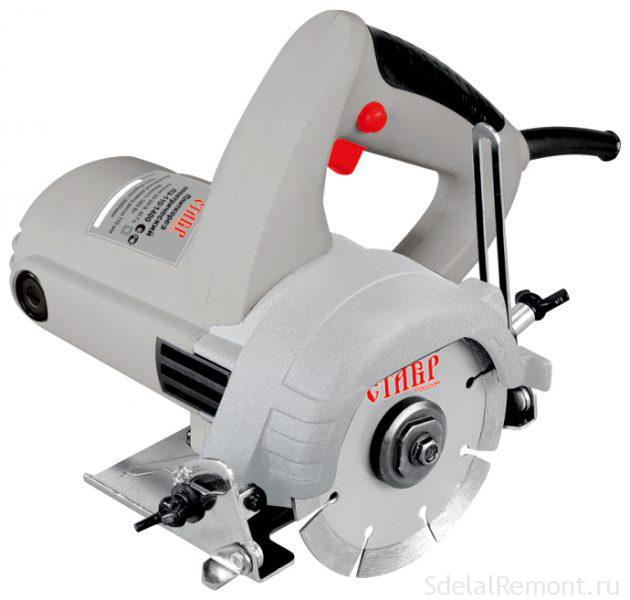 Manual electric Tile STAVR PE-115 / 1400K has completely standardized layout, and by the features include a factory packaging device for supplying water.
Despite its budgetary cost, Stavr model PE-115/1400 is quite outstanding characteristics such, how much power declared and high speed, in this case the manufacturer gives a guarantee in 2 of the year, although at this price it is clearly highly disingenuous. This is probably all of the benefits of.
On the downside we put a small diameter of the cutting disc 110 mm, as a consequence that at such high speeds will cause a rapid wear and increase operating costs.
The main thing to look for when choosing an inexpensive electric manual tile is the presence of water-cooling disk.
Interskol OM-115/1300
Hand Cut Saw diamond Interskol OM-115/1300 at the Russian plant going and has a convenient structure, albeit with a slight, but still excess weight, than that of classmates. This characteristic "overweight" typical, perhaps, for all equipment, produced in Russia, so we will consider it a guarantee of increased structural strength.
For a very modest money you will find in the package additionally: manual, Safety instructions, diamond blade, Adapter ring for 22 diameter mm, two wrenches for adjustments and everything.
Interskol Model OM-115/1300 is quite good characteristics such, as a powerful motor and high speed, that very well at such a low price.
The distinctive features of this model are:
increased protection from dust motor and gearbox bearings,
4 power meter cord,
convenient power button to lock,
rubber-coated handle.
The obvious drawback is the absence of additional devices for supplying water to the point of cut, although the outer casing, perhaps, It will not be afraid homemade trickle of water from a plastic bottle. But there is a question about motor water resistance.
Diold REP-1,3-110
A graduate of the Smolensk plant Electric tile Diold REP 1,3-110 It is intended for dry and wet-cutting products of ceramic tiles in the living conditions. It honestly specified by the manufacturer, thus also draws attention to the fact, that intensive mode, the instrument may not work more 30 minutes, after which it must "rest".
This model has the optimal size, which slightly increased due to the solid steel platform and attached thereto means for the supply of cooling water directly to the cutting blade. Product manufacturer guarantees faultless operation at ambient temperatures of -15⁰C to + 35⁰C, Although not indicated, how to supply water at low temperatures.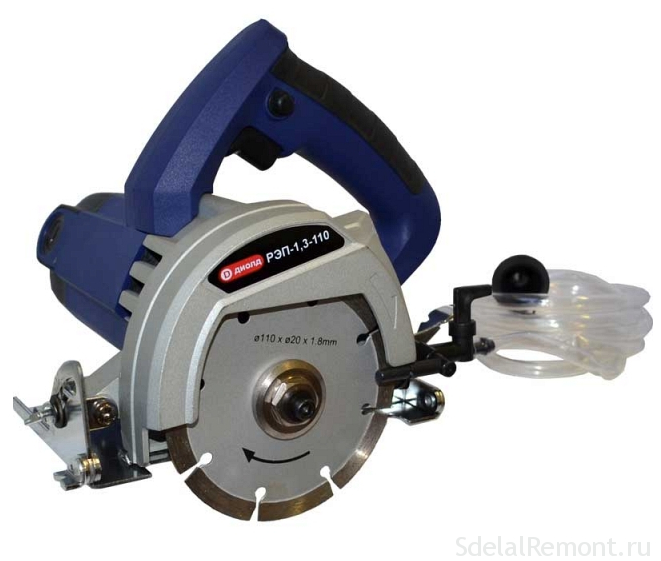 Packaged, except Tile must be: manual, cutting Wheel, carbon brushes, water spout, a tube, union, screw, Allen and spanner. For low-cost model is almost complete package.
When the product a good appearance as, declared capacity and speed is somewhat less, than comparable models, and the price is a little bit more. it, first of all, makes me think, that the manufacturer just honest with the buyer and indicates the true characteristics, rather than trying to immediately advertise the goods. If not for a small cutting disc only 110 mm diameter, the reviews on this model is the best compromise of price and quality.
Diamond Tile Bosch GDC 125
Not, We were not wrong, include the review of the best of the cheaper electrical tile cutter model Bosch GDC 125. This is the least expensive model on the market of professional power tools in this segment.
Compared with other models Tile Bosch GDC 125 not only has a very compact size for their 1,3 kW, but significantly less weight in 2,7 kg, indicating that the structure reasonableness. This, together with the possibility of continuous instrument operation guaranteed by the manufacturer to a large extent will help to increase productivity.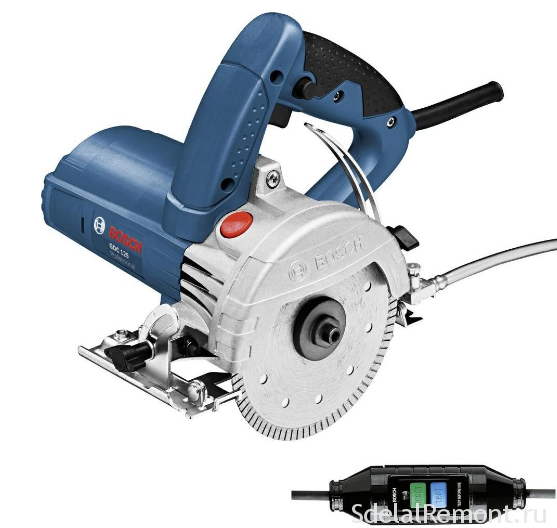 The main advantage of Tile Bosch GDC 125 is the possibility of working with diamond cutting discs in diameters 125 mm and conveniently located spindle lock button.
Cons of this model is almost no except for the absence in the scope of delivery of the same diamond cutting disc, but this is not a budget price is payback, if the tool is purchased for professional activities.
Total
For a relatively small volume and infrequent use you is fine manual electric tile cutter for ceramic tiles. This category of diamond saws have a number of significant advantages, namely:
compact size,
absolute mobility,
the ability to make curved cuts.
And the possibility of replacing the diamond blade to saw wood or metal cutting disc make this category of universal power, especially for household use.
Choosing a Professional Electric Tile
Since we touched on a model Bosch professional tools topic, then it will do a little review of popular Electric tile machine type.
Stationary electric tile cutters are designed for professional use for cutting ceramic tile and natural stone. They are used as building sites, and for private use.
In order to answer the question of how to choose an electric machine for cutting tiles with water cooling is necessary to understand, that the release of the two types:
the upper movable arrangement of the electric motor,
a motor fixed to the lower.
The design of the first type represents a frame, fixed on the legs, which is located under the drip tray drain. Above the bed is located on the guide bar stands strong, on which it moves the carriage fixed on her with an electric motor and a diamond blade. For this type Tile provides further design the presence of the water pump and the upper coolant supply to the working cutting wheel.
With bottom location plitkoreznye electric machines are compact tabletop design, something resembling a small circular saw for wood. Only for special expertise in the design provides, adjustable in height and angle guide plane, on which the tiles are moved relative to fixedly mounted cutting disc. Cooling, usually, It carried out naturally by partially immersing the lower part of the cutting disc in a water bath, is the machine base.
Good rating Tile cutting machine can not be done with water cooling from this small review, but here is an overview of some of the distinctive features of the composition is quite possible.
To begin, we present a summary table of the main technical characteristics of the models, selected from the beginning of the list of popular items in the standard search engine, so you are able to decide what is best to buy Tile.
A comparative table of the different models Tile

Helmut FS200H
Sturm! TC9822U
RUBY

DU-200-L-BL

ZUBR

Sepp-1100S

Power, W
800
1200
730
1100
Spindle speed, rev / min
2950
2950
2750
2950
machine weight, kg
38,4
31,6
27,5
39,1
Dimensions, mm
1150x500x470
1360h560h385
1050h450h395
1100x490x420
disc diameter, mm / Landing diameter, mm
200 / 25,4
230/ 25,4
200 / 25,4
250/ 25,4
table size, mm
800 x 400
1170 x 394
600 x 370
600 x 395
cutting length, mm / cutting depth, mm
720 / 35
920 / 48
600 / 32
520 / 62
The estimated market value, rubles
22 000
15000
23000
18000
But in comments to the table only to analyze the advantages and disadvantages of selected models of machines.
Electric Tile Helmut FS200H
Tile Helmut FS200H characterized the better:
rigid frame and robust design pendulum saws;
wheels for easy movement;
large size cutting table.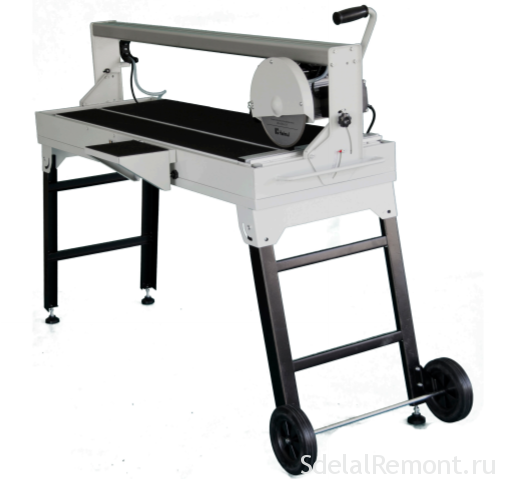 Specifications of different models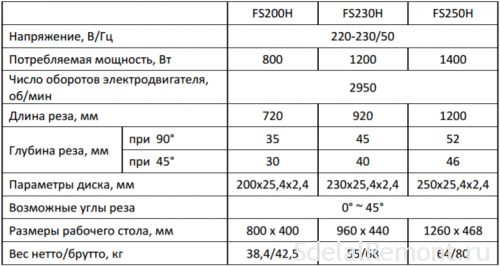 The disadvantages of this model we put: not very powerful electric motor and as a result of relatively small outer diameter of the cutting disc. But there is a wide range of models with different characteristics.
Components for such initial rates more than modest and includes: bath water stack; stops to adjust the angle and tilt, rubber casing, cutting disc and legs with wheels.
Tile cutting machine Sturm! TC9822U
It is not easy the best electric tile cutter in our review of all the models, but also the cheapest. So he in the pros:
powerful electric motor,
modest weight,
maximum cut length almost meter length,
large diameter cutting wheel,
quick release support.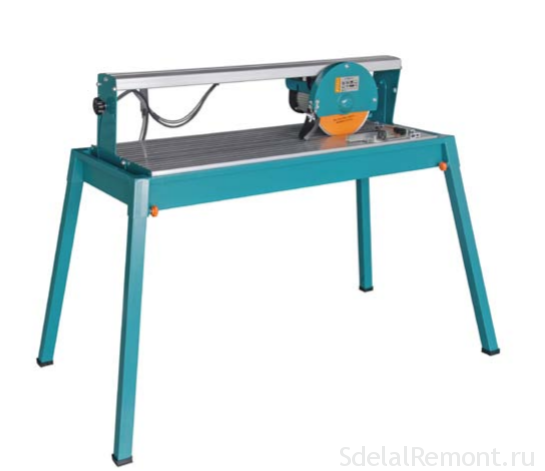 has popular 2 excellent model for the characteristics of.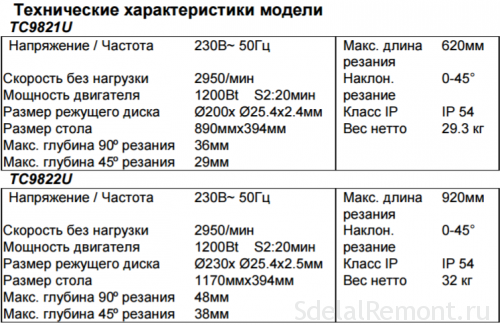 The disadvantages airiness structure, which makes it difficult to work with severe artificial or natural stone, and cheap quality materials, used in the manufacture of construction.
The complete set with the machine you will receive: rail slope angle, two wrenches, Tube for water baths, rack with rubber soles and fixing screws.
Stone-cutting machine RUBI DU-200-L-BL
Electrobar RUBI DU-200-L according to the manufacturer, It is designed for mid-level loading and a small amount of work. Its features include:
a light weight,
Availability 4 tapered roller bearings in a movable carriage cutting mechanism,
water pump with a capacity of 8 Watt, of the complete valve to adjust the flow of water depending on tile thickness,
roomy pan of water volume in 17 liters,
foldable legs,
convenient for work table height 90 cm.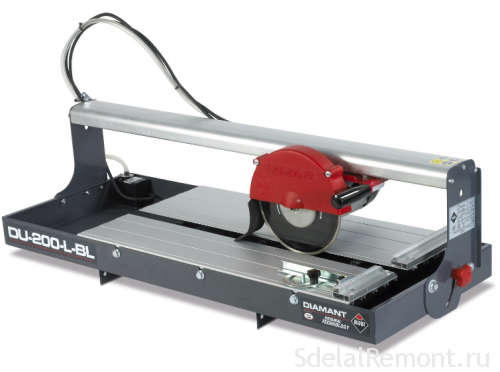 Unlike models:
Model DU-200-L - table size: 850× 400 mm.
Model DU-200-L-BL - table size: 1000× 400 mm.
Despite the relatively high price, there are certain disadvantages, is the weak motor, the small diameter of the cutting disc and the lack of skirting around the edges on the cutting table, which leads to a constant leakage of water on the floor while working. But in general, as a machine for cutting stoneware tiles good.
With the machine you get a diamond cutting circle diameter 200 mm wrench.
Minus is perhaps the price which is too high for the brand.
Stationary Tile ZUBR EPZ-1100S
Russian representative only in our review Tile ZUBR EPZ-1100S has very good technical characteristics for more, than its modest price.
The advantages of the Russian Tile will assume:
powerful electric motor,
cutting disc of large diameter in the whole 250 mm,
Cutting depth increase 62 mm,
compact size.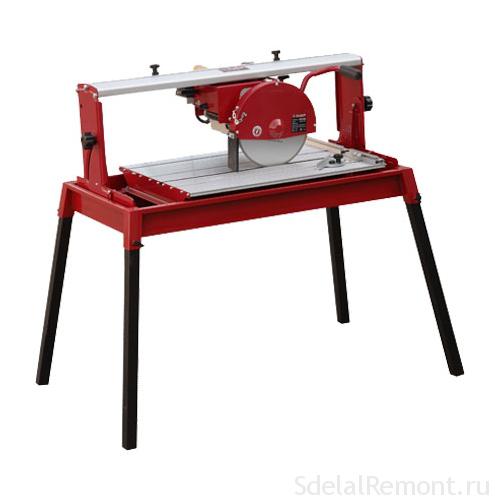 By cons of the model we put on the modest size of the cutting table and enough solid design of the machine as a whole, which significantly affect the operating capability of the machine.
supplied will consist of the machine itself, 4 feet with fasteners, diamond wheel, two wrenches, Safety instructions and user manuals.
In custody
How to choose an electric tile cutter with water-cooled and which one is better to decide to buy you have to yourself, and our little review useful to help you.
So, hand-held electric tile cutters are more compact and versatile, but expect them to outstanding results is not necessary. Their main advantages of a small price, versatility and absolute mobility.
If we choose the best electric tile cutter according to the criteria of quality of work with ceramic tiles and productivity, then the choice should definitely be made on the machines for cutting tiles so, as soon as they can get perfect accuracy. Here you can learn, as a drill hole in the stoneware tile.