fretsaw saw, jigsaw called in the people - a tool, required in each farm. its main task - to cut the tree, metal, plasty, tile. Choosing jigsaw - it is always a difficult task to choose among a rich variety of trading firms, specifications, different designs and complete sets. Insufficient qualification of sales consultants complicate the buying process. Consider the most popular and reliable jigsaws are worthy of purchase and are in demand even among professionals.
How to choose a jigsaw
How well do the jigsaw to cope with the task, It depends on several factors:
power rating;
the presence of the pendulum action;
number of revolutions;
trademark.
It should be noted, what choose a jigsaw necessary based on the needs and planned work. It is a mistake to only focus on one factor, Besides, should pay attention to a variety of additional options.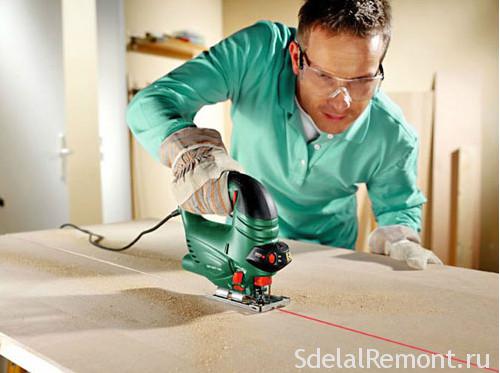 to understand, What is better to choose a jigsaw, you need to understand its basic functions and additional options:
Power. As I mentioned above, power parameter is important, it determines the performance of the tool.
The number of revolutions and their adjustment. The more speed, the faster and smoother wakes propyl. But we should remember, that at high speeds the saw blade can become very hot and burn the material being processed. Adjust the speed and availability of the pendulum action allows you to control the process when working with different materials.
Key or keyless chuck for saws. Here the choice is subjective, Both options have their pros and cons. Most attention here is paid to the quality of the production of this unit.
The presence of the laser pointer, blowing working surface, possibility to cut at an angle and connected industrial vacuum cleaner - not mandatory functions, but greatly facilitate the work of. Good manual jigsaw must have at least two options listed.
Sole tool can be stamped or molded. Naturally, molded sole to be more durable and resistant to deformation.
Maintaining power under heavy loads. Many tools have been disabled by overload when working at low speed, where power is not supported, and evenly distributed with respect to the number of revolutions.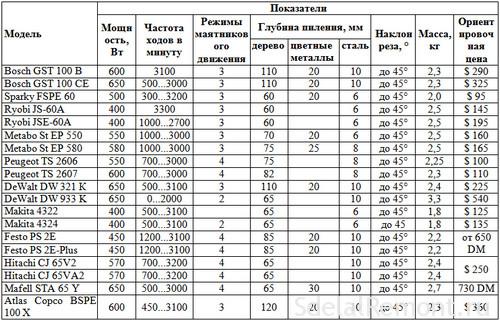 Review of popular models
Below is an overview of the best electric jigsaws in the middle class, which will help determine the choice of a suitable model for your home or work.
Metabo monitor 70 quick
The German company Metabo manufactures professional grade products for continuous operation under various conditions. Model Steb70 Quick remarkable not only a system of rapid replacement of the saw blade, but also fast cutting speed. The tool gives 3 300 idle speed, also provides speed control of 900 rev / min. Besides, electrofret system equipped maintain power at high loads.
The angle of inclination of the sole of the jigsaw is adjusted to 45 ° by a hexagonal key. This makes it possible without any problems to cut obliquely, resulting in a smooth and clean angle propyl. Individual functions can be noted airflow working area, which has a separate button on the body and can be connected to an industrial vacuum cleaner,
Among additional "pleasant" tool details can be noted comfortable and ergonomic handle with rubber pads, which allows you to securely hold the tool at work. Start button can be locked in the operating position. Also, the model has an auto-shutdown when worn brushes, stamped sole and a special insert to prevent chipping on the material.
Manufacturer nice bother to create a convenient and reliable jigsaw. Indicators of cut in wood / steel / metal - 70/6/20 mm, power tool 570 W, cable length 2,4 m. Four stage adjustment of the pendulum action. It comes in a handy carrying case.
The disadvantages of the model include the plastic enclosure. Although the manufacturer has equipped the model and vents in areas of high overheating, metal gearbox would be safer. RPM speed control roller situated on the button, which in practice it is not very convenient.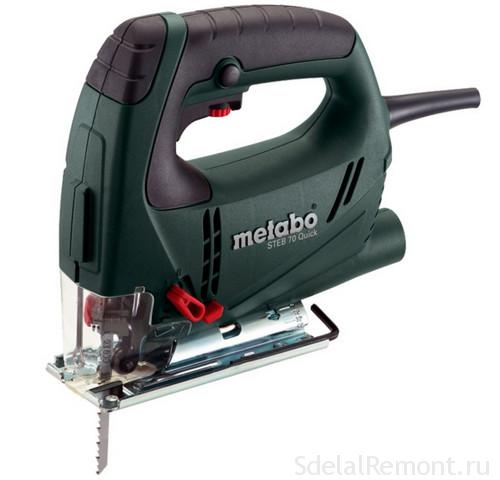 expert opinion: it best jigsaw Home. This model of the brand Metabo multifunctional, good tool handle straight and curved cuts. Easy easy jigsaw is designed for large, but short loads, eg, for a single country construction.
see JV 0600 k
Japanese trade mark Makita gained its popularity due to the consistently high quality of its tools. Model JV0600k jigsaw comes in a carrying case, It equipped with a reliable engine with a capacity of 650W. From the main options - a three-stage adjustment of the pendulum action and electronic adjustment of speed 500 to 3100 rev / min. locking chuck is fixed in the open position, which ensures easy replacement with one hand saws. Easily propylene tree to 90 mm, and the metal to 10 mm.
The case is made of durable plastic, This has a positive effect on the weight of the tool, but slightly reduces the heat, and thus the continuous operation time. Producers have taken care about such details, as the frost durable long cord 2,5 m - such a tool can be safely work in cold weather.
The maximum angle of inclination of the standard molded sole - 45 °, regulated in both directions. Low position of the guide rollers minimizes escape from a straight path.
Model of the downsides are the lack of smooth start, lack of maintenance of power at low revs and play video, which in turn does not interfere with the smooth Sawing. And as there is a slight vibration at idle, absent in younger counterparts.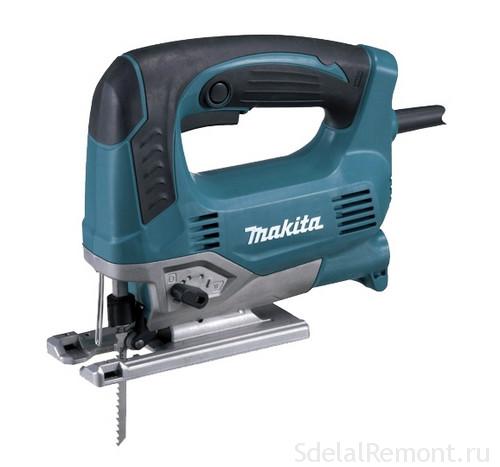 expert opinion: Thinking about, a jigsaw best buy, you can safely stop the choice on the model JV 0060 k. Simple and unpretentious design is easy to tolerate various overload and overheating. Limited functionality compensated hardy and reliable mechanism. The tool is suitable for working in the shop, and for domestic use.
Bosch gst 850 be professional
Talking about, some jigsaws most reliable, It would be a crime not to evaluate the model GST 850 be professional from the German manufacturer Bosch. The company has firmly established his professional line of reliable and high quality power tools for use in the most demanding conditions.
Powerful engine 600 W even allows you to work with such material, as a brick, using special tooling, but too small pendulum stroke, do not allow to perform such work quickly. Easy tool weighing 2,3 kg quickly and without flaws cope with straight and curved cuts, and when cutting at an angle rather well kept cutting line.
The model is supplemented with useful features, how smooth start, power button and blow the work surface quick-change blade. Stamped outsole protected from chipping and convenient adjustment of inclination of 45 °. When worn brushes triggered automatic shutdown.
The parameters of cut in wood / steel / aluminum - 85/10/20 mm. Four position pendulum action and electronic adjustment of the turnover 500 to 3100 strokes per minute. Ergonomic rubberized handle eliminates slipping out of the tool during operation. The tool can be connected to an industrial vacuum cleaner.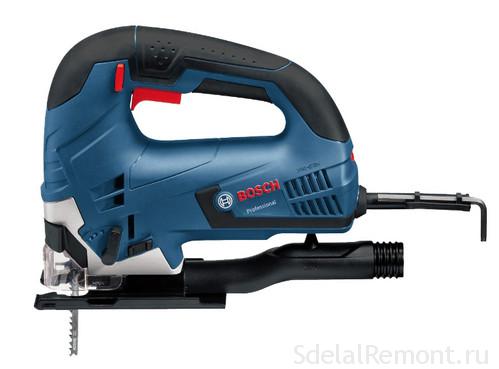 expert opinion: This model is difficult to find any technical shortcomings, he brilliantly copes with straight and curved cuts, as well as fine sawing at an angle. His appointment - production hall or prolonged private buildings. The only disadvantage of model - high cost. Buy such a tool can be and for a rare home use, but it would be unreasonable costs.
Black & Decker KSTR 8 k zenith
One of the largest US producers of Black & Decker did not give a clear category of your power tool, but the user experience itself qualifies him as a professional, or "very good semi-professional".
Jigsaw has a fairly good supply of power 600 W and the highest speed adjustment range - from 0 to 3200 strokes per minute, than can not boast of every tool in its class. Stated propyl wood / metal - 85/5 mm. Turnovers rheostat regulates button.
Model comes in a convenient carrying case. The design is different rubberized handle and an additional handle on the upper part of the body, This allows you to hold the tool with both hands. Of the additional options can note storage compartment saws, a three-meter long cable, guide for direct cutting and vibration-free operation.
With all the advantages, This model has its drawbacks. Design features are not intended to miter, there is no possibility to connect the tool to the industrial vacuum cleaner.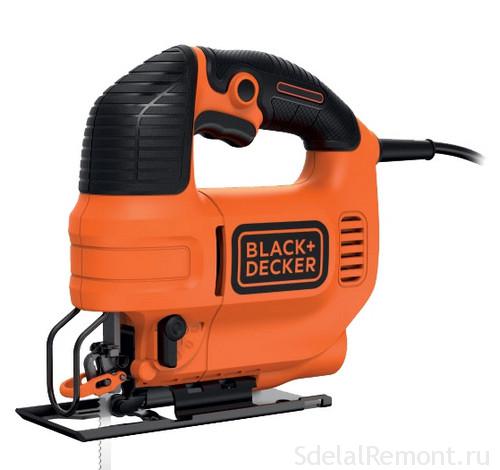 expert opinion: This model stands out from the usual understanding of the Jigsaw, It is a kind of alternative to the circular saw. Its key purpose - to direct and precise cuts at an angle of 90 °. Rare design does not allow to cut at an angle and connect the vacuum cleaner. Limited functionality of the tool is suitable only for short domestic load plan or seldom used for production purposes.
Analyzing the pros and cons of each model, It is difficult to recommend, What is better to buy Bosch jigsaw, Black Decker, Metabo or Makita. Everything will depend on the specific needs and challenges, which is necessary to cope.