Overview of the most popular models of gas guns assembly according to performance, prices, complete and cost-shot. Which model offers us a modern market building installation devices? Advantages and disadvantages of units Hilti GX 120, dip GSN65, Aiken MGN 850C Gas, Spit Pulsa 700. Professional advice on choosing izdeliya.Pistolet assembly for driving the dowel-nails in the wall of stone, brick, metal or concrete. This tool is widely used in construction for quick and easy attachment of various utilities, ducts, other elements in the construction of facilities.
Gas-Actuated Fastening different multiple benefits:
fixed adjustable shot power, without damaging the fastener;
high speed;
suitable for mounting thin and delicate items;
has established itself for very drywall profiles.
One of the representatives of the high-quality and highly effective tool in the line of assembly pistols - Hilti GX 120, lasting, reliable, visually attractive and justified in a price equivalent.
What is the mounting unit Hilti GX 120?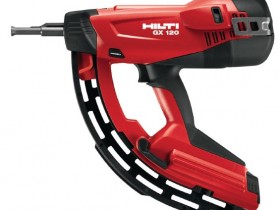 The pneumatic fastening tool for concrete, brick silicate, become, metal products, brick masonry plaster. It has a robust housing, despite the high technical parameters weighs about 4 kg, easy to handle and excellent Balanced.
LED charge indicator notifies the pre-gas end, which helps to prevent unexpected battery shutdown. Gas injection system reliable, It fulfills all the wishes of the owner. There is universal use of the machine system in a wide temperature range. Housing stylish products, attractive, functional, thanks to a streamlined design with it easily fix elements even in the most remote corners.
store has:
40 fasteners;
750 mounts from one gas cylinder.
This is a decent performance in a number of mounting guns in concrete.
tool Package
It comes in a plastic device shockproof suitcase, besides the main unit is placed therein consumables, gas canisters and nails. Red gun body clearly sets it apart from other similar products, making gas fastening tool hilti more recognizable and popular in the market of mounting devices. The package also includes a support leg, Set to remove nails X-120 NP, factory cloth for cleaning articles, ʙeruşi, goggles to protect against dust and instruction on conducting mounting.
Attention: packaging nails and gas cylinders must be purchased separately, and all because for each base material, Concrete, steel, block, a rock, brick, There are different fastening clamps.
Manufacturer (Hilti) It includes gun supplied punch X-120 NP, which is intended to remove jammed nails from the head product. According to many user feedback such situations hardly occur, but if you have this unit, then so is necessary!
Safety glasses high quality, made in Germany, in addition to their master must wear a helmet on his head, which must be on every construction site.
Instruction Manual describes in detail how, how to use a gun mounting, correctly choose fasteners, and eliminate possible malfunctions. Willfully to unwind and engage in self-repair is not recommended, for this is customer service, as well as professional counseling centers.
The booklet sets out in detail all the technical characteristics of the device, There are black and white pictures phased fastener fixing, instrument charging rules, informative overview.
Corpus Hilti GX 120
Gas-Actuated Fastening on the concrete of the manufacturer looks pretty massive, but it weighs only 3,8 kg. There regulating belt hook, support leg is at times easier to work with the instrument.
Pros and cons of the machine
Among the benefits is to provide reliable, high speed performance by building out the various elements, hammered nails to hold all base material is durable and reliable, tear suspension arms even with the pressure can not be. Mounting of constructions made without dust, but neglect the security conditions do not need to - glasses should always be used when working with pistol.
There is a switch-shot power, which is very useful in the work.
If we talk about the cons of the product, it can be called a very loud sound of a shot, but if you use headphones, it can endure. Maintenance and repair only 'officials, consumables only original cost of which is higher than its competitors. The cost of the gas cartridge gun is quite high, Considering that, that the unit is purchased separately from consumables, and generally get the amount of 60 000 rubles. Is it possible to find something cheaper, but with such high performance?
Gun construction Toua GSN65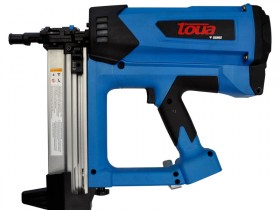 Gas-Actuated Fastening toua designed to work with concrete, brick and metal surfaces. When installing drywall, suspended ceilings, waterproofing membranes, plywood used on nails 15 to 65 mm. Magazine capacity - 40 nails, for one charge gas bottle gives 1000 shots.
Weight per kilogram more than the previous model, but the size is more modest - 380 x 375 x 122 mm, versus 431 x 134 x 192 mm. they say, than the bulk tool, the easier it is to work with him, but in fact it depends on the base material and the complexity of installation.
Equipment
The delivery is the nail gun on the concrete, 2 rechargeable batteries, charging, adapter 220V AC-6V DC, user's manual, packaging.
Performance
The model Toua GSN40A product GSN65 high capacity differs, 120 J. v. 90, Increased store for nails, 20-40. It is possible to use a larger diameter nails - 2,5 – 3,7. Hammered nails holds up 80 kg, shot is strictly at an angle 90 degrees to the surface.
Gas-Actuated Fastening toua is not tied to an electrical outlet, in contrast to the punch, and hence the performance of works on construction site increases. Spout device is regulated separately, that allows you to penetrate deeper into the material.
Removable battery, if necessary, it can be replaced with a spare, without stopping the workflow. capacity of the device is automatically adjusted, there is a light battery charging indicator.
The cost of such a unit - 35-40 000 rubles. For about 30 000 rubles, you can buy a gas fastening tool Makita gn900, he is unidirectional, It is designed to operate only on a tree, respectively nails length 50-90 mm, and shot energy 85 J.
More than a budget option - Aiken MGN 850C Gas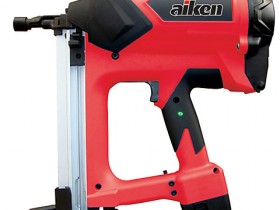 Its value does not go beyond 25 000 rubles. Gas-Actuated Fastening aiken has a shot of energy - 85 J., Nail length - from 15 to 40 mm, diameter up to 3 mm. Standard magazine capacity - 40 PC., 1000 shots to one cylinder.
The device can be used in various temperature regimes, from minus five to plus fifty, weight - 3,5 kg.
What comes?
Among the standard elements, two reel stands, instructions, the gun and the power supply are earplugs on a string, a transparent tube for lubricating oils, imbusovy key on 4 mm, substitute cap on the barrel and the gas bottle for midget.
housing
Assembling worthy, plastic smooth, obrezinka solid and durable, model is convenient for operation, reliable grip and the housing adjustment tabs. Nice red color, practical trunk.
Functionality
If we compare this with the previous unit, the cost of one shot is equal to 2 rubles, but not 8 or 15 for toua or hilti. Calling the advantages of this model, it should be noted:
safe installation, scraps fly precisely along a plane;
has service centers in every town;
One battery gives 4000 shots;
all interchangeable raskhodka.
Of course, when compared with Hilti, the gas gun assembly aiken has hit weaker, More troublesome is the complete set of lotions, grease, the keys, additional battery, but at a cost - Aiken more affordable and widespread.
Buy gas fastening tool for MM 40B can be of concrete 20 000 rubles. What do we get in return?
The low cost of the shot, to 0,80 cop.
Independence from the hoses and power, however, As with other models.
shop seats 40 PC. nails.
Energy shot - 85 J..
A gas bottle gives 1000 shots.
Yes, performance worthy, but to use this machine only for concrete and metal surfaces. Low cost due to weak capacity and lack of spare battery. It is necessary to closely monitor the battery charge, and in its absence, for the time will stop the user experience. For complete charging device required 1,5-2 o'clock.
Such a fastening tool for the concrete will be appropriate for non-durable use, frame fixing without amplification on the objects and the load on the machine.
The high price and decent quality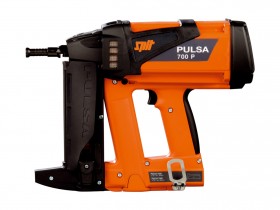 Among the most expensive gas cartridge gun can distinguish aggregates multiply Spit Pulsa 700 or 800.
What is their feature, and what justifies such a high price, from 70 000 rubles?
Guns are designed to work with any surfaces, powered by rechargeable batteries and a gas canister. The length of the head of the piston stroke is adjusted mechanically, which allows to fix the desired quantity administration nail, preventing, in this way, surface deformation or perforation.
This gas pistol for concrete, become, brick, wood, plastered masonry, pustotelnyh blocks, It has high power with auto-tuning shot strength. Model 700 P is designed to work with profile plasterboard, has a separate marking is uzkoprofilnye.
Spit Pulsa 700 - a thing not to kill, practical and attractive housing, designed for long-term construction tasks. To model is very expensive raskhodka, that will not always be expensive for the user. Nails are suitable for the Chinese model, but the gas - only the original.
If you compare this unit and gas fastening tool Hilti gx 120, it should be noted their low weight, 3,6-3,8 kg, virtually the same dimensions, magazine capacity - 40 PC., identical performance to 3 bps.
Of course, materials, It works with mounting gun Spit Pulsa 700 more varied, but if you take a tool for personal use, the option Hilty 120 will be just
professional advice
When choosing a nail gun gas concrete is important to be guided not by popular products, and the type of consumable and destination.
Advantages of gas neylerov (pistols):
the autonomy of the unit and good ergonomics;
high impact strength;
moderate weight;
simple operation;
low force pressing the trigger;
adjustment, multipurpose devices, which can successfully replace the punch, drill, hammer etc..
For the gas gun assembly sometimes need to shell out more 1000$ for edinitsu, but its performance is high even justify this nuance, special, When building a large-scale and lines are strictly regulated.
Many users prefer the model Hilti GX 120, reviews of the gas cartridge gun in most cases positive, which indicates its strength, security applications, high performance. Such a unit will be indispensable in the personal use and, as well as the large-scale construction sites and assembly plants.
What else can offer you the model - see below video about the mounting gas gun Hilti GX 120.
Successful work and success in all endeavors!