Puncher has now become a very popular subject. Previously hammer replaced the hammer and bolt.
those masters, who had a great experience enjoyed by powerful electric drill and special drills, who have solid tips. There were those people, who acquired the Baltic drills and product brands. These include: Bosch, Metabo, Makito and many other, but it is better to buy a firm, how to choose the correct punch?
While evroremot was not so common pilots, sailors, who have been abroad and seen the life of foreigners, acquired there this type of technology and brought to our country. Equipment, imported from other countries carried the quality and reliability. Wizards use this technique, not paying attention to the fact, that the necessary supplies were almost no. All these innovations were the first steps towards civilization. It should be noted, that foreign equipment used only employees of large industrial cities and in the capital of Russia.
But it should be noted, that time, when it was not of good quality equipment ended in a short time. Now there is a notice that, that there is a problem associated with the right choice of technology. Even those people, who have little income and lots of available funds can buy punch for home and work any cost.
What better tool - hammer drill or a hammer?
Many kept asking, Why more likely to choose the punch, instead of a hammer drill? This article will try to answer this question. If a choose a hammer drill, it can not be overlooked, drill that has more power, At the same time light weight drill, we can say a lot less than that of the punch. Also consumables hammer drill can be purchased much cheaper than the gun and the hole can be made with little effort. so, why choose punch, instead of a drill? To answer this question it is not necessary to think long. You can simply note, that the hammer drill main function is to drill without using shock treatment. The possibility of a slight bump in the drill, This function is an auxiliary. The firing mechanism of the hammer drill is a conventional "rattle", but the punch is not so simple. The perforator can be used, to work with a brick, concrete, cinder blocks and other types of building materials. The main function of the gun - a percussion piston that creates a strong impact is much greater than the drill. Puncher has both electro, and electro-shock principle. If we compare the force of impact drill and punch, it must be noted that punch in this greatly avoids hammer drill.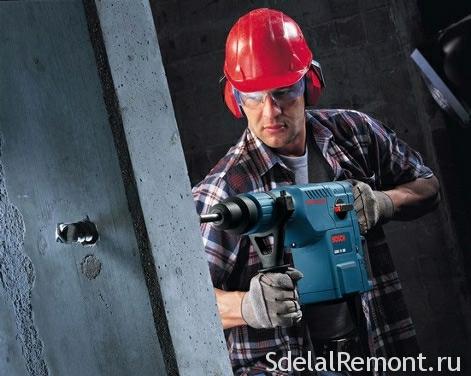 For such an instrument, as the punch is made overload clutch, it starts if some effort. for example, if there is a need to make a hole in the monolithic plate using a drill, and after a while he stared at the armature, the safety clutch will without loss out of this situation. Consequently, if there was no safety clutch, then later it would happen unpleasant situations. Drill, in turn, it has a large capacity and high tightening torque. Perforator behind these parameters from the hammer drill. These indicators are the main, when you stop the attention on the drill.
In this way, from the above we can conclude that, that drill and hammer are opposite tools, even if you do not pay attention to the same function. Yet in order, to work from home, even better to use low-cost Chinese punch puncher who make a hole in the concrete without difficulty, with than conventional percussion drill not cope.
To work at home is great puncher replace hammer drill. Previously Hammer had a lot of weight, We have been slow in, but since we are more and more developing, They began to make punches that have a high speed and different operating modes. It is better to buy - hammer drill or a hammer? If you allow the financial capabilities, then buy better Cordless and punch. Now you can see a few models, and then to decide on the instrument which will be most convenient, light and perform various tasks.
Professional and household hammers differ from each other, that each species has its own load level, that withstands tool. As household hammer, and Professional have many functions. In this case, we can say, that production workers carry out the same actions, therefore acquire a tool that has a high cost, and many functions does not make sense. And all because, that the simplest and most inexpensive tool is more suitable for small domestic needs. But for such a small team, which is engaged in construction, Professional multifunctional hammer is an excellent choice.
Now try to select the punch, which has two kilogram weight. Also consider drills two or three regime and another tool has two speeds and three modes. Manufacturers who produce professional models and do not work with household punches, not overestimate the cost for professional produced professional punchers. so, proceed directly to the consideration of the various models of punch.
Black puncher & Decker KD970KA
This model has two modes of punch. This rotary hammer can get pretty interesting model, she made more than a year in this case the punch is perfect for home repairs. many
s people choose this model to work.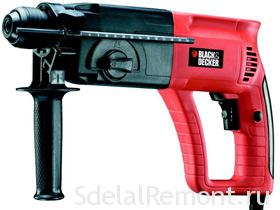 Delivery of punch in a plastic case. Supply can contain completely different sets. Now we will pass directly to the properties of the model. Black puncher & Decker KD970KA has power 750 W and the impact energy 2.2 J.. All this allows the employee, which carries out work at home, perform all necessary actions. Basically, the product warranty period is two years, there is no direct angle, making punch is not quite attractive. There is no third mode, so basically a chisel will not be required, negative factor is, that no regime can greatly shorten the working life.
Perforator Makita HR2450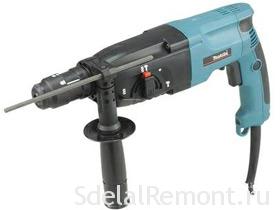 This model are a large number of house masters, and so popular precisely because he enjoys, that the punch has a reliable and low cost. Makita professional tool. Consequently, this model is quite common and well-known. The model has 780 W. power and 2.7 J.. impact energy. drilling diameter is 24 mm. If we compare the punch, which was described above, and this model, it has a third operating mode. Perforator Makita has a high impact energy. With this tool, you can effortlessly lay Stroebe and put tiles.
But still not recommended as an alternative to jackhammer. If all the time to work on a direct hit, then wear the striking mechanism will happen quite soon. It must be noted, that if there is such a nuisance, the service personnel will appreciate its natural, in consequence of which would have to pay for repairs. Warranty is one year and it is only available to those customers, who purchased goods from factory defects. If they were seen in the operation of the instrument. To work is a great option, in itself a, I will say that he is very good and experienced more than one repairs. It is important to know when buying, how to distinguish from the original Podtyolkov.
Rotary Hammer Bosch PBH 3000-2 FRE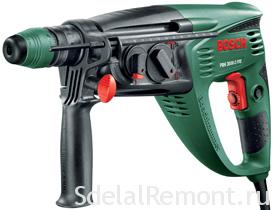 Another well-known hammer is Bosch PBH 3000-2 FBE. I can even say, that the products Bosch is the leader. also in 1932 It was given by electric hammer was produced, which was the first in the world. And at the moment the company produces high-quality products, which is well known and popular all over the world.
It was recently released this model as a punch Bocsh PBH 3000-2 FBE. Production of the gun is a very interesting development. In the manufacture of the company workers enjoy the two-speed gearbox. Also, this model has a removable cartridge, and you can change the cartridge without delay for the Boers to standard, The result is a powerful drill. From the above we can conclude that, that when a person acquires the firm punch he gets Drill. Metabo, Milwaukee also offer similar products. But still we continue to talk about punch Bocsh PBH 3000-2 FRE.
The perforator has an engine, wherein power is 780 W and the force of impact 2.8 J.. On the handle made special lining, allowing a worker to reduce the impact energy. The manufacturer sets the two-year warranty. This makes the tool even more popular. so, We find out now!, what is the appeal of the gun. perforator rotation speed varying between 800 to 1500 rpm. And it is known to many, not only specialists, but the handyman. There is a removable cartridge, but even he can not carry out such work, which allow to work with wood and metal. The performance of working with these materials is smaller as compared with a drill. Proceeding from this fact, experts have decided to increase the number of revolutions, that led to the installation on the punch special reducer, which helps to increase the number of revolutions 3000 thousands per minute. Consequently, punch can be used to drill holes under razetku. Also you can use the hammer and then, when it is necessary to prepare a solution. Consequently, from the above we can conclude that, This tool can help in many ways handyman.
So to conclude that, a punch better buy? Respond to this question can be no doubt. An excellent choice is the hammer, which has more than one rate and three modes.
Service maintenance
There are also some hidden factors, that the purchaser must know, before, how to choose a punch. Puncher has a sophisticated production technology, which must be handled carefully and in time to carry out preventive maintenance. It is these actions will help to keep the instrument in good, working condition for a long time. All buyers sellers say,that after some time it is necessary to bring the hammer into service and check its status. But customers do not like it, since half of them thinking about, that specialists just want to lure more money. But they are wrong, as the punch has special grease, which after a while you need to change. Also located within the gun sets gum, which also wear out and require replacement. Yet those masters, that at least a little familiar with the gun loads, I do not even think about, prevention tool that is extortion money.
It is also necessary to understand the, that without the help of a specialist to replace all the parts right tool is not likely to succeed although it is possible to spend Repair punch yourself.
In this way, from the above we can conclude that, that to the choice of instruments must be approached with the utmost care and diligence, and choose a hammer drill or a hammer - it's up to you from your goals. But do not forget about security and pick up personal protection with the instrument.
It so happens that the tool only one time, for work and is not advisable to buy, and easier to hire a, it will be possible to rent, Doing this business.