For quite a long period of time bathroom has ceased to be only room for personal hygiene. Today, it is increasingly described as a place of rest, where you can relax, take a shower or soak in the bath. And repair it, respectively, performed following the latest trends. In this way, to create a nice and cozy design is important to know, What tile is now in vogue.
Compliance with the trends and the pursuit of fashion
Given the modern approach to the repair of the bathroom, strongly demands changed in the choice of finishes. Nevertheless, all of ceramic tile is also a good option for finishing. At the same time, its choice of approach with great caution, and carry out a careful selection. About the same before choosing flooring or wallpaper in the bedroom and living room. As known, modern tiles, Along with its aesthetic qualities, also possesses good handling properties, Among them is the ease of maintenance and high resistance to fire and more.
Nevertheless, there are many variations of choice, and even choosing what to put on the tile floor in the bathroom, many face difficulties. But that, how to choose tiles for the bathroom, we talk separately, and now a closer look at the current trends, and still define, What tile is now in fashion and how to choose matt or glossy.
The most popular varieties of tiles
small foreword, note that, as before to repair. Materials were selected on the basis of a dark bottom and light top, on what, properly, choice and ended. And it was quite rare to find something extraordinary and original combination.
The most fashionable tiles today are imitation of other materials and a combination with each other.. Porcelain stoneware often mimics stone (in particular - marbled). It looks as good as natural stone, at the same time it is cheaper and much easier to care for. Marble tiles are ideal for any space and purpose, even for a kitchen apron.
Many tile patterns appear, imitating wood of different species. It's so realistic and impressive, that some consider such a tile to be a full-fledged alternative to laminate. There are also tiles for cork and tiles for shabby, worn out wood.
Now, considering the color of the tile in the bathroom, which one is better is rather difficult to define, We can only note, that the maximum popular options were the following:
Tile, which imitates natural stone.
Imitation wood materials.
Tiles under the leather or fabric.
Mosaic and its simulation
floral prints.
And last, design in hi-tech style.
Using the loft style.
But let's look a little more in detail each of the options, to decide for themselves, some tiles lay out the bathroom.
Marble effect tiles
Marble tiles are used very often in various design projects.. With its help it is possible to realize a luxurious, stylish, but at the same time incredibly comfortable interior, which will not lose its relevance even after years
The most fashionable tiles today are imitation of other materials. . Pottery often mimics stone (in particular - marbled). It looks as good as natural stone, at the same time it is cheaper and much easier to care for. Marble tiles are ideal for any space and purpose, even for a kitchen apron.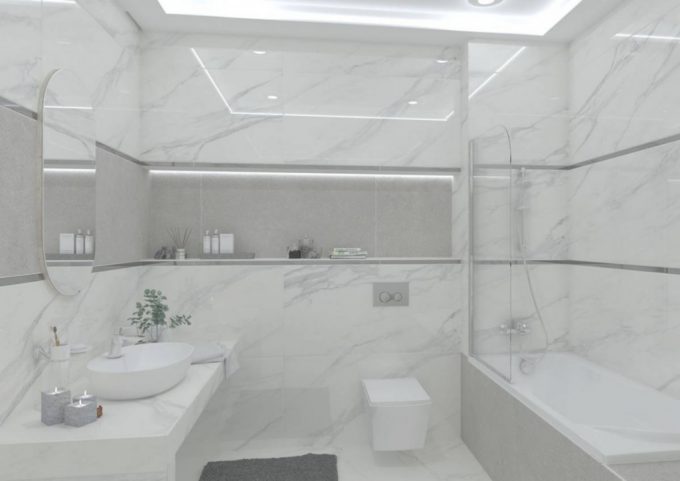 Many tile patterns appear, imitating wood of different species. It's so realistic and impressive, that some consider such a tile to be a full-fledged alternative to laminate. There are also tiles for cork and tiles for shabby, worn out wood.
Wall tiles and porcelain stoneware white marble look very much in demand in interior design. They embody sophistication and nobility., which natural marble is so different. Besides, white tiles have a number of significant advantages. One of the main ones is the ability to visually expand any space with its help.. For this reason, such a material is suitable even for decorating rooms that are not too large in size..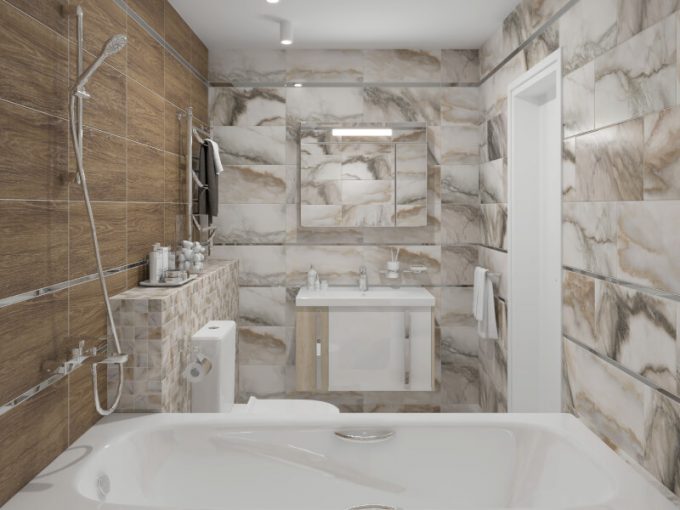 Also, white porcelain stoneware fills the house with light and airiness.. It gives lightness and creates an atmosphere of purity.. Another important advantage of white tiles is its versatility.. White marble effect porcelain stoneware is suitable for modern interiors with an emphasis on minimalism, and for projects in classic style. In doing so, you can combine warm and cold shades of white., to get more interesting combinations.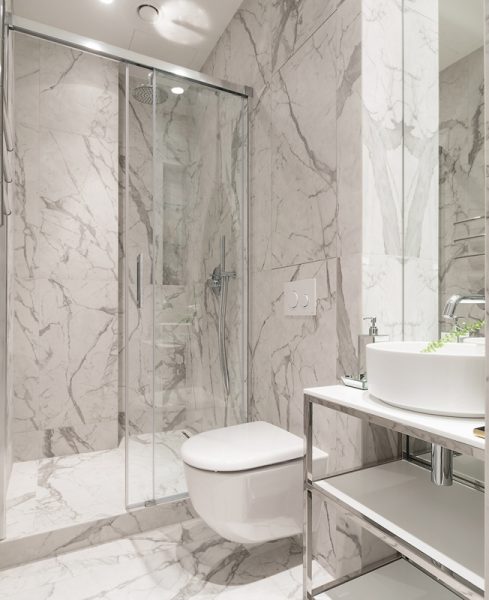 Gray concrete tiles
Large-format concrete tiles are gaining more and more popularity..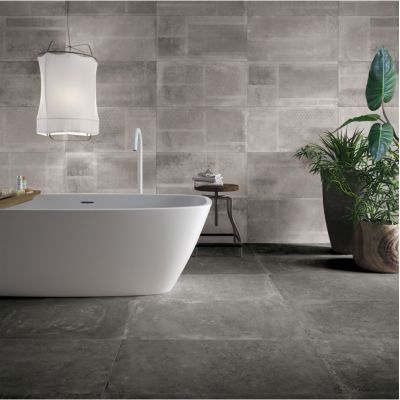 Darker colors abound in a wide range and with different decorative imagery. The gray color tile is one of the classy and classy looking tiles with a matte finish. Gray tint combined with matte finish - an unusual combination. The matte finish makes them less slippery and a suitable choice for your bathroom. They do not absorb moisture and mask stains and dry watermarks. These tiles are stain resistant. All you need is a damp cloth, to clear them, and voila! The tiles are ready. This is a modern bathroom wall tile design, which you would not like to miss!
imitation wood
Talking about, some tile in the bathroom is now in vogue, more mentioned material, simulating wood coating. design, made of wood attached to the comfort and warmth, and also helps to relax better and faster, both on a physical level, and the subconscious.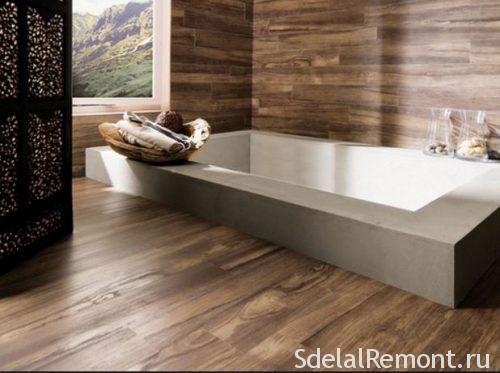 Even given the fact, that is used to create such interior is tile, instead of natural wood, still a feeling, that you are in Russian bath or sauna, which allows maximum relax, relax, feel safe and detachment from the outside world.
Depending on the selected style, you can find the perfect fit for your bathroom. Fans of the classics should pay attention to the dark tiles., which is better to lay with a herringbone. Also it can be chosen for ecological design..
Adherents of modern styles can choose imitation of black ebony or wenge. For high-tech styles, loft fit a graphite gray shade. More aged models are suitable for country styles, retro. Such a pattern will help create a house with a century of history.. You can make imitation of chips and cracks, depict fragments of frescoes, old paintings.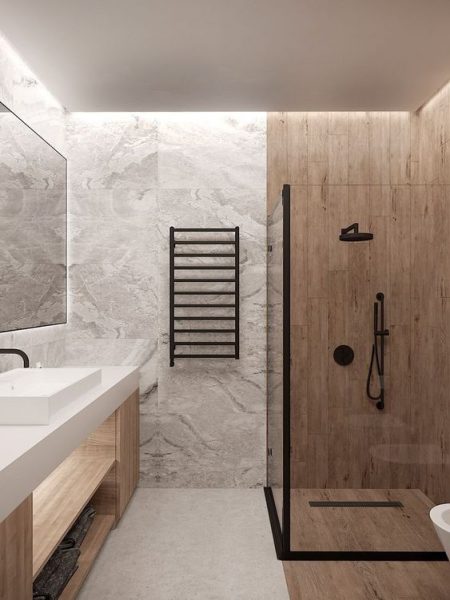 Wood is extremely popular for bathroom decor: wooden walls, floors and even showers, and also wooden bathtubs and sinks are very fashionable. The only problem with wood items and slipcovers in bathrooms is, that even with a special seal, wood can easily be damaged - bathrooms are usually very damp. But there is a way out: add wood tiles to your bathroom decor, to make the space fashionable and bold and avoid any functional problems.
Wood tiles in bathrooms are a perfect idea for more than just a rustic bathroom, but also for many other styles. for example, you can soften your minimalist bathroom with tiles like this, or add a edgy touch or modern or contemporary space.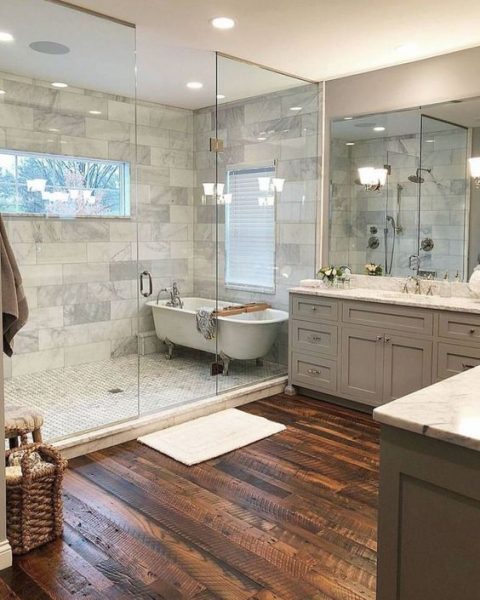 A natural stone
The first type is a ceramic tile or a porcelain textured solution in the form of natural stone. Stone products and a total invoice of the material never loses its recognition among consumers, which is why this solution is gaining popularity.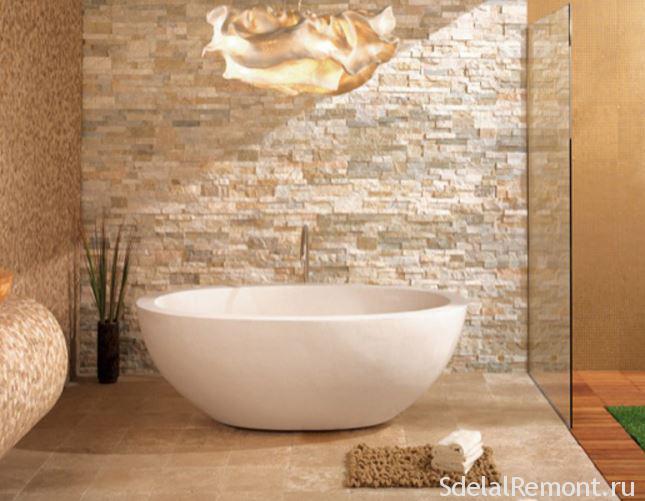 This kind of coating allows to give the room atmosphere certain tenderness and firmness of. but note, that the decision to equip the design of the bathroom so not affordable for everyone. although tiles, simulating marble coating, shell can help to realize almost any fantasy. But the cost of this coverage is still high.

Most types of natural stone are ideal for bathroom decoration, as they are not afraid of humidity and high temperatures. They can be seen in the sauna, spa area and hammam. Natural material is completely hygienic and safe. Unlike other finishes, he is not afraid of fungus and mold. No unpleasant odors, decay and allergies!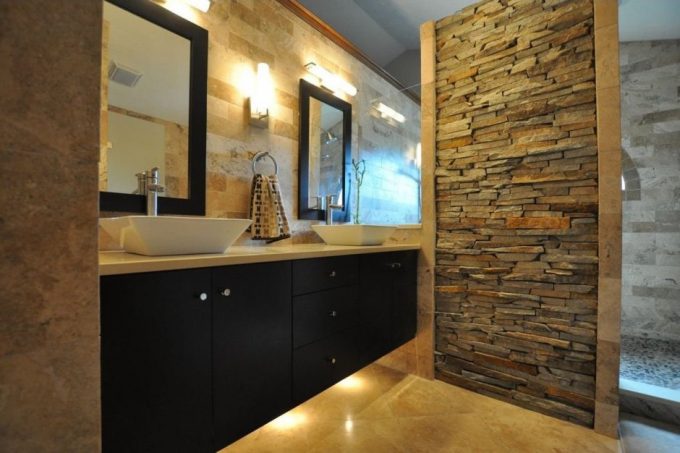 There are many types of stone, but there are clear leaders in finishing. This is onyx and marble. Onyx - a luxurious translucent stone for partitions, shells, countertops and panels. This backlit stone looks especially beautiful. Marble, used for finishing floors and walls, as well as for the manufacture of worktops in combination with design elements (stained glass, mosaic fittings) looks great and sets you up for a romantic mood.
Textured tile
Going further, it can be seen covering, simulating leather trim materials or cloth. Especially popular is the design imitation snakeskin or crocodile leather. This solution is often found in people, loving all the most elegant and unconventional. Typically used as separate pieces in the bathroom.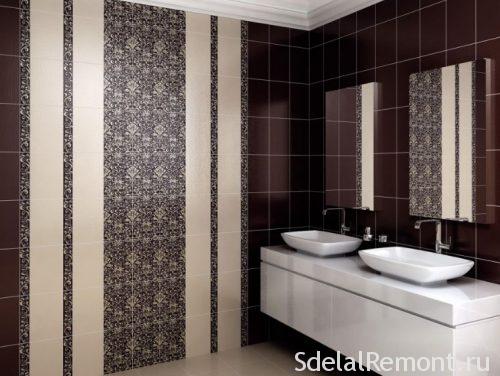 tile surface is not only simulates drawing, but repeats the texture of different types of leather or fabric. Besides, coating itself is not slippery, it also allows you to expose this kind of finish flooring. The very same coat looked quite interesting, one might even say extravagantly.
Modern tile designs, which look like fabrics for home decoration, are modern alternatives for kitchen or bathroom wall decoration, when wall painting seems boring, and you want to create wallpaper, wall-like sinks and showers. Faux fabric tiles for kitchen and bathroom are spectacular and new.
Modern tile designs are practical, comfortable, environmentally friendly and versatile. Tile designs for kitchen and bathroom decoration range from metal tiles, faux wood floor and wall tiles, ceramic or porcelain tiles and a huge collection of contemporary tiles, imitating various materials, such as metal, tree, the cloth, leather, rubber, glass and paper.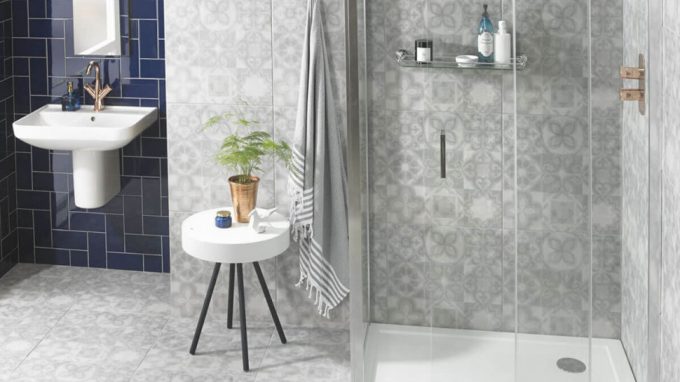 Artificial fabric and lace, such as wall tiles, are the current trends in tile design and wall decoration. Fabric or lace wall tiles on kitchen and bathroom walls look great, Bringing Asian flair and charming decor patterns to creative interior designs.
Kitchen and bathroom tiles, imitating canvas, such as cloth or patchwork, adds dynamic accents, various textures, colors and energy to the walls of the kitchen and bathroom. Modern tile design, imitating silk fabrics and lace, adds chic and luxury to the decor of the kitchen or bathroom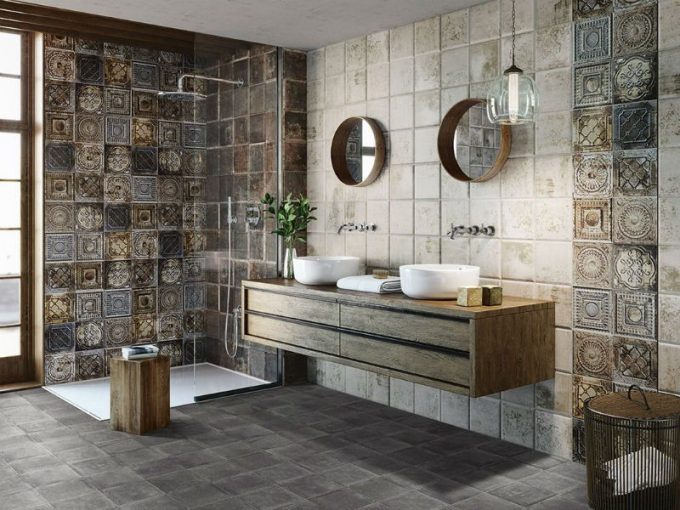 Such fabrics, as tiles for kitchen and bathroom, bring beautiful decorative patterns to interior design, softness and comfort, creating a new look and pleasant relaxing feeling. You can cover the entire wall or decorate only part of the wall with modern tiles., imitation fabric, adding color, texture and intrigue in your modern kitchen or bathroom decor.
Mosaic and imitation of textures
Probably the most popular choices is becoming a mosaic finish. Each, who had the opportunity to visit the Hammam, It remains under the influence of a lifetime, in particular, its leaves wall decoration, which is performed manually fine mosaic. After this type of, forever you can forget even thinking about, What tile is now in vogue for the bathtub, and give their preference to such a solution.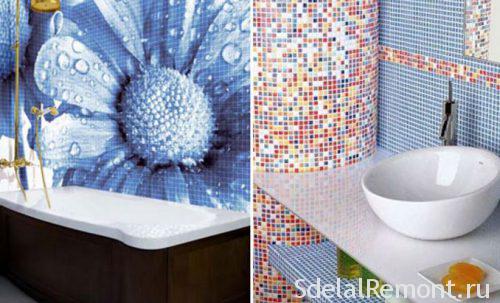 This original work of art, which could organically connect various kinds of materials, among them the stone, and glass, and even mirrors, and all of this in one single figure. Right now, this decision has never popular, current technologies provide dozens of varieties of tile coatings, that mimics exactly the kind of mosaic.
This tile, pattern having a total, but on the other hand hundreds of independent, at first sight, apart elements. Each of them has its own uniqueness, but together they represent the whole picture, which overflows with flowers.
The use of mosaic tiles remains popular this year..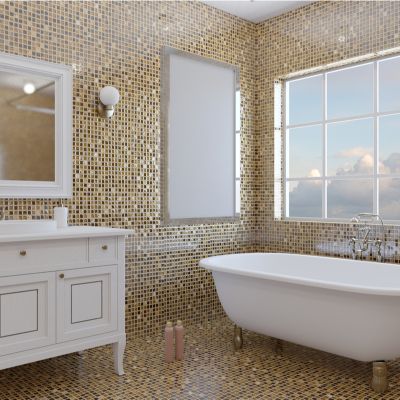 The importance of color determination when choosing the right wall tile will always be of paramount importance.. Bathroom tiles in light colors are ideal, since it symbolizes such concepts, how sanitation and cleanliness. On the other hand, dark tones would be a better choice, if we want more contrast. The success of our decor and its modernity largely depend on this combination of colors and tones.. Therefore, a mixture of bathroom tiles should create lighting effects., that attract our senses.
floral prints
Another embodiment becomes bright texture tiles with flower. This kind of material can dramatically change the entire room. Besides, using such materials, it is possible to visually magnify or reduce. Using different picture can be influenced accordingly placed differently.
Such manipulations are performed through the use of images of different sizes, in turn, the small flowers will contribute to increasing the visual, large, on the contrary decrease. That is what should be taken into consideration when choosing a.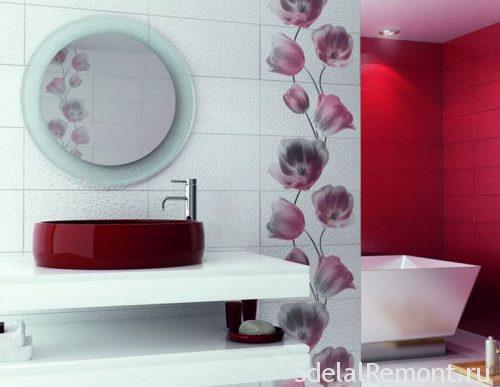 Considering the design recommendations, use this type of tile is desirable to focus attention on one of the bathroom areas. It uses a combination of different types of tiles, including standard monophonic. It is therefore necessary to know what happens tiles for bathroom.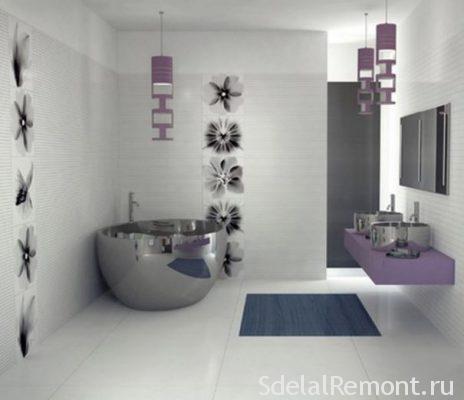 High-tech
And the last option is becoming popular in the repair of high-tech style. The very same tiles of this style is a coating with one color, the complete absence of any clicks or tones.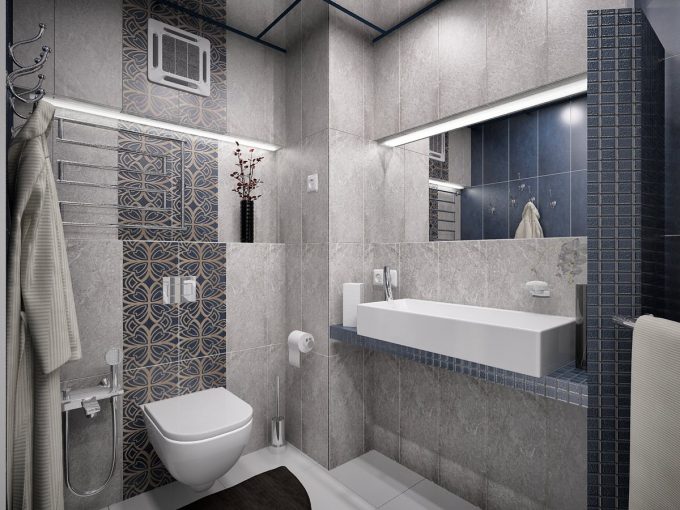 Thus not create the most simple and elegant room, in which each element is simply shout about its rationality and symmetry.
conclusion
After considering a variety of types of tiles, We think you have come to the conclusion, some fashionable tiles for the bathroom is right for you, and by combining various styles and textures, you can create a beautiful and fashionable bathroom design. finally, we note, that the chosen tiles should not only emphasize your taste, but to make room, and stay in it as simple as possible, pleasant and comfortable.
also note, that in spite of modern fashion, still popular coverage options are fotoprint and classic design options are solid. And finally, we offer watch a few videos, in which are shown illustrative examples of bathrooms, designed with the latest fashion.