LED Strip Light, powered by AC 220V, It has become a new achievement diode products manufacturers. There is almost no difference with the low-voltage counterparts.
At present, 220 high-voltage tape became popular in commercial activities, show business, where the use of svetoeffektov attracts the attention of visitors. LED strips can be used in the organization of the concert stage, illuminated billboards, the creation of large-scale inscriptions, figures or musical fountains. Tape with 220V power supply can also be used in non-profit activities: decorating design exteriors and interiors.
Areas of application of LED strips
LED Strip 220 V are designed for outdoor use, performed in a silicone shell, and have the maximum protection. They may be one- and multi-color. They do not require the use of power supplies, converters. They are connected through a diode bridge power cable, which converts AC to DC.
There are different varieties (LED strip rope light or luminous strips on the flexible 220). In fact Rope Light - is transparent cord of a flexible polymer, inside which is initially located miniature lamp , and now modern LED light-emitting diodes capable of operating without power supply directly from 220V. The inner space of the cord is filled polyvinyl chloride for the purpose girmetichnosti degree of protection. In appearance and method of use of tape 220 Rope and cord are very similar.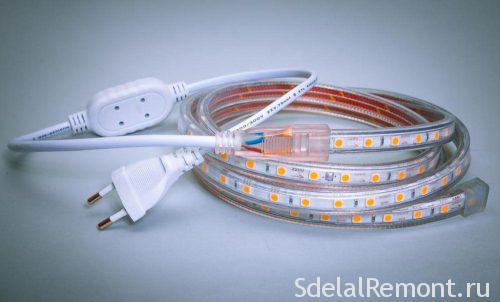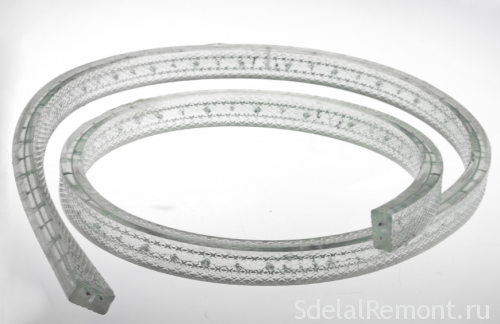 variety of products
Classification of ribbons 220 is different from the low-voltage products and is based on technical specifications. Depending on the power, distinguishes between the following options:
LED tape 220 volt power 4.4 Watts per meter;
LED tape 220 volt power 7.2 Watts per meter;
LED tape 220 volt power 14.4 Watts per meter.
According to the nature of the chips, products are divided into many kinds. Basically tape manufactured SMD LED 3014, 2835, 3035, 5060, 5050, 3528 or the more modern diodes SMD 5630. The number and variety of chips per meter depends on the intensity of light and current consumption.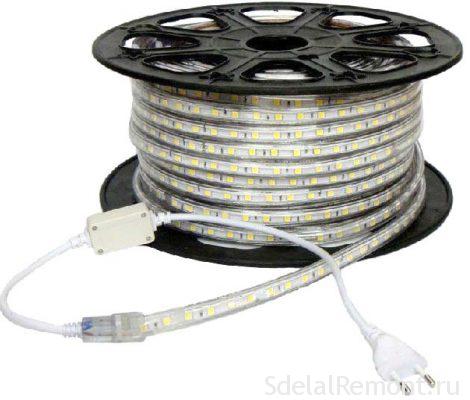 According to the level of protection tapes are IP68, IP67. High protection LED products eliminates user contact with live parts, so you can use in an open environment. That is, they are equipped with silicone tube, intended for use outdoors and in wet areas. According to experts, such tape resistant to temperature extremes.
Feeds can be rigid or flexible, depending on the base for diodes.
Unlike other high-voltage tape is in color and glow power. By type of installation, they can be self-adhesive or without an adhesive layer. Also worth noting LED RGB tape 220 Volt, collected on the three-color diodes (mainly SMD 5050). They are printed on a flexible basis there 4 contact, and the connection is made through a special RGB controller. The colored decoration tape are white, blue, red, and green tricolor.
Recently, the stores were sold Rope Tape, representing a cord of a transparent polymer, wherein the LEDs are. Inside the cord is PVC, raising the level of security and strength of ice ribbons 220 at. According to the method of use and appearance, they are similar to Rope-cords.
Features of LED products
Due to the high voltage, Tape 220 may have a serial connection to a length of 100 m. Therefore, they are sold in reels 50, 100 m. This allows you to cover a large perimeter lighting from a single network connection 220 Volt.
determined power (W / m), the level of moisture protection and color temperature.
220V LED strips Cost smaller counterparts, where the voltage is 12 and 24 volt. They are durable and economical light sources. Illumination is connected to a simple outlet, providing light level, corresponding incandescent lamps. When properly connected and installed, tape will run until 50 thousands of hours of intensive use. Reducing the cost of the product due to the lack of expensive power supply.
Multiplicity is cutting LED strips 1 meter, it is not always possible to measure the required length. Given the unstable voltage, where there may occur voltage fluctuations or pulsations, quick break from cheap low-quality LED strips.
Another disadvantage of the products is a sealed silicone tubing severity, in which the belt is located, which is why it needs to be fastened in 4 points per meter. This eliminates slack or uneven fit. Feeds are not suitable for repair, since the airtight layer is broken when replacing the chip. For some models, there is no adhesive layer. Products Chinese manufacturers differs poor quality. Because flicker harmful and dangerous high voltage tapes have a limited scope of use. for example: street lights, advertisement. If the LED strips mounted permanently on the street after about 5 – 6 years starts collapse silicone shell.
Given all the advantages and disadvantages of tapes, it is desirable to use in outdoor illumination of facades of various buildings. For dynamic lighting effects by changing colors, You need to buy RGB tape 220 Volt.
The device and principle of operation
Constructive main feature is 220 tapes, that they have no power source in the form of a buck converter. The power supply voltage stabilizer is replaced by a diode bridge, which is located in a sealed housing. One part includes a wire network, and the other is connected to the ribbon cable connector. At the output of the rectifier voltage constant, equal to 200V.
The main advantage of LED strips 220V direct connection, is that unlike conventional tapes with power supply 12-24V, First lets create uninterrupted tape length 100 m, protected from moisture.
For lack of congestion at the light-emitting diodes, they are connected in groups, via resistors compensating voltage excess. Basically, the voltage drop in the LED is 3,3-3,5 AT, because of what is contained in each group 60 chips. For diodes necessary power polarity, due to which a rectifier is used (diode bridge). After the surge voltage rectifier observed, which affects the quality of light.
To control the light flux in the construction of the dimmer is set. In RGB strips installed a dedicated controller, which has a large functional load, than the dimmer.
When buying a high-power SMD tapes 5630 with power consumption on 1 m more 10 W, then you need to pay attention to the presence in the structure Aluminum mounting profile or cooling radiator.

The scheme of inclusion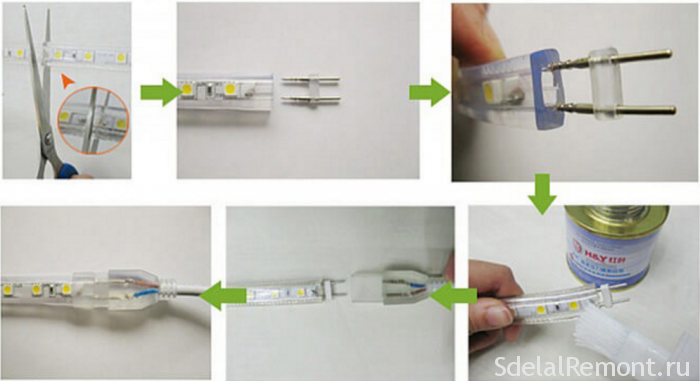 The scheme of connection of high-voltage tape easy, it is performed in the following sequence:
cut off the desired length of the cord, fold the smallest allowable size of the tape;
the cut end is mounted in a connector pin, attached with glue or sealant;
with the correct polarity, connector is connected to the output rectifier;
cover reverse side cut flap;
tightness check design and reliability of the compounds.
Rectifier, which connects via ribbon, It includes a diode bridge and can have its own power. power rectifier 700 Watt would be sufficient to 40 m powerful tapes and 100 m standard for lighting large spaces. Rectifier price will be low, and it can be done independently of the 4 diodes.
A significant advantage is the lack of high-voltage feeds the transformer, instead of which is set a small device with input and output cables. When connecting to the network need to purchase a diode bridge with connectors or thin copper wires. Due to the high voltage, current will increase during exercise, which is why you can use wires with cross-sections up 1 mm2.