At any thing or object has its own interior life, shower room in this case is not an exception. Therefore, sooner or later, before the master question, what method baths restoration works best when, if for some reason put the new feature is not. We have already discussed how to make Bath restoration - acrylic insert, very effectively with a lifetime of at least 5 years old, Read this way.
helpful hints
so, it is first necessary to realistically assess what state abides bath. If the body is deformed, in place of the drain, there are chips and cracks, or the size of new pipes do not match the size of the drain hole, then it still need to be replaced.
Usually, This entails additional costs for delivery and purchase of new, also need to dismantle and make obsolete bath, well as replace damaged tiles and tubes, ie. will require almost a full repair of the room.
But if body condition is quite satisfactory, but it has lost its luster, color enamel, and on it there were small chips and cracks, such a bath may well be restored yourself.
Restoration work bathroom should be implemented in the event, if dismantling and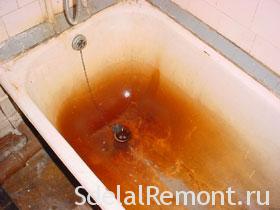 ynos old capacity is not possible, and, If you have decided to sell the apartment, because the state and plumbing, in particular, shower room on the value of the sold housing can have a direct impact. Plain way to update the old cast iron bath.
Also, it makes sense to restore and if the apartment is rented, and you do not plan to invest in its renovation a lot of money, or, in front of, Apartment for rent, and repair after temporary residents in any case have to do.
If you plan to do in this renovated room, without resorting to the old bath is replaced by a new, all work on the restoration of the bath is recommended only after spending, the room will be finished all the remaining work, so that nothing is dripping and strewed from the ceiling and walls.
If you need to replace or cleaning the old drainage system, then this is just the best thing to do before the restoration for, to prevent damage to the new cover wrench, grinder or a hammer, because many of the old siphons unscrew does not quite simple and it requires the use of heavy tools.
This case is very troublesome and it alone is very difficult to carry it out, and no special skills or even impossible, so it is best for it to seek help from professionals.