Flexible hose is a hose of elastic material, metallic braid protected with fastening elements at the ends. Used to connect the communication in remote places (mixers, shower enclosures, toilets), there, where to do so by a rigid pipe is difficult. Hoses or flexible hose for water or gas may be made from different materials. Hence the difference in the quality of flexible hoses and different life.
Product quality and cost
Such as flexible hoses from the brand STOUT - an excellent option for those, who are used to choose a high quality without the need for overpayments. The products are manufactured in factories in Italy, which is monitored every step of the production process. The same factories supplying goods eminent brands expensive segment. However, the pricing policy STOUT allows customers to purchase a quality product at an affordable price - there is no increase in the cost due to the hyped name.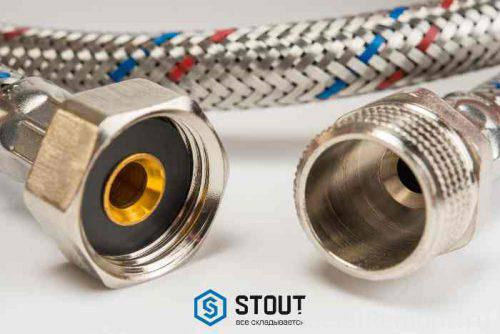 Flexible hoses are available in diameters from 3/8 to 1 ¼ inch, length of 400 to 1000 mm. It means, among STOUT range you are sure to look for the right product, which will reliably serve for many years.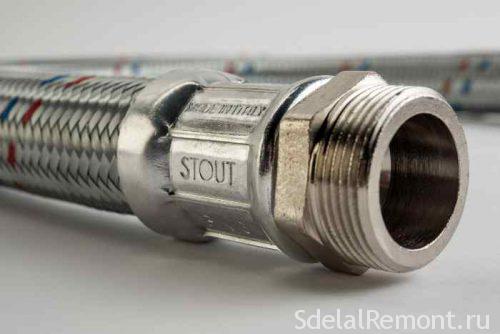 Materials used to make the flexible liner
By construction, flexible connection is a hose of rubber, and which provides adequate softness and elasticity.
High-quality flexible hoses for water shall be made with non-toxic rubber hose. Flight specimens consist of technical rubber.
On top of a flexible liner pipe is coated braid. It can be made of aluminum, stainless steel or nylon.
Flexible hoses for water or gas-reinforced aluminum are guaranteed to 3 years old, and then under its own responsibility. These devices can function normally at a pressure of up to 5 atmospheres and temperatures up to 80 degrees.
The main disadvantage of aluminum is that, it when placed in a long time in a high humidity environment (eg, bath or bath) rust. As a result, metal flexible hose for water breaks and entails the destruction of the rubber hose and leaking.
Liner Stainless Steel live much longer - up to 10 years old, and can withstand pressures of up 10 atmospheres at temperatures up to 95 degrees. conditions, which can operate the device, found almost everywhere, so stainless steel - the most common flexible liner.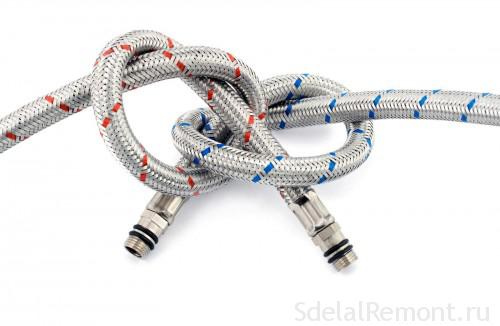 Reinforced flexible leash for water is made with a nylon braid. Service life - up 15 years old, maximum pressure 20 atmospheres, Maximum temperature - 110 degrees. Such liner though are of higher quality, but rarely used, so as usual conditions, for which they are adapted, are rare.
Eyeliner bellows is particularly resistant and long service life. If the kinds of the above outer shell is made from a metal braiding, in this case the shell - this is a one-piece corrugated hose, which is more durable, but it does not lose its flexibility.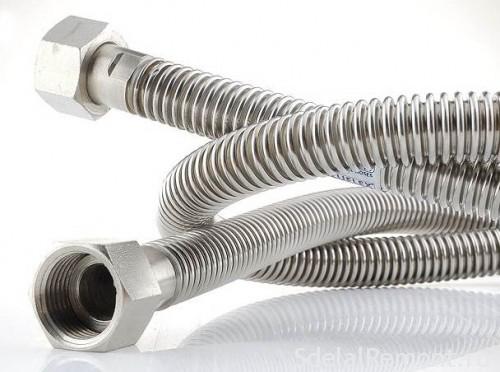 How to choose the flexible liner
Flexible connection to last a long time, it is necessary to choose the right.
Before choosing a flexible liner should find the water temperature and pressure in your system, and buy the following products, corresponding to these parameters;
Concerning these same parameters, as well as the environment, which will operate flexible hoses, should choose a material, from which it is made. Not to buy an aluminum tube at the price of stainless steel, You need to weigh it in your hands. Aluminum should be much easier;
Reliable flexible hoses for water should be soft. If it is not endowed with such a property, it threatens to break the flexible hose. Check the elasticity and softness is easy. It is necessary to take the liner at one end: if it will take a vertical (hanging) position, it is sufficiently elastic, if its position is almost horizontal, it is too solid;
fittings, which are located at the ends of flexibles, must be free of cracks, and their shells must be pressed completely around its circumference, capturing material braiding.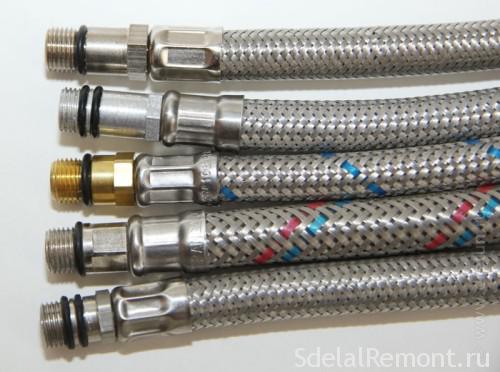 Flexible hose fittings should be made of brass - metal, which will not rust. There are instances podvodok, in which these elements are made of aluminum or plastic. In the case of aluminum fittings, they will rust and will be ruined in a humid environment, and plastic easy to break with time on their own in any environment. So pay for stainless steel in this case, is meaningless.
If a hose flexibles goes characteristic chemical smell, it is made of technical rubber. The smell may remain for a long time, and a material characteristic brittleness and low elasticity. Therefore it is better to avoid these instances.
Flexible hoses for water different in temperature indicators - have for cold and hot water. Hoses for cold water marked blue ribbon, woven into a metal braid, Hot - red, universal - both.
Flexible metal hose must be equipped with a reliable coupling nut. In low-quality copies of the nut may be too thin, that during the twisting operation or may crack and break.
If you choose the wrong liner (or too cheap), then we can get the result in the form of emergency leaks, which can happen suddenly. Particularly dangerous is a gas leak. When buying hoses pay attention to the working pressure and service life.
The choice between the liner for gas and water
Sometimes water is set flexible leash for gas. This occurs in order to save (lying around somewhere gas, and water do not want to buy), ignorance or incompetence sellers (slapped bad advice). In fact, it is impossible to do so, and outlets for the gas must be carried out only transport gas. And there are two reasons.
Provision for gas fittings are normally fitted in aluminum, even if the braid rubber hose is made of stainless steel. It means, they rust in wet conditions, and soon will be ruined, will proceed.
Flexible hoses for water pass special certification and are environmentally safe for humans. It's necessary, as they are passed through a drinking water. Gas fittings do not pass this certification, respectively, they can be hazardous to health, toxic.
Therefore, in pipelines can only be used bellows type flexible podvodok.