Neither one apartment will not do without this elementary object. And the toilet, no matter how simple it may seem, It will be difficult to find without the relevant knowledge. on, how to choose a toilet, will depend interior bathrooms, comfortable stay in it (every day several times) and throughout the apartment (wrong choice would entail damage and odors).
The complexity of choice is a wide variety of modern market, in which it is easy to get confused. Each type of plumbing object differs in its advantages and disadvantages, and so in a particular case, the most profitable one thing. They differ from each other according to several main criteria, for which it will need to select and.
Material
When deciding, what better to buy toilets, first of all you need to know, what materials they are made, and what properties they have. materials are:
ceramic:

Sanfayansovye.
Sanfarfornye.

metal.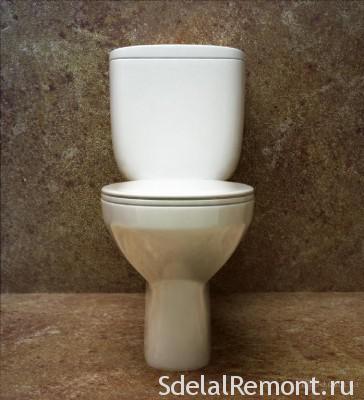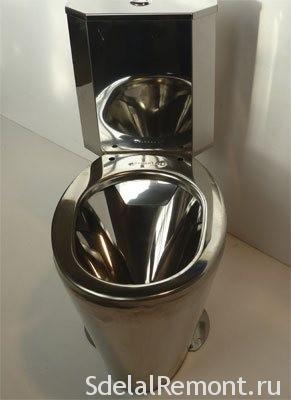 Plumbing fixtures and sanitary ware from sanfarfor outwardly indistinguishable. Both species are covered sanitaryware glaze. However, porcelain is more durable, as well as resistant to physical influences. choosing, a toilet is better of the two materials, should stay on porcelain. And the life they have more - 50 years old, while only in porcelain 30. Besides, easier to care for porcelain, than faience.
Ideally, choose a bowl with molded cistern, it is guaranteed to be better, than that twisted bolts.
Most solid metal, so they are particularly common in public restrooms. As sanfarfor, metal does not require special harvesting conditions. Among the shortcomings of the material - low thermal conductivity, so, that on it was not cold, it should be equipped with thick seat is not made of metal.
In the conditions of the apartment or house toilets made of porcelain occupy a better position in the ranking. Therefore, choose the best of their.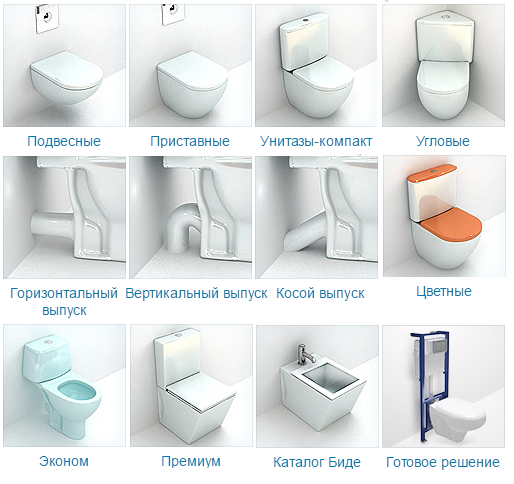 Seat (commode)
When thinking about how, a toilet is better to buy, should think of his seat (toilet seat). Seats are made of two kinds of materials: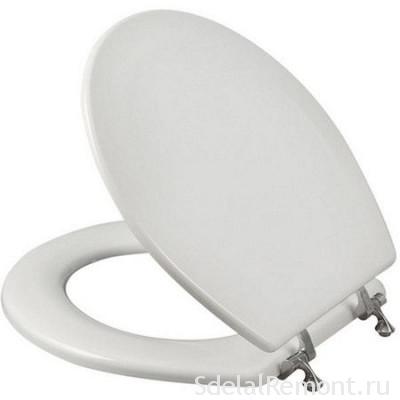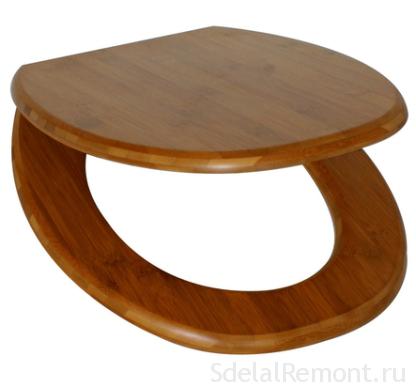 If the choice falls on the toilet with plastic seat, it will save, since this material is cheaper. Wood also will cost more (and even rarer), and they are more comfortable, It retains heat longer and do not cause allergic reactions in people, prone to them.
Feedback from users, good toilet is the, that is equipped with a toilet seat lifter in. This is such a device, which slows down the seat when it is lowered, reducing noise and damage from impact. Lifter is useful when using children, elderly or disabled.

Advantages of modern plumbing
New models of cisterns are equipped with double button discharge. Tanks are designed for two modes: the standard and cost. This is especially true, for apartment owners, where not already installed water meters, and just for people, accustomed to save water.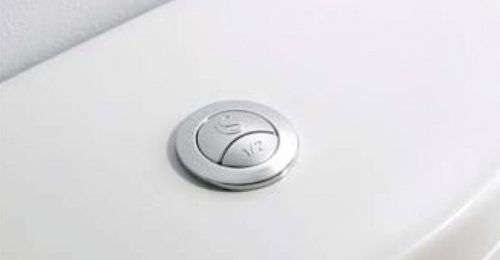 Economy mode involves the capacity to 2 or 3 liters of water. This may cause a reasonable question, how does this water wash bowl? This is possible thanks to the modern design of the tank: at its output set screw (such as in a meat grinder). When draining the water does not just fall down, but also acquires a rotary motion and additional detergency.
mounting method
An important part of the selection of the parameters is the toilet installation method. According to this property, they are divided into several groups: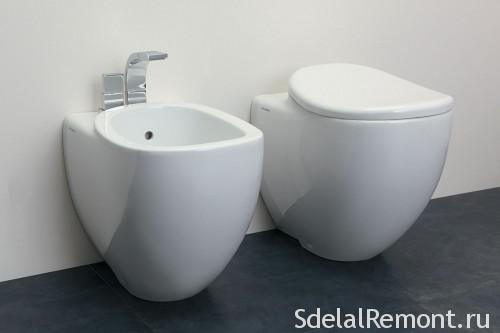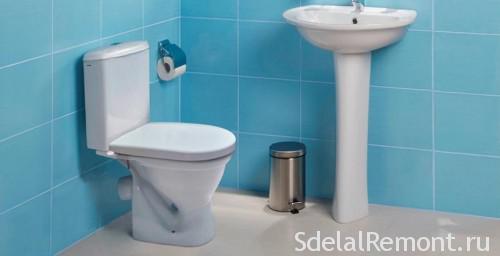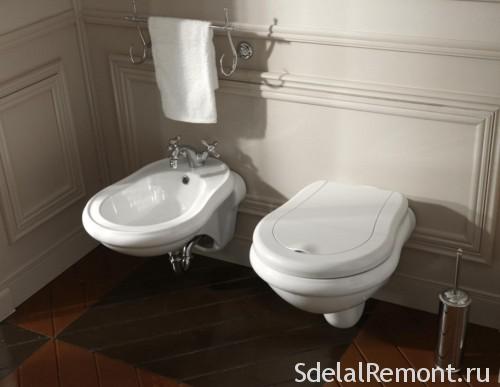 Outdoor ladders - these designs, which is mounted in the flank wall. obviously, that choose this option need only, if he is to stand near the wall. according to reviews, Repair of the plumbing goes hard. But this kind of installation is well suited for small bathrooms or minimalist interior style.
Detached one-piece - this design, in which the bowl and the combined barrel. A CD - is the most common design - a cup and barrel, separated.
Attached toilets are different minimum space, What is their dignity. And this has not detached. However, their installation and repair is much easier to proceed.
Choosing a suspended installation of toilet, you can get a modern and compact form, which is beneficial in small rooms. And this, perhaps, all its advantages. Among the shortcomings should be noted weak structural strength, as well as the complexity of installation repair.
except as described, There are more angular design, choose to be the, who wish to use the entire space of a bathroom on a maximum. In these kinds keg installed in a corner, as if on a diagonal. These toilets are only floor.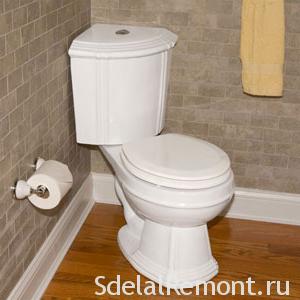 system toilet installation, should be chosen on personal preferences and available bathrooms room features.
toilet models with concealed cistern
Do you know, that already appeared wall toilets? These toilets are always separate tank and drip tray, wherein the reservoir is embedded in the wall, and on the wall surface of the button is displayed only drain. There is also a toilet design bezbachkovogo, wherein the drain device is directly connected to the pipes supplying cold water. It is a new word in the world of plumbing requires special attention, and its installation should be entrusted to a professional master. Despite the seeming simplicity of installation, at the slightest inaccuracy device may leak. Instead of the usual and familiar to us from childhood porcelain cisterns can be put in the toilet cistern zastenochny. This system is called installation.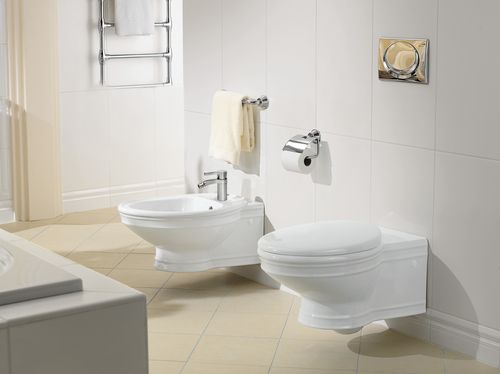 Made of sturdy polyethylene tank and the shape is somewhat similar to the canister. The main advantage of the installation - runs completely silently.
Built-in tanks come in two flavors: for free-standing and wall-hung WC.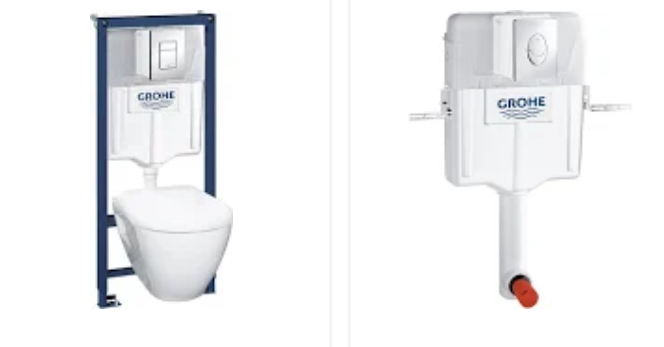 The tank for a squat toilet is a plastic housing, to which is attached a set of fixtures to the wall. Outside such tanks are covered with a foam coating. It prevents condensation and provides sound insulation. From the reservoir moves said sleeve, coupled with a toilet and a curved bottom of the 90 degrees. How convenient this design? Simplicity and aesthetics - just after the button is mounted on the wall, and it is the only, it reminds of the existence of a cistern.
note, toilets for the installations subdivided into overhead and floor.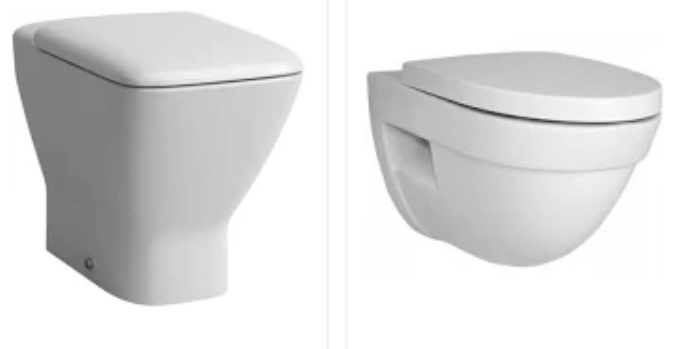 Of course, wonders imported sanitary ware are not eternal, and they also have to mend.
Just do not be afraid repair of built-in wall cisterns. Breaking the wall in the toilet you do not have. Inside the tank is built drain mechanism unit, and damage may be damaged once it. The faulty unit is easily removed through the opening for the internal fluid reservoir button. Operation is simple and artless: remove the key and through this hole to get a hand unit. After repairing a piece falls back, or additional wiring is no longer an important point trebuetsya.Esche: our darling water plumbing overseas moves with difficulty. Therefore, it is good to just take care of the Filters, once you decide to install imported built-tank. Here, experts advise not to save, and stock up on these filters to operate any import sanitary ware.
Models without a toilet tank
What are the other advantages of imported cisterns, visit, by the way, the size of a can of beer? This nifty little thing called drukshpyuler (translated from German descent push ). This system can be build into the wall, hiding behind a partition, hang on the wall in the toilet. If the model is a secret - just remind her about flushing button-key on the wall above the toilet. Outdoor drukshpyuler save space better, than zastenny tank.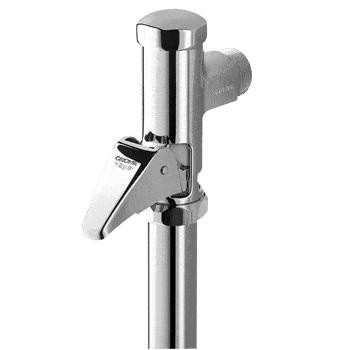 Another advantage of this system is very easy to install. If you do not want, to the toilet pipe sticking out of the toilet, select the built-in flushing system bezbachkovuyu. It deserves attention and other compelling reasons: when there is no place to build in tank; when there is no time to tinker and build a false wall, behind which hide a tank.
Technical requirements for flushing device for toilet. The automatic flushing device for a toilet bowl, outdoor installation, connection 3/4 ", setting at a flow pressure of from 1,2 to 5,0 have, for Belleville and the funnel-shaped outdoor Extra toilets, a flushing fluid control.
system design for instantaneous push the flushing valve unitazaPovozitsya with installation, true, have to. First you need to do in the wall of a square niche required size and depth, and a hollow pipe. When drukshpyuler rise to create a niche, you can proceed to the exterior. Then you need to drive into a wall two pins, and on which is mounted the toilet.
On the shortcomings of the system
Now it must be said about the shortcomings drukshpyulerov. Along with the, This system saves space, no need to wait, Fill the tank until there are important nuances. Normal drain tank is capable of storing a small supply of water, Even if water is turned off. Drukshpyuler same does not hold such stocks.
Poor washes large volumes, offline powerful funnel when draining water.
Another caveat - bezbachkovaya Flushing system normally operates at a pressure in the riser from 1,2 to 5 atmospheres.
Before going to the store plumbing clarify these questions. On the upper floors of high-rise buildings (above 9 floors) sufficient pressure can not be. However, do not worry - there is a special model for low (from 0,6 atmospheres) pressure.
The choice of form the bowl
The shape of the bowl depends on the, how much water is consumed at each flushing and whether spray. There are three types of forms:
Belleville.
funnel.
Visor.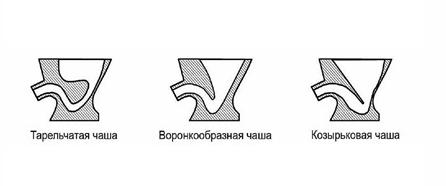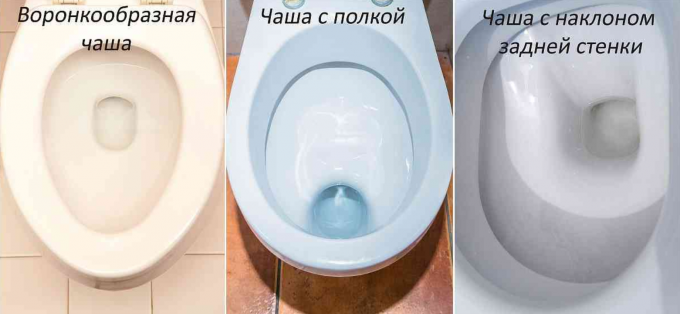 Belleville form (called bowl with shelf) It is a platform, which is always filled with water. It provides a minimum spray, but consumes more water all. This traditional form of bowls. She cleaned only by water jet. The main advantage of this device - no splashing. At the same time diaphragm cup has a serious drawback - the rapid spread of bad smell.
funnel, - a leader in spray, but it is particularly economical. The funnel-shaped cup has a "hole" right in the middle, that provides almost instantaneous removal of products even without defecation flushing. Besides, such bowls very easy to clean, since in operation they do not get dirty. Lack of structure - high probability of burst. Do not choose a toilet.
Visor form is an area of ​​an angle 35-45 degrees - is different and economical, and the best in terms of protection from splashes by washing. Besides, such sanitary devices may be equipped with a special funnel, which further protects against splashes. Visor Bowl - the most modern, Engineers here have tried to combine the advantages of the two structures. It has a flexural wall, which initially fall wastes, further under the influence of gravity, they are removed from the ledge. Such a system is called "antivsplesk". The emergence spray is practically impossible, but somewhat more difficult to clean the toilet.
If you want to choose a toilet without splashing, then the best option will be the one, that Visor bowl. And the more he has the inclination angle, the less likely splashes.
Flush and drain
Draining the water does not affect the usability, but depending on the location of the introduction of the neck in the toilet room, of which there are three options, which will have to choose between:
Vertical drain suitable, when the neck opening is below the floor.
Oblique drain for standard installation of plumbing.
Direct drain in suitable conditions, If opening the neck is high off the floor.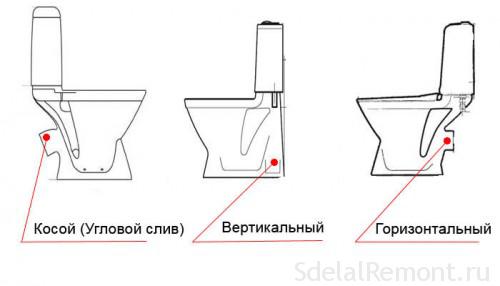 Flushing water is of two variants: dushevidny and cascading. Dushevidny flush produces streams of water on the cup perimeter, creating a funnel-shaped vortex of, which effectively flushes all. Threaded washes the inside of the cup across its surface. Practical to choose a toilet flushing dushevindnym, as it washes better. However, this option would cost a bit more expensive.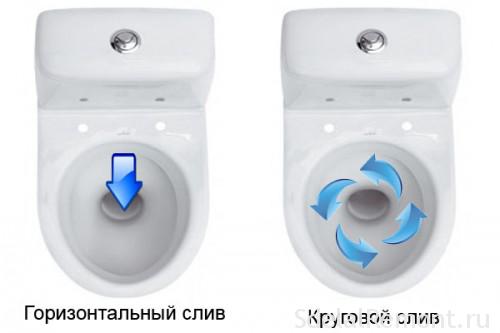 Horizontal flush is a powerful stream of water on one side of the bowl. Its main advantage - simplicity of design, which has a positive effect on the price of the product. A key disadvantage of this type is incomplete coverage of the inner surface of the bowl. So often after using it you need to use an additional brush.
Round Robin is more complicated - the water is moving in the circumferential direction and bathes the entire surface of the bowl. Besides, it does not need a strong head, so it is less noisy and does not allow for spraying. But there are drawbacks - the system will be more expensive, and small holes for water outlet under the rim of the toilet bowl may eventually become clogged with deposits.
The important point when choosing a toilet - efficiency. Standard product by pressing the button pours a full water tank - it is six to eight liters, which is not always justified. However, the market has a toilet with a double-click. When you click on one, they poured two or three liters of water, and the other tank will empty completely. In the month of such a tank will save about 1000 liters of water for an average family of three people.
Also of note, that recently became popular toilet design, which provide for the hygienic function shower or bidet.
The presence of different functional
System "Antivsplesk" invented just for that, to unfortunate spray I did not fall on you, when you use the sanitary appliance. But unscrupulous advertisers and sellers indicate the presence of "antivspleska" every second toilet, while they are not there!
To avoid splashing, you need to find a suitable (planting and bowl type) and your dressing room (drain type) toilet design, check, Does the system "antivspleska" and choose the color and shape of this important subject.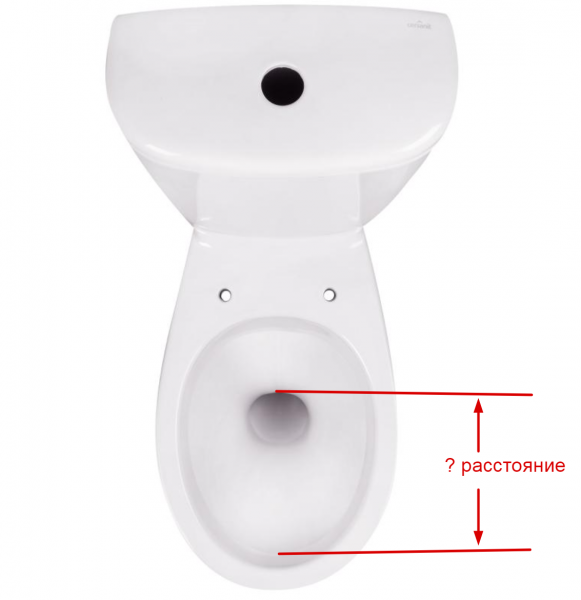 The distance from the rim of the toilet bowl to the "bombing" the place at all different. If feces flying into the water, drops will splash. And if you pick up a toilet, had to fall on the wall or slope, then spray will not.
To summarize. When choosing a toilet, We need to assess the cubic content of the premises and the location of the plumbing riser. They determine the type of removal and installation method. The most modern version of a bowl - with the visor "antivsplesk" system. It is worth to the presence of circular flush. As for the material, the most optimal for today look porcelain.