Hot glue guns are versatile tools, with which you can glue almost any material, from skin to wood, from paper to fabric. It can even glue such materials., like ceramics and glass. It is also irreplaceable when renovating projects.. Regardless of, do you have a kitchen project , bathroom or basement , you will surely face the challenge, which requires a hot glue gun.
But the last hot glue gun, which you bought from your favorite arts and crafts store, finally gave up on you after months of heavy use. Are you looking for the best thermo hot glue gun on the market, but you don't need anything ordinary. A regular hot glue gun just won't work., especially if you are a professional and use it every day. Let's review the most popular glue guns costing up to 3000 rub.
CORDLESS GUN GUN XIAOMI Tonfon
The gun is convenient for work, including autonomously.
You can glue something on the street, useful when working in large rooms - you just don't need to be tied to the network, and, if necessary, can be charged from USB. Heats up quickly. The indication limits the work "on cold". Also convenient.
Powerful 100-150 he will replace the watt gun, not because of the power, nor because of the diameter (rods on 11 mm more running).
To work with Tonfon, purchase rods with a diameter 7 mm. Complete 10 pieces "leave" very quickly.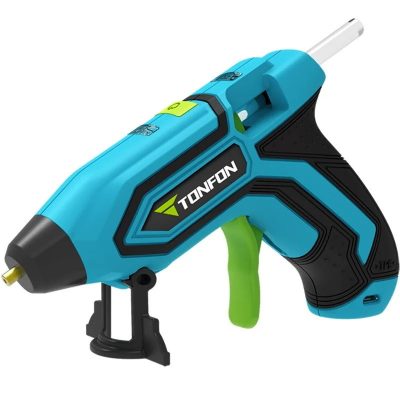 Choosing a cordless glue gun Xiaomi Tonfon Wireless Glue Gun 3.6V is an indispensable tool for a home craftsman and novice needlewomen and needlewomen. Thanks to the built-in rechargeable battery 2000 m A·h it can work for a long time without recharging anywhere. Special, leak-proof copper spout produces a stable and even glue flow for the strongest hold. Eco-friendly materials and ergonomic shape make working with the tool completely safe and very comfortable.. The glue gun is equipped with a ceramic heating element, which is only for 60 seconds reaches operating temperature, its maximum heating temperature is 170 ° С. Powerful heater is the key to fast adhesive delivery without delay, and in the Tonfon pistol, he knows how to heat up evenly and keep a constant temperature.
pros:
Wireless for easy travel. Heats up quickly
Automatic shutdown function.
Minuses:
Short nose.
Batteries last only 30 minutes without recharging.
Features:
The cord may be uncomfortable, especially if there is no outlet near you or the cord becomes tangled. This is where the cordless glue gun comes in handy. This battery-powered device heats up quickly to high temperatures. Besides, it will automatically shutdown after a few minutes of inactivity, which will not only save energy, but also helps to avoid injury.
The battery lasts for 30 minutes per charge, which is more than enough for most users. Consider another option, if you often have labor-intensive projects. Many reviews praise the speed, with which this glue gun heats up, as well as its size and usability.
Glue gun BOSCH PKP 18 E
Household grade glue gun, designed for bonding a wide variety of materials, including wood, metal, pottery, leather and glass. The tool requires standard diameter glue sticks 11 mm. In addition to fixing various elements, BOSCH PKP 18 E is used for sealing and sealing joints. The design feature of the model is the unusual shape of the nozzle, which reliably protects the device from the ingress of drops of melted glue.
BOSCH PKP 18 E has good ergonomics, fits comfortably in both hands and features high dosing accuracy and smooth glue application. An undoubted advantage among similar devices is its high performance under various fluctuations in the network.. Even the voltage drop is up to 100 B will not affect the technical capabilities of the pistol, and the electronic thermal control system ensures almost instant readiness of the tool for work. A very reliable model that has been proven over the years!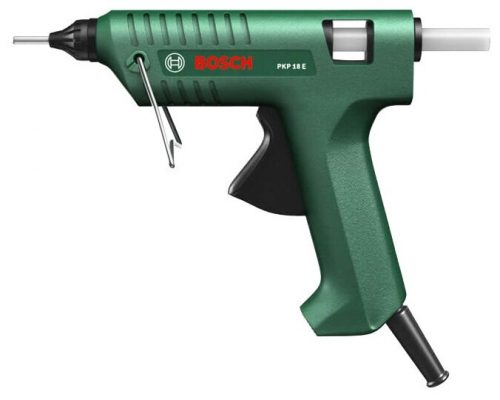 Glue stick diameter:11 mm
Type of:glue gun
Nutrition:from the network
Performance:20 g / min
Maximum power consumption:200 W
pros:
Long nozzle tube, which allows you to get into hard-to-reach places. Quite a powerful model 200 watts.
It doesn't waste your time, as it heats up in just one to three minutes..
Minuses:
Need to wait about 7 min, to warm up. In a heated state, it drips from the nozzle. Average cost about 2800 rub.
The metal stand is not as stable, as you would expect.
It doesn't have a power switch / shutdown.
Features:
Long-term heating is a feature and an advantage. It is he who allows you to work for a long time and consume little electricity.. Also, long-term heating makes it possible to operate the tool in stand-alone mode, separate from the base
Bosch hot glue gun is a good tool, which is worth having in your arsenal, whether you are a weekend lover or a professional. It heats up faster, than most glue guns, as it only takes a few minutes, before you can push the hot melted glue out of its nozzle. However, the disadvantage is that, which is quite expensive for a simple hot glue gun. Besides, it has no safety switch.
Generally, but, This is the best glue gun for arts and crafts and other light applications.
BATTERY LITHIUM-ION GUN GUN RYOBI P305 ONE + 18 AT
Reliable manufacturer, which is especially appreciated for its optimal price-performance ratio. It is more expensive, than some of the other glue guns on the list, but it normal, because it has all the great features, which you need in a good hot glue gun.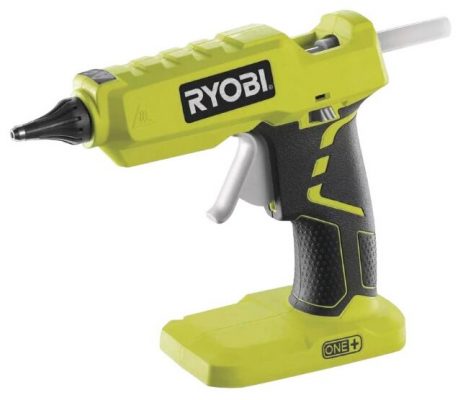 Briefly about the product:
glue gun 18 AT
battery powered
stem diameter 11 mm
heating time 180 sec
pros:
This is a portable cordless hot glue gun.
It is powered by a durable 2-4 ampere battery Ryobi. ( with a reservation, if you have a tool from this manufacturer.)
Trigger more, than most glue guns, which provides more control and less fatigue (healthy, if you have carpal tunnel syndrome).
It has a rubber grip, which does not allow it to slip out of the hand during use.
The base is stable, and it has an LED indicator for your safety while working.
Minuses:
Li-ion battery is not included. You need to have a compatible battery at home or purchase one separately. The cost is slightly more expensive 3000 rub.
Features:
Ryobi P305 One Li-ion Cordless Hot Glue Gun + 18V, undoubtedly, is one of the best cordless glue guns on the market. It is also one of the best glue guns for wood and other hard materials.. It is compact and portable, making it ideal for industrial or commercial projects, where you don't have access to an electrical outlet.
Ryobi glue gun is designed like this, to be ergonomic. The rubber grip guarantees, that she won't slip out of your hand, while you glue the wood, plastic or beads to other materials. Plus it has a stable base, even when the battery is already inserted.
The only thing, what I'm sorry for, that there is no battery included. You need to have a battery at home or buy a compatible Ryobi battery, to increase the value.
Glue gun ELITECH PKL 5015K
Elitech glue gun PKL 5015K is suitable for gluing such materials, as a tree, cardboard, plastic, glass, ceramics, etc.. Temperature control allows you to choose the optimal operating mode.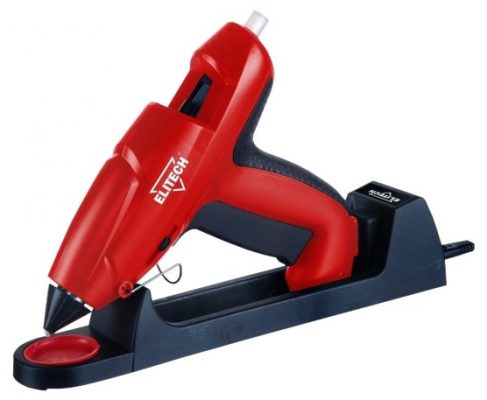 Supplied with a stand for stationary installation of the gun.
The wide glue feed button makes it possible to work without fatigue for a long time.
Briefly about the product:
glue gun 500 W;
mains supply 220;
stem diameter 11.2 mm;
performance 15 g / min;
heating time 300 sec;
heating temperature 150-200 C;
rod length 100 mm;
in the complete set case.
pros:
This is a heavy duty hot glue gun, which is perfect for home projects. Power regulation.
Three different attachments, so you will find the right one.
It has a faster heating time and 500 W is a lot, although the manufacturer may be cunning.
The glue gun is ergonomically designed.
Minuses:
The cable constantly falls out when using the stand, heating seems to be less than a cheap gun. The most unpleasant, that when heated, the drops still merge down, maybe not permanently, but the safety ball is missing.
Features:
For everyday tasks, it is quite sufficient.
Convenient glue feed button. Convenient removable silicone nozzle tip, protects against burns and glue cooling in the nozzle, and if you need to crawl up somewhere, it can be easily removed. Good plastic housing, assembly flawlessly. When applied in small batches, it is very convenient to work without a wire, the stored heat is enough for a few centimeters of the glue stick. All three nozzles with anti-drip valve. In the main nozzle, the ball valve is closest to the tip, does not leak at all. Heating temperature adjustment slider from 150 to 200 degrees moves easily, but does not dangle. I repeat, that the minimum temperature was enough to warm up the standard rods for 5 minutes.
Dremel Glue Gun 940-3
Dremel 940 - glue gun with two temperature modes. Ideal for finishing common and heat sensitive materials. performing small bonding tasks prior to sculpting, from skilful container decoration to model making and embossing.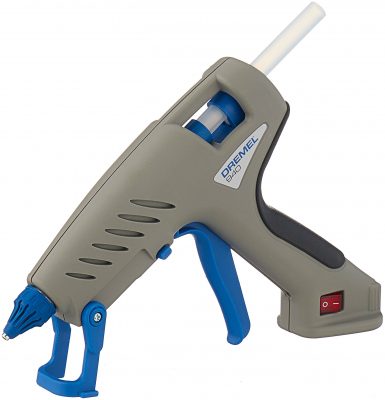 Briefly about the product:
mains supply 220;
stem diameter 11 mm;
performance 18 g / min;
heating time 300 sec;
heating temperature 195 C;
pros:
Supplied in a sturdy cardboard box;
Fits comfortably in the hand;
Convenient to place on the table after use thanks to the automatic stand;
Precise dosing for a productive apparatus. Before that, there was an unpleasant and inconvenient effect on unnamed Chinese., when the trigger has already been released, and the glue goes by inertia;
Does not drip with original rods;
Silicone insert on the spout, once saved from possible burns;
You can disconnect from the network and glue something, located away from the outlet. Did not use, but I can guess what might be useful;
Replaceable spout, which can be useful too, in theory. Cons:
Inconvenient to snap the stand, holding a pistol in one hand, for example on the table, when the other hand has fixed the part;
No other original spouts available;
The sole of the retractable stand is not flush with the plane on the handle, which gives slightly less stability, what could have been (cm. a photo);
Non-standard screws for twisting the case, but at the same time, to fix the stand, they are used + screws, which looks strange;
Genuine consumables are very expensive.
It also produces threads and glue threads, even if you set it to the minimum.
Glue gun Hammer flex GN-06
The most budgetary model in the review of glue guns, but quite a popular brand, which produces various models of instruments.
HAMMER GN-05 - compact glue gun. Melts glue sticks and joins dry, fat-free materials: paper, ceramics, cardboard, tree, plastic, etc.. Useful for a hobby, minor household repairs, decorating, fixing wiring, etc..
Warm-up time to operating temperature - 4 minutes. The tool does not need to be prepared for a long time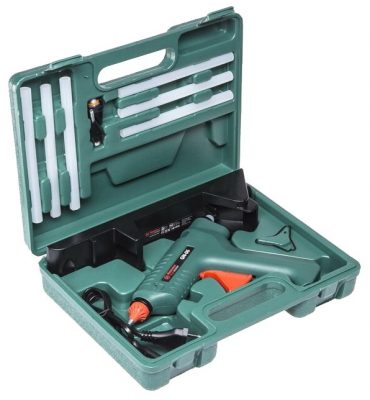 Briefly about the product:
glue gun 80 W;
mains supply;
stem diameter 11.2 mm;
performance 22 g / min;
heating time 240 sec;
heating temperature 150-200 C;
rod length 150 mm;
type of packaging: case;

pros:
Quality, price, case, replaceable nozzles, heats up well, cooling slowly, does not flow.
It has a stable stand, therefore the nozzle is farther from the work surface.
Glue gun available in versions 25 W, 60- 80 and W 100 W.
It already includes 6 pieces of glue sticks. Approximate cost 1600 rub.
Minuses:
If you're not careful, melted glue will constantly drip from the nozzle and can ruin the work surface.
Replaceable nozzles, heats up quickly, the ability to work without a cord
disadvantages:despite the anti-drip system, glue flows out of the spout during operation, very uncomfortable stand, to insert and take the pistol must be applied with FORCE (especially when removing the gun from the stand) second hand, who is often busy, holding material, glueable. If you do not use the stand and stick the wire directly into the gun, it is not possible to put it on the table at all (despite the presence of a metal support) - just put.
Features:
Hammerflex GN glue gun-06 good choice for craftsmen, and for amateurs and professionals. Its design differs from conventional hot glue guns due to its longer, ergonomic handle and stable base.
This glue gun is available in different versions 25 W, 60 and W 100 W, so you can choose the one, which suits your needs. Power versions 25 and W 60 Ideal for light home and arts and crafts projects. But if you need a heavy duty hot glue gun for commercial projects, then the power version 100 W can be perfect for your needs.
If you don't want to skimp on quality, it could be a Hammerflex GN pistol-06 for hot glue and it is quite suitable for art lovers.
What to look for when buying a hot glue gun
1. The ideal hot glue gun depends on the project, which you are working on. If you are going to use a glue gun for gluing ceramics, glass, metal or wood for commercial purposes, then high temperature hot glue gun, which relies on the industrial side, perfect fit. But if you are a lover or someone, who does small household projects or arts and crafts from time to time, then a low temperature hot glue gun will suffice.
2. Consider size and portability when purchasing a hot glue gun. If you need to glue on tiny beads or need, to allow the nozzle to penetrate into confined spaces, take a small and compact hot glue gun.
3. Glue guns available in various capacities. You can choose 15 W, 20 W, 25 W, 60 and W 100 W. Some heavy duty hot glue guns can reach power 120, 125 and 220 W. On average, the heating element can melt the glue stick through 3-5 minutes after, how did you plug it into an electrical outlet or turn on a switch. Therefore, a rule of thumb should be followed when choosing a hot glue gun:: the higher the power, the faster it heats up. But don't worry. There are many reliable and high quality glue guns on the market with the capacity 60 and 100 W.
4. If you intend to work indoors or have access to an electrical outlet or extension cord, Consider purchasing a networked hot glue gun. But choose a battery operated glue gun, if you are working outdoors or if there is no electricity on the construction site yet. If you are going to buy a networked hot glue gun, make, that the cord is long enough. You don't want to move a heavy table across the room or get an extension cord every time, when do you work, because the cord of your hot glue gun is too short.
5. Please check the tool stand before purchasing (a piece of thin metal in front of a glue gun). The nozzle should be positioned as far from the surface as possible, to prevent the melted glue from sticking or spilling onto the table, which you are working on.
Some Safety Tips When Using Glue Guns
Protect your work surface from melted glue, placing a sheet of paper or silicone under the hot glue gun.
Before touching the nozzle, make, that it has cooled down.
Do not let children use hot glue without adult supervision. Don't let them play with it.
Check out this page, for more safety tips when using a hot glue gun.
As for the lighter side, watch this video , to learn about some interesting things, which can be done with a hot glue gun.
CONCLUSION
And the best hot melt glue gun on the market is ... It's up to you to choose:) more economical Hammer flex or reliable but almost 2 times more expensive than BOSCH PKP 18 E.
so, what makes the cordless glue gun the best product in this roundup?
Cordless glue gun lives up to its name. It heats up over 30 seconds thanks to the improved heating mechanism. It has an anti-drip tip, well balanced, to stand on the table, and equipped with intelligent technology, which turns off after a period of inactivity. But, yet again , the issue is the battery life. Of course, it is compensated by autonomous use.