The idea, how to remake the headlamp into the battery was a long time, this is especially true in the fishing and installation of electrical wiring. Since the batteries are constantly buy unprofitable, in this age of mobile phones. Here reflection and ordered the necessary spare parts, which I will describe below proceeded to finalize The headlight flashlight batteries under their own hands, using the Chinese scheme under zaryadkoy.Chto makes it possible to charge the battery in the car, and from the usual micro USB modern phone. I order usually Aliekspres although it is possible to find in stores but 2 times more.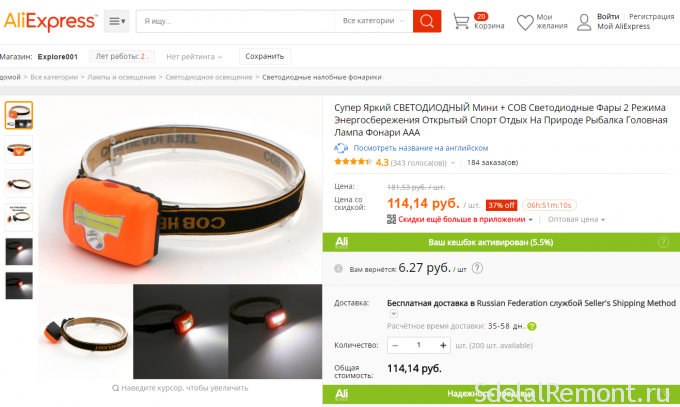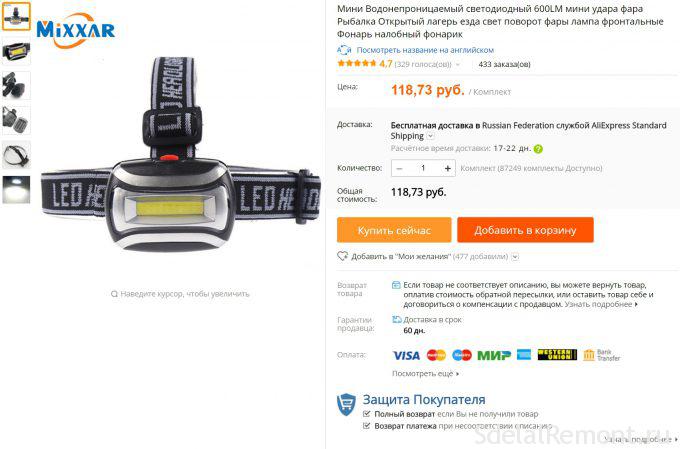 Flashlight delivered to the post office for 20 days that pleased :) Link to store.
The idea is very simple and the power of each, it will require only a small battery from an old cell phone, there is installed Li-Ion battery with protection. Specify voltage fits perfectly, LED flashlight has a voltage range from 4,5 - 2B, 3.7V and 4.2V battery in a charged state at the same time has a decent capacity, which can be increased, adding another battery in parallel. It is only necessary to correctly identify contacts (on most of these plus and minus) remains neatly solder contacts, so as not to melt and to avoid circuit.
The problem with charging through the normal micro yusbi easily solved, order a small fee worth about 20 rub. Micro USB has a very important role to control the charging and disconnecting ice lamp at low battery.
The board mounted LEDs, that show color when converted LED Flashlight charged. Thus the completion of the Chinese lantern The headlight comes to soldering wires Clem.
I use this card any alteration flashlight lithium quite simple, it is only important to know the, how many volts battery issues.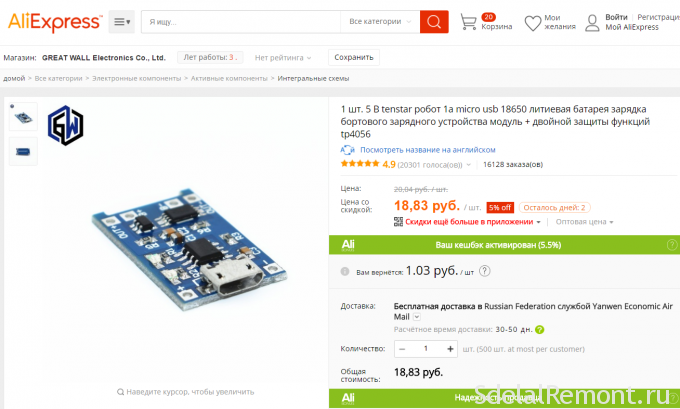 maybe order such a scheme here for themselves at once ordered 10 pieces because it is versatile and can be used in children's toys.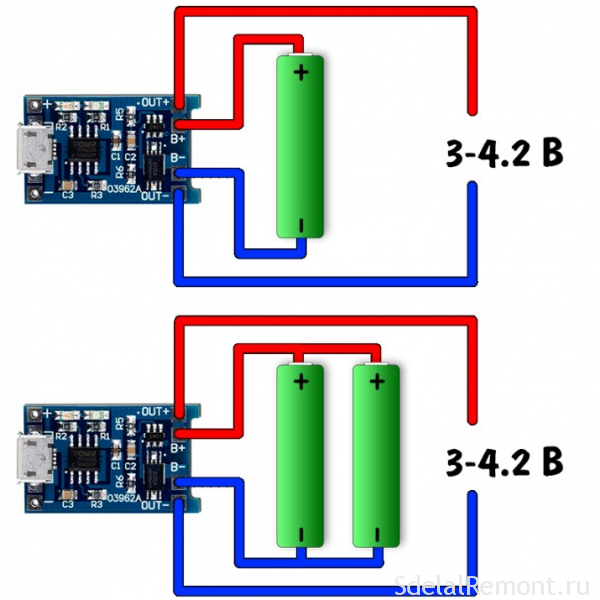 boards Settings
Input voltage with Micro USB : 5 AT
Charging voltage cutoff: 4.2 In ± 1%
Maximum charge current: 1000mA
The battery during the discharge overvoltage protection: 2.5 AT
Is protected against over-current current: 3A
board size: 2.6*1.7 CM

Proceed to the alteration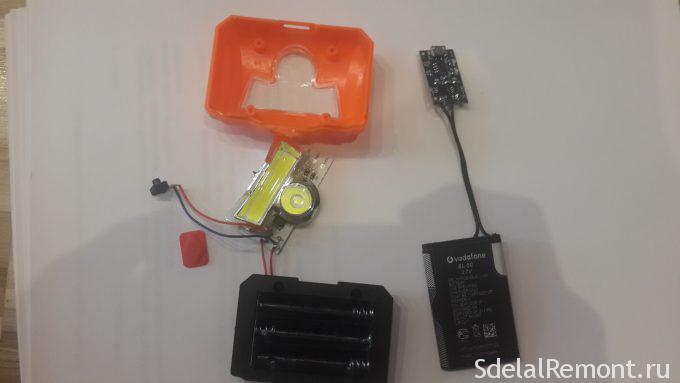 Now, about herself instead of reworking the flashlight batteries under the battery, Most lights used 3 By AA 1.5v by size, comparable to the mobile battery, and it is placed in the main body, only have to expand seat. After some simple manipulation by loosening or cutting out all unnecessary, assemble on the hot melt adhesive component parts into place.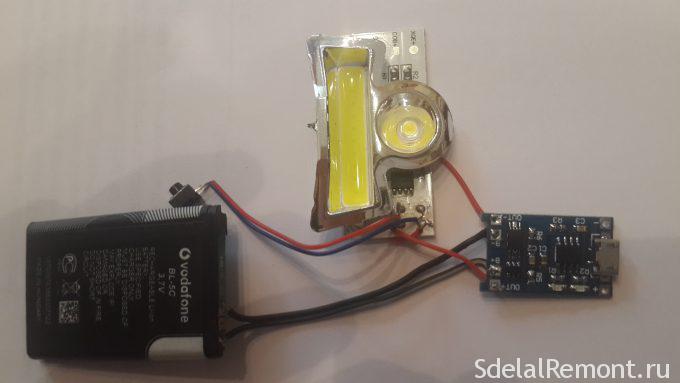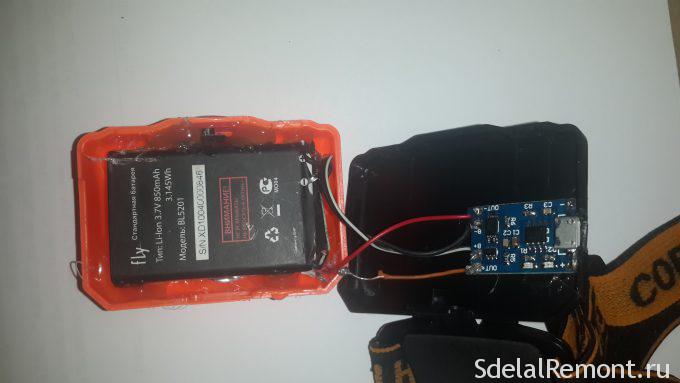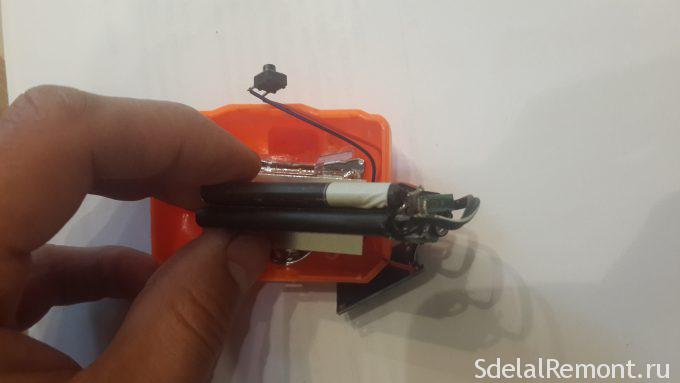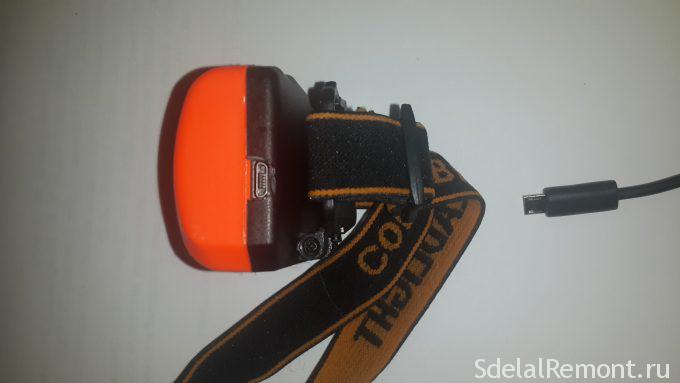 Finally: LED flashlight has worked actively 3 night on the old phone battery without recharging. It is also possible to have more than enough, to cut-off is not felt. Lithium batteries do not like a full discharge. Overall, very pleased at cost 140 rub. the only thing, He is very bright is not always necessary. Encouraged by the presence of charge indicator board. When charging for usb glows red when the battery is charged blue.
This way you can convert virtually any flashlight, the only question is the amount of batteries. Eg battery from iphone not a very practical and tear if contact with the board connecting sloppy that they are not soldered.
Do not use lithium batteries if they are swollen- it's not safe!
It happens, that the board protection trips, and you need to revive him, In that case supply voltage from a power supply or paverbanka. If the phone battery very old, the headlamp flashlight naturally faster work protection and he will go out. Although the batteries from the old Nokii (more 4 years old) are functioning.
Save money when buying and thus it is cheaper to buy a cashback possible vospolzovatsya (it is when % with accumulated purchases). So just install a browser extension and the money itself gradually piling up.
Useful video collection on completion of lanterns