Each modern apartment, country house or cottage fitted appliances and engineering equipment, consumes large amounts of electricity. In the science of electrical phenomena, the use of electricity for practical purposes, such loads are called consumers. It will help improve the ease of use of the electrical wiring competent division teams in the apartment at the opening voltage 380 or 220 volt.
Separation of wiring groups
Due to the use of housing a large number of electrical appliances such as washing machines, conditioners, boylerov, various audio and video equipment increased pressure on modern wiring. Kitchen area ranks first in the house to concentrate appliances - electric, fridge, microwave, dishwasher, parovarka, an electric kettle and a lot of additional equipment, which consumes large amounts of electricity.
for example, three-phase input (380 AT) and to avoid overloading it, All phases must be uniformly distributed. Otherwise, the voltage on the phase conductors will differ among themselves in the upward or downward. When, when there is a single-phase power equal 220 The voltage drops at between 150 to 280 In may damage electrical appliances.
Also, when such work is an increase in electricity consumption in appliances, which is not protected from power failures. It is therefore very important to correctly distribute the load over the phases.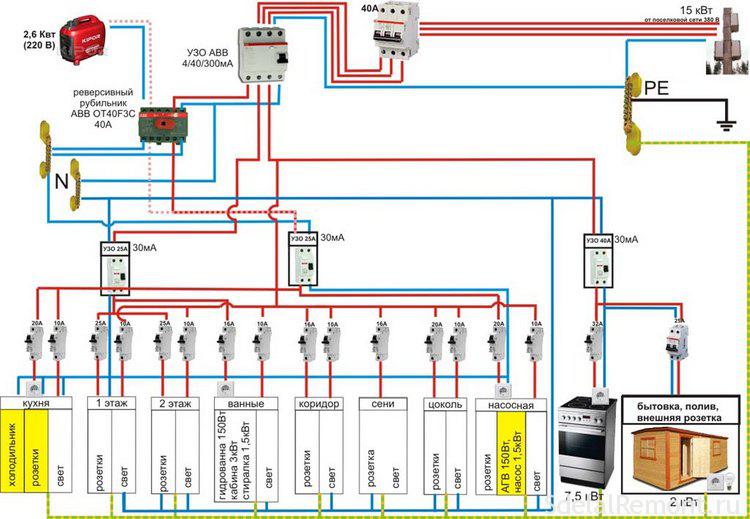 To distribute the load and provide protection and safety in the operation of the wiring is divided into groups. Such a method would allow separately controlling supply of the individual devices or a combination electric current consumers. This method is useful when undertaking renovations, since the required power can be turned off group. At various emergency situations - flooded neighbors, He was badly hammered a nail into the wall, which damaged wiring. Disabling the emergency unit, You can still use the other lines.
Recommendations for separation: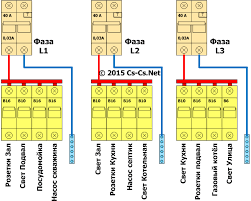 Large household appliances, which acts as a powerful energy consumers, set apart from the installation of circuit breakers in the distribution box. Such a technique is an electric cooker, electric oven, electric kettle, water heating device, air conditioning, Washer.
outlets Group, every living room, bedroom, nursery, cabinet recommended to produce individual units.
The kitchen is a very busy part of any housing, where the socket should also be made separately.
The lighting system is an individual unit, possible to do better and the lighting of each room separately.
WC, which is included in the most dangerous place on the premises electrical system, where there is high humidity, It should also be formed separate group.
Before you start wiring the division into groups, should draw up a floor plan with the application site socket arrangement and powerful appliances, fixtures, switches. knowing in advance, any electrical connection points will be involved, possible to avoid further wiring alterations.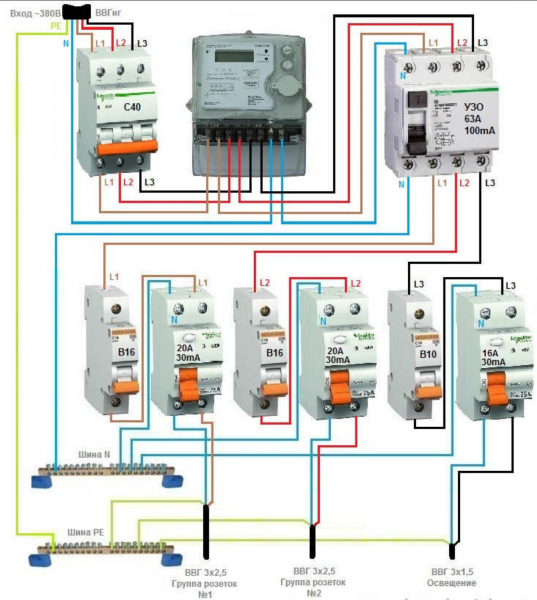 Set of outlets and lighting devices is calculated from the electrical load for this series. When, when the power of all connected units exceeds the rate allowed for this system, block is divided into two or more if necessary, the number of lines.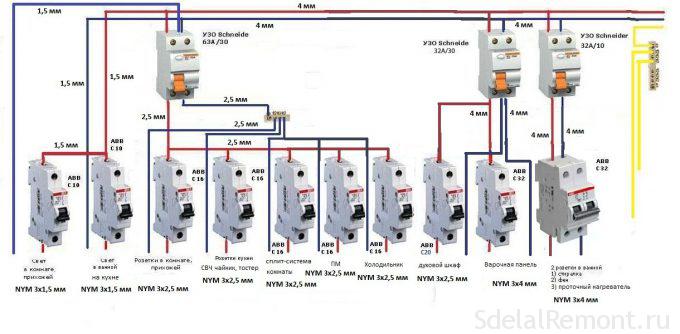 In rooms with high humidity level set differential protection Leakage 10 mA. The most appropriate tools for installation - automatic switch in conjunction with OUZO or an integrated protective unit, perform the safety functions of the two devices. Will protect the circuit from overload fed, Short-circuit currents are a combination of cables with automata:
For other lines differential protective system mounted on the leakage current 30 mA.
Lighting is done with a cable cross-section mm2 3h1.5, automatic protection 10 BUT.
Sockets perform better cable 3h2.5 mm2 and circuit breaker protection 16 ampere.
Consumers with a capacity of more than 3.5 kW - electric oven, appliance must be connected directly to the electrical cables with the installation of a circuit breaker of the desired denomination.
online calculator, calculate wire cross sections.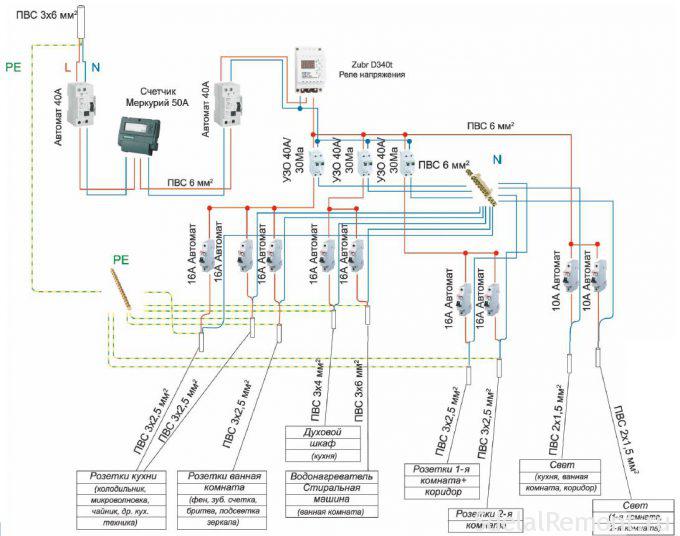 Choosing automatic protection section and, the leads should be of a more heavily loaded phase. Uneven load distribution phases and unaccounted asymmetry in the distribution of the load current, It leads to serious errors in the selection of wire sizes, which leads to overloading of the electrical system - overheat, breakage, risk of fire. When buying electric cable, It recommended to choose cables with fire safety performance.
detail, on mounting flat panel.
A method for calculating the electric power
For the distribution of the wiring groups when designing the electrical network schemes in apartments, country houses, cottages, cottages and other objects of small size, in which the voltage does not exceed 15-25 units. It applies basic and effective calculation method using MicrosoftExcel tables. In the summary of such information should be made:
load title;
voltage power;
the number of loads;
power rating, which is used;
demand ratio;
value of cos
After entering all the data, the system automatically recalculates the estimated energy and computing capacity.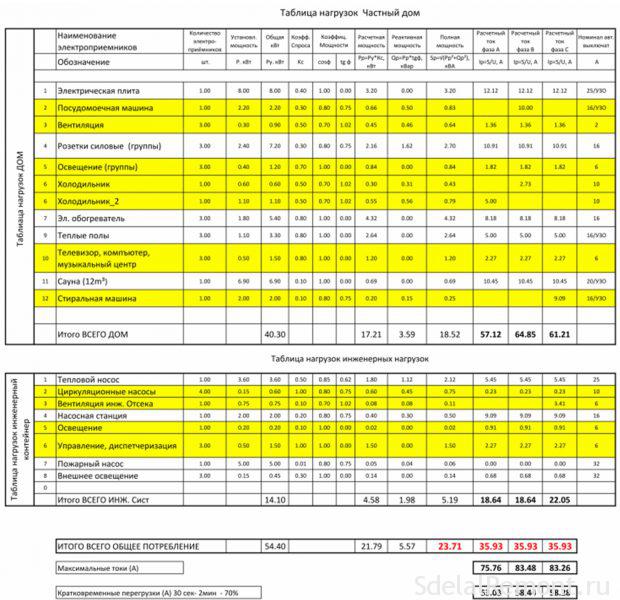 simple rules, which is recommended to follow when filling the table:
Enter any load list, present at the facility or equipment, plan to install. Literacy drafting table depends on the careful selection of indicators and data, are recorded in the table.
The principle of creating a table is not difficult - all stress dwelling should be collected in a group, Electrical power is calculated for each group separately. According to this method, the power will be easier to distribute the phases.
All parameters for the calculation of the table, It needs to be taken from the passport data units.
It is important to consider the difference between the current distribution in the one-phase and three-phase loads. The single-phase load, respectively one load phase, a 3-phase load currents are distributed uniformly over the three phases. The exception is the indicator of capacity utilization and the rate of demand.
Calculation of single-phase and three-phase voltage is produced under different formulas.
The formula for single-phase load: I=W*1000/U/N,
where I - load current A.
W - kW power rating of the appliance.
U - voltage phase 220 V.
N - the number of devices, which belong to the group.
The formula for the 3-phase load: I=W*1000/(In * 1.74),
where I - load current A.
W - power electronic unit kW.
U - line voltage 380 V.
Table calculate the required wire cross-section, depending on the load
cable cross-section, mm2

open wiring

Laying in the channels

copper

aluminum

copper

aluminum

current

Power, kW

current

Power, kW

current

Power, kW

current

Power, kW

BUT

220AT

380AT

BUT

220AT

380AT

BUT

220AT

380AT

BUT

220AT

380AT

0,5

11

2,4

–

–

–

–

–

–

–

–

–

0,75

15

3,3

–

–

–

–

–

–

–

–

–

1,0

17

3,7

6,4

–

–

14

3,0

5,3

–

–

–

1,5

23

5,0

8,7

–

–

15

3,3

5,7

–

–

–

2,0

26

5,7

9,8

21

4,6

7,9

19

4,1

7,2

14,0

3,0

5,3

2,5

30

6,6

11,0

24

5,2

9,1

21

4,6

7,9

16,0

3,5

6,0

4,0

41

9,0

15,0

32

7,0

12,0

27

5,9

10,0

21,0

4,6

7,9

6,0

50

11,0

19,0

39

8,5

14,0

34

7,4

12,0

26,0

5,7

9,8

10,0

80

17,0

30,0

60

13,0

22,0

50

11,0

19,0

38,0

8,3

14,0

16,0

100

22,0

38,0

75

16,0

28,0

80

17,0

30,0

55,0

12,0

20,0

25,0

140

30,0

53,0

105

23,0

39,0

100

22,0

38,0

65,0

14,0

24,0

35,0

170

37,0

64,0

130

28,0

49,0

135

29,0

51,0

75,0

16,0

28,0
Table power, current and cross section of cable-conductor materials
The cross-section of conductor, mm

COPPER

Voltage,220 AT

Voltage, 380 AT

current, BUT

power, kW

current, BUT

power, kW

1,5

19

4,1

16

10,5

2,5

27

5,9

25

16,5

4

38

8,3

30

19,8

6

46

10,1

40

26,4

10

70

15,4

50

33,0

16

85

18,7

75

49,5

25

115

25,3

90

59,4

35

135

29,7

115

75,9

50

175

38,5

145

95,7

70

215

47,3

180

118,8

95

260

57,2

220

145,2

120

300

66,0

260

171,6
conclusion
The process of separating the electrical cables into blocks allows to distribute the energy and thus ensure the safe operation. It is necessary to do the calculation of load current for a set of sockets and lighting, split unit if necessary to 2 or more. In connection with the separation of the wiring in the group will need a large electrical panel on 24 or 36 calculation modules. further use a calculator for calculating the wire section.