If you're wondering, which is better - shower or shower cabin, we recommend that you familiarize yourself with the information set out below, which was kindly provided to us Moscow store plumbing specialists «SanSmail».
company SanSmail, which is the owner of the store, deals not only with the implementation of shower enclosures and shower stalls, but also their installation and service.
Thereby, Company professionals can provide objective information about all the pros and cons of the product or frost.
If you can not install a bath
The Company sells showers and shower enclosures for bathrooms for more than 10 years old, but still of the opinion, that if there is room enough space, it is better to install a bath with a glass curtain, and a convenient walk-in counter or shower panel.
Only if there is no place to put a bath or you absolutely do not need it, should think about alternative ways of water treatment.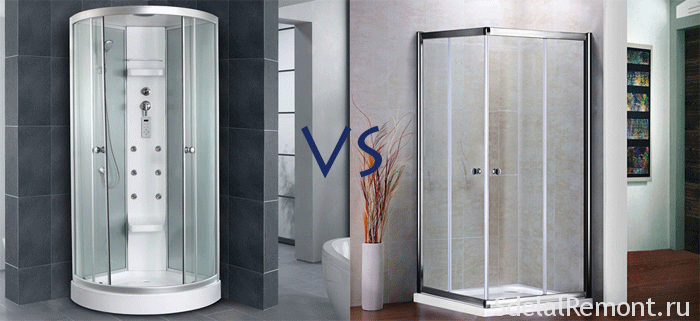 choice of alternatives, generally, somewhat wider, we will consider.
In addition to showers and shower enclosures, also has shower boxes, shower niches and even full-fledged home sauna with built-in shower.
But these options are more specific and quite expensive, so we will not have much to draw attention.
so, which is better: showers and shower stalls
We have collected the main features and led them in the summary table.
Below is a look at some of them in detail, as well as focus on the important nuances, which many people simply do not know.
| | | |
| --- | --- | --- |
| Parameter | Shower Enclosures | Shower cabins |
| cost of | Central (from 11. 000 rub.) | high (from 17.000 rub.) |
| Durability | Very high | high |
| Service | It requires little or no | must |
| Cleaning | Glass is easy to clean and is not prone to the accumulation of pollutants | Acrylic washes harder and harder dirty |
| installation | On a pallet or on the floor with the installation of the ladder / tray | only on a pallet |
| The complexity of installation | Central (from 5.000 rub.) | Central (from 5.000 rub.) |
| Additional work | It requires high-quality finish in a corner of two walls, where it will be installed corner + mixer with shower assembly + installation polochek | Usually, not required |
| Versatility | It can only be installed in a bathroom lined with waterproof material walls | Installation is possible anywhere, where there is a water supply and sanitation |
| Functionality | taking a shower only | Hydromassage, Turkish sauna |
| Pallet | only low | Any |
| Reliability | Corners almost kills | Depending on the manufacturer and model |
| Roof | Usually, It is absent in the base | Usually, present |
| The presence of the water filter | Not necessary | Is required when using the hydromassage nozzles |
| design | universal minimalism, It fits virtually all bathrooms | It does not fit the strict interiors, especially in the classical style |
From the table it is obvious incorrectness of the question "What is better: shower or shower cabin ".
Cabins and corners are very different, so comparing them is so difficult, as, generally, and choose between them.
However, we could give some guidance to people, who are still undecided:
If you just need a place to take a shower, then choose the corners.
If you still want to be able to connect additional functions (hydromassage, Turkish sauna, high tray, radio, lights, etc.), already give preference to shower cabins.
However, keep in mind the nuances, which we describe below.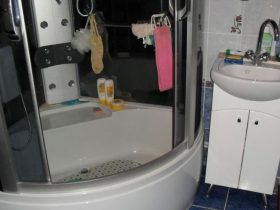 important nuances
1.false compact
Showers are not as compact, as it seems.
In practice, they take up a lot of space in standard bathrooms look awkward.
Corners much more effective in terms of saving space.
2. Quality and price
Almost all budget showers have poor quality.
they proceed, they rust hardware, yellow plastic, etc..
Cheap shower easier to replace, than serve, as it will be constantly sum up and demand to periodic repair costs.
Buying the cheapest Area, You get quite normal sanitary equipment.
It is not without flaws, but it is suitable for permanent use.
More expensive corners already have excellent quality, at the same time at a price comparable to the cost showers.
The conclusion is - if you can not afford a cool shower, then it is better not to buy (prices for good showers bite - make sure in that).
It is better to give preference to a corner (reliable glass over the cost is quite accessible - look).
3. Equipment
Shower walls are implemented by manufacturers without pallet, despite, Product photos that contain it.
You should take this into account and added to the price further 10-15 thousand rubles for a good pan (Cheap is not worth taking).
The same applies to a substantial portion of showers.
But they are not included in the price in addition to the pallet, usually, also additional options (nozzles for hydromassage, seat, mirror, shelves for toiletries, etc.).
Carefully study the card catalog, because all manufacturers have different attitudes to complete.
4. More is not better - the main rule when choosing!
Remember, showers that are designed primarily for water treatment.
Therefore it is not necessary to pursue functionality, because the more features and options, the more expensive model and requires more maintenance.
Top of the range often fail, as well as any sophisticated equipment.
5. filters, filters and filter again
If you prefer a modern shower cabin with hydromassage, instead unpretentious shower enclosure, it should be ready for the continued use of water filters.
The fact, that hard water quickly clogs injectors.
Therefore, it must be cleaned constantly, and that additional costs and rather big.
Conclusion
If you have money - take a shower, it is still more convenient.
Want to save - safely buy shower cabin with acrylic shower tray and you will not regret.