Due to the ever-changing technology replacement windows, it is important to let go of your preconceived notions about the best window materials for use. the, that it was once considered standard materials for window manufacturers in the past, no longer able to meet even the stringent requirements of today's energoiffiktivnosti and certification.
Which material is best suited for home
Wooden windows are made from different wood species. Each box design has a variety of forms, size and color options depending on the design and features of the application. Each material also has its pros and cons, to consider, before deciding, that will work best for your particular project house.
Wood has always been a building material for many years, it is not surprising, now popular wooden eurowindows.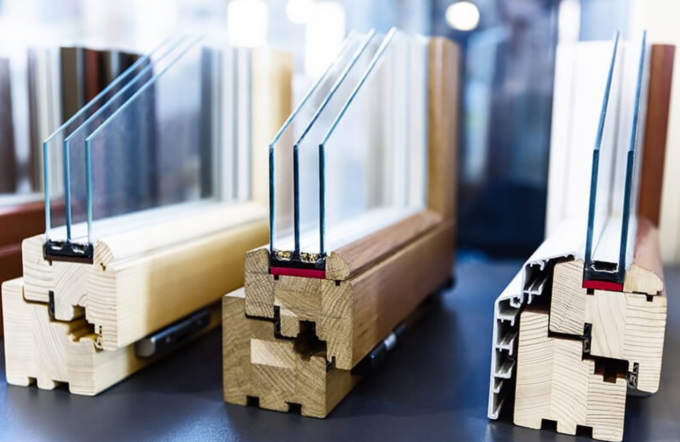 Advantages of wooden windows:
It is a natural resource, environmentally sustainable, renewable and can be manufactured in various shapes and sizes.
It offers the best insulation value, low heat and cold transfer.
The wood is extremely strong and durable . It is actually becoming more difficult with the passage of time, so it can last for many years.
It can be colored or dyed in accordance with any external color decor.
Can provide better return on investment, as it is preferred by many buyers for its natural beauty and warmth.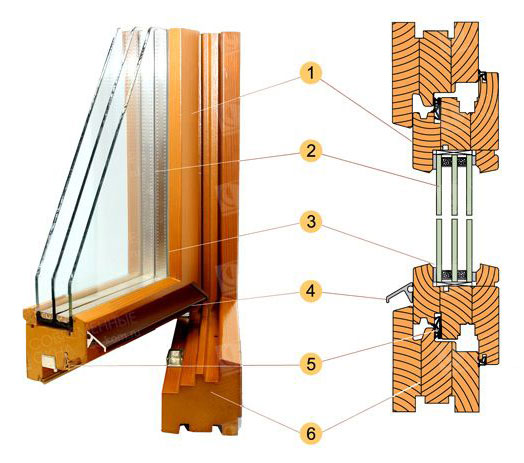 Disadvantages of wooden windows:
it is more expensive, than other materials.
It requires regular maintenance, resurfacing, painting, coloration, raschekanka purge.
Susceptible to rot, mold and mildew from the sun and weather conditions, if not maintained properly.
Compounded material
To reduce the maintenance required for wood replacement windows, manufacturers offer extruded aluminum, vinyl or fiberglass-clad products. Although this is the most expensive offered materials, wooden windows, which are held together in the manufacturing process, provide significant advantages.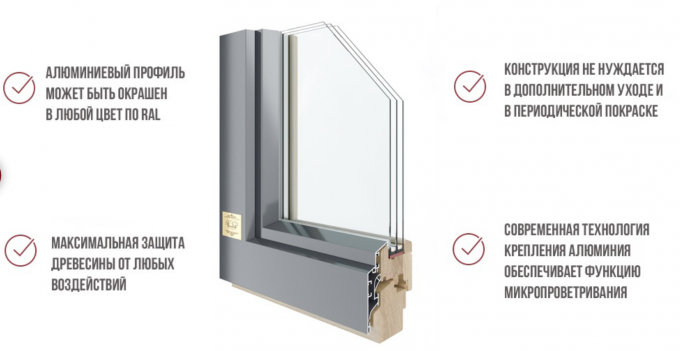 Wooden windows and the construction of wood-aluminum windows are identical. Unlike wooden window outer surface of this type of windows coated with a special aluminum profile in the form of cover, to protect it especially effective on weather conditions.

Adventure tilt and swivel wood-aluminum window:
Aluminum profile as the cover ensures the most effective protection against environmental impacts; UV, rain, cold, wind.
It can be installed on a window, instead of repainting the wooden window.
The design ensures good ventilation between the profile and aluminum lid timber.
Painted aluminum gives a modern look window.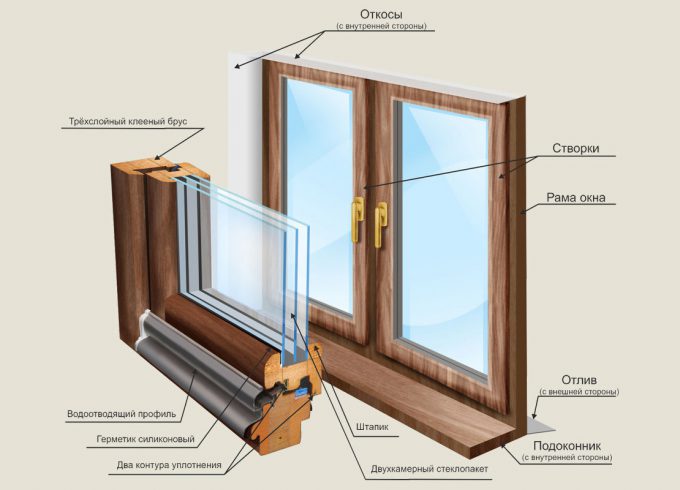 At the windows, there are different possibilities excl:
Using a variety of glass in the window package.
New windows of different widths.
different pens.
The use of colors and glazes and paints of different shades.
Selecting various imitations of wood on the exterior side of the window.
Ventilation valves.
The possibility of additional sealing to improve noise protection and thermal qualities.
Grids for insects.
Make windows of larch, oak, without compound pine finger laminated board.
Special attention to wooden windows with seamless aluminum profile.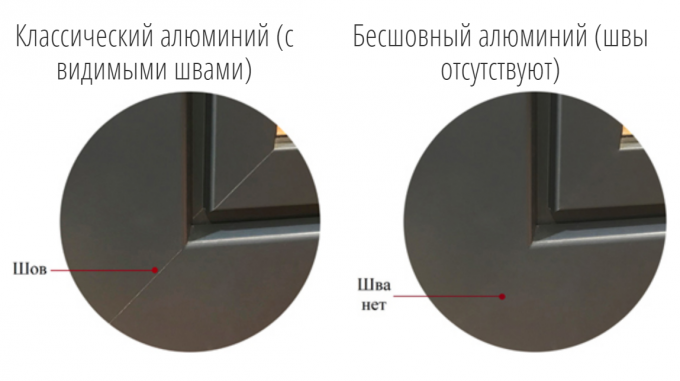 Advantages of wooden windows:
Highly weather-resistant.
Low purity service.
A wide range of colored coatings.
Real wood remains on the interior in dyeing, if necessary.
Disadvantages of wooden windows:
May be more susceptible to rot, since moisture can penetrate through the unsealed edge or sealed in the manufacturing process. Changes in temperature can aggravate this condition due to expansion and contraction, moisture remaining in the wood is rotting contribute, mold . This is to reduce the lifetime of the window and require a full frame replacement.
More expensive, than all other materials.
Having considered the various advantages and disadvantages of wooden windows can be said that modern structures made of wood is quite a worthy alternative to plastic, especially in solving design problems.