Salamander windows are quite a popular product in the construction market. They are used not only to builders of luxury homes, but also the owners of private houses, as the products of the company meets the highest quality standards, It is affordable, available to order in any region.
What is the company?
Considering window products for the home, should pay attention to plastic windows Salamander. These are products of two German companies, united under one name. Analogue of the same company is the production of Brugmann. This high-profile, well able to isolate the environment from space, suitable for all climatic conditions.
Manufactured by Salamander window profile is not new. The company is well known in Europe and in Russia, its products are well-managed to prove itself. The brand is known in particular as a shoe manufacturer of advanced materials; Today, the company has expanded its horizons and began to produce other products, Using advanced equipment for the production of PVC Profile.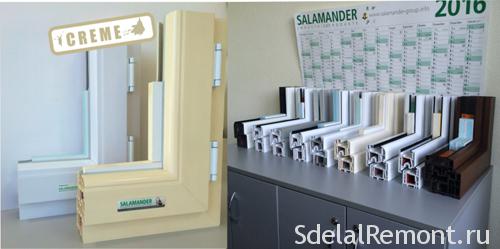 production Features
Profile Salamander is a successful product of the company, it has high strength and impermeability. This type of profile has proven itself in practical terms, trusted by many customers in Europe and Russia. The company Salamander today focuses mainly on the issue of designs from PVC, which is to create high quality raw materials and equipment used. Production are not only in Germany, but also abroad, factories are located in Belarus and Poland. Each plant produces the following systems of window profiles:
Design 2D.
Brugmann AD.
Streamline.
Design 3D.
Besides, company with 2010 year launched production of energy-efficient systems bluEvolution. Every product is different attractive appearance, high efficiency.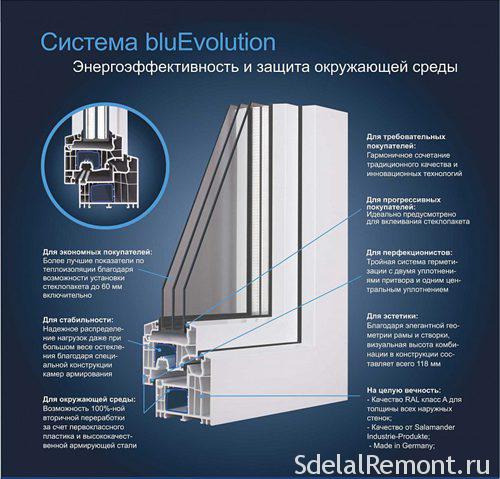 The profiles differ from each other?
Salamander PVC windows can be equipped with different profiles, the characteristics of each of them should be considered separately. Profile Salamander Design 2D has the most high performance at a reasonable price. It combines good insulating properties, classic look. Profiles may differ section, It is designed for a two-, three- and four-chamber glass unit.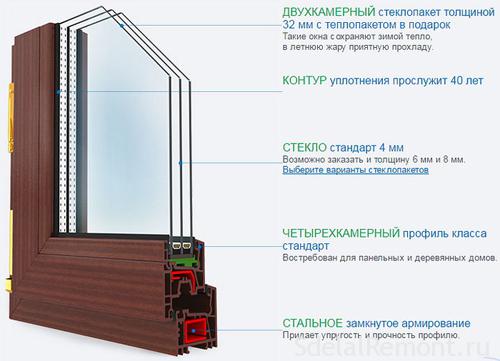 Maximum installation width is 60 mm. The design has a high stiffness, which makes it a reliable and durable. The ability to isolate the noise comes to 39-42 dB. thermal insulation efficiency is 0,64m²h ° C / W. The outer loop has strict line, rounding radius is relatively small 5 mm, This feature is traditional for Salamander window. The flange is sufficiently wide to, so it can be used with all types of glazing, without worrying, Do they fit the size. Suitable for both standard types, and strengthened, designed to fight hackers, and other non-standard solutions.
Plastic windows Salamander Design 2D profile often has the following features:
Glazing comprises three or four airbags.
The maximum possible thickness is 32 mm.
Overall width - 60 mm.
Double flange and has a tapered shape.
Profile Salamander Design 3D with the system is very wide, since it is designed for five-chamber glazing. Exterior design sufficiently elegant, It seems easy. Release of such profile established with 1998 of the year, mounting width is 76 mm, used in places such windows, where the climatic conditions are harsh enough, and requires reliable protection from the cold. Salamander profile of this type allows to set the maximum width of glass with 48 mm.
The seal is made of high quality rubber, a triple strand. Heat- and sound insulation of the windows are very high. Besides, the window is virtually impossible to break or crack, since the high-strength glass used. In order to ensure the ventilation system Design 3D, the manufacturer has provided a special hole with a valve in the cavity of the frame. Under this system, the frame rebate is being protected from external influences, which significantly extends the service profile. The system resists heat transfer, equipped with high-quality fittings. The main features of the system Design 3D include the following:
76 mm mounting width.
The flap may be 4-pane glass, in the frame - 5-chamber.
durable seal, three-loop.
The thickness of the glass can reach 48 mm.
0,79m²h ° C / W - parameters of heat transfer resistance.
Windows Salamander Streamline system with profile and are designed for 5-pane glass. They are characterized by resistance to heat transfer, which is 0,77m² ° C / W. Profile when compared with the previous has a different design registration, stronger.
Salamander PVC windows can be equipped with a profile Brugmann AD. It can be calculated by 3 or 5-pane glass. Mounting width is 73 mm, seal bypass. Brugmann AD system is well suited for central Russia: profile can withstand freezing temperatures as strong, and reliably protect from summer heat.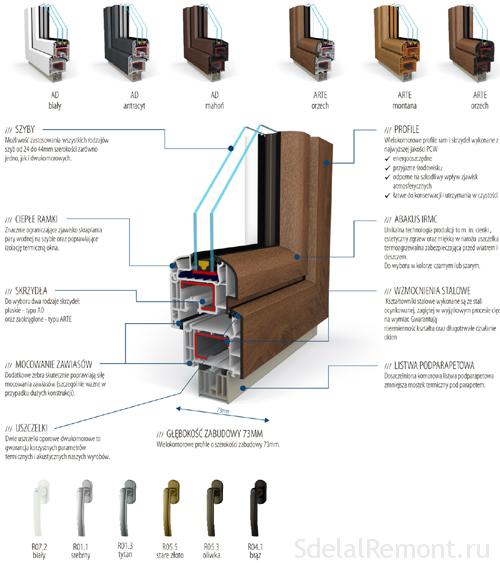 Salamander - window profile, which is reliable enough. It has a high performance, suitable for use in all regions of the country.
https