Sliding window system Rehau PSK: comfort, reliability and aesthetic beauty of your home
Rehau - a well-known German brand and innovator in the production of profiles for windows and doors. The company's products are of high quality, durability, technical characteristics and individual design. It is important to note, the original profile is only available through the official representatives worldwide, who know how to properly handle the product, and provide an ideal environment in the context of maintenance and service.
Rehau head office specialists are constantly immersed in studies and experiments, which help to improve quality of the final product criteria. To date, all standardized profile systems are complemented by special fittings and automatic means, that provides a comfortable operation. Among the variety of individual solutions deserve consideration in parallel-sliding windows Rehau PSK.
Features PSK-Portal
Sliding window system is created using the profile-independent systems. It means, that is based on standardized door and window profile, which are equipped with special accessories. These products are generally used for the glazing of premises or offices.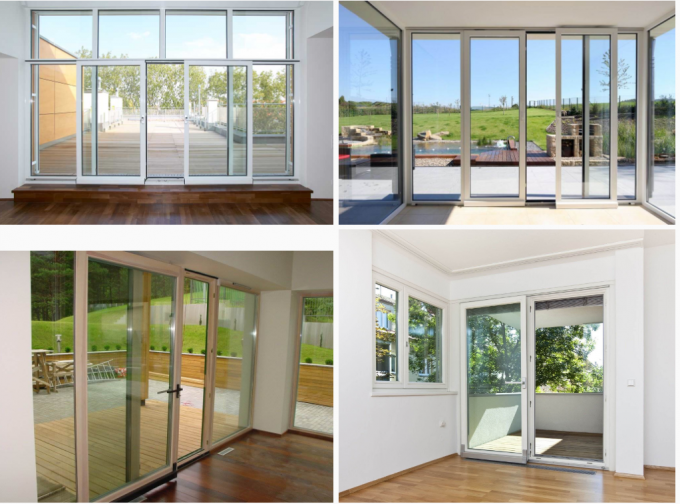 The products are also great for hotel rooms.
Using the design helps to get a number of advantages, which includes:
good thermal insulation, which creates favorable conditions in the summer, and winter. The warm air does not leave the room in winter, and summer does not get inside.
Large windows help to add natural light, which the, in turn, It makes the room lighter, comfortable. According to official studies, Additional lighting can improve the mood, strengthen psychological health.
Easy system management, helping without too much trouble to open and close windows, doors. When using aluminum structures sliding profiles are complemented by automation.
Create a unique design with the ability to install windows to the floor, as well as non-standard opening last. A wide selection of style and execution of an individual approach to the formation of windows and doors can achieve truly amazing results.
PVC windows sliding system is an excellent alternative to the classic rotary or swing-out type, which is suitable for each apartment or modern home.
Popular model of sliding windows
CPM portals are designed for glazing residential and enjoy all the benefits of conventional windows and doors from PVC, tk. at the heart of their design are standard PVC profiles. You can order PSK-Portal from any profile.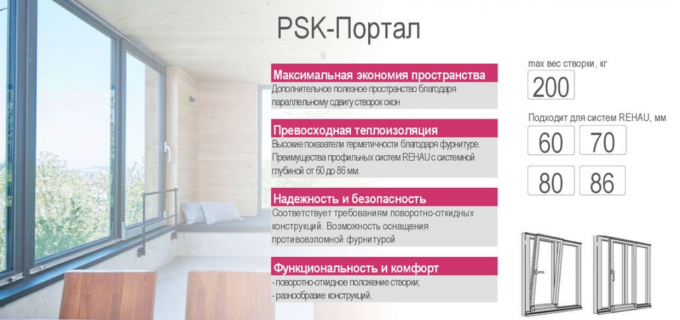 The company Rehau has created several model solutions, which are easily transformed into portals PSK-:
Blitz new a relatively new development, having improved characteristics. Usually used to three-chambered glass. minimalistic design, windows are available only in white color.
Horace - it's a great alternative to the above model, accompanied by good insulation and a more acceptable price. The solution is suitable for homes and offices.
Delight-Design innovative development firm, which has a fairly practical specifications and a wide selection of colors. Great for organizing sliding systems in offices.
Brillant-Design - the quality profile, presented in a large assortment of design. Meets the requirements of modern customers, easy to create comfort in the environment.
Intelio 80 a base profile, which is great for creating a home Sliding window systems. Original products have good options, guaranteeing long-lasting operation.
Geneo perfect solution, which will fill the house with sunlight and comfort. Products suitable for the Scandinavian style and minimalist. Popular window systems black.
If you require a large sliding windows, any of the options will work in full. When selecting aesthetic quality should be evaluated, physical properties.
And limitations
Sliding system of plastic windows has some limitations due to the design features. By weight of the leaf must not exceed 200 kg. Such a mass is very problematic to achieve, The specialists always conduct preliminary measurement and the calculation of dimensions. With regard to the opening of parallel-sliding doors or windows, they can be shifted by an amount of not more than 50% from the opening size.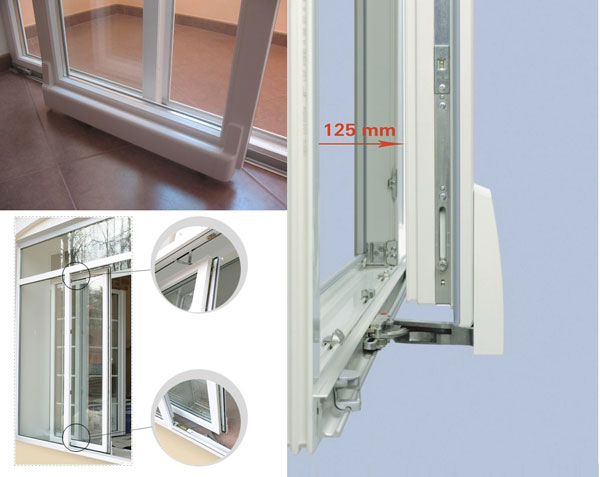 There are restrictions on the size, It is associated with the reliability and characteristics of PVC profiles. structure must be smaller than the width 4 m, and height 2,6. note, that even smaller dimensions are provided for non-ferrous products - 3 on 2,5 m. When the sash opening inward need to anticipate the stock in 12,5 centimeters, otherwise portals can not be opened due to heating appliances or other constraints. Bilateral handles are provided for doors, as well as the locking system.
flaps opening system
Modern window systems can be used several schemes opening:
1. scheme A. It involves dividing the window on 2 equal parts. One element remains deaf, second shifted towards the stationary component.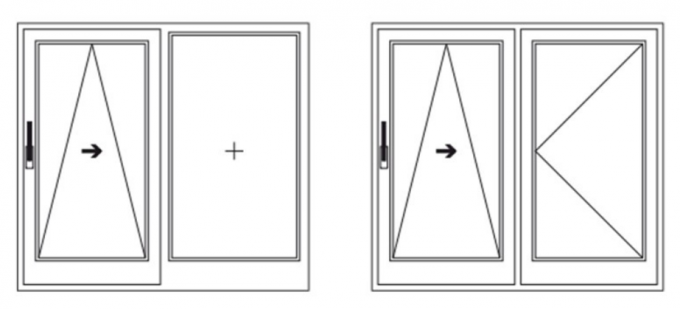 2. scheme C. Portal divided into 4 positions, which shifts the flaps are located in the middle. Recent move to the right and left of center.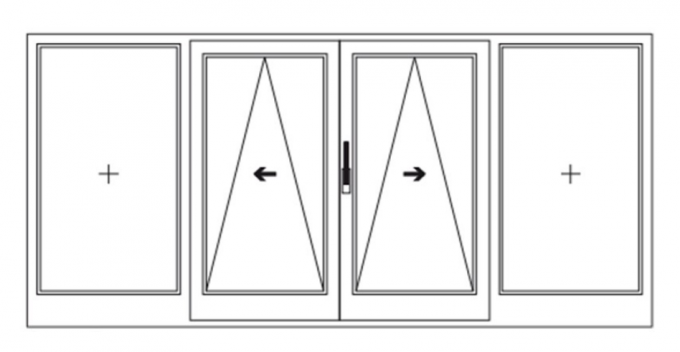 Driving To. The division is carried out on 3 parts, where the center position are left deaf. Doors open at the sides to the center.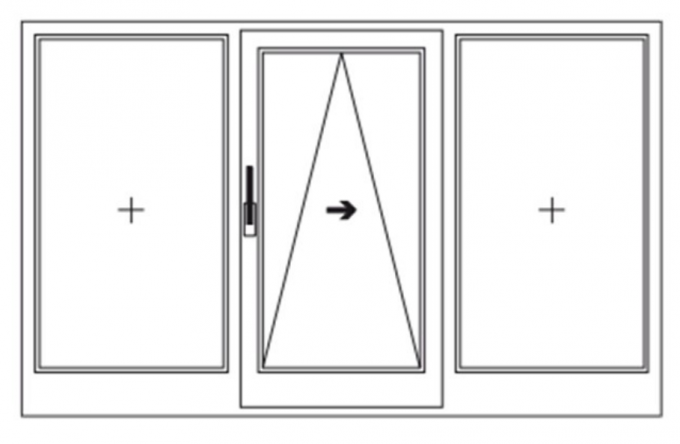 There are technical solutions, when the window is made up of a leaf. The latter will move along the wall, wherein there is a particular implementation of a design boxes. A special case of Scheme A scheme is considered to be G.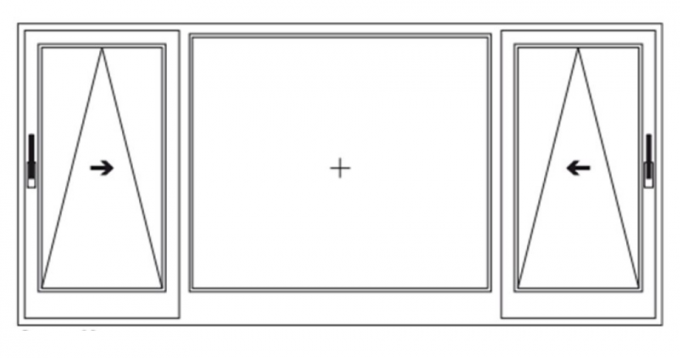 How and where to order PSK-portals?
Quality and practicality of the result is largely determined by, which will collect the profile and make installation. When choosing a company you need to request certificates, which confirm the formal cooperation with the German brand, as well as the passage of the relevant specialist courses.
For example, Krasnodar recommend ordering products profiled in "Factory of breathing windows', which provides high-quality execution of obligations, the supply of the original profile and warranty. Find out more information and to order, sliding systems and portals on the web site https://oknafdo.ru/plastic_windows/portals/ .
The order of service is carried out in several stages, where it is important to form a preliminary technical specification requirements. To do this, you need to call a specialist, which hold physical measurements, assess the feasibility of PSK-Portal and offer affordable solutions cooperation. In determining the type of profile, amount of glass chambers, you need to choose the best color for the overall design.
Once the terms of reference is formed, are contractual obligations. The contract spells out the basic features of, production time, installation and additional services. It will only have to wait for the delivery and installation of window profiles, Fitting for accessories parallel-sliding system. Separate consideration is also worth Automation, which is easier to work with windows.