Modern windows have long been indispensable in our homes. Products from different manufacturers similar to each other in appearance, but can vary greatly in performance. In this article we look at some of the recommendations from the experts REHAU, allows you to find the best windows on the market.
material Profile
Classical constructions operate PVC profiles, reinforced with steel reinforcement. The polymer can withstand changes in temperature and is completely safe for human and animal health. Polivinilhloridunikalen, it can be given different shapes and colors. Best quality windows made of PVC profiles, deprived of external defects and irregularities, They have no chemical smell. Using modern polymers allows construction window provide a more 50 years old.
View Profile
Profile - the product, from which they are going to the window. Experts identified a number of its species, depending on the characteristics:
width profiles 60 mm - they allow the set filling in the form of single glass thickness 4-10 mm thick glazing or to 32 mm, often single-. These windows cover the basic needs of warmth, silence, comfort. In the 90s of the last century such system prevailed in all markets, compared with wooden windows of obsolete structures are allowed to provide significantly better living conditions, properly, This is called "eurowindows".
width profiles 70 mm - they allow to establish glazing thick 40 mm, This type of product provides significantly better (to 30%) operational performance as compared with windows of 60-mm profiles. Usually, as fillings are used two-chamber windows, made using glass with energy saving, sunscreen or a combination of coatings, money- fireproof complex glued glasses. These designs until recently, remained the most widespread in Russia, suited to almost any climate.
width profiles 80 mm and more - they allow to establish glazing thick 50 mm, in comparison with other structural solutions of window systems, These systems provide maximum technically possible performance indicators, by a wide margin in excess of regulatory requirements for all regions of Russia. This system has recently mastered the production of REHAU, the end of 2017 g. can such windows are available as on terms of manufacturing, and price.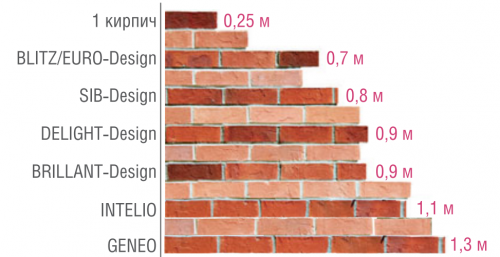 Number of chambers with air
Another important indicator - the number of airbags. They allow you to keep the heat inside. In modern constructions PVC their number can reach 8 pcs. The most common model 3 and 5 cameras. If you live in the south and overlooking the quiet street, it is possible to install windows with a small amount of air segments.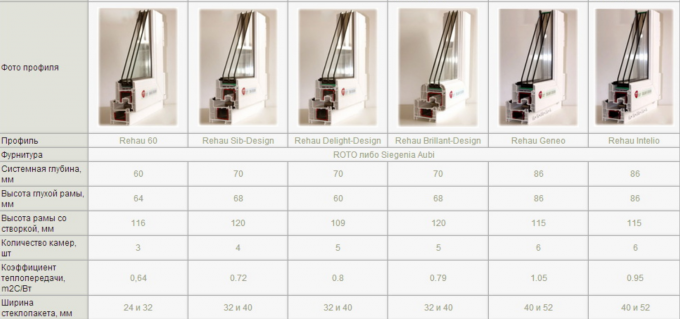 Number of double-glazed windows
Glazed - two or three glass, connected among themselves by means of spacers and forming 1 or 2 camera, hence their name 1- or 2-chamber. Most often found in Russian 1-pane glass. Such designs have 2 glass, sealingly interconnected. In northern conditions such number of cameras may be insufficiently, so the major manufacturers, eg, REHAU, They offer a warm system.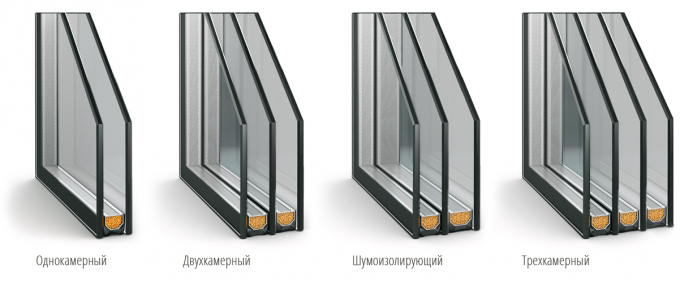 Before purchasing the PVC construction, pay attention to the quality of the glass. When choosing PVC windows give preference to the, which are equipped with double-glazed windows, which include those used with combined glass coatings or glass glued are wound type "triplex". The light transmission of such structures varies slightly, but in the winter and in the summer is much more comfortable indoors, heating costs and significantly lower konditsiorovanie, the room is quieter and less risk of intrusion. In conditions of high risk of damage to the window actual installation of windows, composed of glass that use glass-triplex. If it break, fragments remain on the protective film, rather than scatter. Such designs are very popular in schools, kindergartens and other social institutions.
Sealers
On the quality of seals depends comfort people, in the room. Now these products are made of various materials, such as:
Synthetic rubber (rubber);
silicone;
thermoplastic (plasticized PVC, TRE).
REHAU windows are equipped mainly with rubber and silicone seals. Silicon is the most qualitative pictures, it is not subject to deformation when temperature drops, Unlike TPE.

findings
REHAU experts look for when buying a separate window fittings are advised to pay. Modern glass with thick glasses determined high weight flaps, sash can be opened each year more than a thousand times. Poor hardware manifests itself after a few months of use. Handles are beginning to hang out, from under the wings blowing, and loop break. For, to get rid of such phenomena, choose the products of famous manufacturers, such as Roto, Siegenia, Maco, GU, Winhaus. They value their reputation, therefore implement high quality fittings, and paired with REHAU profile problems can be forgotten for decades.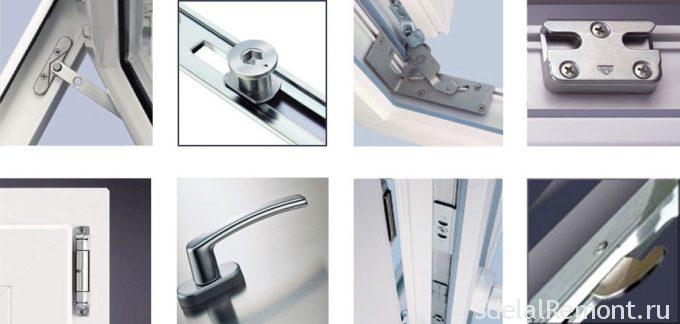 Best firms
If you decide, which firm to choose modern windows, we recommend REHAU:
REHAU- the premium price segment, legendary brand, lifespan more 50 years old, one of the most well-known manufacturers, applying advanced technology.
Other manufacturers of profiles is not so well established in our market, so you can confidently recommend them.