Plastic windows - this is, without which it is difficult to imagine any modern building. Since its inception, PVC windows occupied an important place in the market window designs. Interest in them is due to the availability of such products, their versatility and excellent performance characteristics set. The plastic provides a high level of comfort, perfectly retains heat, available in terms of prices. Through the development of manufacturing technologies, plastic windows today - is not only convenient, but stylish. With the invention of decorative laminating the buyer the opportunity to realize the most complex in the interior stylistic problems - all thanks to color the windows made of plastic.
The relevance of colored windows
The main claim of consumers to traditional PVC profiles in white color was it as a frame of a window. Despite the apparent neutrality, In some cases, white window system looks really out of place and inorganically. This is especially true of objects with clearly traced particular aesthetics. Snow-white plastic can interfere with the other elements of the exterior and interior, often this can be seen in historic buildings, objects, carried out in the spirit of classicism, in authentic rustic mansions etc.. Standard windows in such cases significantly spoil the overall impression, destroying the overall concept of its excessive modernity.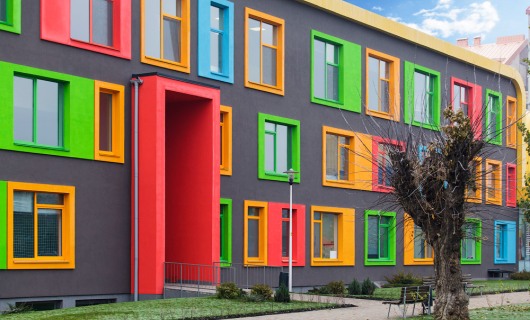 Window - it is always an important part of space, It can be as unobtrusive background, and a full-fledged participant in the interior. Properly selected color and picture window profile - an excellent tool, with which can be associated with each other the different design elements.
If the entire environment requires something more sophisticated and complex, than conventional PVC window profile white, then come to the aid of the system of laminated profile. Line of windows offers PROPLEX - products combine the beauty of natural materials and the benefits of high quality PVC.
Features and Benefits
In contrast to the color of PVC windows last generation, PROPLEX DECO laminated are resistant to atmospheric agents and durable. They retain their flawless look for years to come, despite all the disruptive factors, They are facing every day. Decorated window systems do not react to temperature changes and humidity volatile, do not fade and does not deform under the influence of the sun. The deformation and detachment of the coating by heating - is one of the major problems, We faced by the owners of the colored windows in the past. Modern versions of window designs have this drawback.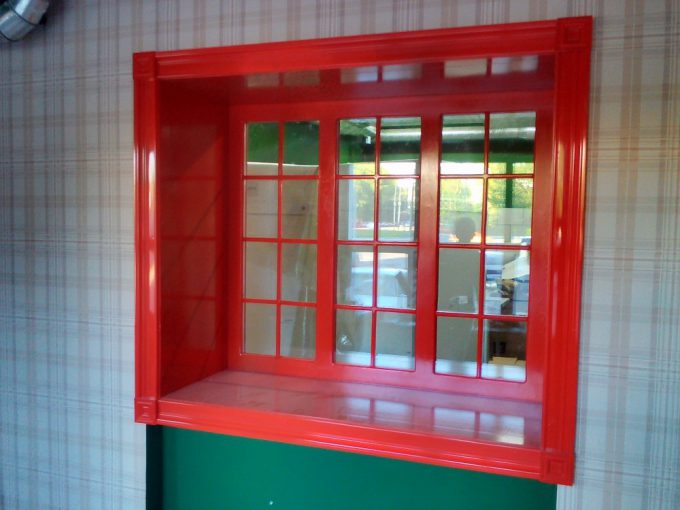 Desired color of window profile PROPLEX attach using the LG Hausys Decorative film. The palette consists of a plurality of shades, each of which can become an inspiration for the designer. One of the most popular options - a film with registration "under the tree". This design Profile realistically reproduces drawings and texture of natural wood - with all its variety of patterns, color transition, fine lines and other unique nuances.
Wooden windows are always associated with warmth, respectability, reliability. In this case, the quality profile of the array should prohibitively expensive for most willing to acquire such windows. Laminated PVC - a truly worthy alternative, which in addition to price gains also for a variety of other items. Wood capricious and difficult to care, It can crack over time, swell from moisture, rot - all these processes provoke structure damage, resulting in the formation of cold bridges, drafts, leaky window closes, lose their original luster. Lamination "under the tree" - a chance to enjoy the aesthetics and comfort of wooden windows, which gives manufacturable PVC profile.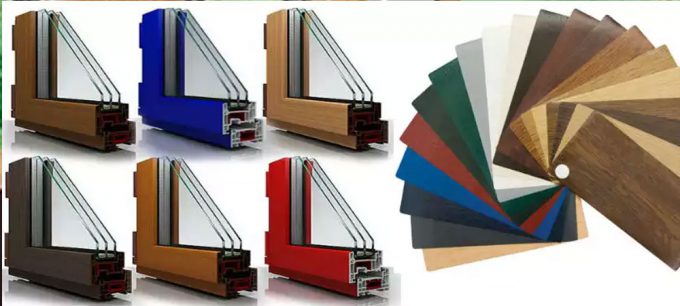 Choosing a colored plastic window, It should focus on the features of a particular building, for which these windows are. Film can execute both external, and the inside of the plastic profile, respectively manufacturers offer windows with unilateral or bilateral lamination. One-way is used in the case of, if there is a need for painted profiles just outside or just inside the building, second side structure thus remains white. Such an embodiment is often installed in homes, where it is important not to disturb the historical appearance, as well as country houses, in the decoration of the facade where stone used, wood or materials, imitating their. For two-sided lamination is not necessary to choose the same film on both sides of the structure: You can combine different colors and textures in a single product - it opens up endless scope for imagination of the designer, It helps to personalize each object.
An important plus laminated windows - them really easy to care, Despite all fears, that is the idea of ​​a decorative film on plastic. PVC film further protects against dirt, scratch, chipping and other mechanical damage. No special tools for, to maintain the purity of the frame is not required, fairly mild detergent, water and sponge. Moreover, color profile itself looks neat, and longer retains the purity. The colored surface is much less visible pollution: fingerprints and dust - the latter is particularly important for buildings, that are near busy roads and areas with active industry. Non-marking window - ideal for families with children and pets, for public premises, for interiors, where the window is part of the functional area, eg, It is used as an additional working surface or storage space. laminated windows
will be a worthy choice not only for connoisseurs of refined aesthetics, but for those, who pays attention to all the practicality, than himself surrounded. Learn more about color PVC windows online www.proplex.ru.