This method has a number of clear advantages over the other - that the high speed of the works themselves, the ability to install additional sounds- and thermal insulation, there is no need to remove the old coating, and alignment of the walls of plasterboard with video instruction becomes even easier. Site apartment repair by own strength continues a series of articles on the plasterboard.
variety of work
There are two main methods of leveling the walls of the FCL - without mounting frame and mounting. In the first case it is made easy pasting sheets of plasterboard walls (It applies only to smooth strong walls). The second method is used when hazards subsidence or deformation of walls.
We start with the markup. First conducting layer via the parallel lines on the ceiling and on the floor. This marking a start frame. Further, by strictly vertical lines on the walls of every 60 cm or 40 See outline the hanger attachment points for load-bearing profile. This distance is associated with the, that a standard width of gypsum board is 120 cm. In this way, sheet edge will lie approximately midway supporting rails.
Should be determined in advance of wiring the exit site, the need to use mineral wool or cork sheet for heat - and soundproofing. Alignment of plasterboard walls into the next stage.
Proceed directly to the installation. For floor and ceiling with screws fasten lengths of galvanized steel profile - the so-called start-up frame. In order to achieve a secure fit is required to use 3 – 4 self-tapping screws per meter Profile. Then precast anchors fasten metal hangers to the wall. Insert the supporting rail in the starting frame, wherein the top edge guide should not tightly abut the upper profile. Consistently fasten screws for metal bearing to the start frame and suspensions. Paste the following guide. It recommended at the joints with the suspension to enclose a guide small pieces of wood to give greater stiffness of the whole structure. You can help our Tips for working with profiles and sheets.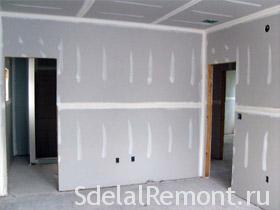 Getting to mount plasterboard sheets. Pre-treated sheet is worth a special water-repellent primer. Further drywall screws to fasten the sheets to the frame, based on the calculation, that one screw is on 30 cm. After setting the last sheet close seams and serpyanku shpaklyuem. After drying unevenness requires sanded with sandpaper. Now cut a hole under the wall outlet and stretch cord. We produce the final plaster and sanding the entire surface of the GCR. We consider, that under the wallpaper you can use any kind of plastered walls with his own hands, under the paint - only finishing, and under the tile it is not needed.
Aligning video walls plasterboard