Many recently interested in the question how much is laying tiles per square meter. That is why, Specialists of our portal have decided to analyze the market and to provide comprehensive information about the cost of such works. Wherein, It will be considered as the cost of the work of specialists, and the cost of materials (when working with your hands).
among the materials, It is mandatory itself tiles, adhesive mixture, and in addition leveling and solutions, the cost of which must be considered when carrying out the work.
In this way, for full disclosure issue regulations laying tile, and its value was analyzed directly building materials market, and repair companies, and, private members of the profession.
In order not to mention every time, We note at once, the cost will be specified average for laying tiles per square meter.
How much does the tiling specialist
The first question, to be considered, how much is laying tiles per square meter specialists profession "tiler", as well as construction and repair companies.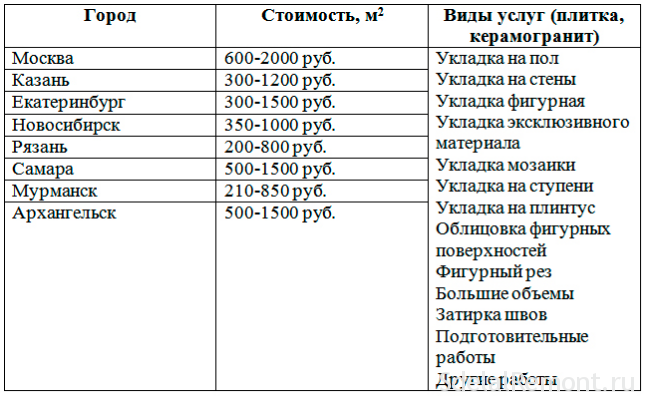 First of all attention should be paid to factors, that affect the cost of the work. these are:
experience wizard.
Region, in which the ordered services.
Provision of services by a private individual or company.
View placement.
The cost and type of tile, and adhesive mixture.
The need to carry out preparatory work and surfacing.
And look at each of the points in more detail.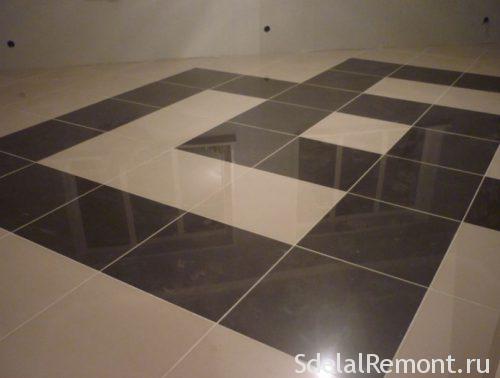 The cost, depending on the master
Of great importance is the professionalism of the master. In this way, Work beginner or graduates of specialized educational institution can cost 400-800 rubles (depending on the region), at the same time professional masters will take for their work fee in the amount of 600 to 2000 rubles.
The second factor is the actual carrying out of the work area. For example, ordering services in the provincial town, You can find the expert with a price tag for the job 400-600 rubles, while the multi-million dollar city (Moscow, St. Petersburg and others.) will be different from the value of 1000 to 1500 rub.
follows, that should be considered, This person status, providing services. In this way, private master may ask for laying in the middle 700 rub (for the province) and 1200-2000 (to the capital). At the same time, hiring an employee for a construction company will cost an average of 20-30% expensive.
The cost depends on the type of work and materials.
Also important is the type of presentation. In this way, the cost of the work also depends on the complexity of its implementation, the size and cost of the tile. The average price tag for a laying seam in a seam or be vrazbezhku 500-700 and 1000-1500 for different regions, respectively. In the same time, Installation with friezes, division, non-standard patterns or designs may cost even in the province 1000 rubles, and the price in the capital will be from 1500 to 2500 rub.
Accordingly, the type of tiles becomes an important factor. The answer to the question, how much is laying tiles in the bathroom depends directly on the value and type of the material. For the understanding of the, average price tags specialists lined up in such a way (the first price for small towns, the second for the capital):
When the value of the tiles before 1500 rubles, work cost 400-700 and 1000-1500.
For materials costing up 5000 per square meter, styling is carried over 800-1200 and 1500-2500.
At the higher cost of the tiles, the work is estimated at an average of 30 to 50 percent of total, cost of the material.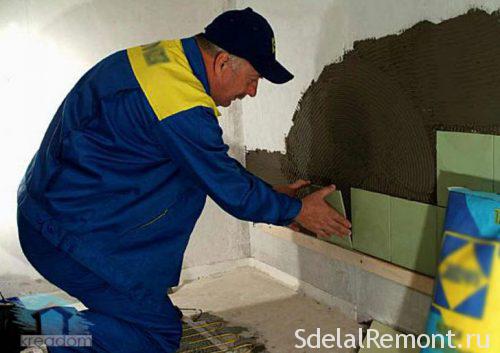 And last, that is to say on the employment styling - minimum work threshold. In this way, Some experts put the minimum order threshold. For example, if the amount of work less 10 square meters, then the order they refuse (each individually sets the bar, and that's why, some will agree and 1 square, while others will not take a project with an area of ​​less than 50).
Underwater rocks: surface leveling
And talk about the completion of the recruitment of staff, analyze one, main, underwater rock, of which many stumble. And so is the cost of surface preparation and its alignment.
In most cases, master trying to play up and get round the issue of training, Yes, and customers often forget to ask about this. And that's what happens in the end:
The price does not include tiling premises preparation, removal and surface leveling. For these services issued a separate bill.
In this way, without knowing it, and vychityvaya close cooperation agreement (at the conclusion of his now), or are not negotiating the terms of the data with the private employee, obtained weight loss problems and.
In particular, the customer agrees on the value of work, based on the area of ​​the room. It seems everything is agreed, the work is, but in the end it presented a check, the amount of which half or more higher than the original (for the most part on this trick can be reached by private masters).
Calculation of the total cost
But let's look at a full cost, an example of one of Moscow companies (for ethical reasons, the name of leave in secret). Consider the full list of works, to be carried out and their cost, respectively, will be approximately the value of the work for 1 square meter of tiles. Let's start:
The first process becomes dismantling of the old coating: cost of 300 rubles per square meter (no garbage removal)
alignment walls 400 rub.
primer walls 60 rub.
Or self-leveling floor screed 500 rub.
Thus the preparation of the base wall cost 700 rub, for sex 800.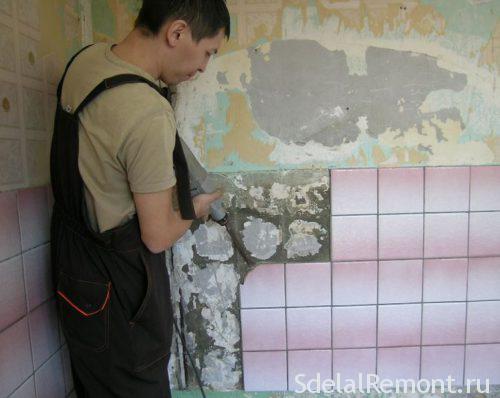 Now comes the laying:
The average cost, depending on size 800 -1500.
Diagonally 1200- 2000.
Working with granite 1000.
Mosaic - 1500- 2500.
Zatirka 100 rubles for the usual tiles and 200 for mosaics. The cost of epoxy grout depends on the format, average 200-300 rub .
And add the required additional work:
Laying baseboards 250 rub.
drilling holes (under the outlet, switch, hanger and so on.) – 250 – 400.
Washed down tiles at an angle (burr tiles under 45) 300-1000.
And now let's add the total minimum cost of all work. As a result, we obtain the following:
While using the normal tile, the total price will be laying 1000 wall, and 800 for sex.
When laying diagonally price will rise to 1300 and 2000 respectively.
In the case of granite - 1100 and diagonal floor and wall 1500.
Mosaic - 1700 and 3000 rub.
And note, that was not chosen by the most famous and expensive company, and the usual office with a small staff and modest prices. Respectively, order to more good company will be more expensive to 30-40%. The cost of such work in the province will be somewhat less, about 20-30% small repair organizations. And make approximately the same amount for larger companies.
And at the end of this paragraph of this article, note, which is approximately the same amount, in some cases, the dumb (and possibly much more) less will be spent on the cost of materials.
Calculation of cost of materials
We now turn to no less important point in question, how much it costs to put tile square - the cost of materials.
First, consider what materials will be needed at all, this:
tile adhesive.
Tile.
consumable items.
Tool.
Zatirka.
To carry out leveling cement and sand.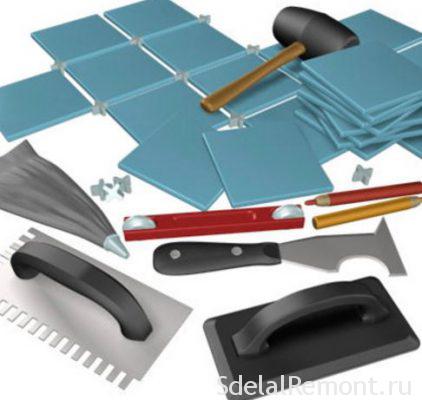 And now compare the cost. Let's start from the beginning, ie. with training. We need to perform floor leveling and walls. For one, the square will take about 6-8 kg solution for plaster, and 20 kg screed. Now count:
Speaking of the wall, We need 6-8 kg of mixture, respectively, involved in 1 to 3 It will be used 1,5 kg of cement and sand 4,5-5kg. At a cost of roughly released 15-20 rubles.
Floor will need a little more, and the cost of materials, taking into account the bedding get about 80-100 rubles.
With alignment surface figured, go further.
Now, from the materials we need to tile, adhesive and grout, taking into account the average market value of we obtain the following:
Tile - 500 at least rubles.
Clay - about the cost 300 rubles for packaging 25 kilogram. An average flow rate of glue 7 kg, and turns, 1 meter will cost from about 60 to 80 p.
Grout also cost is not very expensive, and estimated consumption in terms of money around 50-70 rubles.
And the last component will be tic or pegs to align the seams. Individually they can rarely meet, but on average the bathroom is usually missing several packages, the cost of each on average 50 rubles. Figuring we can say, that a meter they need rubles 10-15.
And is now considered a complete list of materials, in the end we get the amount of medium 700-800 rubles (for floors and walls). AND, as you can see, when buying inexpensive, but high-quality materials, their value is half of the work itself.
Experts or independent repair
so, summarize, and concluded, that it is better, make repairs to, or entrust it to professionals. There are two sides of the coin.
Quality of work.
cost of.
And let's look a little more in detail each item.
Let's start with the quality of. Thus we understand, that make their own without the help of a professional repair specialists, and experience can not be. Even, If all works will be able to perform their own good, it is clearly - not ideal, and a minus, in a case of a large.
The second factor is the effort and time, how to perform activities, and on the theoretical study of the technology, as well as practical training (proceed directly to the laying of finishing on-site repair is not recommended). Since you can not right the first time to take into account all the nuances and requirements for laying tiles.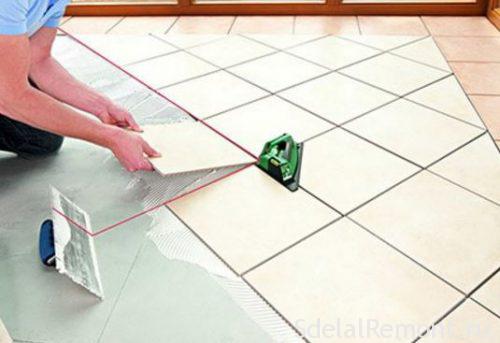 But let us pass to the main advantage. Considering the cost of works and adding materials, we get an average price tag 2500-3500 rubles. And it is for some pretty significant amount. And at the same time think about, that it can be cut three times. A nice bonus is not it?? The total cost of work in a standard fully turnkey bathroom is 50000- 100000 rub. depending on the contractor.
In this way, make any repairs, or entrust the laying of tiles in the bathroom professionals private matter. On the one hand - this savings, On the other hand the quality and long experience.
Estimate of the cost of professional tiling works for 2022 year
Facing works
№
Name of works
price (rub.)
units
Note
1
Construction of wall partitions (Groove-comb or foam block)
800
m2
2
Construction of wall partitions (Plasterboard)
700
m2
3
Stuffing metal mesh for plastering
100
m2
4
plaster walls (gypsum or cps mixture) observing the correct geometry of the walls with a layer thickness of up to 30 mm.
500
m2 - m.p.
All angles 90 degrees. With a layer thickness of more than 30mm. each subsequent 1 cm. 100 rub. Including installation of beacons and primer.
5
Screed device with a "self-leveling floor" with a finishing expression at a layer thickness of up to 50 mm.
400
m2
With a layer thickness of more than 50mm. each subsequent 1 cm. 50 rub. Including installation of beacons, primer, installation of a damper tape.
6
500
m2
With a layer thickness of more than 50mm. each subsequent 1 cm. 50 rub.
7
Laying ceramic, porcelain stoneware, wall and floor tiles. (30х30-60х60)

Tiles from 60x60 and less than 20x20

Tiles from 1000x1000

Embossed tile (any size)

Clinker tiles

steps (price per m.p.)

from 1200

from 1500

from 2500

from 1500

from 1500

from 1500

m2 - m.p.
The final cost is established after inspection of the material, as well as specification of sizes, quality and layout of tiles.
8
Grouting tile joints with cement grout
from 200
m2 - m.p.
Depends on the number of colors and relief(roughness) tiles and decor
9
Grouting tile joints with 2-component or epoxy grout. Tile / Mosaic
500/800
m2 - m.p.
10
Filling of tile joints with cement grout not completed by other masters
from 500
m2
11
Laying ceramic curbs. "Pencils", "Cornices", external ceramic corners, etc.. d.
from 500
м.п..
The cost of work is specified after inspection of the material
12
Diamond cut holes in ceramic tiles / porcelain stoneware

Accurate, finishing cut in visible place straight / curved

250/350

400/600

PC.

м.п.

holes up to 70mm

manufacturing of factory edge

13
Washed down the ends of ceramic / porcelain tiles at an angle of 45 '

ceramics / porcelain stoneware

1000/1500
м.п..
The cost of work depends on the type, tile size (the cost is indicated for the device of the corner)
14
Laying mosaics
from 1500
m2 - m.p.
Cement-based grout filling +200 rub
15
Washed down the ends of the ceramic mosaic at an angle of 45e
from 2000
м.п..
If glass mosaic.price depends on labor costs
16
Making a sill in a bathroom with facing tiles
from 2000
PC.
17
Corner installation,layout
from 200
м.п..
Metal,plastic
18
Bath screen device - standard / lux
4000/5000
PC.
Installation of the frame, laying of tiles,blank bath screen. Invisible hatch suite.
19
bathroom shelf device ( continuation of the bath) Full construction
2500
PC.
2,3 facing planes
20
Tile or mosaic shower tray installation.
from 35000
PC.
Installation of the ladder,pouring pallet,complete waterproofing,facing with tiles and / or mosaics.
21
Plumbing box device. Simple / complex
2500/3500
PC.
GKL box for concealing risers
22
Installation of the invisible inspection hatch
from 1000
PC.
23
Sealing the technical seam on the invisible inspection hatch with colored silicone
300
м.п..
24
Sealing fillet joint with silicone grout
100
м.п..
25
Installation of the inspection hatch
200
PC.
Plastic, metal
26
Priming surfaces at all stages (2 layer)
50
m2
Concrete contact 80 rub / sq.m.
27
Box device,walls with niches
negotiable
PC.
Considered as a product
28
Facing niches with tiles,mosaics
negotiable
PC.
Depending on the size
29
Cutting and installation of tile skirting boards
from 400
м.п..
30
Ceramic tile steps
from 1500
м.п..
31
Laying clinker tiles
1500
m2.
32
trimming the perimeter for diagonal flooring
200
м.п..
33
Finish undercut of tiles
200
м.п..
When fitting tiles to walls,floor,bathroom
34
Joint threshold
400
м.п..
35
Installation of mirrors in the bathroom
from 1000
PC.
36
Installing furniture in the bathroom
from 1000
PC.
cabinets,curbstones
37
Hitch (mount) accessories
250
PC.
hooks,soap dishes
Plumbing work
№
Name of works
price (rub.)
units
Note
1
Nipple transfer
from 2000
PC.
2
Installation of the input unit
1500
PC.
Tap, coarse filtering device, counter in a practical place
3
Water supply and sewerage 1 accessories
3500
PC.
Including grooves and installation of valves
4
Installation of mixers
from 1000
PC.
5
Installation of "Hansgrohe Ibox" concealed bath or shower enclosure systems
from 5000
PC.
Installation of one hidden module. Front part and consumers to it(dus.izliv.forsunki);
6
Installing a hygienic shower
1000
PC.
Standard outdoor mixer and shower
7
Installing a built-in hygienic shower
from 2500
PC.
Concealed installation
8
Installing a bath mixer with shower bar
1500
PC.
depending on the bar and shower model
9
Installation of installation under a wall-mounted toilet
2500
PC.
10
Installing the Washing Machine
500
PC.
Connection
11
Installation and connection of the toilet
from 1000
PC.
12
Installation of an acrylic metal bath with a factory screen
2500
PC.
13
Installation of an acrylic bathtub with hydromassage and an acrylic screen
3000
PC.
14
Installation of protective plastic or glass curtains for bath or shower "Open type"
from 2000
set
depending on the configuration and cost of the product
15
Installing a shower box with a steam generator
from 7500
PC.
depending on the size and configuration
16
Assembling the shower enclosure: installation and connection of a rectangular acrylic shower tray with a screen and protective curtains
from 4000
PC.
depending on the size and configuration
17
Installation of a built-in washbasin
500
PC.
With connection
18
Towel dryer
from 3000
PC.
supply, installation. Finish in chrome.