It is difficult to imagine without a window sill. This detail windows are made from different materials: PVC, MDF, acrylic, stone, wood. Wooden window sills demanded products on the market today for many reasons.
Advantages of wooden structures
Environmentally friendly - a natural material.
Aesthetics - each breed has its own color and texture.
Durability - with proper manufacturing techniques and care sills will last more than one decade.
Thermal insulation properties - retains heat in the room, It has a low thermal conductivity.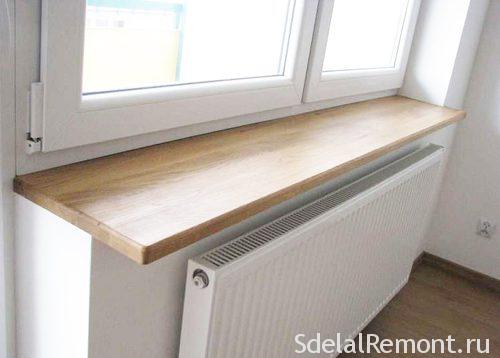 Properties of different wood species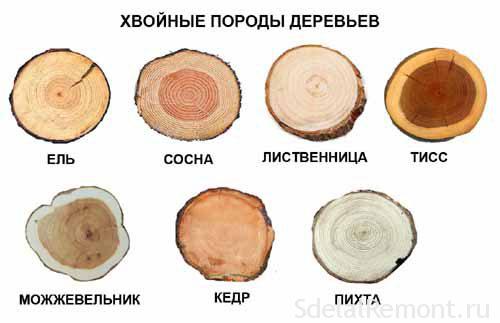 For the production of window sills used well dried raw material. The percentage water content of the material should not exceed 10 %.
Sills are made from coniferous and deciduous trees. luxury materials are used for discerning customers - Cherry, the Red tree, mahogany, meranti and wenge.
Conifers have increased softness, therefore, more vulnerable to mechanical impact. Grinding them presents certain difficulties - it is impossible to achieve a perfectly smooth surface. The advantage of these plants - water resistance, they are less absorb moisture, and retain its original shape. Finished products are deformed to a lesser extent. Besides, Pine stands out volatile substances, which disinfected air indoors. Cost Models softwood lower compared with products from deciduous.
Sills made of oak, ash possess the necessary hardness to obtain a smooth structure during processing. Alder with an increase in the percentage of water in the environment absorbs it and becomes an oak fortress. This type of timber is often used especially in high humidity conditions, due to greater affordability. Prices of goods from hardwood is several orders higher.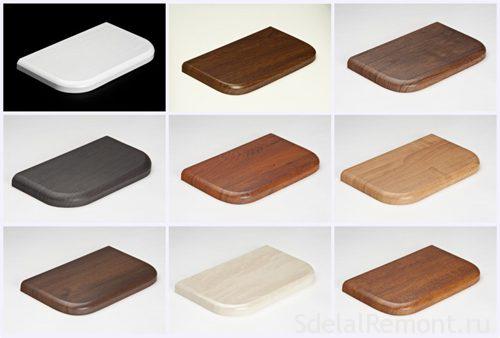 production Features
For the manufacture of quality goods must be good raw material:
Drying - water content 10 % and less, to prevent deformation of the structure.
Covering ansiteptikom - is necessary for the prevention of defeat rot and insects.
Drawing of flame retardants - substances prevent fire.
Impregnation coating or lacquer - makes it possible to preserve and emphasize the figure. Models made of solid wood rubbed with oil or wax.
Wooden window sills are made from whole, frezirovannyh, grooved and glued (Solder pads) boards. Consider their main advantages and disadvantages of different types of products.
Whole - the product is made from a single plank, subject to change form (warpage) due to the influence of environmental conditions.
Frezirovannye - the elements of the array with a groove on one side and groove on the other. On the bottom side of the board is made by one or more notches, to prevent deformation of the material.
Grooved - the main feature of the compound of the "tongue and groove" type. Are attached to each other by 2 or 4 sides. The bottom surface of recesses, for the circulation of air after installation.
Glued lamellas - wooden wedges of different sizes with barbs on the ends come together as a designer and glued under pressure. Feature wood stacked so, fibers crossed bars to each other.

During the operation the better proven prefabricated models. They practically do not deform, in some circumstances, stronger, than from an array. If you do not like the look of the window sill of the connection lines, the product can paint it any color enamel.
quality of the product depends on the processing of wood, its degree of drying, tk. bad treatment, even an expensive material can ruin the appearance and characteristics of a product.
Thanks to modern technology you can create any form of structure: classical, radius, curly.
Dimensions products conform to standards:
Thickness of 30 to 50 mm.
Length from 1200 to 3000 mm.
The width of 200 to 800 mm.
However, a product can be made customized in different sizes.
in texture (the presence of knots or no) raw material is divided into categories. for example, in softwood three categories: BUT, AB and Extras:
And - with "live" light knots.
AB - a texture is rendered small amount of dark knots.
Extra - no knots, Only the very texture.
The price lists of producers in addition to the category of the product indicate whole or joint type.
Recommended use
Wooden window sills require constant care. Once a year or as needed they must be inspected, cleaned and sanded with sandpaper raised enamel, varnish. lubricate antiseptic, antipirentom and re-application of the protective coating layer. Special impregnation surface give novelty and attractiveness in the first day of the purchase.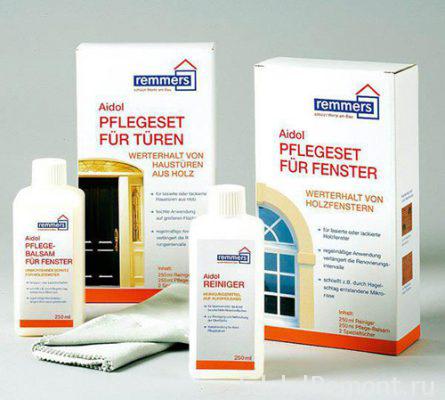 An overview of some manufacturers and price
Price of products depends on several factors:
wood type.
Category structure (whole or joint).
Dimensions.
The form.
Buying from a manufacturer or reseller.
The company "World Tree" - one of the largest manufacturers of products made of natural raw materials.
Shoots sills of different breeds: coniferous (Pine, ale), deciduous (oak, beech, ash, maple). cost of 1 m2 Refer to table:
| | |
| --- | --- |
| Wood | cost of (1 m2), rubles |
| Pine | from 1 014 |
| Ale | from 864 |
| Oak | from 4 750 |
| beech | from 2 750 |
| Ash | from 5 500 |
| Maple | from 5 500 |
The company's website contains tables ratio of the size and value of the goods.
The company "Darn," engaged in the production of window sills made of oak, price varies 1458 – 1620 rubles, depending on the size of the product. Firm "Carpentry number 4" produces pine products cost from 540 to 5 120 rubles per meter. Cost formed respectively dimensions.
Window sills made of wood an excellent choice for your windows. They are elegantly fit into the design space and help create a cozy atmosphere.