Currently, the market presents a huge selection of tools for creating a unique home interior. Today, as in Soviet times, photomurals became popular. Modern technologies, including drawings wallpaper with 3D pattern, make images brighter, voluminous and lively. Absolutely any drawing can be transferred to the canvas, even your own portrait or family photo.
The advantage of photographic wallpaper is that, that with their help you can solve a large number of design problems:
to achieve the effect of expanding the space - a well-chosen composition (verandas and terraces with open perspective views) easy to handle it, especially suitable for studio apartments.
divide the room into zones - if the wall is decorated with an accent picture, then the interior will turn out to be orderly and logically complete. It is convenient to use in a studio apartment or living room-kitchen.
create an unusual decorative element - for example, make a pseudo fireplace, false window or imaginary staircase.
selection rules
One thing is certain - good photo wallpaper for walls, must support the basic idea of ​​the whole interior. Classical style will be supported by antique subjects, landscapes of the mediterranean, reproductions of paintings. For modern trends, photos of city panoramas are relevant., exotic plants and animals, macro photography of individual architectural objects, eg, bridge or tower.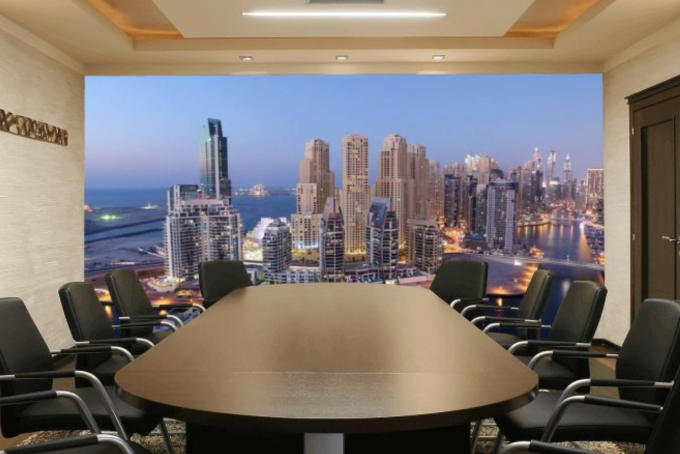 You should also consider the size of the room., location of windows and doors, fullness of furniture. Panoramic, wide-format wallpaper on the whole wall is suitable for rooms with a small amount of low furniture.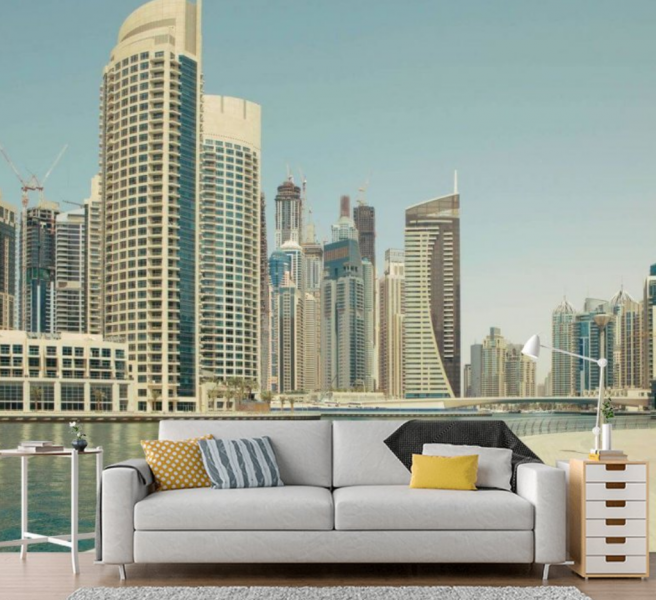 Expand a narrow room significantly, eg, hallway, will help wallpaper with perspective- stairs, going up, bridge, endless or alley. In a room with bright light or lots of windows, you can use an image of a dense forest., space landscape or underwater cave.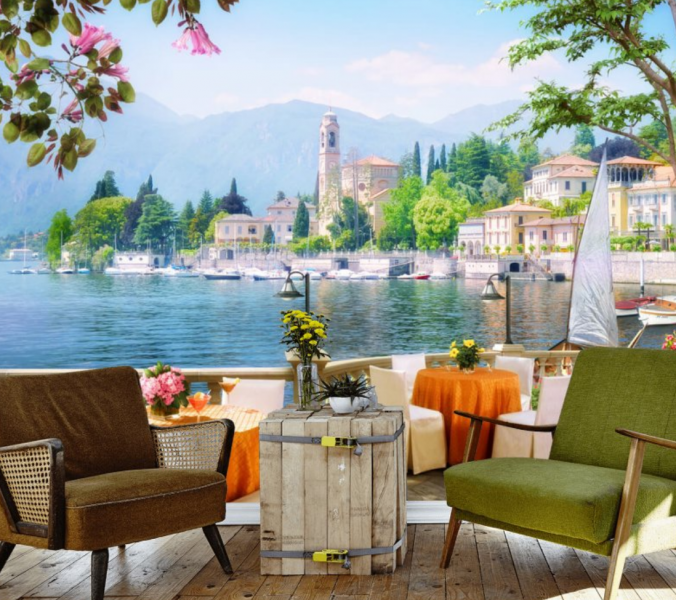 Gray, green or cool blue shades will dim bright sunlight. Collages of flowers with bright solutions, landscapes in orange, light green, warm yellow tones, as well as individual items on a white background will be a good design solution for a studio apartment on the north darkened side.
Bringing a unique personality into the room allows the placement of photo wallpaper on the doors or closet. Such single drawings can be decorated with a baguette around the perimeter, which will make it look like a work of art.
For children's rooms, murals with the image of movie characters are suitable, cartoons, small photomurals-illustrations in the walls.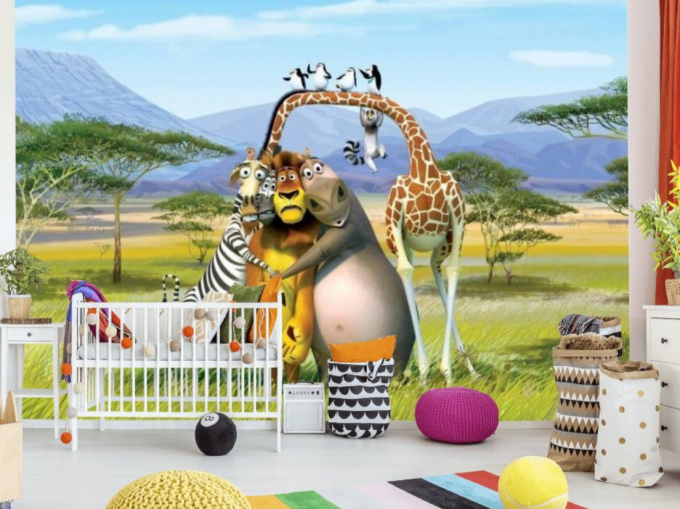 Especially for the kitchen, the designers have come up with a photo wallpaper with delicious stories - lemon slices, large coffee beans, still lifes of fruits and vegetables.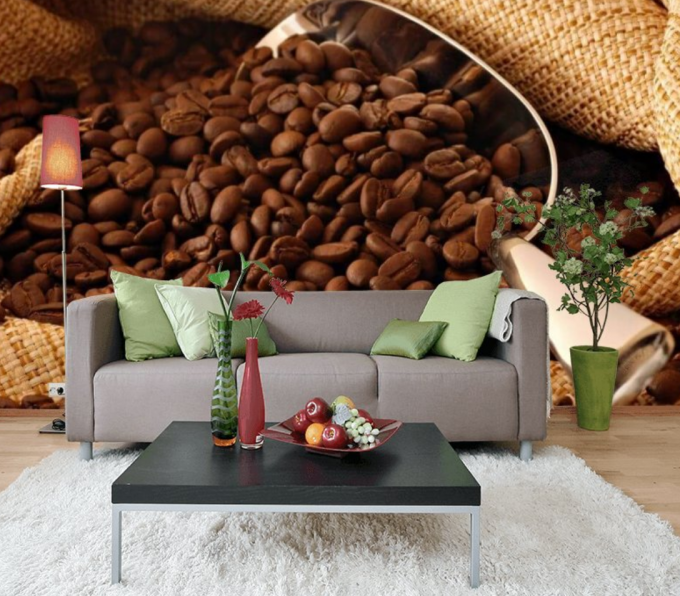 The choice of photo wallpaper for room decoration is a responsible business.. You need to correctly define the style, theme and color scheme. After all, this piece of furniture cannot be removed and removed., like a boring picture. Therefore, if possible, better to seek professional help.
Types of photowall-paper
The cheapest, but at the same time photowall-paper is environmentally friendly, made of paper. Disadvantages include mediocre print quality, fragility of the material and fear of moisture. Should not be used for kitchen or living room decoration, but for the nursery- perfect option.
Vinyl wallpaper is more durable, than paper. They can be cleaned with a damp sponge. Hide uneven walls well, chipped. Great for the kitchen.
Most expensive wallpaper- textile. The image is applied to linen, silk, canvas or viscose. Often used for design solutions in the bedroom or living room.
For a bright decorative effect, structural wallpaper is suitable., which create imitation of plaster or sand. If you need to arrange a presentation area, this is ideal..
Laminated wallpaper is suitable for the kitchen or hallway.. The existing protective layer will not only withstand gentle cleaning with detergents, but it will also help the coating to last a long time. Without losing color.
How to glue the wallpaper on the wall with high quality?
Any room with photo wallpaper looks beautiful and harmonious. In fact, sticking oboev does not differ from gluing others, but there is a slight difference. And you should know her. How to glue wallpaper sheets on a wall, everyone must know, who makes repairs on their own. Before starting the process of gluing photo wallpaper, you need to do all the conditions for this.
The room should already be ready, smooth wall, glued ceiling plinth. The wall must be perfectly flat, so that there are no holes, there are no bumps, not a lint from a brush, not a speck of dust. Run your hand over the wall, make, that there is nothing on the wall. Hand is the best sensor, she will find that, what the eyes can't see. Therefore, the first advice, with such work, do not rely too much on the eye.
prepare wall can be done in different ways, it or plaster with putty, or drywall. If you chose drywall when repairing, you must know, as putty the seams.
Saturate the wall before gluing the wallpaper Primers, deep penetration. Nothing can be done without a primer. Prime in several coats, to make the effect better. Then let the wall dry. Now check the wall again for defects., dust, pile. Because the next step is to glue the wallpaper.. Don't be lazy and take this step, he is very important and you need to approach him with all responsibility. The wall must be completely flat without shells and bumps.
How to glue photo wallpaper
It is recommended to start gluing photowall-paper with a marking. It is needed in order, to see the contours already, which cannot be crossed. You need to draw a vertical line under the level there, where will the edge begin. The line won't let you go astray, and you will perfectly smoothly glue the wallpaper on the wall. Also, don't draw the line too bold.. These are the preparatory steps you must take, before gluing the wallpaper on the wall.
Tools for gluing photo wallpaper:
bath,
bead,
foam glue,
knife with blade,
dry soft clean rags,
rolling roller,
feather or float,
putty knife,
roulette,
pencil,
level.
Since the wallpaper is large enough, it is recommended to find a second person, it will be both more convenient and correct. First of all, you need to smear the glue with a brush, near the ceiling plinth. It is not recommended to do this with a roller., you can stain with glue like a skirting board, so is the ceiling. Now we take the roller, and gently evenly apply the glue to the rest of the area. After that, you can glue our wallpaper.
Be sure to watch the line, you shouldn't be wrong even by a millimeter. Then we smooth down the wallpaper. After that, take the pen and press a little on the wallpaper., squeeze out the air. There should be no air under any wallpaper.
You can take a rubber roller or wallpaper brush and roll the wallpaper. This will be the best solution and guarantee of good quality. Now inspect every centimeter. Make, that the wallpaper is glued to the wall tightly and without bubbles. The main rule, which you should know, when gluing photo wall-paper, there should be no drafts in the room. Windows and doors must be closed!
These are such simple actions and your wallpaper will delight you every day.. The more you know, that you pasted them yourself. You know how to glue the wallpaper, so feel free to get to work.