The studio apartment is always a problem with the division of space. The situation is exacerbated, if more than one person living in it. The designers offer a lot of options, how to use plasterboard partitions for zoning space small 1 room apartments.
When children need
With the advent of the child in the home side's one-room apartment there is need for a common room with space zoning allocation for child. Important, to a mini-room it was the most isolated, it did not penetrate background noise, attended stationary lighting and create the feeling of a separate room. For this offer to build a deaf plasterboard walls for zoning space for adult and child.
However, to raise the child in a room with no windows can not be. From this, he might get the wrong idea about the world. To avoid this, in continuous false plasterboard walls make slots, in which are inserted safety glass, transparent plastic, an imitation of windows overlooking the countryside. For this purpose, wallpapers, murals and other decorative elements.
Making children's and adult mini-rooms should not be the same. Child needs space in his style. Separation zones plasterboard room will allow to realize different design ideas and decorating two separate "rooms" in accordance with the claims of their inhabitants. Look wonderful options apartment design.
Creating a partition in a room for zoning area adults and children it is important to provide noise insulation. To do this, do the dead false wall with doors. The gaps between the surfaces of the gypsum board inserted into mats of mineral wool or other filler, who will be able to absorb extraneous sounds.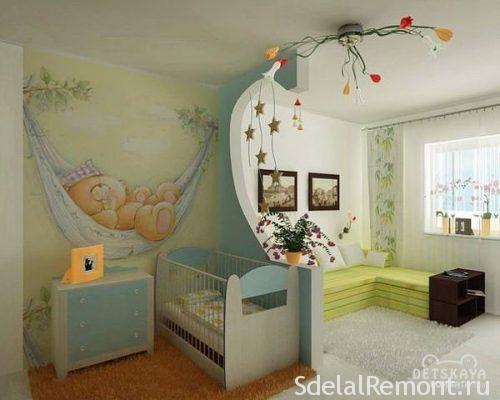 Place in the office
Zoning large rooms by partitions from drywall spend, when they want to allocate workspace. In this situation, it makes no sense to build a brick wall. Enough to build an easy framework partition. It can not reach the top, and look like a stationary screen.
In the apartments with low ceilings, designers offer to carry out the separation of the room into two zones: bedroom, living room and office - with curly partitions. They can have the original relief on the top line, different height levels, niche, slots, shelves for trifles, books, etc..
To acquire a bookcase, constructing a plasterboard wall with shelves. Originally looks such a wall, where the openings under the books are arranged on both sides. The stability of such false wall is ensured by, that the shelves alternate with different sides fotoprint with images of folios.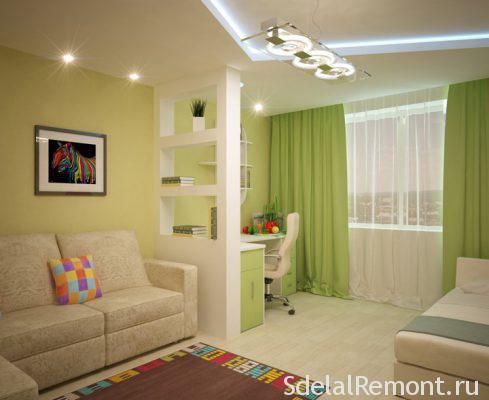 Options for Zoning living room and bedroom
In a large area space with high ceilings and multiple windows, it makes sense to make plasterboard partitions to separate rooms for sleeping areas, everyday spending time and receive guests. Here it is necessary to focus on the placement of windows and build a barrier between them. Deaf false wall will allow to individualize space, to create a special interior design, the separation of the room zone may temper its incredible size.
In this embodiment, optionally erect wall to ceiling, put doors. Suffice it to construct an arched doorway or leave a passageway between the main walls and false. When mounting plasterboard partitions for zoning the living room, create additional decorative and functional home furnishings:
cabinets, niche for storing clothes, small things;
place under an electric fireplace;
devices for color placement, aquarium.
The division of a large room into two zones plasterboard partitions allows to realize the idea of ​​the creation of the original interior in any style. Delimited space can be arranged in different directions, keeping a sense of proportion and the overall color line. options decorative partitions divide the room.
Visual separation of the room into two zones allow plasterboard wall with frosted glass insert, which is located opposite the light aperture of the. If his issue textiles, It will create a full feeling, that the room gets sunlight. These false walls do well in apartments, South-facing.
In the interior of the living room, you can make a partition, do not reach the walls. Her erect middle of the room, by mounting between ceiling and floor. In such a false wall often install mobile fireplaces, TV and other equipment. This partition does not share a common space. But zoning occurs. there are corners, different in terms of functionality:
armchair - closer to the window;
bedroom - to the exit.
A place to sleep and rest can be decorated curtain, to create additional atmosphere of comfort and closeness. If the room is high ceiling, It allowed the creation of curtain walls, are lowered for a certain distance from the upper surface.
The idea of ​​the separation of the room into two zones are good, that in each space you can create a lighting system. In the living room - install the lamp-chandelier in the central part. In the bedroom, cabinet area to create a spot lighting of lamps, floor lamps, halogen lamps, and other advanced mobile systems.
If build plasterboard wall and put on top LED strip, the room will be visually higher and more volume. Advantage frame false walls is, that they can hide wires and communications. So do not be disturbed decorative part of the interior.
It can be difficult to find an optimal solution for the zoning of their own square meters. Among the designer proposals have generic versions, suitable for most apartments. The old houses are the same one-bedroom apartments and ideas, how to divide the space not much in them. Original solutions to offer odnushek, different dimensions and general layout. Here, designers are advised to arrive in each case individually.