Wooden floor, doors, windows - all of them from time to time require repair and painting. Instead of, each time to call the master, you can prepare for this work and do it independently.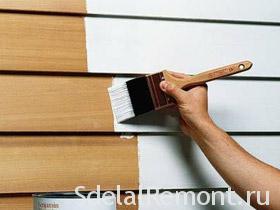 You need to paint a tree:
painting material;
brush;
putty;
primer;
putty knife;
Building dryer or a chemical cleaner;
sandpaper.
stages
The choice of material for painting
On the market there are many types of paints and varnishes for wood of different shades, transparency and gloss. Select the material to cover, depending on the type of wood and the design of the room.
For all types of wood (including resinous) suitable enamels oil. They cover the rough surface of the well, since these are highly wear-resistant enamel.
For decoration, use acrylic enamel. They are water-soluble and less wear, than oil. They are not as pronounced luster. Acrylic enamel dries quickly, and suitable for all types of wood (except resinous).
To obtain a transparent coating, Use varnishes - oil or water-based polyurethane. The former are more durable, but water based paints dry faster. Lucky there are tinted, adding stains.
Prepare tools for painting
Pick up a brush. If you intend to work with small details, provision of small brushes. Polishing the surface, you will need sandpaper, it is desirable to the fine.
Before painting the tree, prepare the surface
If it already has one or more layers of paint, which departs and poorly kept, better to strip it of its. To do this, use the hairdryer construction - under the influence of its old paint will flake off, remove it with a spatula.
purification
Instead, the hair dryer, you can use chemical cleaners (washing-raising agents). After chemical cleaner wipe clean wood vinegar and water to neutralize the resulting alkali. If the old coat of paint relatively smooth and clings, You can be dispensed putty. Then remove the dust from the surface - wipe with a lint-free cloth.
luting
Often wooden surfaces require spackling. To paint lay down evenly, seal the defects, scratches and holes, If there are any. Use the putty, smooth it gently, that there was no need then Sanding. It is better to take a fine brush. Keep in mind, that when the putty harden, perfectly align it you will not be able.
Remove bumps and holes
To seal large holes, Use foam construction, but too much can be cut with a knife, when the foam hardens. If there are small bumps, sand the surface with sandpaper. Cover linseed oil putty before painting, to avoid the appearance of cracks.
Padding
Immediately prior to painting, you can prime the surface (although this does not necessarily). primer desirable, especially when the surface is uneven. Primer - a impregnating material, forming a uniform film on the surface. It seals the pores, dust sticks together, reduces the consumption of paints and varnishes, It extends the life of wood. Apply primer in one layer, and wait at least two hours before painting.
Painting
Get to painting. Spend a few brush on wood vertical stripes, anew each time dipping it in paint. Spread the paint on the surface. So dye it all.
helpful hints
To protect yourself, Wear a dust mask and gloves, especially when dealing with a hairdryer construction and chemical purifiers.
Start work in the morning, in good light.