Each hostess kitchen is the main place in the house, so its improvement is very important to her, because the kitchen - this place is not just for cooking, but also for making it. Kitchen - a place, where he is going for breakfast, lunch and dinner, the whole family, so it is in the kitchen should be cozy and comfortable all.
How to start a kitchen renovation
It is very versatile in the home. As usual, a small kitchen area, so it's important:
Locate all appliances and furniture are the most convenient and efficient.
Still need to take into account the, that when cooking in the kitchen always, sprayed fat, steam.
All pollution is best washed with water-resistant surfaces, Therefore, for this room materials and furniture should be moisture resistant and well washable.
Of course, without the professionals handle it is not even just. So where do you start renovated kitchen?
First you need to make a drawing or a picture of your future kitchen. So you quickly realize, where and how to place furniture, in what colors will be your kitchen and what accessories needed for its interior.
After a sketch or a project it is necessary to calculate the materials needed to repair. It is better to turn to specialists. They will help to make a calculation, consider the placement of water supply, sewerage, replacement of sockets and wiring.
Then begins the dismantling of the sexes, ceiling, old communications, organization proper ventilation.
If nessesary, wire replacement windowing system.
Next, conduct all communications, erecting new partition, line the walls, ceiling and floor.
When decorating the ceiling can apply different suspended plasterboard ceilings, panel or plate, and ceilings. But the easiest way - is water-repellent water-based paint. Here you choose, that is best for you and cheaper to.
For the flooring is necessary to use only water-resistant materials - natural stone, tile or linoleum.
The walls in the kitchen should also be resistant to moisture, therefore use a washable wallpaper, or tile, but for better working surface tile. Although, Apron can be used laminate.
Installation of home appliances and furniture made after, all coverings entrenched and well dried.
A very important point in the repair of this room is the right room lighting. To the mistress was convenient to work on the work surface to install fluorescent lamps, located on overhead lockers, and hang over the dining table lamp. But if you have a high ceiling in the kitchen, it is very impressive it will look multilevel lighting.
Then follows a step of setting different accessories, that will make your kitchen the most comfortable, comfortable and so unique.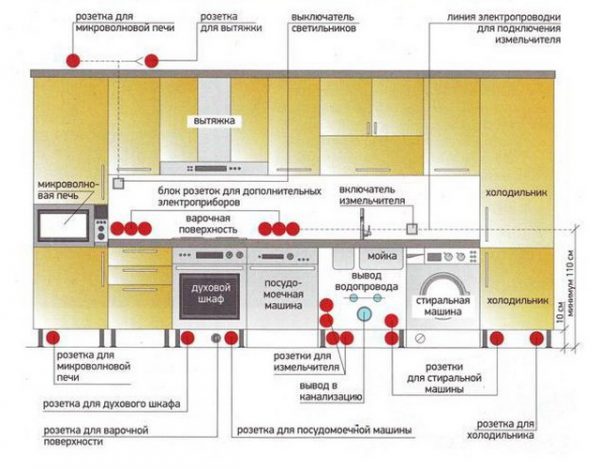 When planning any kitchen need to remember, that the foundation of the room - it's working triangle:
These three items must be in the near distance from each other. Therefore, be sure to take this into account. Now more or less work plan became clear and know where to begin renovation of the kitchen. The rest depends on your imagination and wallet-sized.
Everyone has their own preferences and needs, so I recommend to look at the site and learn more detail about kitchen Equipment.
Now let's talk about common errors.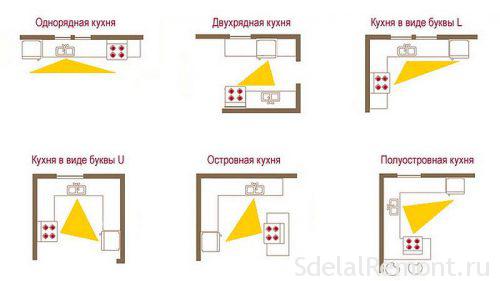 Construction of a small kitchen
If the kitchen is small, It is on a par with the technique of the furniture can not fit. In this case it is better to use a corner accommodation furniture. It is important to take into account, that the length of all sides of the working space should be from 3 to 6 meters - it is the best value, so that there is enough space, and a lot of movement would not have to do, engaged in food preparation. Also, experts advise, that the distance between the sides of the triangle of the kitchen (washing, plate, fridge) It should be approximately equal to, and no more 1,85 m.

The location of all cabinets in the plan should be noted in advance. If you plan to order some kitchen, it is better to pre-measure all of its parameters and estimate, how it fits into the kitchen. Use for the preparation of a design project can be simple programs, and even mobile applications, in which all actions are as simple as possible: you need to enter a room settings and parameters of the desired furniture.
There is also an original way to think about the location of all items of furniture. Cardboard box create, which will be the kitchen model. Naturally, must adhere scale. Styrofoam is also on the scale of the figures make furniture and equipment, and then all the parts are placed in the box until, while not perfect is found. Whatever the method of, as a result you have to get a clear visual representation of, It should look like the future kitchen.
20 the most common mistakes in the kitchen repairs
Even the slightest mistake, made when planning the kitchen, It can bring a lot of inconvenience later. So what are the shortcomings should be addressed at the earliest stage of repair or redevelopment, where to begin?
Unnecessarily large work surface - a common mistake owners large kitchens, who are trying to put all the furniture along one wall. This arrangement will make uncomfortable cooking process, because you have to run from one end of the kitchen to another. If you allow the layout and size of the room, it is better to build a U-shaped structure, or "island". The total working area will not change, but the run will not have the whole kitchen. The tops of the "work triangle" (fridge, stove and sink) They should be placed as close as possible to each other.
Speakers handles - reduce the opening angle of the door is located in the corner of the locker. When this ceases drawers.
Narrow "Labyrinth" - interfere move freely in the kitchen. Between kitchen fronts with an "island" or U shaped kitchen should be a distance not less than 120 cm. Only under this condition, the boxes will be fully extended and the owners will have enough space for passage.
Floors and countertops from natural marble - it is difficult to care. Marble has a porous structure, allowing dirt to penetrate quite deeply and makes it impossible for its removal. Therefore it is better to choose the countertop of granite or artificial stone - they are easier to clean.
"Unbreakable" Corian - many people mistakenly believe this material is the most durable and strong. Over time, even a countertop made of stone, too, covered with scratches and stains. The only advantage of this material is, it is easy to restoration. But this procedure can be entrusted only to specialists.
Facing the kitchen mosaic facades - a trim should not be used for drawers and doors, as it will weight heavily construction, and the base of the drywall "eat" a useful area.
Massive air ducts - such design is not required even if the stove and vent are located far from each other. It is better to buy a hood with carbon filter. For it does not require air duct, only need to periodically replace the filter.
Glossy facades - looks impressive, but quickly "get dirty" finger prints. These surfaces should be cleaned every day.
Wooden flooring - a very bad option for the kitchen. They quickly become contaminated and lose their "marketability".
Of 20 errors in kitchen remodeling, we have come close to half. Glass countertops for dining tables - have become very popular, thanks to, that does not make the space visually cluttered. But for the kitchen such models is absolutely not suitable. Even the most durable glass eventually gets scratched. For such a table will not have breakfast, not rouse sleeping peacefully households. No matter how carefully you try to put a cup or a plate on the table, still hear quite a loud thud.
Needless wide drawers - capacity is not better. Furniture stores gladly offer us boxes width up 120 cm, which are easy to be nominated and supposedly easy to use. But it should be used to read the fact, what's in store, they are empty and pristine, respectively, very light. If you will score a tight box, eg, jars with pickles or utensils, then you have to work hard, to push him.
Shelf box instead - quite a common mistake. The advantage is the box, that the content is easy to look around and necessary thing is sought quickly. In the case of the shelves you have to clean up part of the contents, to find something or simply "reach the goal".
Many joints - a bad decision. If you choose to paste over the whole kitchen "apron" wallpaper, do not forget to protect their glass. For this purpose it is better to use one large glass sheet, rather than several small, abutment joint.
The sink has a "wrong" shape - kitchen detail, which can not only please the eye, but also for years to annoy its host. Therefore it is not necessary to experiment with unusual shapes. Best to stick with the classic usual forms. Here's where to start, because behind the sink is carried too much time.
There is no space for all kinds of small household appliances. The kitchen can not do alone, built-in appliances. Therefore, we must immediately provide the place and the socket for stand-alone appliances.
severe cases, hanging on the walls of the lungs. Storage system can be hung only on the main wall. Plasterboard partitions can not withstand such weight. In this case, the wall is necessary to fix a special support, to which are attached upper cabinets.
Incorrectly hung Technology. built-in oven, coffee machines and steamers should not be placed as too low, and too high. The ideal solution here is considered to be the location at waist level.
Few fixtures. Kitchen require multiple levels of backlighting: lamp, located above the dining table; fixtures, built under the upper cabinets and lighting work area, skylight. Also, you must correctly place the switches.
The absence of free areas on worktop. Between the elements such as plate, a sink and a refrigerator must necessarily be portions of the working surface, which will be put, eg, extracted products from the refrigerator.
Too high base - standard height is 10 – 15 cm, but today the majority of built-in appliances for some reason is not calculated on a plinth above 10 cm.
If you want to avoid the most common mistakes made when repairing the kitchen with his hands, we recommend that you contact the professionals. Order repair of apartments at very attractive prices here.
Here we have considered 20 errors in the repair of the kitchen with his hands or with the help of professionals. Now you know where to start better and what nuances should be considered.