If the cold weather the temperature in your house tends to zero, then you have a choice - to get all the heaters in the room and wrap up warm blanket or overhaul their living space. In order, consider a list of possible heat loss problems in the apartment.
Common causes of cold in the apartment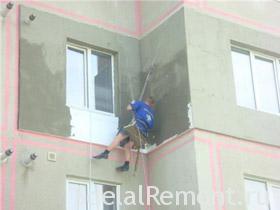 1. The first and most common reason - cracks in window frames. If you can not put a sealed double-glazed windows, then seal the gap between the frames independently. You can use foam, paper or pieces of cloth. Take one of the following materials, roll up tightly and place it in the gap between the frame and the window opening. Top seal cracks durable construction adhesive tape. This will significantly reduce the inflow of cold air into the apartment, but do not provide complete insulation.
2. If you live in pre-fabricated house, the second common cause of cold in the apartment may be substandard welds between plates. Carry out sealing of external joints obliged to your management company. But, usually, procedure of registration and signing an application for such work can last a very long time.
3. If you want to solve this problem quickly, you can contact the construction company, engaged in sealing seams between panels by rope.
4. However, even all of the above activities may not be enough to insulate an apartment at a corner 7-14 floor. Gusts of wind at that altitude is much more intense, and the water in the heating system, lifting from the ground floor, It manages pretty cool. So you need to thoroughly insulate not only windows and bulkhead seams, but the walls themselves. For insulation of walls, you can use sandwich panels.
5. You can fix the sandwich panels on the cold walls inside the apartment. This is a relatively new, but simple in processing building raw materials. In addition it is the most economical option, tk. you yourself produce all construction work and pay only for the material. But the thickness of the sandwich panels can reach 25 cm. This means, exactly as much reduced area of ​​the room for the entire length of the wall.
6. If you are not willing to part with a portion of the useful area of ​​your flat, you can contact the construction company, and sandwich panels consolidate outside. This expensive procedure, but, at the same time - this is the only effective method, allowing to insulate old apartment on the top floor.
For more complex unknown reasons may detect cold spots in the apartment with a thermal imager which could easily determine the heat loss areas. The only minus is worth decent money this device, however, you can call the service which will give a comprehensive answer to the cold zones in the apartment and on the ground the heat loss.