The construction of all the new time becomes commonplace and familiar. The same applies to the self-leveling floor, which is not unusual. Yet, most people have little impression of the device technology such options floor, about the features of different types of. That this may be the characteristics of self-leveling floor, which has its positive and negative sides.
notion
Best self-leveling floor - it is a variant of construction of a perfectly flat surface on the floor. It can act as a finish coat or become a rough draft for the subsequent flooring flooring. Quite often it is embedded image, creating a delicacy in any room.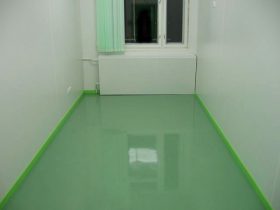 Its scope is expanding with each passing day. The result is a solid foundation, capable of withstanding not only continued walking, but also a mechanical effect during operation.
Rating leveling floors suggests, that it is possible to arrange not only in residential areas, but in the industry for filling storage facilities. When the self-leveling floor is carried out in an apartment or a house, each thinks about, how to choose self-leveling floor.
the base can be converted with the help of sex fills a visible element, which previously no one conspicuous. Sex becomes a separate element of the decor in the room.
Types of self-leveling floor
Before, how to choose self-leveling floor, should stay on his specific kinds of. It is they who will decide the specific task. Classification of very large and will depend on various factors.
Depending on the coating components:
polyurethane. Their main advantage - the ability to resist wear during operation. In addition, due to the special composition calmly withstand the load, Various injuries and external pressure. Best suited for residential and office warehouses.
epoxy. The downside is their fragility and low elasticity. When installing you should be very careful, to get a really good foundation. In most cases, applicable in the medical field, educational institutions, etc.. Allocate more and subspecies - urethane, which are suitable for the transport of parking places. Durability with their increased.
methyl methacrylate. They have this quality, how fast drying. A few hours after pouring on the surface can move. but the room, where the works, It should be well ventilated due to significant release of chemicals. This pungent odor disappears after drying.
Cement and acrylic. Scope - vehicle washing, swimming pools and other rooms with high humidity levels. For the price they are of little worth to most of the above numbers.
It is worth noting, what 90% all brands of self-leveling floors contain a component polyurethane and epoxy compounds.
Epoxy self-leveling floors are suitable for bathrooms or corridor with kitchen, and for the living room or children's best to choose a type of polyurethane.
It helps you choose the self-leveling floor in an apartment and base, where underpour. If it is smooth, the thickness of the floors were slightly. The layer may be 1 mm, and adapted for subsequent staining. If the load is small, they can easily arrange the room.
When the thickness of the layer 4-5 mm, self-leveling floors are considered. It is possible to tell a universal version, suitable in most cases. To get the durability, reliability, hide all the bumps and communication indoors, have mounted highly filled self-leveling floor.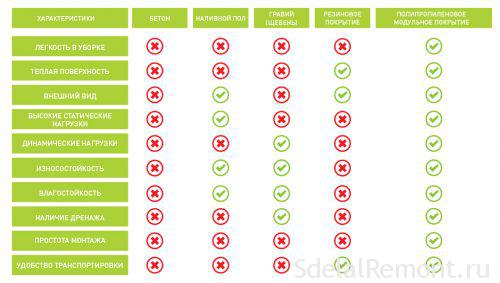 It does not play small value and the surface of the finished floor. It can be brushed, polumatovoy, glossy or semi-gloss. In addition, each individual case will have a certain set of positive qualities. If we look at consumer reviews, they feel very glossy scratching floors.
A little focus on the design of self-leveling floor. Maybe more than one color, which all seem boring, and several. In addition, the applied image, insert pictures, arranged 3d floors, which can be done in-house.
design delights
The usual self-leveling floor currently has no interest. For this reason, designers around the world are trying to find something interesting, to attract the large number of buyers. Stamps self-leveling floors allow you to select color schemes, as well as independently to use additional elements to impart elegance and beauty to any room:
decorative chips. This paint particles, are added to the mixture, thereby giving naturalness coating.
The use of polymeric dyes. Initially, they should be applied to the base of the cast solution, and thereafter perform a lacquering.
Filling the transparent floor. any items, having a volume, It can be filled with a mixture of epoxy or polyurethane. This may include shells, figures, figurines, coins, etc.. Everything will depend on the imagination.
3d floor. Feels presence Image, which has a volume of. It will be enough to start putting realistic picture, and then apply the fill. This slightly increases the price, but it gives the room personality. Seeing it once, There is no question about, which self-leveling floor opt for apartments.
Selecting the mix
Not only option gender play a major factor in choosing a. It should stop its opinion on the concrete ready mix for such performance. Best mark leveling floors should contain recommendations on the packaging by the manufacturer. kneading process should be written in simple and understandable language. Only in this case you should buy a mixture of. In addition, all components must be known, to have an understanding of the characteristics obtained.
It is impossible to immediately rush to the price. some deem, that the more expensive brand mix, the better the quality. The reality is not so simple. After the quality and the final result will depend, helping to make a choice in favor of a specific embodiment of self-leveling floor.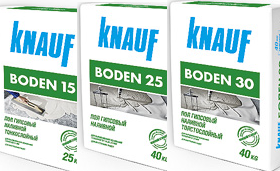 So, Vetonit brand helps to perform all works quickly, maintaining strength and quality. Preliminary work on the repair carried out using Ceresit. But even the manufacturer does not advise to take a mixture of data, If the floor is considered filler topcoated. But the final coat will look great, if the mark is used self-leveling floor Knauf. It is based on silica sand and gypsum, creating a very thin layer. In addition to the apartments, they are suitable for warehouses, industrial sites.
When you need to get excellent properties of heat and sound insulation in the room, resorting to inexpensive mixtures Bolars. Similar in price point is Volma, realizing mixture wagons. These firms will help to save a few budget, especially if performed thick layer of self-leveling floor.
Selection of a particular brand of a mixture to a floor unit will depend on the situation and circumstances. For each type of work should be taken individually, only then sent to the store to shop.
price indicators
Before, how to opt for a particular embodiment,, should obtain as much information about the, a better self-leveling floor. Of no little importance and will play a financial part of the question. It depends on several factors:
Manufacturer.
Make nalivnogo sex.
Material and Additives.
If we take into account the Russian manufacturers, the minimum price of 100-120 rubles per m2.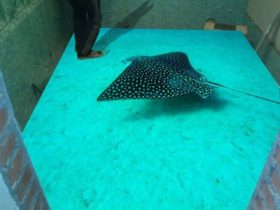 But here will raise its kind mixture, floor layer, availability of design adjustments. Besides mixtures should also think about the payment of construction services companies. After all, self-fulfillment without basic knowledge can lead to negative consequences. It is important to observe the technology itself self-leveling floor unit.
Average prices for services firms - 1 thousand rubles, which includes the base paint. If attracted colored base, already the price starts from 3.5 thousand. When there are certain skills and little experience in performing installation self-leveling floor, it is much cheaper to repair on its own.
Advantages of the major surfaces
Each variant of self-leveling floor will have a certain set of positive and negative qualities of the outcome. To this must be handled with care. There will be spelled out the basic qualities, manifested after casting. The specific form will be focused on the scope and use of special knowledge.
Polyurethane coating is unpretentious in operation, very plastic when pouring, that does not leave in a subsequent fracture. At a cost of no more than average in the normal performance. They can even be used in refrigerators.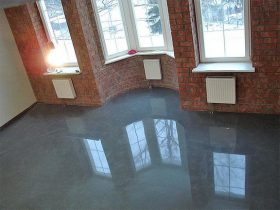 Safety is epoxy flooring. Reactions with external manifestations of chemicals does not occur because of the inertia level. No fluid can not be absorbed in a surface, which also has antistatic properties. Another plus is that, such that the floor will not be the messenger of fungus and mold.
In any case, self-leveling floors are becoming popular, as even a thin layer is able to last for at least 30 years old. Load in the apartment they are minimal and reduced markedly compared with the station premises or warehouses. In addition, under the legs themselves can "lay" completely any image, which will constantly delight the residents of housing and its guests.
Polyurethane self-leveling floors are suitable for areas with the vibrations from the noise and mechanical actions. This is the bulk of industrial enterprises.
Tips for Choosing a floor
Independently difficult to stop your eyes on a particular embodiment, the device of the underfoot. In this case, should follow professional advice, who exactly will help us to answer the, a self-leveling floor is better to choose an apartment or other housing.
Initially fill the sexes was carried out in industrial areas. But the possibilities and advantages of this variant adopted construction firms, started providing services to the public. Currently, self-leveling floor can be arranged in a completely any room.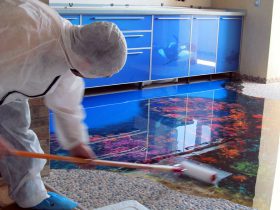 Some of them (epoxy) often operated in high humidity conditions. Resistance to various chemical substances with a very high. Virtually any load they will not be afraid.
If you have a room with a constant external pressure, hiking people, mechanical effects, great will be the installation of polyurethane self-leveling floor. This option is ideal for living rooms. In the corridor we are back to the epoxy floor.
Despite the sharp odor of individual mixtures, drying them is a matter of hours. In addition, after drying, no smell will not be, and it will be considered a fully eco-friendly. Poured floors give any room much beauty and comfort, especially when a good fantasy artist.
Before, how to determine the order, how to choose self-leveling floor, to be understood, that each of them is constantly being improved and has sufficient positive qualities. It shut down all the pros and cons of people lead to the final choice.