There are a huge number of devices, by which it is performed semi-dry floor screed SNP. Each of them has merits, and some certain disadvantages, which should be found to purchase or rent. It is important to not only the equipment for floor screed, but also its cost. The price will depend on certain factors: manufacturer, lifetime, lease duration, etc..
possible device
What equipment to fill the floor most often used, and what are its types exist? Initially, it should be said that, that any special means in the modern world, used in the, including construction firms, able to make high-quality floor screed in accordance with all building regulations.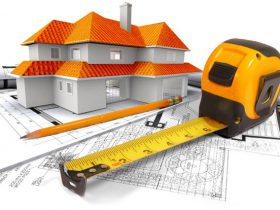 At each stage of the screed casting technology are fully respected. This indicates, that virtually eliminated all the possible shortcomings of the installation. Allocated only a lot of positive moments.
Fill dry floor screed manually prevents such accuracy to make a smooth surface for the flooring plank of any kind. Yes, and a semi-dry floor screed according to German technology is obtained as efficiently as possible, taking into account the use of appropriate equipment..
The following basic unit, thanks to which the observed casting technology semi-dry screeds:
Gasitely. Liquid solutions can not always be supplied uniformly and with equal pressure. For this reason, such a machine is used to fill the floor, as a quencher. The solution after Pneumosupercharger sent to them. Operating pressure is reduced to the minimum figure, allowing the most efficient to perform any kind of work. The surface of the "rough" floor evenly and smoothly is generated as a result.
Pneumosupercharger. With their help, you can supply ready-made solution for installation work. This compressor unit, capable of delivering not only a semidry, but also liquid mixture. They have a variety of models, which are equipped with different engines (diesel, petrol or electric).
Concreting device. After installation screed, should take care of its evenness. Trowels eliminate any irregularities on the finished solution. In this case, it is not necessary to use self-smoothers, brushes. Consumption of power during this minimal, that allows you to send them to more reasonable classes.
Lasers. They are used during the installation of beacons on the perimeter of the room to fill a semi-dry floor screed. This reduces the time for preparatory measures, elevation changes are minimal floor. Levels are used not only when applying semi-dry floor screed, but dry, in apartments, and private buildings.
metal skates. they needed, to create expansion joints, which are very important for filling floor screed technology. If the "roughing" floor under the action of heat will begin to expand, all it will not be the same spoiled and damaged.
Professional trowel. When trowels in certain places can not cope with the problem at the expense of a kind of working soles, in the process of entering a trowel. They are low cost, and high performance, as in remote places completely cleaned from the surface roughness.
The advantages of using equipment
When casting is carried out dry or semi-dry screed with special equipment, we can say with confidence, that we expect only positive things. They are expressed in the, that are able to create a truly homogeneous mixture to fill the rough floor. Manually do this problematic, and the costly afford.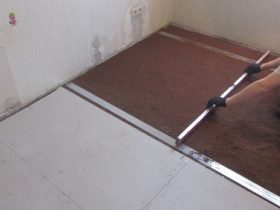 In addition, there is almost no need to independently perform alignment ready mix, since it comes from Pneumosupercharger not only quickly, but equally.
If you take manual way to perform a semi-dry floor screed, the time it will be about 2-3 times longer, than when using machines for semi-dry floor screed. Moreover, possible deviations from the reference points horizontally and vertically kept to a minimum threshold. The surface becomes perfectly smooth. It does not require any additional work on alignment for flooring flooring. floor screed strength meets all building codes, which are mounted on technology.
the main thing, that worked well trowel for semi-dry screeds, aligning the possible convexity on the surface. Under such coverage will only have to wait a certain time, that the solution is completely frozen. Then we can proceed to subsequent work and to carry out the coating on the floor decking. It can be any brand, that will appeal to the customer.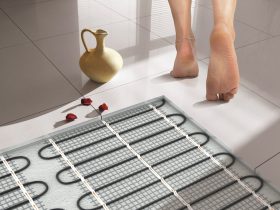 You can also arrange and underfloor heating when using a semi-dry screeds. In each case, the sequence should be followed work performance and devices Technology itself. When the SNP is responsible screed warm floors, you can be sure, that the floors will be for a long time, even with intensive use.
Rental of special equipment
At independent performance of the work is unlikely to want to buy expensive equipment. In this case, the best option - to take it out. Many immediately interested in the price. There will be important the following factors:
Equipment.
Manufacturer.
Quality of work.
lease.
But if the screed is carried out in a small room, then there is no benefit will not. Rent will be justified only in the event, when the station screed applied over large areas. In addition, the need to buy hoses, electric wires, joints for and more.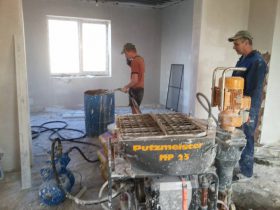 This option is more in demand from construction crews. Taking once Rentals, they are able to do a lot of work.
The cost price of the equipment, and its amortization is very costly for owners. For this reason, is high and the price of rent, which for the entire range of necessary devices will be equal to approximately 10 thousand rubles. Purchase can be up to one and a half million rubles. The latter option is not favorable for conventional companies, in which the semi-dry floor screed is not on the first place.
rental types
Isolated and the following basic options for rent:
For a short time. This includes rental equipment in a day or two. The work here is not very much, typically it is one object with a sufficient. But anyway here is important absorber for semi-dry screeds.
Long term rent. When taken to the station in a semi-dry screeds complete set for a period of more than five days,, from the firms can get decent discounts. The daily rental will be cheaper by about 20-30 percent, than when the daily operating equipment.
Hire with operator. You can also get a cost increase of about 30-40 percent, when taken, not only for the installation of semi-dry screeds, but in addition the operator. This usually occurs, when there is no personal experience of using specialized equipment in the work. Reasonable on the side, that can be derived independently from the system equipment, for which he will have to pay.
conclusion
Mixer semi-ties and any other equipment makes it possible to perform a "rough" version of the floor with maximum efficiency. All work is done in accordance technology, without deviation. acquire, eg mortar for semi-dry screed will be very expensive, but rent to take everyone on a pocket. If work is carried out on large areas, that any technique saves time, but it provides a high quality final.