Gazebo in the country - is not only a decoration area, it combines a host of other useful features. It's so nice to sit and relax in a cozy and beautiful gazebo. And in order to protect themselves from the invading insects, dust and dirt from the street and get a chance to enjoy the gazebo and in the cool season, it can be glazed. Glazed gazebo garden will make you forget about the unpleasant weather conditions and enjoy the warmth and comfort even in winter.
Installing windows in the gazebo, you automatically make it suitable for use in all seasons. Let outdoor gazebo enjoys much greater popularity, but the windows give the possibility to hide from unpleasant weather conditions. In addition, the glass allow panoramic view, and blank walls deprive you of the pleasure and give the atmosphere a certain grimness. What types of glazing to date there?
warm glazing
This type of glazing allow you to use the gazebo is not only in the summer, but in winter. Rama able to retain heat and you will feel comfortable, from inside. Run a traditional warm glazing can be of the following materials.
Simplest, familiar and cheapest way involves the installation of a simple wooden frame, continuous or opening. The advantages of this method in the price and the possibility to mount it-yourselfers, besides wood - eco-friendly material, absolutely harmless to the surrounding. If you want to, to these windows for gazebo will last longer, it is necessary to additionally impregnate and seal the frame. It looks very aesthetically pleasing, but to care for wooden frames need to carefully, as the tree does not like moisture.
arbor plastic windows. undoubtedly, the most practical way. Such windows are used for long arbor, are completely sealed, protect against thermal effects, dust, moisture and noise. Minus designs in, that under the influence of low temperatures, they become brittle and can crack even by a small impact. You can choose the design in any color, appropriate style to your gazebo. PVC windows is better than any other trap heat and do not let the cold penetrate from the street, that is why, if you plan to use it all year round, then glaze the gazebo at his dacha best PVC profiles.
cold glazed
If you prefer to do a cold glazing for your gazebo, then pay attention to aluminum. This material will amaze you with their properties. Aluminum is very durable, easy to maintain and operate, It does not corrode and is very durable material. Aluminum profiles will protect you from unpleasant weather conditions for a long time and reliably. Such glazed gazebo can be actively used in the fall and spring, when the outside temperature set 10-15 degrees.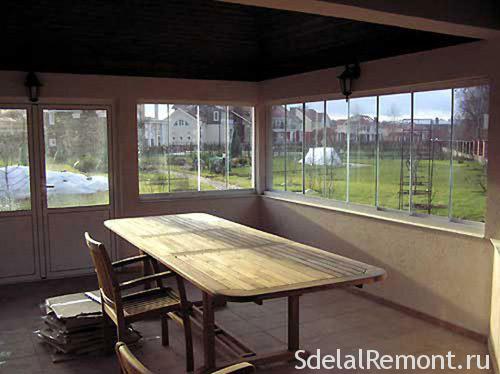 Frameless Glass
Frameless glass gazebo - is, undoubtedly, a very nice way to install windows. Lack of frames creates an overview of the surrounding landscape, however heat such glasses will not keep. Often the frameless design makes moving, to create an opportunity to ventilate the room. The design is made of a special tempered glass, which allows it to be as robust.
Important to remember, frameless glazing that does not involve the installation of mosquito nets and curtains installation.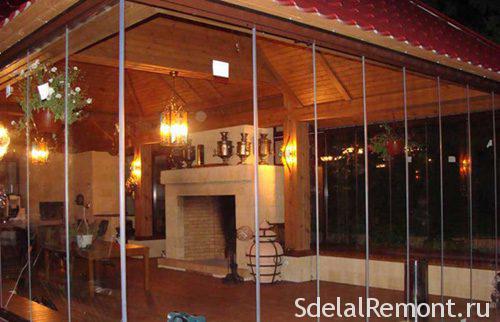 Alternatives glazing
happens is, that afford the installation of high-grade glass is not obtained. In this case, to the aid of other options.
Windows for arbor can not be made of glass, and polycarbonate. This material is worth far less, than glass, at the same time it is soft and it can not be beat. Polycarbonate is very durable, easy to install and use and provides many years. These windows can be made individually, but you can buy ready-made designs. Due to strong attachments are securely held in the frames and protect your gazebo from penetration of weather disturbances and noise from the street. windows service life - about fifteen years. Minus designs in, they are easy to puncture and cuts.
other material, replacing glass - transparent PVC film, which will be the one of the budget of all the. These windows are also called soft. The material is very easy to use and wear-resistant. The biggest plus of the windows - they do not break, why worry about their safety you will not. Gazebo with foil windows for those, who have children, loving to have fun active games.
Roller shutters - is another way of non-standard closing window openings. It consists of translucent slats and excellent protection against glare and dust, while letting sunlight. You can choose the design, Performances in any color of your choice. The use of roller shades can not be in the gazebo, where there is a BBQ.
Stained glass - a very original version. undoubtedly, these are the windows look prettier others and give your entire site completely different look, but the price of the installation of stained glass not affordable for everyone. Such glazing may be not only a cold, but also warm, and therefore perfectly acceptable set design for the gazebo in winter. There is a little trick - you can buy a stained glass film and stick it on the glass - was no less beautiful, but it is much cheaper, than the installation of stained glass.
Now you know, than glaze gazebo or what to replace traditional glazing and can choose the most suitable option for themselves.
sliding glazed
Besides, glazing that can be cold and warm, it is further divided into several types. Varies between a glazing type window opening mechanism. Most often in the construction and glazing of country pavilions used swing and sliding mechanisms of opening of window designs.
The sliding mechanism It is the most acceptable option, because it saves space in a small room. Sliding glazing may also be a cold, and warm. In conjunction with such windows can make a sliding door to the arbor, made of the same material.
Glaze arbor any of the above methods, and you will be able to spend pleasant days and evenings in the warm house, enjoying the view of nature through a new and convenient window.