Wooden windows with double glazing there is not so much, because they have a high enough price, and not everyone can afford such a luxury. However, this is an interesting solution, which is worthy of attention. These windows are qualitatively different from the usual and can compete with plastic.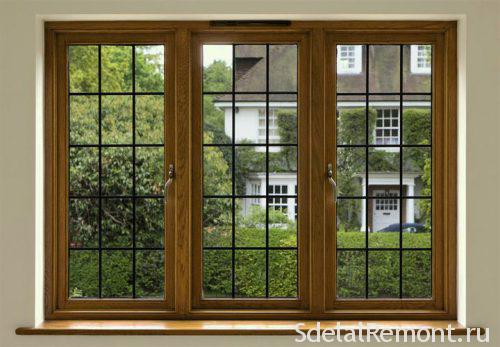 Why choose wooden windows?
If you want comfort,, you like a special microclimate and natural look, it is preferable to put a wooden box. New windows can be installed in them today, the same, like the plastic counterparts. According to leak, they will not yield to plastic, The only nuance is a wooden frame: it must be performed by special technology, thereby allowing designs to be adequately protected.
Modern wood windows are technically much different from the usual models of Soviet-style. it's reliable, environmentally friendly product with high integrity.
Advantages of wooden structures
Wooden windows with double glazing for apartments are beneficial solution, as have a number of advantages, which distinguish them from other similar materials:
The frame is made of natural wood, which is an environmentally friendly material. Such products help to create a special microclimate in the room, enriched air useful elements, do not emit harmful substances and nice smell timber.
Billing breathable material, so the room will always be fresh air, It will not feel a lack of oxygen. Excess moisture will go, but you will not find drafts and windblown, especially if the window is well warmed around.
precious woods can be used to create a frame, so you can emphasize the sophistication of the interior, high profile owners flat.
Attractive appearance of natural materials can hardly be compared with artificial counterparts, significantly inferior to the aesthetic qualities.
whether sealed design?
Modern wooden windows with double glazing are significantly different from outdated wooden counterparts. Their cost is much higher due to the, that applies a completely different technique to create a profile. Through this window it becomes completely sealed, their properties are not inferior plastic analogue. The wood undergoes special treatment, use only those varieties, that can withstand both high, and low temperatures, their differences. As a result, euro windows do an excellent job with the function of heat retention in the room, reliably isolate noise, decorate the facade and interior of the building.
On the windows are put modern windows, Wood made only frame, which has additional insulation. Glazed windows fitted with seals and other necessary attributes, which is inherent in the plastic windows.
It is worth noting, that wooden windows with double-glazed windows may have different ways of opening. modern findings It allows you to open a wooden shutter in the ventilation mode, make design sliding, folding, use the other advantages, vested plastic counterparts.
technology Features
Modern wooden windows often made from laminated veneer lumber. The three-layer design allows the product to make the most durable, durable. Natural wood defects in this case are completely absent, since the material is selected, deprived of their. Wood fibers of each layer are directed in different directions, it ensures reliable protection from moisture, It makes the structure more stable. Through this window technology is not gaining moisture, not deformed and do not react to changes in temperature.
Wooden windows with glass processed in stages. Before gluing the wood is treated using antiseptics, destroying fungus and prevent its occurrence. Besides, material is coated with a special solution, water repellent.
After that, the timber gluing, build future products. Materials carefully paint over in a special workshop, where sustained correct temperature and humidity. Thanks to modern paint coatings, wood retains its useful properties, It does not lose the ability to breathe. To between the glazing and the frame does not get wet, apply modern transparent silicone sealants. modern wooden windows – it is quite a complex engineering structure, which is manufactured in the factory on complex equipment.

Features double-glazed windows of wooden windows
New windows in wooden frames occupy the major area of ​​the entire structure and are considered a fundamental element of its. glass for these designs can be used by different, their thickness varies from 2 to 4 mm. Besides, as in the embodiment of the plastic, Glazing may comprise a plurality of air chambers and have from 2 to 7 glasses. From this mass of design depends directly, its rigidity, width, destination and price.
For cottages and southern regions of the country most often used one- or double-glass. It can carry out its functions, well keep heat in the room, do not allow to penetrate the noise. The more glass, the better insulated the noise, kept warm, so for apartments, located in bustling cities and cold regions of Russia, where there is a severe winter, suit three-chamber design. Thick glass unit will not freeze and can significantly improve the efficiency of heating devices inside the room.
To reduce the thermal conductivity of the glass windows can be used with a special coating. It does not reduce the transparency of the structure, wherein the ultraviolet rays can detain, prevent cold air from entering and exit of hot air from the room.
Conclusion: aesthetics and beauty can provide wooden windows. New windows in them are no different from the inherent plastic models counterparts, however wooden structures on the quality does not yield the artificial products.