Quite a lot of people use water heaters, but not everyone bought the right device to fit your needs. Properly selected heater will delight the hot water for a long time. Buying an unsuitable device may be very "pull the nerves" hereinafter constant water shortage, slow heating or oversized boiler. Therefore, to determine which electric heater is better standing in the store Leroy Merlin is very difficult.
water heaters
It is thanks to the presence of an apartment or house water heater, you can use hot water all year round, not dependent on housing and communal services. It is also good to always have a backup water heater with the seasonal shutdown of hot water and for this purpose it is possible to choose an inexpensive option. two types of heaters can be found in the store Leroy Merlin - flow, cumulative and combined, differing in the principle of operation, the size and the requirements for electrical wiring.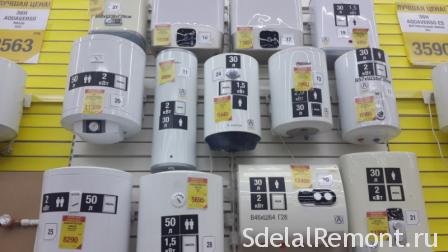 Major manufacturers of storage heaters: Ariston, Gorenje, Thermex, Heateq, Polaris, Zanussi, Electrolux.
Ariston produce fairly high-quality devices, the housing having quality materials, stylish appearance and other benefits. Ariston distinctive feature is the availability of the ECO, Spreads with pathogens, as well as the presence of the protective enamel tanks. Series heaters Ariston Ti-Share equipped with advanced protection against rust, is to install additional magnesium anode. The minimum and maximum sizes of the tanks 30 and 100 liters respectively. Maximum capacity nagrava - 2 kW. The average price of Ariston - 7000 rubles. Water heaters of this company have mixed reviews among users.
Water heaters Gorenje also well established among users. The manufacturer offers a huge selection of models, differing in size, and a method of installing additional options. GBFU models are equipped with dry Tenom and magnesium anode, providing protection against rust. Smart Series has a function of storing user actions, so that the water will be heated at the precise moment, when it is needed. devices comprise a number of models 30, 50, 80 and 100 liters. Maximum power is equal tena 2 kW. average cost 7000-8000 rubles. Gorenje water heaters are good reviews among users.
Thermex make your water heater tanks of stainless steel, which is definitely a good solution. Thermex is a wide range of, the youngest model to be equipped with a tank, capacity in 10 liters, eldest - a record 300 liters. Power is the most voluminous of boilers 4.5 kW. Here design Thermex pumped, the device looks quite shabby, especially it will be evident to the most volumetric models. Thermex produces high-quality equipment, what they say praise the Internet. The cost of such a boiler is highly dependent on its power and capacity (three to a pair of tens of thousands of rubles).
Heateq They are characterized by their low price. Enough cheap models may have a good volume of the tank and an impressive power, but they will be deprived of additional protection against rust, ECO and other similar features. Generally, Heateq offers a good choice and high quality for the price. Volume and power boilers are fairly standard. In this firm, there is one serious drawback - the device does not always correspond to its technical characteristics.
Water heaters Polaris equipped with ceramic heating elements, which provides excellent security, due to the lack of metal in contact with water. But this solution is somewhat reduced service life of the heating element, with the result that the heater may be damaged somewhat earlier, than analog with a metal heating element.
Zanussi produce enough standard water heaters, they set a very ordinary TEN, tank wall treated enamel, that will provide protection against rust. In general - the usual, unremarkable device, able to serve for a long time. The average price of the boiler - about 5000 rubles.
Electrolux make their made of stainless steel water heaters, slightly safer, than the use of protective enamel. Besides, nothing remarkable no different, devices have a fairly standard design, tena material depends on the chosen model. The size of the tanks and nothing stands out.
Surprisingly even the simplest and cheapest storage water heater Aquaverso 50 liters sold on the stock and has a cost 2563 rub. It is reliable and perfect in the summer in an apartment and cottage. And with the correct operation and connection last for years 5 just. Although sometimes the reviews are mixed heater has a great demand.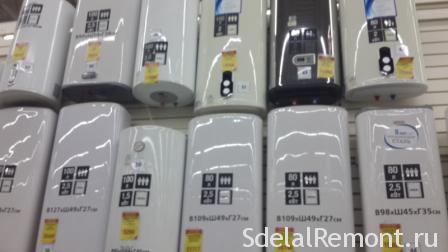 Going to the store for a heater, the buyer will be discouraged by the huge choice of devices. By the choice should be approached with the utmost responsibility, You will need to pay attention to many things.
Electric water heater will be connected virtually anywhere, where there is electricity. But here it is necessary to pay attention to the quality of the wiring in the house. If the wiring is in terrible condition, it is worth pave a straight strong wire from the distribution panel. If you can not determine the choice vodonagvevatelya , the apparatus further detailed study.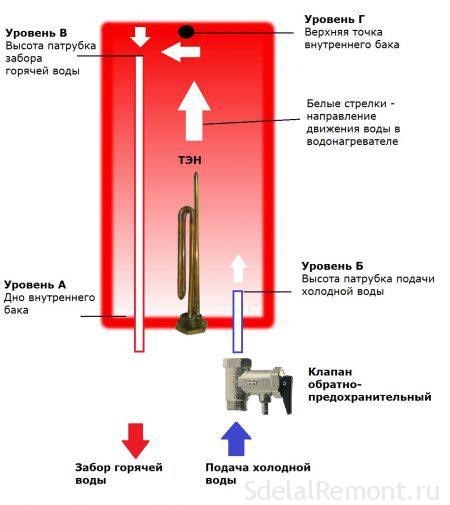 It is important to use reverse relief valve otherwise the tank will break!
How to choose the material and the volume of the tank?
The volume of the water tank should be chosen, based on their own needs, but there are some guidelines on this topic. To install the kitchen necessarily put largest boiler, because it takes a lot of space, where the kitchen is often not enough. Dishwashing enough heater with a tank in 30-50 liters (may be less, but in this case, water may not be enough). In the bathroom is worth taking the volume of the tank more (80-100 liters), this applies especially to large families. It will be very unpleasant, If warm water is not enough, to completely wash.
As a material for tanks used in the storage boilers stainless metal, using conventional metal protective enamel, or stainless steel, enameled. The best choice would be the last option, but such boiler can cost more expensive than their simpler counterparts.
How to choose the power of TEN
If you live in a modern house with high-quality and powerful electrical wiring, You can select any output device. of course, more powerful boiler will cost a bit more expensive, than analogues with lower power. When selecting a device in the old apartment or a house, It is to abandon the most powerful water heaters (above 2 kW), because the old wiring can not withstand the high voltage, which can lead to sudden power cuts or even fire wire.
By the choice of material Heater no precise recommendations. Ceramic heater will eliminate the risk of short-circuit, in the event of accidental contact with water. But ceramics are less reliable, which may reduce the service life of the boiler.
Mechanical or electronic control?
mechanical control (using conventional buttons and switches), more reliable and cheaper electronic. But boilers with electronic control have a more pleasant appearance, as they are no protruding controls. Good old reliable mechanical and repair easier and cheaper repaired.
Do you require the presence of magnesium anode?
Least, it's desirable. If the water is not too high rigidity, enough for one of the rod in the boiler, to protect against corrosion of the tank walls and other important parts of the water heater. In regions with very hard water should pay attention to the options with two or more cores.
Advantages of storage water heaters
Huge range, so that will pick up the device, the most appropriate needs.
Low requirements for electrical wiring.
Low power consumption.
Water keeps the temperature for a long time.
Higher temperature heating water.
Low cost.
Disadvantages storage boilers
The most powerful and displacement water heaters is an impressive place, in some of the apartments will not work post the most voluminous water heater.
Despite the external nice view, during assembly in open space it is difficult to hide the pipe.
Water heating takes a long time time.
Conclusion. Even though the shortcomings of models to choose electric water heater can be, Even the most inexpensive with proper operation and maintenance will last for many years. In most cases, all the bells and whistles is advertising margin as Warranty period same.