Life of modern man is hard to imagine without utilities, that make life comfortable. Especially when there are interruptions in the summer with hot water prevention. Methods of heating and supplying water there through accumulative or instantaneous water heaters. One effective way to achieve fast and hot water in the presence of an apartment, is the use of flowing water heating systems. Before, how to buy a suitable flow-through water heater in Leroy Merlin is important to know how to choose, depending on the desired model needs.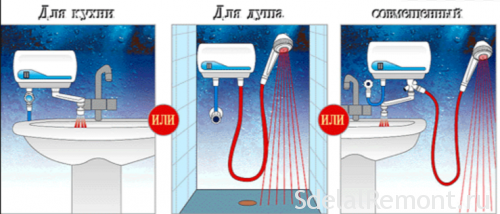 principle actions, power, reliability
Electric water heaters for its principle may be either the storage type, and flow. In both cases, the heating element is used, immersed in water flow.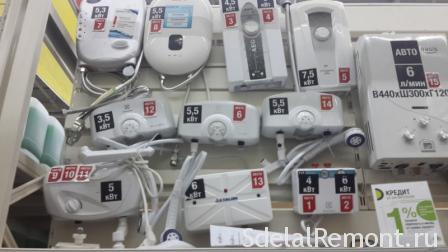 Flow-through heaters may be divided into two main types:
beznapornыe, have low capacity and are able to serve one, two-point analysis;
pressure, installed on the input lines to provide water and allow several users.
Successfully choose the right model for the specific conditions may, after consultation with professionals in the heating, and after a comprehensive evaluation of the wiring capacity, as device power consumption may exceed 10 kW. Pressure higher power heaters should already be connected, using a three-phase switching voltage wires and equal 380.
The main parameter when choosing a flow heater is its performance and capacity. For an accurate determination of these parameters must first know the needs of the preheated stream flow. In this case, the calculations assume the existence of several different classes of consumers in the home. As the basis of the following values:
the use of basin - up 4 liters / min and a temperature of up to 40 degrees
use of the kitchen sink - to 5 liters / min and a temperature of up to 50-60 degrees
providing a bath - 10-12 liters / min and a temperature of up to 40-45 degrees
Needs power capacity just enough to find, Performing simple calculations. To this must be multiplied by a factor of water flow, equal 2-2,5. From here goes, that the minimum requirements of the unit will be able to power from 8 to 12 kW, which is not always possible to install in homes with older wiring.
Exit out of this situation - Electrical Works, associated with providing the necessary parameters or application patterns with relatively low power (to 3,5 kW) which may use different modes and reduced water consumption at the expense of the special section of internal piping and nozzles.
If possible arrangement of three-phase mains voltage 380 The possible installation of closed-end high-power flow heaters - from 12 to 36 kW. Such an option is feasible, usually, in cottages, with the necessary electrical network.
In any case, energy-intensive installation such device, as a flow heater requires proper maintenance of all electrical arrangement measures. Wiring is done by a separate branch of the copper wire below 4 mm2 preferably 6mm2 double insulated. The socket must correspond to the load on the 16- 25 A and higher, or applied in a separate lead-in automatic waterproof box. The switchboard must be equipped with automatic OUZO and the necessary operating current value when disconnected. It is mandatory to run the work on the production of ground loop at all locations, where will, made analysis of water heaters. All connection work must be carried out according to the instructions, and manuals.
Management - the key to proper operation
performance management system are the following types of water heaters:
- Hydraulic, working on the principle of interaction between the membrane and the stem. Switching modes will occur the pressure flow-through, However, this method is very imprecise and allows us to serve a maximum of two terms indiscriminately.
- E, where all the regulatory processes lie on microcontrollers. These models allow you to adjust the flow and temperature conditions most favorable for the specific situation. It is possible to significantly reduce the cost of electricity consumed and to provide the necessary comfort conditions. Negative aspects of such a system is its high cost and poor maintainability.

To provide a comfortable life
In addition to its core functions, flow heaters allow you to perform the following additional functions:
limiting the degree of heating device housing with a thermode, which increases the safety of operation;
perform heat flux with high accuracy to eliminate uncomfortable temperature changes;
Parental control, prevents unauthorized activation of the heater;
providing disinfection of internal cavities in the device by heating to a maximum temperature of flow;
regulation of pressure and temperature on prolonged heating, to reduce power consumption;
software works on a pre-selected control program;
the possibility of using a remote control unit and the control parameters.
Exterior flow heater, the appropriate design space, It will be a wonderful complement the bathroom or the kitchen interior. As its size and access to connectors must be capable of carrying out maintenance works.
The main suppliers on the market are the German and Swedish manufacturers of electrical equipment, who have successfully mastered the production and sale of high quality heaters. such firms, like AEG, Thermex, Electrolux, Bosch, produce a sufficiently wide range of models, able to meet the various requirements of the customer.
Survey characteristics flow heaters
Elecrolux smartFIX 2.0 S - flow heater type unconfined, Power analysis for single point. Copper heating element power 3,5 kW, It provides performance 2 l min, which is sufficient to provide the necessary needs in hot water. The control system works on the hydraulic principle, with the possibility to use 3 mode power. Excessive heating is controlled by heat sensors. Connecting to the water supply and power is quite simple, although it requires skilled staff.
Thermex Stream 500 - quite compact heater, equipped with leads for connection to the tap and shower heads, that allows universal use of the device. maximum capacity, equal 5 kW and performance 3.8 l m will provide hot water for an apartment or a small country house. A feature of the model is the ability to use two modes of operation during the heating, which will help save energy and reduce the load on the network. Thermal sensor prevents overheating housing parts, and the pressure switch will prevent the inclusion of the water heater in the absence of. Tubular heating element has a ceramic filling, that together with the copper bulb can increase the life of your unit. Monitoring work is carried out through the lights and buttons on the front face.
TIME RMC 75 - pressure type heater, power 7.5 kW, allowing to provide multiple points parsing hot water with a temperature of up to 60 degrees with productivity L min. The device is simply mounted in the water supply system, It does not require radical changes in power. Use of innovative management on chips allows accurate temperature setting outgoing water depending on the pressure. The control unit keeps working even after prolonged use, due to the cooling body incoming cold stream. The use of two heating elements, together with copper flasks can significantly increase the life of the device. In addition to design temperature control heater embedded heating limiter. Instrument control is quite simple - given by manually setting the approximate temperature, and the remaining functions incurs automatic.
Thermex System 800 - heater with a completely automated work cycle, pressure type. power unit 8 kW, while productivity is 6 l min. These parameters allow to provide several points of the hot water supply. Small dimensions of the device allow for installation in different embodiments. The heating elements is made flow, positioned in housings of copper, supplemented with ceramic filler. This solution reduces the appearance of corrosion on the flow and the heating elements. Temperature parameters are adjusted by sensors and relays, who can achieve the most comfortable settings. The plastic body has a high strength and looks stylish in any interior.
Bosch ED12-2S - pressure type flow heater, designed to ensure a sufficiently large demand for hot water of a large apartment or cottage. capacity of the device is large enough - 12 kW, but this is offset by high productivity - 7.5 l min, after prolonged use. High reliability of the device provided with high performance three heating elements, protected against corrosion damage and scale. temperature sensors, Pressure and flow can achieve hot water at a sufficiently low cost electricity. Control block, and heating and pressure transducers allow the heater to operate in an automatic mode with a high degree of safety for the users. Power is supplied by a three-phase network 380 AT, at the same time be sure to conduct a separate wiring.
In any case, the choice and installation of fairly complex device, as the instantaneous water heater must be carried out in the audited firms, have experience and are qualified specialists, to ensure a long and reliable service to create comfort.