That the system of floor heating fully operational, should acquire high-quality materials. You can not save money on the purchase of pipes, because of their quality will depend fully operational period of the heating system. But it is worth remembering, that the choice of tubes will depend on the particular circumstances and installation conditions. In more preferred cross-linked polyethylene by the high quality and a set of positive qualities.
The choice of tubes
To select all tubes for warm water floor, important, to conform to certain requirements, which include:
The ability to withstand mechanical stress.
Longer maintenance period.

Elasticity and flexibility.
High heat transfer.
Confrontation corrosive processes.
The absorption of the maximum noise.
Environmental Safety.
Insignificant coefficient of linear expansion, etc..
But if you look closely at each of the materials presented in the construction market, it is possible to conclude that, that almost every one of them will meet these requirements. For water underfloor heating They may be selected copper, polypropylene tubes, Corrugated steel pipe, of stainless steel or polyethylene. Each of them has its own characteristics and a set of positive qualities.

Brass tubes together with stainless possess the best qualities and characteristics. They can be used in virtually any circumstances. In some cases, it may be in them, and the shell polymer. They are distinguished by a very high cost, which is not always interesting performers.
Less consumption and more easy installation complies corrugated steel.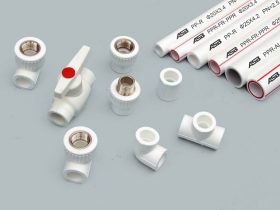 On quality they are not much inferior to the copper analogs. true, the price is almost the highest.
Also has excellent properties Composition pipe. But then with the passage of time in the field of threaded fittings, location, but rather inside them, It may appear scum. When no accurate installation of such tubes, a high probability of a cut and damage.
Yet the most modern and sophisticated embodiment in this case is a pipe made of crosslinked polyethylene. All characteristics meet the operational requirements, but cost a fraction, than other materials.
Cross-linked polyethylene can be used not only for the system underfloor heating, but also the entire supply. In the first case it is best to purchase products with antidiffuznoy protection, pruning oxygen permeability to a minimum.
Concept and types of pipes XLPE
From the name itself, you can assume, that the crosslinked pipes in some parts or individual elements. In reality, there is Staple molecules. There is a physical or chemical method of crosslinking polyethylene. For a given pipe material used formula PE-X. But it is necessary to determine the order, what kind of pipe underfloor heating may be whichever, they made:
RE-Ha. In the process of heating elements used peroxide.
RE-Hb. such polyethylene, that was obtained after treating it with moisture implanted silane, and substance, acting as a catalyst.
RE-Hc. All polymer molecules undergo electron bombardment.
RE-Hd. They are derived from the use of nitric Technology. Meet them on sale, you can very rarely.
From this we can conclude that, that all the strength characteristics based on the molecular level. It is practically impossible to break off all communication received. This is a very important advantage of the material, true, practically the only.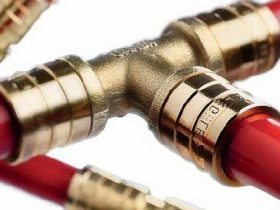 For water floor heating is most suitable is trumpet XLPE. His term of service is very high, and also possesses excellent strength characteristics. In addition to all of this material has a sound absorbing effect, high thermal conductivity. The process of mounting the tube for XLPE underfloor heating very simple and does not take much time.
An excellent embodiment of the presented types of pipes XLPE, which is obtained by peroxidic. They are marked accordingly PE-Xa.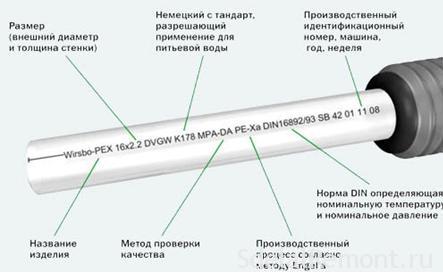 Positive traits
A set of unique characteristics refers to the number of pipes of crosslinked polyethylene. The focus is on a high heat resistance, that permits application in the coolant flow piping to a temperature 120 degrees. When compared with other products of the polymeric material, they are able to properly function when the coolant temperature is not more 80 degrees. They also differ in the reverse shrinkage, excellent elasticity, that allows you to create different radii and curves of the system circuit warm water floor.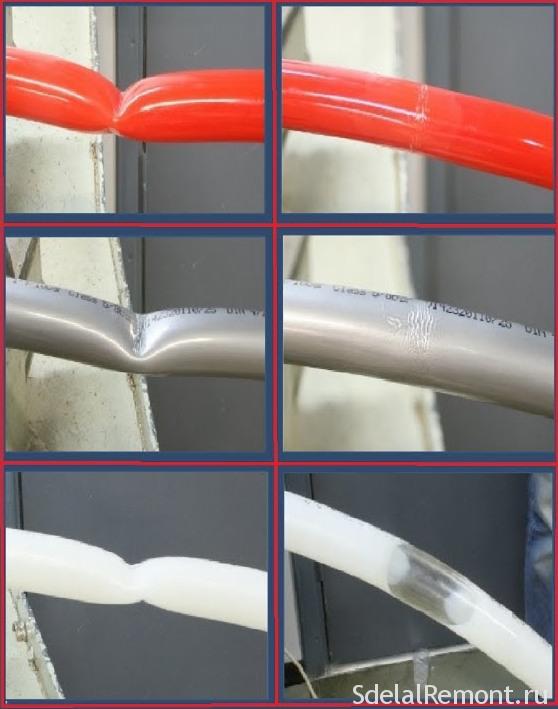 One very interesting quality XLPE - ability to recover from heavy loads. If other products would be used in such a case,, similar in composition, they would simply be stretched or even torn. This all leads to the prompt repair work.
In the manufacture of circuit assembly water underfloor heating, XLPE pipes may be disposed on the base with a different radius. Rift thus can be easily avoided by having the properties and qualities of the material. It is worth noting, that for most floor screed, and ambient polyethylene has no negative impact. No precipitates harmful substances is not performed even after a long operating period. Quality of the material allows the system to operate for a longer time to fully compared with the same materials and articles. During the whole time no one will face the rotting material, of corrosion, inside the tube, and outside.
When the crosslinked polyethylene is used in the device of warm water floor, it allows you to absorb the vibrations coming. This reduces the noise level, coming into the room.
But none of the material can not only boast of positive qualities. Ideal embodiment of pipe underfloor heating it can not be. There are, though minor, but cons, to keep in mind when buying such material. In some cases, they can lead to more serious consequences.
The main drawback - the oxygen permeability. This factor may cause corrosion of the components, are arranged adjacent to the conduit. But this point can be almost completely avoided. In this case, a special coating to produce pipes of crosslinked polyethylene.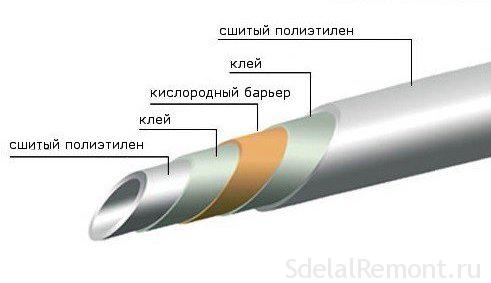 Since the shape of such pipes very poorly maintained, their best to fix the once reliably, using appropriate fasteners (lath, latch bracket). The fasteners are almost always available installation slots, where occurs tubing room.
Compare with plastic
It is possible to make a comparison of crosslinked polyethylene pipes with plastic. These two options usually offers master during installation warm water floor. Practically there is no difference in these products at cost. Favorable cost can be found in both variant pipes.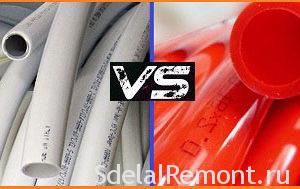 Particular attention in this case should be given to the performance characteristics of the material. It behaves slightly worse crosslinked polyethylene device at portions with complicated diameters, with considerable contour radius. This indicates, that small area of ​​the room, as well as complex stacking scheme pipe, better to give preference to multilayer products. But this, probably, the only thing, what can surpass tube of metal. In all other cases, embodiments crosslinked polyethylene is unparalleled. Besides higher degree of reliability, than that of metal and plastic.
In addition, at the PE-X, there are other qualities, manifesting material from the best side in comparison with metal plastic. This ability to withstand low temperatures, and even freezing. In this case, they retain their appearance and do not burst. Crosslinked polyethylene burns only at temperatures up to 400 degrees. But even in this case, it does not emit harmful substances into the environment, forming water and carbon dioxide.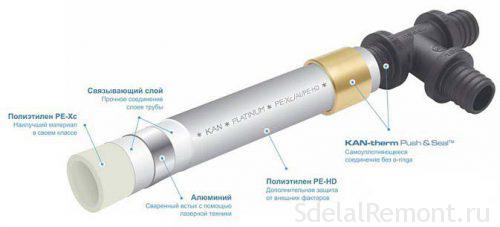 Will not be able to influence the cross-linked polyethylene, and various solvents (aromatic - toluene, aliphatic - petrol, hlorirovannыe - trihlorэtillen). But here care should be taken when exposed to oils, wax, fats, etc.. In contact with such materials may even swell XLPE.
Instead of water within such articles can be used antifreeze, since they do not have any effect on the material. Similarly transferred and anticorrosion agents, detergents, and their analogues.
Special features
As main components for mounting the pipe system warm water floor XLPE applied napressovochnye or compression fittings. The most popular and easy compression products have. To install it will need to do the following:
The used tube hopes crimp nut, which should be directed towards the connector.
The snap ring must be fixed on the pipe so, to several edge cut moved away from the pipe itself around 1 mm.
The pipe is placed on the fitting socket. Produce such action should be to the end.
In this case, you should not even try to remove the pipe chamfer. The process of tightening the nuts produced with caution, as it can be damaged itself if disregarded tube elementary requirements. Polyethylene floor heating will lose their properties and quality.
When using napressovochnyh fittings can obtain permanent connection of all pipe elements XLPE. The work required to apply a special pressing equipment. All made as follows:
Initially should wear uncut clamping sleeve.
Thereafter, the pipe is inserted extender selected size.
Reamer handle very carefully and consistently reduced until it stops, and then for several seconds in a predetermined fixed position.
The pipe is inserted into the socket.
We can not forget about the fact, that such materials possess the ability to reverse shrinkage. This is achieved by, that the crosslinked polyethylene for floor heating has a molecular memory. After that, as the pipe is placed in the socket, even after a few minutes, it will be very problematic to get there because of the snug fit of all elements.
Use fittings to twisting under the floor screed, as possible relief compound.
After finishing work on the device of warm water floor piping system is required to produce screed underfloor heating on pipes. To do this, you should choose a pre-version of its specific and buy all the materials for this. Screeds for floor heating will depend on the size of the system arranged, the selected option fill. The concrete screed and dry will differ between the variant is. That will have a really high-quality "pie", which will transmit the large amount of heat from the base floor and the ceiling, warming the air at the level of human growth.